Top 10 Maui Outdoor Activities
Get Our Newsletter: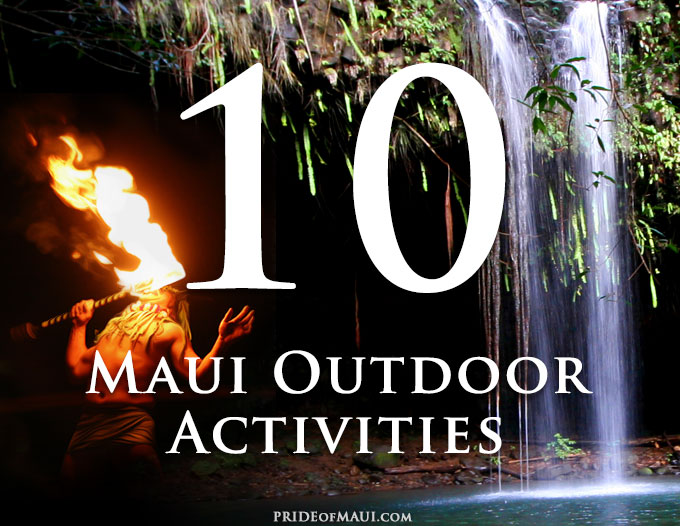 So you've decided to make the trek to Maui. Hooray! You've escaped the dry heat, snow storms or incessant rain and can finally take comfort in the fact that the average daytime temperature will be somewhere between 75 and 85 degrees. Ahhh. While relaxing in the air-conditioned hotel room and sipping mai tais is appealing, don't forget to get out there and enjoy Hawaiian paradise at its finest. There are so many wonderful outdoor activities on Maui to choose from, but we've managed to narrow it down to our top 10 favorites to make your trip one of a kind. Enjoy!
Best Outdoor Activities to do on Maui
#1 Relax on the Beach
Without a doubt, the most popular attraction on Maui are the gorgeous beaches. From the black, salt and pepper, brown and red sand beaches of Hana to the sprawling golden-white sand beaches of Makena, we can't recommend Maui without recommending you spend some time exploring, enjoying and most importantly, relaxing, on the beaches.
Keep in mind that although it may only be 75 degrees outside, the sun is intense. Make sure to bring lots of water, SPF and protective clothing!
#2 Have a Picnic
Instead of eating out every night, pick an evening to enjoy a simple picnic in paradise with your family or friends. Many beaches and parks on Maui are equipped with grills, picnic tables and grassy lawns, so pick up your favorite food items or grab a plate lunch to-go and bask in a relaxing, low key meal by the ocean. Weekends are a popular time for locals and visitors to barbecue, so choose a weekday for a less crowded experience.
#3 Watch the Sunrise / Sunset
The great thing about the sunrise and sunset is that if you miss it, there will be another one along shortly. No worries! While strolling the beach or enjoying a cocktail on your lanai are perfectly acceptable ways of watching the sunset, we recommend making the drive 10,023 feet above sea level to the summit of Haleakala Volcano for an experience unlike any other. Take the beautiful, winding drive through Upcountry Maui above the cloud line and park at the summit for the best views. Keep in mind that it gets cold up there, so bring plenty of warm clothes, blankets and a camera! Ask your hotel about driving times and weather conditions for the best results.
#4 Go for a Hike
Grab your sneakers and head out! One of our favorite activities on Maui is exploring outdoors and enjoying unbelievable scenic views. Head to centrally-located Iao Valley, where you'll enjoy high altitude views of the West Maui Mountains, Iao Needle, a flowing freshwater river and the ocean. For those of you planning on driving the Road to Hana, don't miss Pipiwai Trail, a four mile roundtrip hike that leads you to a giant banyan tree, through an impressive bamboo forest and ends at Waimoku Falls, a 400 foot cascading waterfall in the heart of East Maui. Sense of adventure: mandatory.
#5 Catch Some Surf
While you may not be ready to paddle out to some of the best surf spots with the locals, we do recommend surf lessons on your next trip to Maui. There's nothing quite like riding your first wave in the place where it was invented! Instead of bringing back yet another vacation t-shirt or shot glass, bring back a new skill. We recommend Hawaiian Paddle Sports for quality private surf lessons in South and West Maui. You can do it, braddah! If you're not up for a lesson, head to Ho'okipa Beach Park on the North shore to watch some of the best water sports enthusiasts in the world.
#6 Hop Aboard a Boat Tour
Whether it's snorkeling at Molokini Crater, a volcanic atoll offering 180+ feet of visibility, or Turtle Town, where many of the Hawaiian green sea turtles live in the reef and surrounding caves, we highly recommend taking one of our boat tours to do it right. Enjoy beverages, delicious lunch and a water slide entrance to the beautiful waters of Maui! Snorkeling not your thing? We also offer SNUBA, scuba diving, whale watching and sunset cocktail cruises, complete with live Hawaiian music, premium open bar and fresh food.
#7 Go for a Drive
The Road to Hana is an absolute must for nature-lovers. With winding roads through dense Maui rainforest, including several stunning waterfalls, hiking trails, swimming spots, beaches, gardens, sea arches, lava tubes and more, we recommend continuing the drive around the back side of Haleakala for an even more memorable trip. Consider spending the night (or several) in Hana to fully explore this area, as it's nearly impossible to see and do everything in one day. If you're looking for a less lengthy adventure, take a drive south towards La Perouse Bay to see the remains of the last lava flow on Maui and resting spot for Hawaiian Spinner Dolphins, or make the gorgeous drive north through Kapalua to reach Nakelele Blowhole.
#8 Attend a Luau
Alright, alright. So while a luau certainly isn't the most outdoorsy or adventurous thing to do on Maui, remember that there's only one place on Earth to see an authentic Hawaiian luau, and that's in… wait for it… Hawaii! Plus, who doesn't have fun sipping cocktails, trying fresh local Hawaiian food and watching extremely talented hula dancers?! While there are several options for luaus around the island, we recommend the Old Lahaina Luau for the most authentic experience, including prime floor seating for those of you looking for a great view and (flexible) experience.
#9 Go Camping
Very few visitors to Maui consider camping, but we highly recommend it for a unique and relaxing island experience. Pack your camping hammock, with mosquito netting and rain tarp if possible, and choose from one of the many great campgrounds available on Maui, including Hosmer Grove Campground in the cloud belt of Haleakala, Kipahulu Campground beside O'heo Gulch and Pipiwai Trail in East Maui, Polipoli Spring State Recreation Area in the Kula Forest Reserve, Wai'anapanapa State Park in Hana and Kanaha Beach Park close to the Kahului Airport. If you'd like to branch out even more, consider taking a ferry ride from Lahaina to the island of Lanai, where guests can camp on the gorgeous Hulopoe Beach Park.
#10 Whale Watching
If you plan on coming to Hawaii between December and April, don't miss out on some of the best whale watching in the world! Each year, more than 10,000 humpback whales make the swim from Alaska to Hawaii to birth and nurse their young in the shallow, warm water surrounding the Hawaiian islands. One of the best places to witness these majestic creatures is Auau, the shallow channel between Maui and Lanai. We offer special whale watching trips yearly between December 15th and March 31st. Wonderful activity for the whole family!
Mahalo for reading Pride of Maui's Top 10 Outdoor Activities! What is your favorite outdoor activity on Maui? Let us know in the comments below!
Written By Local Expert
We are local Maui guide experts and Hawaii enthusiasts who love to share the Aloha spirit and our favorite things to do on Maui.