Top 20 Things To Do in Hawaii
Get Our Newsletter:
Aloha, and Welcome to our list on the Best Things To Do In Hawaii! When planning a fabulous vacation to the Hawaiian Islands, there are so many incredible vacation activities to choose from on each isle. The Hawaiian Islands consist of 6 mainly visited islands, and much smaller atolls and islets. Each island has its distinct character and vibe, cultural history and rare opportunities to experience.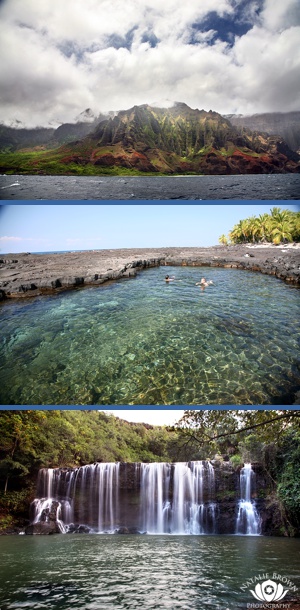 Referred to as The Gathering Place, Oahu is one of the most popularly visited Hawaiian Islands, and has the highest full-time resident population within the island chain. Oahu offers many famous sights to explore, including Waikiki, North Shore beaches, Pearl Harbor and more. The Island of Hawai'i is more commonly called The Big Island because it is the largest isle in the Hawaiian archipelago. Rich in Hawaiian cultural and geographical history, this island houses 3 active volcanoes, gorgeous waterfalls, black sand beaches, coffee farms and more. Time and time again, visitors love visiting the Island of Maui, also coined as The Valley Isle, with its dramatic mountain to Pacific Ocean landscape views. Maui is the most popular Hawaiian Island for snorkeling adventures, whale watching tours, golf, water sports, and sightseeing. The County of Maui also houses the islands of Lana'i (The Pineapple Isle) and Moloka'i (The Friendly Isle). These two islands are a more intimate island experience with a handful of Hawaiian secret gems: golfing, horseback riding, sport fishing, and many more rare discoveries. Last but not least, the Island of Kaua'i (The Garden Isle), offers all visitors a chance to fall in love with a vibrant and richly diverse cultural environment. Here, guests can hike the infamous Na Pali Coastline, see Waimea Canyon, see ancient taro fields, and learn more about Hawaiian history in Old Koloa Town and Hanapepe.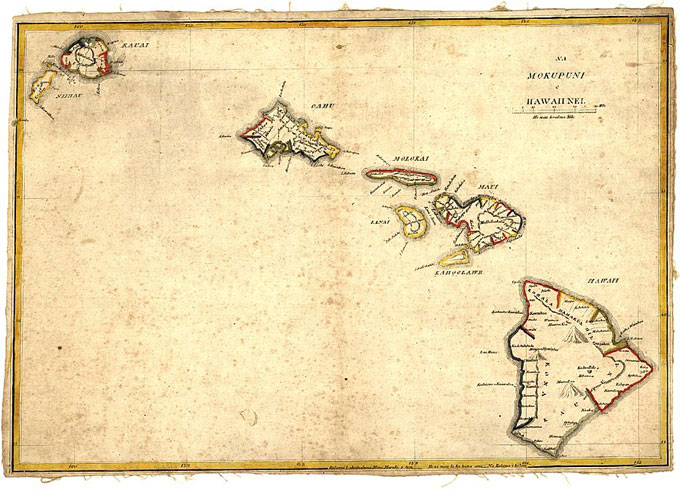 We invite you to read through and start planning your next vacation to Hawaii today! Hawaii is the best destination on earth for an adventurous family vacation, a romantic honeymoon, daredevil explorations, and group holidays with friends. Welcome to the beautiful Hawaiian Islands, where the world is your oyster. E Komo Mai, Aloha Aina! (Welcome, and Love Our Home…)
HAWAII'S BEST THINGS TO DO
#1 Snorkeling
Without a doubt, the #1 top activity to do in Hawaii is snorkeling! Travel to the incredibly gorgeous Hawaiian Islands for your next vacation, and be sure to book a snorkel tour for you, your family and friends. Aboard a modern snorkeling vessel, visitors will surely enjoy being an eyewitness to the beauty of an array of Hawaiian marine life. Visitors will journey safely underway with a professional tour guide receiving Hawaii marine life education, expert instruction, and snorkel guidance.
Just imagine how amazing it would be to see the Hawaiian green sea turtle in its natural habitat, an abundance of tropical fish native to Pacific Ocean waters, and vibrantly colored reef formations. Depending on the time of the year you embark on a Hawaiian snorkel tour, guests may also have the added rare chance to see playful Spinner Dolphins skipping along the ocean surface, or the great North Pacific humpback whales during their annual migration to Hawaiian waters.
An abundance of Hawaii snorkel tour and ocean activity companies can be found on each of the Hawaiian Islands.
For more information about the best snorkeling in Hawaii, please visit Pride of Maui
#2 Whale Watching

Get excited for one of the most magical experiences in Hawaii, and book a whale watching tour on your next vacation in the Pacific Islands. Whale Watching is quite certainly one of the best things to do in Hawaii and an invaluable experience that will not be soon forgotten! Seeing the great North Pacific humpback whales in action during their annual migration to Hawaiian waters is witnessing Mother Nature firsthand. It is truly awe-inspiring to feel the freedom of the open ocean, smell the sweet and salty Hawaiian air, and to view 40-ton humpback whales gracefully dancing through clear Pacific waters, and if you're lucky, breach high above the ocean surface!
Every Winter season, thousands of North Pacific humpback whales travel miles from the Alaskan Gulf to the Hawaiian Islands. Their migration to South Pacific waters offers a calm, safe and healing environment for the females to give birth to their calves and raise their young. Hawaii's whale season runs from mid-Fall to April every year. Peak season for whale watching is during January, February and March.
#3 Golfing
Golfing in Hawaii is heaven on earth for all golf enthusiasts! Ranging from golf student to golf professional, the Hawaiian Islands offer a superb golf experience for everyone.
The golf community in Hawaii ranges from public courses to the uber-private and elite golf locales only available to the rare few. From all golf resorts in the State of Hawaii, golfers and friends will undoubtedly lavish in the luxury of immaculate conditions, warm sunshine, pristine greens, a luxurious atmosphere, privacy, and fabulous 360-degree panoramic views.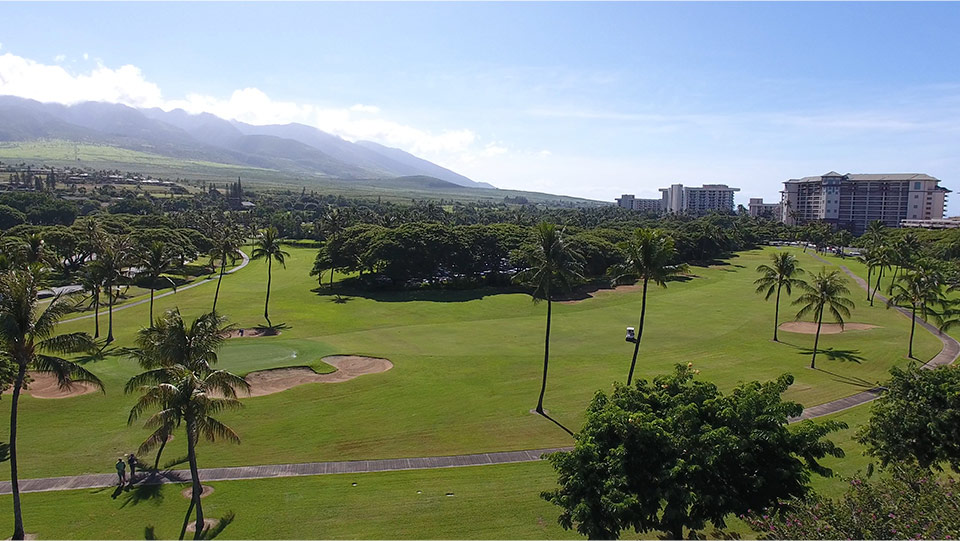 Explore the Island of Maui in early January and attend the PGA's Annual Hyundai Tournament of Champions at the Kapalua Resort, or visit anytime throughout the year for a 5-star golfing experience. Here, guests can rub elbows with the best golf professionals in the world while basking in magical West Maui views. In South Maui, golfers can refine their skills at David Leadbetter's Golf Academy, and spend long days on the greens at the notorious Wailea Golf Resort's Gold, Emerald, and Old Blue courses. Guests can journey to a golfing fantasy scenario on the Island of Lana'i at the Four Season's Manele Bay and Lodge at Koele, and should not miss the Mauna Kea Golf Course or Waikoloa Beach Resort's King Course on the Big Island. Kaua'i offers an abundance of beautiful golf resorts including the Princeville Golf Club, Makai Golf Club at Princeville, Poipu Bay Golf Course, Kauai Lagoon Golf Club, and Puakea Golf Course. No matter what Hawaiian Island you choose for a golf vacation in paradise, you will not be disappointed.
For more information about golfing in the Hawaiian Islands, please visit www.hawaiigolf.com.
#4 Sightseeing
There is most definitely not a lack of sightseeing adventures in Hawaii! When visiting the Hawaiian Islands, it is impossible not to be wholly engrossed in the breathtaking beauty that Hawaii beholds. Everywhere your head turns you will see dramatic mountain ranges, turquoise and deep azure ocean scenes, tropical valleys, diverse landscapes, and natural wonders. Each one of the Hawaiian Islands offers a special place in the hearts of all residents and visitors! Sightseeing is one of the best things to do in Hawaii because it gives you a chance to explore all areas, not just the locales that are most popular with tourists. When sightseeing in Hawaii, guests have an opportunity to visit secret gems, taste local foods, find unique keepsakes, and create long days of enjoyment customized by your unique ideas.
When on the Big Island, visitors should explore Hilo Town, Kona, Akaka Falls, and Hawai'i Volcanoes National Park for a rare chance to learn more about Big Island's active volcanoes: Hualalai, Mauna Loa, and Kilauea.
When on Maui, do not miss a chance to tour the Road to Hana to visit some of Hawaii's more untrodden areas; swim in waterfalls, visit a black sand beach, swim in the Seven Sacred Pools of O'heo Gulch and enjoy local farmers markets.
The Island of Kauai offers mystical sightseeing experiences without even trying! On Kauai, guests have the dramatic Na Pali Coastline at their fingertips, Hanalei and Poipu, Waimea Valley, Polihale State Park, the Kilauea Lighthouse, Kokee State Park, and more.
When visiting the Island of Lana'i, do not miss Puu Pehe (Sweetheart Rock), Keahiakawelo (Garden of the Gods), and Munro Trail for a chance to see view some of Lana'i's more secluded locations.
Visit Moloka'i and tour Kalaupapa by horseback, Halawa Valley, and the Fishponds of Moloka'i.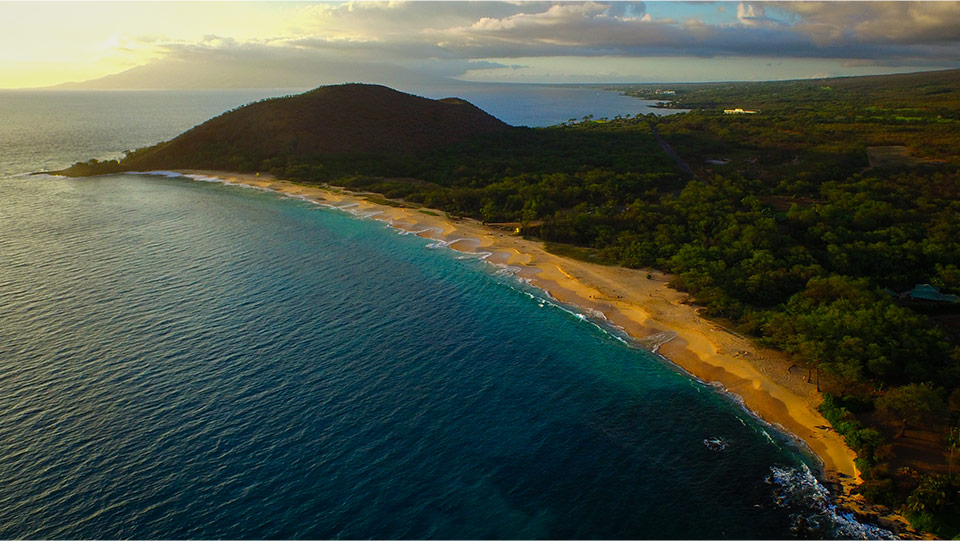 Whether you choose a guided sightseeing tour in Hawaii or prefer going on your own with a rented vehicle, you will not be disappointed! The Islands of Hawaii are genuinely spectacular and full of natural and modern wonders that live and breathe the age-old wisdom of the Native Hawaiian culture.
For more information about sightseeing in Hawaii, please visit Top 10 Places to Visit in Hawaii.
#5 Beach Hopping
Beach Hopping in Hawaii isn't just one of the most popular activities in Hawaii, but it's also kind of one of the biggest reasons why you want to visit Hawaii, right? Yeah! Who doesn't daydream about long and lazy days basking under the glorious Hawaiian sunshine? Everyone wants to return home from their Hawaiian Island vacation with a golden suntan and a look of relaxation stretching across their face. Go ahead! Plan your fabulous Hawaiian vacation, but make sure to research beaches ahead of time. If you're traveling with children during the Winter, you may want to find the best beaches for calm swimming, building sand castles, light snorkeling, and fun in the sun. In this case, visit Kailua Beach or Haunama Bay on Oahu. Looking for an adult beach adventure with rock jumping and stand up paddle adventures? Check out Ka'anapali beaches on Maui. Have you always dreamt of swimming with Dolphins or Manta Rays? Look into Big Island ocean adventures in Kona.
One of the best parts about visiting Hawaii is exploring beaches and sightseeing en route. Enjoy an array of super fun beach activities and ocean adventures in Hawaii!
For more information about the best beaches in Hawaii, please visit Travel Channel's Top 10 Hawaiian Beaches or Best Maui Beaches
#6 Cultural Attractions
Experiencing Hawaiian cultural attractions is opening your mind, body, and soul to the age-old wisdom of a blend of Polynesian cultures. The very first Hawaiian settlers brought ancient traditions and lifestyles to the islands from various indigenous Polynesian cultures. With the fusion of older cultures and the end of the transpacific migrations, Hawai'i was distinctly born. The Hawaiian Islands have undergone many transitions from the original inhabitants to now through colonialism and changes in government. What remains are sacred pieces of Hawaiian culture through celebration, healing practices, history, ecology and 'ohana (family).
When visiting the magical Hawaiian Islands, guests must observe and participate in complete respect for a culture that must never be forgotten, nor taken for granted. By attending luaus and watching hula performances, enjoying site visits to local farms and agricultural sights, lavishing in the luxury of Lomi Lomi massage, and learning more about Hawaii's sophisticated ancient cultural rites; guests are encouraged to engage in the beauty of Hawaiian cultural activities.
When on Oahu, definitely visit the Polynesian Cultural Center for activities, shows, and presentations about Hawaiian culture. Travel to Maui and enjoy an evening at the Feast at Lele for a luau, and an eclectic educational show. Visit the Big Island for the annual Merrie Monarch Hula Festival, Hawai'i Volcanoes National Park, and go to the Kaloko-Honokohau National Historical Park to learn about early Hawaii life. On Kauai, check out the Grove Farm Museum in Lihue, the Waioli Mission House in Hanalei, and research ahead of time for an array of annual festivals on Kauai.
For more information about cultural attractions in the Hawaiian Islands, please visit www.gohawaii.com.
#7 Surfing
The first western written account of surfing in Hawaii was in 1779 by Lieutenant James King. He colorfully described Native Hawaiians riding wood planks on the ocean swells of the Big Island's Kealakekua Bay. In the ancient Hawaiian language, surfing is also referred to as "hee nalu," and was indefinitely a spiritual practice that engaged the Native Hawaiians with the energy of their gods. In history, hee nalu (surfing) was an activity reserved for Hawaiian royalty, and termed the "Sport of Kings." Today, surfing is an ocean activity available to the masses throughout the world. It is one of the most popular ocean sports and one that is continually transitioning with unique skills, trends, style, technique, and craftsmanship. The Islands of Hawaii remain at the forefront as the best place in the world for surfing.
Visitors travel to Hawaii from all corners of the world for surfing. Surfing is prevalent on all the Hawaiian Islands, with some of the most renowned Hawaiian surfing locales on Oahu and Maui; Oahu's North and South Shores, and Maui's infamous East and West side North Shores. Visit Maui and see professional watermen and women take the stage at Ho'okipa Beach Park, Jaws, and Honolua Bay. On Oahu, guests can spectate and watch surf history unfold at North Shore beaches like Banzai Pipeline, Waimea Bay, and Makaha Beach. Waikiki Beach, Ala Moana Bowls, and Castles in South Oahu are all great locales for amateur surfers to learn the sport, and for surf, lovers to pay homage at the Duke Kahanamoku statue. The Island of Lana'i offers experienced surfers Lopa Beach, and Kaua'i provides many great surf spots, including 2-miles of moon shaped Hanalei Bay – mellow in the Summer for beginners, and best in the Winter for advanced surfers.
For proper surfing etiquette and info about surf lessons, please visit Hawaiian Paddle Sports and please visit Maui Surf Lessons.
#8 Luaus
Hawaiian and Polynesian style luau feasts are one of the most attended activities throughout the Hawaiian Islands. Everyone must attend at least one luau in their lifetime! If you are trying to figure out which one is the best fit for you and your group, no fear, there are a variety to choose from on each island.
Enjoy an evening of Hawaiian culture with local foods, traditional luau feasts, entertainment, and tropical cocktails. Bring your family and friends and learn Hawaiian arts and crafts like basket weaving and lei making. Watch cultural presentations and get lost in the melodic sounds of ancient drumming, Hawaiian hula and fire dance performances. Give thanks and celebrate the Hawaiian culture with your loved ones!
For more information about the best luaus in Hawaii, please refer to the following links:
Oahu: Oahu Luaus
Maui: Maui Hawaii Luaus
Big Island: Big Island Luaus
Kaua'i: Kauai Luaus
Lana'i & Moloka'i: Lanai & Molokai Luaus
#9 Spa Packages
When globe-trotting to the Hawaiian Islands, all visitors share at least one common bond, and one of the most popular reasons why people choose Hawaii for a vacation destination is because they want to relax and unwind all the stresses of everyday life. They want to spend rejuvenating days in one of the most beautiful environments in the world, the Islands of Hawaii. Everyone has a different definition of what relaxation means to them and can transcribe as laying out on the beach, swimming in a waterfall with a loved one, golfing with friends, hiking through nature, sailing upon the gorgeous Pacific Ocean, or even a massage in paradise!
Travel to Hawaii to enjoy your vacation time with your loved ones, and take advantage of a private moment by booking a spa package or service at one of Hawaii's best spa locations. Spa pictured is Willow Stream Spa of the Fairmont Kea Lani in Wailea, Maui.
Each one of the Hawaiian Islands offers a diverse selection of spa treatments and packages and a host of insanely gorgeous spa locations and resorts. Enjoy a couples massage with the calm sounds of smooth rolling waves and palm trees lightly blowing in the wind. Book a full spa day and lavish in signature body treatments, facials, and scrubs, waxing or med-spa treatments. For a fabulous Hawaii spa experience, we encourage you to choose a spa that uses locally made products with tropical-infused ingredients.
For more information about Spas in Hawaii, please visit www.spafinder.com.
#10 Hiking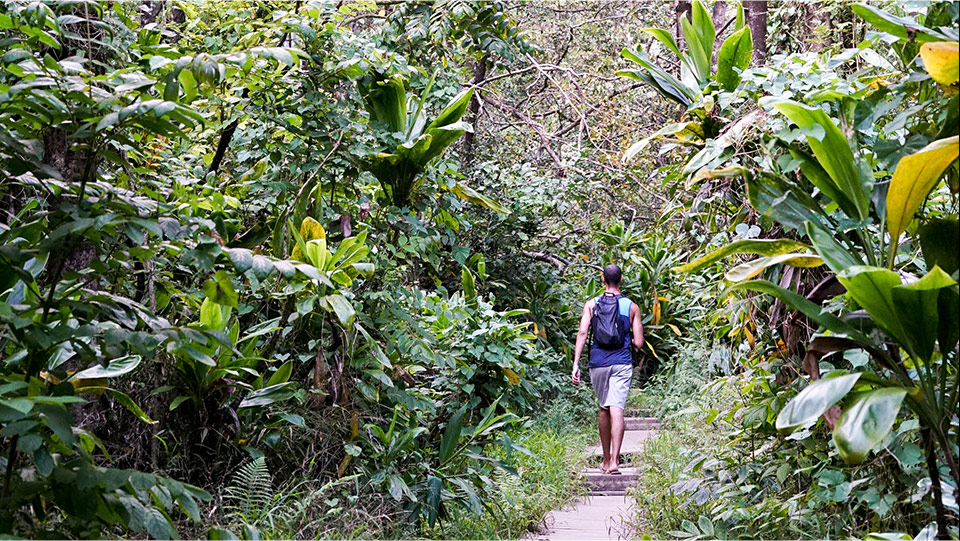 Plan an adventurous hiking expedition to the Hawaiian Islands! Each one of the Hawaiian Islands offers a host of incredible hikes, ranging from easy trail walks to challenging 3-day+ long excursions. No matter your skill and stamina level, or the size of your group, there are many exciting hiking opportunities for everyone in Hawaii.
On Maui, visitors can venture up to the 10,023 foot high dormant Mt. Haleakala Crater for backpacking through one of the most geologically diverse areas in all of Hawaii. Travel East towards Hana and hike through a bamboo forest to a waterfall, start Upcountry and explore the Makawao Forest, or journey South and take a leisurely stroll through La Perouse Bay.
On Oahu, guests should be open to trying many hiking challenges with Stairway to Heaven, or medium ease with the Diamond Head Summit Trail or the Makapu'u Lighthouse Trail.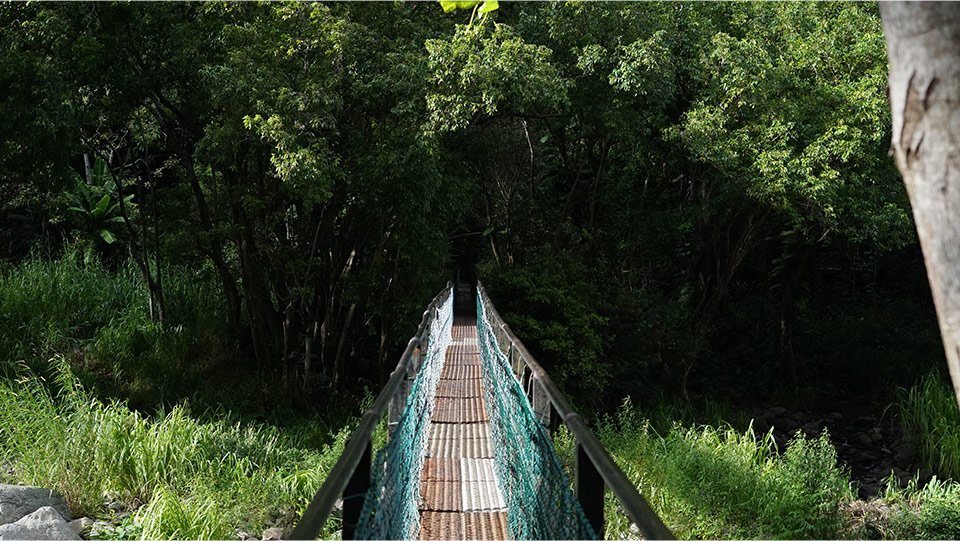 On the Big Island, guests can venture through over 250 miles of hiking trails spanning over volcanic fields, lava tubes, and beaches.
Kaua'i is one of the most exciting places to hike in Hawaii with the notorious Kalalau (Na Pali Coastline) Trail, the Kukui Trail on the Westside, the Sleeping Giant Trail, and much more. Whether it's fact or fiction, it has been loosely stated through coconut wireless that the Island of Kauai has more hiking trails alone than any individual state on the U.S. Mainland.
With all of this Hawaii hiking information, you should be all set to start creating your next hiking adventure to Hawaii!
#11 Helicopter Tours
If you love adventure and incredibly beautiful Hawaii scenery, you should take a Hawaii helicopter tour! There are a handful of amazing helicopter tour companies located throughout the Hawaiian Islands, and they all offer unique aerial experiences. Just imagine flying over hidden valleys and waterfalls, and seeing Hawaii's coastlines with a bird's eye view!
When on the Big Island, guests now have a chance to take a helicopter tour to active volcanoes. Here, guests will have a chance to see red lava as it flows into the ocean, see billowing steam vents, and see the natural majesty of volatile Hawaii firsthand. When on Maui, guests can actually take a tour bus to Hana and a helicopter ride back! Cool, yeah? Or, you can fly from the Valley Isle to Oahu on a day trip. One of the most amazing helicopter tours that you can do in Hawaii is on Kauai, the Garden Isle. While touring Kauai's breathtaking coastlines, riders can scoop around the Napali Coastline and have a rare chance to see beautiful topographical changes in Hawaii's scenery, view reef formations from above, see hidden waterfalls and so much more.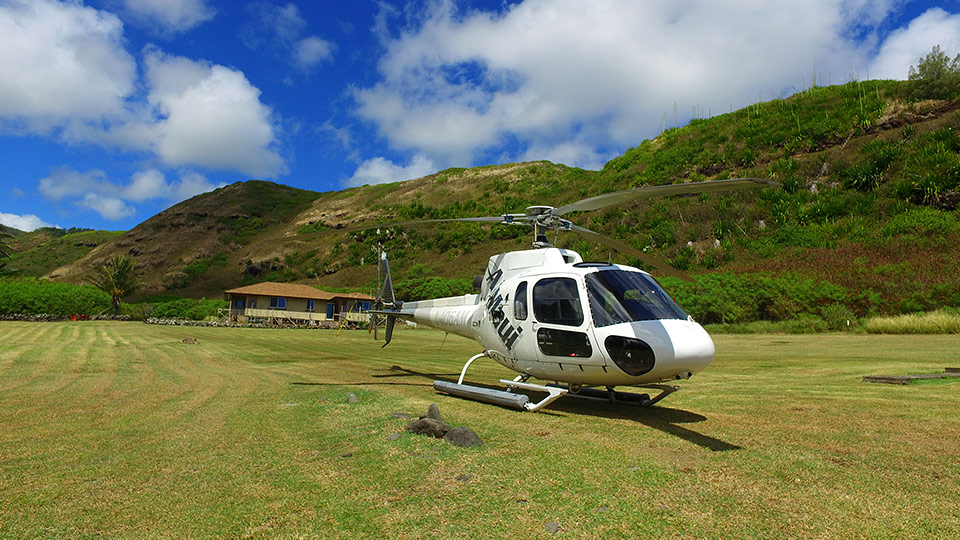 Helicopter tours in Hawaii are a great vacation adventure for those celebrating a honeymoon, a new romance or an anniversary celebration. Inter-island helicopter rides in Hawaii are one of the most insanely amazing ways to sightsee in Hawaii!
For more information about helicopter rides in Hawaii, please visit Blue Hawaiian or Air Maui
#12 SUP
Stand Up Paddle Boarding (SUP) is not only popular in Hawaii, but it's also quickly becoming one of the most popular ocean activities in the world! Throughout the Hawaiian Islands, more, and more visitors are trying out this awesome sport because lessons are readily available, boards are easy to rent, and its super fun!
When stand up paddle boarding in Hawaii, inexperienced guests can feel confident knowing that there are many great spots for beginner stand up paddling in Hawaii. Each of the Hawaiian Islands offers calm bays and shallow areas to practice. If you want to stand up paddle in Hawaii, the only prerequisite is that you must know how to swim comfortably in the ocean*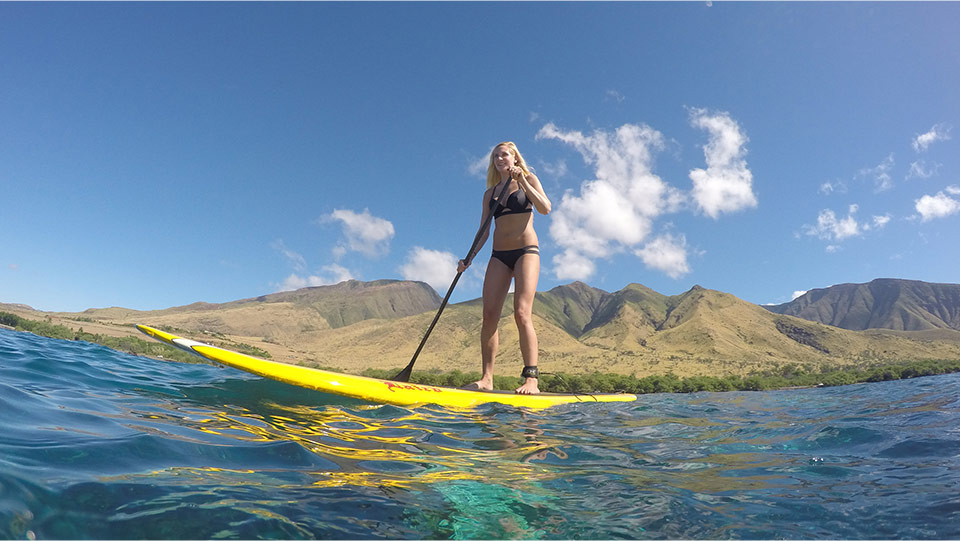 SUP lessons are typically an hour and half long and include SUP equipment rentals, and use of a rash guard and booties. Group, semi-private, and private lessons are available. Once students get their footing, they're guaranteed to be scooping the ocean in no time!
For great SUP lessons, please visit Maui Stand Up Paddle Boarding.
#13 Ziplining
One of the newest top outdoor activities in Hawaii is definitely ziplining! The most popular zipline courses in Hawaii are found on Maui, Kauai and on the Big Island. When ziplining in Hawaii, guests have a rare chance to experience island adventure in a whole new way. Ziplining is a great family activity in Hawaii ,and super popular with teenagers!
One of the newest trend in Hawaii ziplining is combo tours. On the Big Island, guests can enjoy 'zip and dip' adventures where they zipline through courses and finish the tour off by swimming in private fresh water pools near Akaka Falls. On Maui, guests can 'zip and bike' through the beautifully scenic Mt. Haleakala areas. So fun! Each zipline site offers various course lengths and adventures to experience; this is definitely a great activity to do with kids in Hawaii.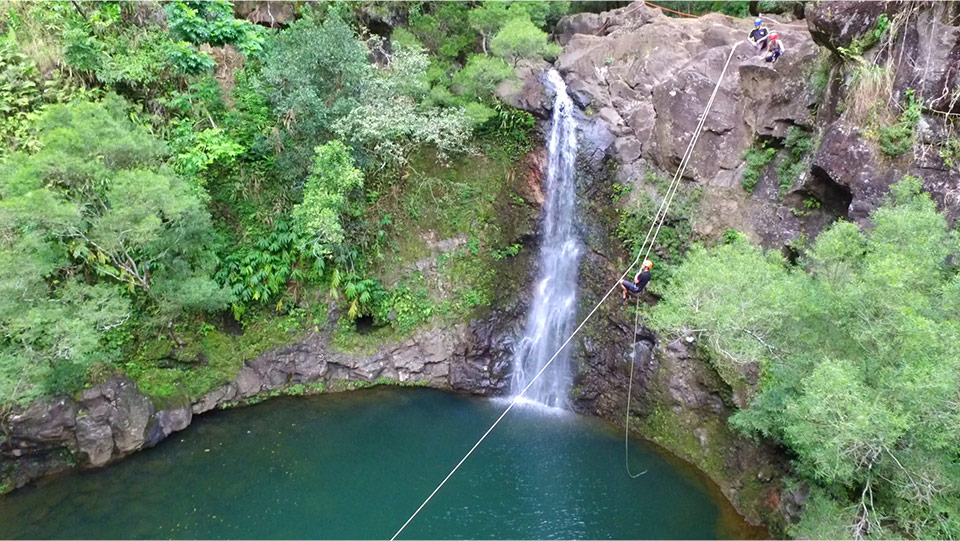 Hawaii ziplining is safe, fun and all around thrilling! Before a zipline adventure, all participants go through a safety training and practice period. General rules for ziplining in Hawaii are that guests must be 8 years old or older, between 60-260 pounds, cannot be pregnant, and have not have been scuba diving within 24-hours. Medical issues that are not allowed are heart problems, recent surgeries, and serious back, neck and joint injuries*
For more information about ziplining in Hawaii, please visit Ziplining
#14 Sunset Cruises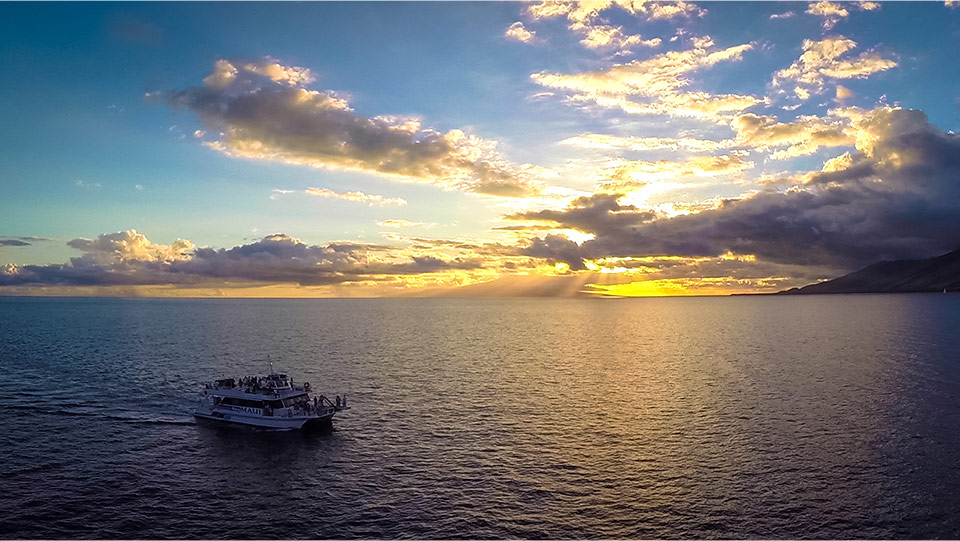 A sunset cruise is perhaps one of the most romantic things anyone could ever do in Hawaii! Aboard a gorgeous ocean vessel, guests will definitely get a chance to witness some of the best possible sunset views in all of Hawaii. When choosing which Hawaii sunset cruise is best for you and your guests, you have many options throughout the islands.
Sunset cruises come in many forms in Hawaii! Guests can experience a whale watch sunset cruise in Maui during the Winter months, champagne and cocktail dinner cruises throughout the year, and many more Hawaii sunset cruises with live music, gourmet food, delicious Mai Tai's and entertainment. Just imagine cruising alongside Kailua-Kona's coastline on the Big Island, or watching a gorgeous West Maui sun setting behind the outer island of Lanai. Yes! It's the absolute best!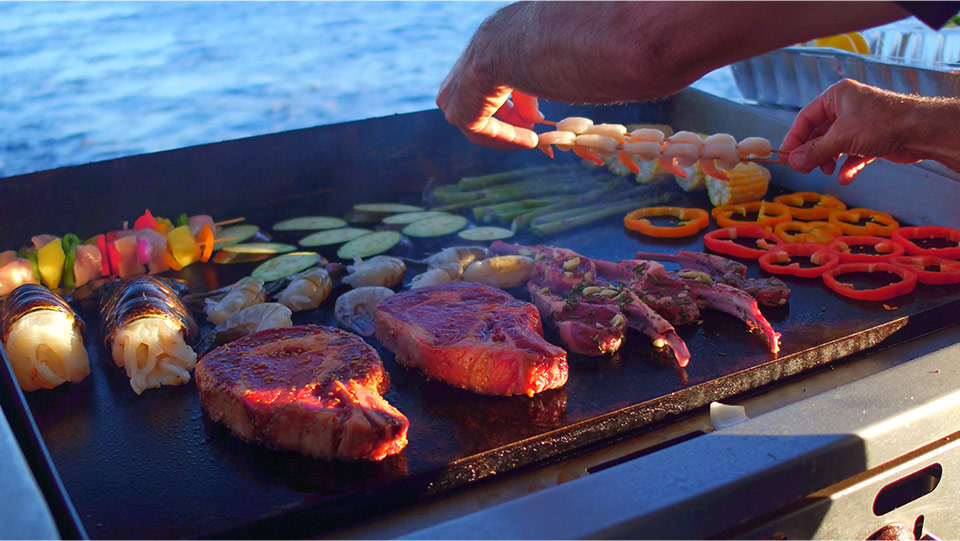 When enjoying a sunset cruise in Hawaii, guests have a chance to finally decompress on vacation. You'll be able to breathe deep and savor the sweet and salty fragrance of the Pacific Ocean in Hawaii, feel calm ocean breezes against your back, and have many chances to enjoy an intimate moment with your loved one. Besides a calm and beautiful atmosphere, guests will also be able to see some of the most jaw-dropping coastal views in Hawaii.
For more information about sunset cruises in Hawaii, please visit Pride of Maui
#15 Farmer's Markets
When in Hawaii, do as the locals do and eat local!! There are so many beautiful farmers markets that take place each week on every one of the Hawaiian Islands. Just find them! At Hawaii farmers markets, visitors have a chance to meet Hawaii farmers and visit a variety of local vendors. It's so awesome, and absolutely one of the best things to do in Hawaii.
When at Hawaii farmers markets, definitely seek out items you've never tasted, and please try to experience something new! The Hawaiian Islands are extremely fruitful and abundant with fabulous tropical fruit, organic produce, fresh seafood, free-range meats, spices, honey, coffee, and so much more! Visiting farmers markets in Hawaii is a great activity for everyone. Plus, you will be supporting the local sustainable scene in Hawaii, and that is so important! Every single visitor can find something to enjoy at a Hawaii farmers market including snacks, sweets, freshly squeezed juices, tropical flowers, yummy baked bread, and local arts and crafts vendors.
When on the Island of Oahu, definitely check out the Kailua Farmers Market every Thursday night (5-7:30 pm) in the parking lot behind Macy's and Whole Foods. This is a great farmers market to visit for a variety of local and organic produce, fresh lemonade, ice creams, Hawaii coffee, Hawaii made condiments and packaged snacks, and a variety of yummy prepared meals; Indian, Mexican, Local Hawaiian fare, Vegetarian, Raw, Vegan and more.
On Maui, check out the Upcountry Farmers Market in Kula every Saturday morning (7-11am) at the Kulamalu Center. Here, you will find a variety of rare and organic produce ranging from lychees to dragonfruit, greens, squashes, kale and Maui mandarins. At this Hawaii farmers market, guests can also find local eggs, baked goods, Maui-grown coffee, lilikoi (passion fruit) butter, coconuts, tropical plants and flowers, and a selection of amazing and exotic prepared foods.
For more information about a variety of farmers markets in Hawaii, please visit Top Locally Grown Markets in Maui
#16 Horseback Riding Tours
Exploring horseback riding tours in Hawaii is one of the best ways to adventure Hawaii's spectacular coastlines and countrysides! Upon a well-trained horse, both beginners and experienced riders can experience Hawaii in a super memorable way. Calmly walk through coastline trails, or jaunt and gallop over some of Hawaii's most in-the-know private horseback riding locations. Throughout the Hawaiian Islands, guests and residents can both enjoy private and group horseback riding tours, or private and group horseback riding lessons.
On Maui, horseback riding tours and lessons are available at Makena Stables in South Maui, at the Ironwood Ranch in West Maui, the Mendez Ranch in Wailuku (which also has an awesome BBQ), and Piiholo Ranch or the Thompson Ranch located Upcountry.
On Oahu, horseback riding tours are amazing at the Kualoa Ranch, the Gunstock Ranch above Laie, or with Happy Trails on a 350-acre private ranch through the Waimea Valley on the North Shore.
Big Island horseback riding is so fantastically incredible! There are options on both the Kailua-Kona and Hilo sides of the island at Waipio Na'alapa Stables in Honokaa, Parker Ranch in Waimea, or the Pa'ani Ranch in Keaau.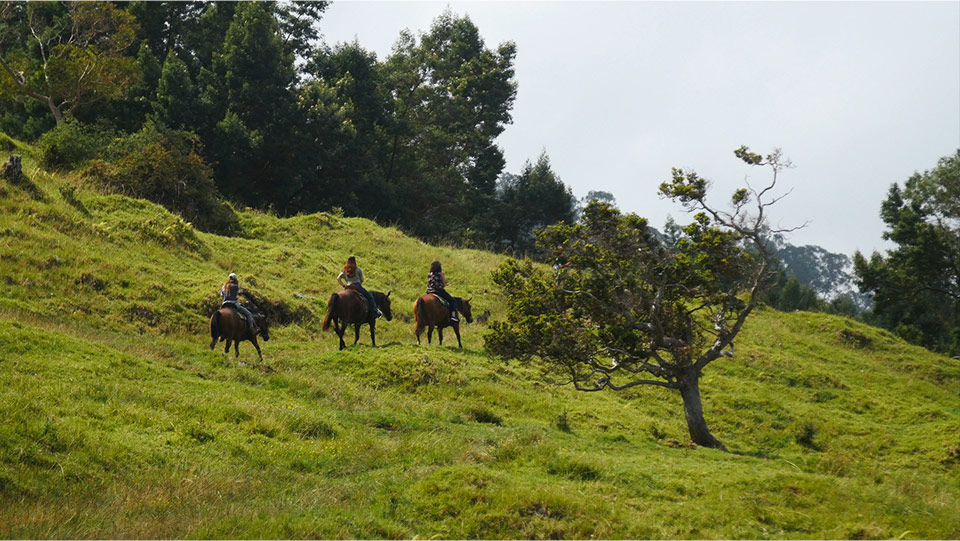 Last, but not least! If you're looking for horseback riding tours in Kauai, be sure to check out Silverhills Ranch on the North Shore. Located in Kilauea, this spot offers a handful of really great rides with options to check out Silver Falls for freshwater dips and picnic, Horseback riding and ATV combo tours and rides through the interior of the Kamookoa and Kalihiwai Ridges for an awesome view of the Makaleha Mountain Range*
#17 Visit Local Farms
When planning your next fabulous vacation to the Hawaiian Islands, make sure to research all the amazing farm tours available on your specific destination island. Without a doubt, each Hawaiian Island offers something unique to experience at local farms. Some farms even offer movie screenings on their land! You never know what kind of cool activity you can find on Hawaii's local farms. Below is a brief guide of local farms to check out throughout the Hawaiian Islands.
Maui: Ono Organic Farms, Ali'i Kula Lavender Farm, Surfing Goat Dairy, Maui Tropical Plantation, Maui Dragonfruit Farm, Ka'anapali Coffee Farm, and the Ocean Vodka Organic Farm & Distillery
Oahu: Kahuku Farms, Kualoa Ranch, Dole Pineapple Plantation, Waialua Estate Coffee Farm, and the Macadamia Nut Farm Outlet.
Big Island: Kohala Grown Farm, Amy B.H. Greenwell Farms, Hawaii Vanilla Company, and Mountain Thunder Coffee Plantation
Kauai: Kauai Kunana Dairy, Kauai Fresh Farms, Steel Grass Chocolate Farm, Blair Estate- Kauai Organic Coffee Farm, and the Kauai Grown Organic Farm
For more information about farm tours in Hawaii, please visit Maui Farm Tours
#18 Stage Shows
There are a wide variety of stage shows to choose from while visiting the Hawaiian Islands. When on Maui, make sure to visit the Maui Arts & Cultural Center (the MACC). This top notch performing arts complex offers a wide variety of shows that include: live music, dance, Hawaiian cultural programs and theatre productions. They also have inside and outside movie screenings. To see their calendar of events, please visit http://mauiarts.org
Voted, "Best Live Theatre on Maui," Ioa Theater's-Maui on Stage, offers amazing performances by some of Maui's top talent in an intimate historical theater. To see what they have coming up on their events calendar, please visit http://mauionstage.com
If you are looking for an authentic Hawaiian experience in a gorgeous and intimate setting, check out George Kahumoku Jr's Slack Key Show on Wednesday evenings at the Napili Kai Beach Resort on Maui. For more information, please visit https://www.slackkeyshow.com
When visiting Oahu, the historical Honolulu Theater presents a range of amazing theatrical performances. Located in Honolulu's China Town, this award-winning theater offers top-notch technical capacity in a historical building that is bursting with ambiance. Please visit, http://www.hawaiitheatre.com for more information.
Finally, nothing engages you in Hawaiian culture like a Luau. This fun Hawaiian tradition can be enjoyed throughout all of the Hawaiian Islands. Guest will enjoy Hawaiian and Polynesian foods, dancing and music. You and your family won't want to miss out on this unique and authentic experience. For more information about Luaus, please visit http://www.gayot.com/restaurants/best-hawaii-hi-top10-luaus_16hi.html
#19 Windsurfing
Windsurfing was once upon a time more popular than surfing in Hawaii! Can you believe that? Wow! Back in the 1980's windsurfing fanatics traveled from across the world to windsurf in Hawaii. Back then, Hawaii's beaches were full of windsurfers, European accents, and fluorescent swim trunks! Now, you'll only find that kind of scene at in-the-know windsurfing locales. Hawaii windsurfing is a genre of its own*
Windsurfing as a sport only started in the mid-1960s, so it's pretty much a new ocean sport in the grand scheme of things. Today, windsurfing is still very popular with Hawaii residents and international visitors. Windsurfing may not be the most popularized ocean activity to do for Hawaii visitors, but you can find instruction on each island. The most in-demand locales for windsurfing in Hawaii are Maui's North Shore and Kailua on Oahu's Windward side.
If you're looking for more information about windsurfing in Hawaii, you should look into the local scene on each island destination. For experienced windsurfers, you would want to get in touch with Simmer Hawaii, Naish or Action Sports Maui. If you've never windsurfed and you want to learn, you can easily find an array of Hawaii windsurfing schools to help you get going. On Maui, look into Action Sports Maui and Simmer Hawaii for windsurfing lessons and Maui windsurfing rentals. On Oahu, check Hawaiian Watersports or Honu Hawaii Activities. If you're looking to try windsurfing on the Big Island, get in touch with Kona Boys or Kona Windsurfing. On the Island of Kauai, get in touch with Windsurf Kauai in Hanalei. Any of the folks at these Hawaii windsurfing locales will happily send you on your way to your most fabulous windsurfing dreamland!
For more information about windsurfing in Hawaii, please visit Simmer Hawaii
#20 Camping
If you're looking for one of the coolest, most integrated and best in-the-know activities to do in Hawaii, you should consider island camping! Every Hawaiian Island has a surplus of amazing camping destinations, but not all of them are specifically open to the public* If you are a Hawaii visitor that is planning on camping in Hawaii, please make sure that you choose a legally designated camping site*
When considering camping in Hawaii, know that you will be sleeping in a super amazing location and waking up in paradise! Throughout Hawaii, there are incredible Hawaii State Park camping sites from which to choose. Camping is always fun, but camping in Hawaii is incredible! Camping is one of the best activities to do in Hawaii with a loved one, or if you're traveling with kids!
When looking into camping on the Island of Maui, go straight to the 7 Sacred Pools of Oheo past Hana. This is a tent or car camping experience, so bring whatever you think you need to make everyone in your group comfortable. The campsite provides BBQ grills, picnic tables, and public toilet facilities. When planning a camping trip on the Island of Oahu, make sure to book at least 30-days in advance, no matter where you choose to go. Oahu is known as the "Gathering Place," so with that comes to a lot of people at times!* On Oahu, Ahupua's 'O Kahana State Park is a great place for family camping. This campsite offers public facilities, access to hiking trails in a beautiful unspoiled valley, and an opportunity to respectfully explore lands from Pu'u Pauao to Kahana on Oahu's Windward side.
For more information about camping in Hawaii, please visit Camping in Hawaii
Mahalo Nui Loa for reading this list. We love being your source for all the best activities and adventures in Hawaii. With our valuable insider's perspective, we aim to provide our readers with the most intimate and up to date information about the beautiful Islands of Hawaii. There are just so much things to do in Hawaii, this list is just the tip of the iceberg…or lava cone…
Written By Alexandra Mitchell
Alexandra is a marketing professional with a passion for writing about travel to the Hawaiian Islands, vacation rentals, and luxury real estate. She exposes readers to glimpses of 'Old Hawaii,' new destinations to explore, local events, and all the best things to do on Maui.