Top 12 Things To Do in Maui with Kids
Get Our Newsletter:
When on Maui, or planning a vacation with your family on Maui, it can be overwhelming trying to plan your day-to-day schedule. With an abundance of activities to do on Maui, and a lot of competition to choose from, how can you know who offers the best tours and services? How can you find out what activities are best to do on Maui with kids? Without significant research, you may find yourself stumped, confused with too many choices, at a loss, or you may even book an activity that isn't appropriate for your family.
So, we've researched for you! We assure you that our "Top 12 Activities on Maui For Families With Kids," has the most recent information, and is the best guide for choosing top activities on Maui. In this way, you and your family can safely maximize all of the fun and adventure that Maui has to offer. A hui hou!
BEST ACTIVITIES IN MAUI FOR KIDS
#1 MOLOKINI SNORKELING TOUR
For one of the most incredible experiences of your life, and perhaps one of the most treasured vacation memories that you could ever create for your family is a Molokini Snorkel Tour with Pride of Maui. With over 30 years of outstanding customer service and high visitor ratings, Pride of Maui takes special care to employ a team with extensive ocean-tour experience and ongoing training. You and your family can feel assured that their crew will not only make you feel safe, but will inspire you with underwater adventure and exploration, and successfully prepare you for the snorkel of your lifetime. Feel confident with expert lessons, hands-on guidance, top of the line snorkel equipment and full supervision.
Pride of Maui is well-renowned for being child-friendly, and their vessel is outfitted with safety in ease, comfort, and convenience. When venturing on a snorkel tour, know that you will be exploring one of the most premier snorkel, snuba, and scuba diving locations in the world. Molokini Crater is believed to be over 150 thousand years old and overflows with an abundance of ocean life thriving in their natural habitat. Witness the magic of the Hawaiian green sea turtles and Spinner dolphins first hand. Spectate and take delight as they gracefully dance and play through their natural coral reef habitat.

The Molokini and Turtle Town Snorkeling Tour with Pride of Maui offer guests a free breakfast, BBQ lunch, and open bar. By request, additional SNUBA and video services are also available. For more information on booking a family adventure you will cherish for years to come, visit www.prideofmaui.com.
#2 MAUI OCEAN CENTER
Enjoy an afternoon with your family and visit the only state-of-the-art aquarium in the world dedicated to displaying and preserving Hawaiian marine life. The Maui Ocean Center offers full exploration for all visitors — adults, and children. It is one of the top things to do on Maui and is a truly unique experience to have the opportunity to visit the largest tropical aquarium in America. Not only do they exhibit Hawaiian sea life, but they offer educational displays on ocean ecology, Whale life, and Hawaiian culture. Through a guided walking path, revel in their exclusive and rare attractions touring the outdoor Hawaiian sea turtle sanctuary, and Hammerhead shark pool. Investigate through the ever-engaging indoor aquarium housing the famed Hawaiian Tako (octopus) and a host of atypical sea creatures.
The Maui Ocean Center is renowned for their fully encircling sea-tunnel that gives the feel of a dry-land snorkel. Make sure to check out the massive indoor shark tank that displays Hammerhead sharks, Tiger sharks, White Tips, Grey Tips, and a variety of deepwater fish. The staff is extremely personable, approachable and well-versed in Hawaiian marine Life. They welcome questions and discussions and openly share their knowledge of the Maui Ocean Center's mission, events &amp, community goals.
For more information on how you and your family can visit the only Hawaiian Aquarium in the world, visit www.mauioceancenter.com.
#3 ATLANTIS SUBMARINE
For a truly unique family adventure, be sure to book an Atlantis Submarine underwater tour. Recently featured on National Geographic T.V., this is for sure one of the best things to do on Maui with your family. All guests will marvel and drop jaws as they journey 100 feet deep through the ocean heavens that shelter West Maui, and the outer islands of Moloka'i and Lana'i. The Atlantis is a revolutionary 48 passenger air-conditioned vessel spaciously designed for guest comfort. Allow you and your family to become a key witness to Maui's underwater world. Travel through the Pacific Ocean as you observe rare sea life, a sunken 19th Century supply vessel replica, and an artificial reef designed to sustain a growing habitat for indigenous Hawaiian species.
Between December and May, keep your eyes peeled from sea to shore as you might have the rare chance to see Humpback whales during their annual migration through Hawaiian waters. Atlantis Adventures offers a variety of family vacation packages and specials contingent on the season. For more information about embarking underway with your family visit www.atlantisadventures.com.
#4 OLD LAHAINA LUAU
When looking for things to do in Maui, take advantage of a rare opportunity to be immersed in Hawaiian culture at the Old Hawaiian Luau. Give your family the gift of experiencing ancient offerings as you savor traditional Hawaiian foods, ceremonies, crafts and games for children, songs, ritual chanting, and traditional hula dance. Since 1986, the Old Lahaina Luau has been a Maui treasure, that invokes memories of authentic Hawaiian hospitality.
Voted time-and-time again by national publications and reader polls as Best Luau in Hawaii, Best of Maui and Best in Hawaii, you and your family will most definitely be satisfied with your evening. Together, you will gain valuable insight into the culture and history of the Hawaiian Islands.
For more information on the Old Hawaiian Luau and their events, visit www.oldlahainaluau.com.
#5 SURF LESSONS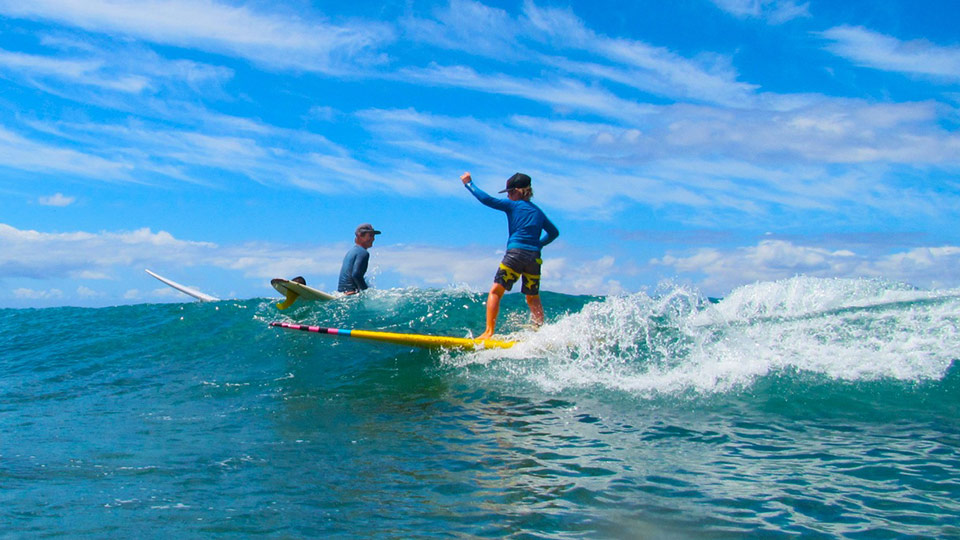 Maui's Best Surf School for the top choice in Surfing Lessons On Maui.
mauisurflessons.com.
Hawaiian Paddle Sports is also equally skilled in private surfing lessons with kids. For more information on surfing lessons on Maui for you and your family, visit hawaiianpaddlesports.com.
#6 HIKING
One of the most rewarding day trips on Maui is a family day at Iao Valley State Park. Iao is not only a cultural landmark, but it is also a sacred site for housing ancient Hawaiian demigods and serves as a pivotal location for Hawaiian history. Mystical, lush and inviting, Iao Valley is breathtakingly beautiful. It is a perfect place to spend a family day on Maui hiking through mellow trails, swimming in the waterfall and pools, and having a picnic or BBQ.
While venturing out of Iao Valley, take time to check out the Kepaniwai Heritage Gardens and the Hawaiian Nature Center. For more information about Iao Valley visit the Iao Valley Wiki Page and if interested in going with an expert hiking guide visit www.hikemaui.com.
#7 Maui Escape Rooms
Interactive escape rooms are the latest entertainment craze these days. Up until recently, most of them have been limited to an "adults only" audience. The good news is, Maui Escape Rooms offer kid-friendly escape games for children 12 and over, making this a great family adventure on Maui. Maui Escape Rooms offer a fun packed 60-minute experience, perfect for giving your family a needed break from the sun or a fun rainy-day activity on Maui.
Imagine the thrill of getting locked in a room with your kids where you have to work together to discover clues and solve puzzles to find your way out! Escape Rooms are fantastic for encouraging collaboration skills and fostering teamwork that leads to a sense of comradery. Currently, Maui Escape Rooms offers four fun escape games that include Pirate Ship, Prison Break, Tesla's Inheritance, and Ka Puka Bunker. Each game is unique and challenging, promoting family bonding as you all work together to solve the mystery.
Book your Maui Escape Rooms adventure now to find out if your family has what it takes to escape!
For more information, please visit Maui Escape Rooms.
#8 HAWAII MERMAID ADVENTURES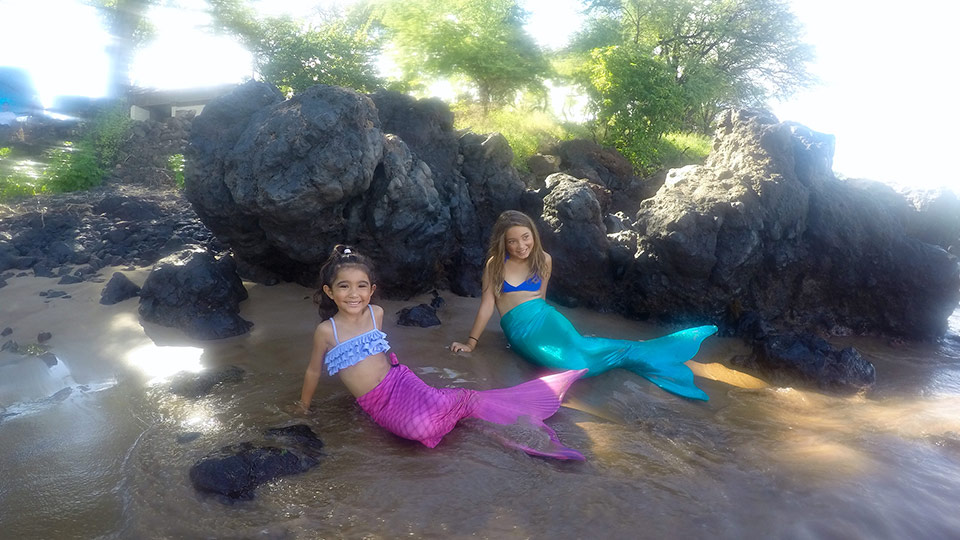 For those of you who have always dreamed of becoming a mermaid, and learning tales and mythologies as well as interesting information about marine life in Hawaii, book a lesson with Hawaii Mermaid Adventures. With expert instructors who are also lifeguard certified, your experience will be safe and truly immersive in Hawaii's beautiful waters.
It's mermaid fun for everyone! They also offer free digital underwater photos during your 2-hour lesson.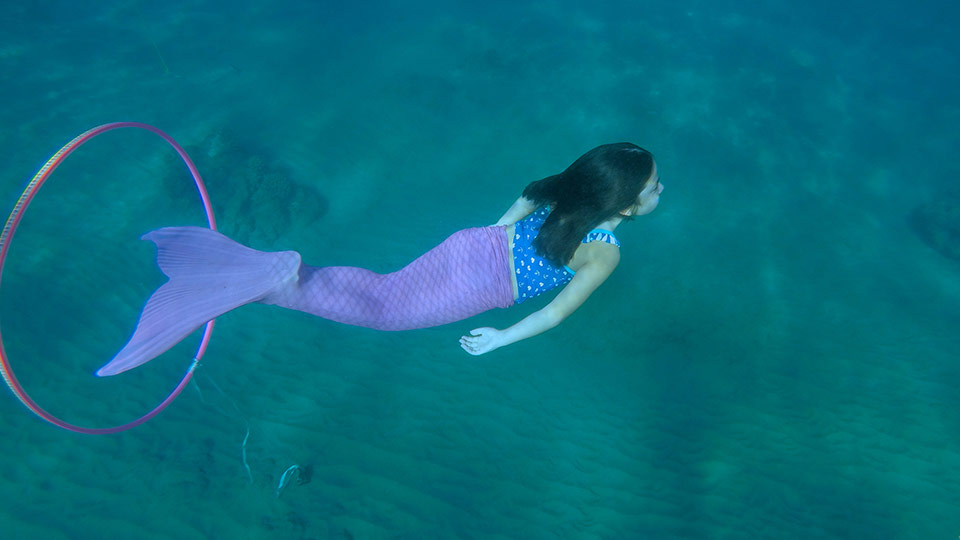 For more information on becoming a mermaid on Maui, visit https://hawaiimermaidadventures.com/.
#9 MAUI TREASURE HUNT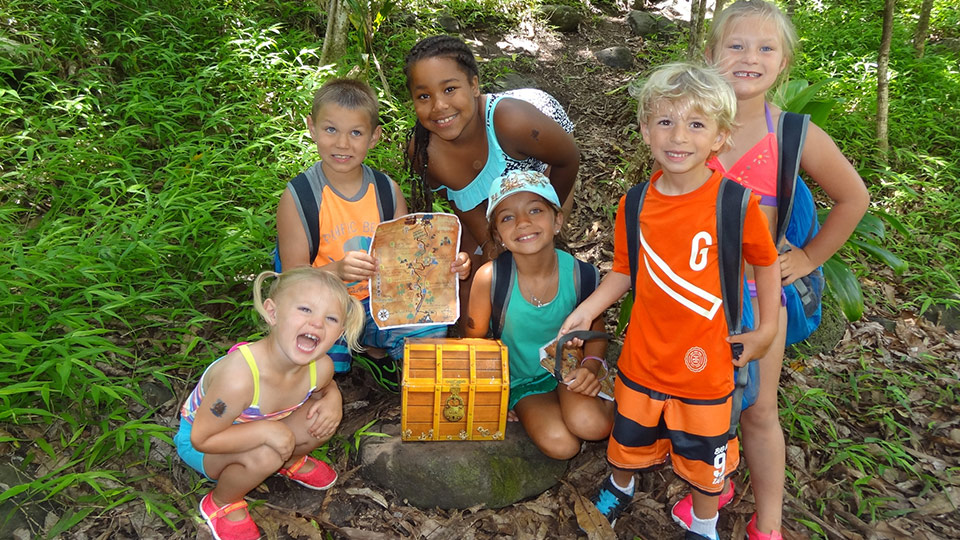 Next time you're planning a vacation on Maui with your kids, don't forget to book the Maui Treasure Hunt! It's a super fun activity for kids on Maui and includes a family tour with hiking, swimming in a private lagoon, and searching for bounty with your own designated treasure map.
Maui is the best Hawaiian Island for enjoying outdoor family fun with ease. Throughout the Island of Maui, guests can enjoy island and jungle living, great outdoor activities, and days of sunshine playing in the surf. Next time you're on a Maui vacation, mix it up with a family adventure on the Maui Treasure Hunt. This activity is about 3 hours long, and available for kids 5 years and older (kids under 7 years old must be accompanied by an adult). It's a great activity to enjoy as a family, or you can plan on dropping your kids off at the meeting point, and enjoying a little well-deserved adult time while your kids are searching for treasure, and exploring Maui in a safe environment.
The Maui Treasure Hunt begins at a meeting point in Kahului (Central Maui) at 8:45 am. This fun-filled Maui activity runs from 9am-1pm and includes a backpack, snacks and bottled water. The hiking trail is fit for any beginner and is 2-miles in length. Guests should prepare for the hunt with sunscreen, mosquito repellent, a swimsuit, and closed toed shoes or sports sandals. Prepare to get muddy, dirty, and wet! If you'd like to bring a camera or a smartphone for photo opportunities, carry it in a plastic bag to prevent the possibility of water damage.
If you're looking for a great adventure that your children will love, definitely take advantage of this Maui hiking tour for kids. Your kids will be entertained, educated and engaged for the duration of the whole trip. They'll most definitely create happy memories, and remember that time that Mom and Dad took them on that awesome Maui treasure hunt!
For more information about the Maui Treasure Hunt with Stardust Hawaii, please visit www.stardusthawaii.com.

#10 Tropical Express Tour
The Tropical Express Tour happens at the Maui Tropical Plantation in Central Maui. Perfect for kids, families and couples, here's a Maui tour that offers visitors a chance to view Maui's fruits, produce, plants and tropical flowers growing in an active farm setting.
The Tropical Express is a bright green, three-car train-like truck that cruises though the Maui Tropical Plantation property. Only upon "The Express" can guests access and journey through this incredible Waikapu Maui plantation.
During a 45-minute tour, the train loops around a fresh water lagoon, orchards, and tropical gardens. Pending the season, participants will visit a variety of farm sites including: pineapple, coconut, mango, banana, coffee, macadamia nut, papaya, starfruit, jackfruit, sugarcane, sweet potato, ulu, taro, avocado, herbs, corn, and more. This tour also includes Hawaiian cultural demonstrations like learning how to husk coconuts, and opportunities to sample freshly harvested fruits and vegetables.
With an expert guide, visitors will learn about Maui's farm seasons, how fruits like pineapple are grown, and be surrounded by the fresh scent of tropical flowers growing in their natural environment. The Tropical Express Tour is available daily: 10am, 11am, 12pm, 1pm, 3pm, and 4pm (including weekends and excluding major holidays).
For more information about the Tropical Express Tour, please visit Maui Tropical Plantation.
#11 BEST FAMILY BEACHES ON MAUI
Baby Beach at Baldwin Beach Park and Ho'okipa Beach Park

(North Shore)

Ka'anapali Beach and Kahekili Beach

(Ka'anapali)

Kamaole I, II and III

(Kihei)

Secret Beach

(Wailea)

Big Beach at Makena

(Makena)

Hana Bay and Hamoa Beach

(East Maui)
Beach Day Checklist
Check the weather reports and choose an appropriate beach for you and your family
Wear sunscreen and hats
Bring floating devices for kids and adults who aren't strong swimmers
Bring snacks and a camera!
Be safe, watch the water, and never turn your back to the ocean
Enjoy your family vacation, create awesome memories, and have the time of your life!!
For more information on Maui's best beaches visit Top 15 Maui Beaches.
#12 UFO PARASAIL
For those of you have always dreamed of flying, and wish to soar the skies with a bird's eye view, board ship with UFO Parasailing and Hawaiian Adventures. As one of the top activities on Maui for over 25 years, all who dare to launch into an in-flight adventure we feel thrilled and triumphantly pleased that they mastered the norm.
With options to ride solo, tandem, in groups of three or just observe from the boat, there is no doubt that smiles with stretch across your family's faces. For more information on venturesome family activities on Maui, visit www.ufoparasail.net.
——–
Thanks for reading our Top Ten List of best activities to do on Maui with your Kids.
What are your Favorite Activities to do on Maui?
Written By Alexandra Mitchell
Alexandra is a marketing professional with a passion for writing about travel to the Hawaiian Islands, vacation rentals, and luxury real estate. She exposes readers to glimpses of 'Old Hawaii,' new destinations to explore, local events, and all the best things to do on Maui.