Top 10 Places to Stop on the Road To Hana
Get Our Newsletter: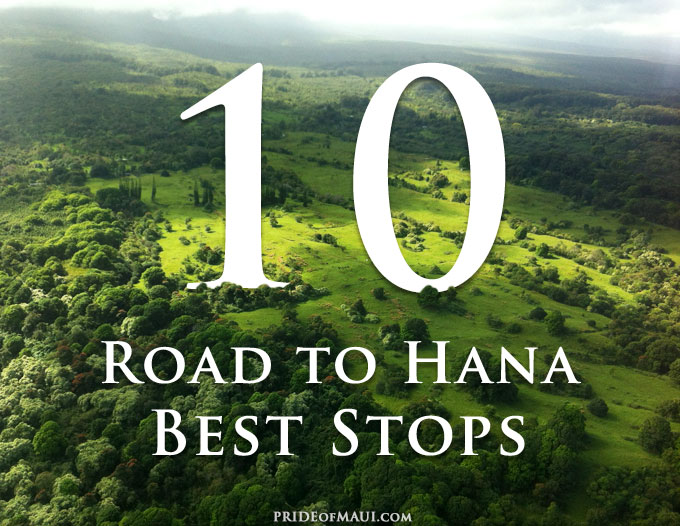 In our experience, researching what stops to make along the Road to Hana can be more exhausting than actually driving it. With so much mixed information from seasoned locals, one-time visitors and experienced tour guides, it can be challenging to decide what stops are the most enjoyable for your particular interests. In order to make the process less overwhelming, we have chosen the Best Places to Stop on the Road to Hana based on the great experiences they offer as well as easy accessibility and acceptance from Maui locals.
Road to Hana Best Places to Stop
#1 Paia Town
A hippie-surfer town since the 1970s, Paia Town is an excellent place to stop on your morning drive to begin the Road to Hana or for dinner on your way back. This laid-back town consists of only one main road and is filled with an assortment of charming coffee shops, restaurants, art galleries, eclectic shops, yoga studios and more people-watching than you can do in a day. We recommend coffee, a snack and to-go picnic lunches from Kuau Store to start your morning off right. While Paia can certainly be seen but not experienced in a few minutes, we recommend making it back here for live music at Charley's Restaurant & Saloon or a beach day at Baldwin Beach Park. Who knows, you might even run into local homeowner Willie Nelson on his way to grab groceries. Whatever you do, don't feed the hippies.
Paia Town is located 4 miles past Kahului on the Hana Highway, and public parking lots and street parking are available.
#2 Twin Falls
A family owned and operated bio-diverse farm since 1997, Twin Falls is home to the first accessible waterfalls along the Road to Hana. Stop and grab some freshly squeezed sugarcane juice, coconut candy, and locally grown fruit at the Twin Falls Farm Stand before heading to the Lower Falls, an easy, short walk from the parking lot, or the Upper Falls, a one-mile roundtrip hike through a slippery but beautiful trail. Take a refreshing dip in the waterfall(s) of your choice and get ready for many more to come! If you'd like to make this a longer stop, daily tours of Wailele Farm are also available.
Twin Falls is located at Mile Marker #2 along the Road to Hana. You will see the Twin Falls Farm Stand on your right, and parking is available in the large dirt parking lot or the second lot just over the bridge.
#3 Wailua Valley State Wayside
While most visitors breeze right by this scenic stop, Wailua Valley State Wayside offers some of the best mauka (toward the mountains) and Mauna (toward the ocean) views along the Road to Hana, including high elevation views of Ke'anae Valley,  sprawling taro fields of Wailua Village and, on clear days, waterfalls. Climb up the stairs on your right for an unforgettable photo opportunity. Whether you come to enjoy views of the seemingly endless ocean or rolling clouds over the valleys of Haleakala Volcano, the Wailua Valley State Wayside is a can't miss.
Wailua Valley State Wayside is located a little over half a mile past Mile Marker #18 along the Road to Hana. Parking is available in the small dirt lot to your right.
#4 Kahanu Garden & Pi'ilanihale Heiau
Kahanu Garden is a 294-acre National Tropical Botanical Garden that holds some of the most beautiful and rare plants from the Pacific Islands, including those from Polynesia, Micronesia and Melanesia that were brought here centuries ago in ancient voyaging canoes. The garden also holds the most diverse collection of 'ulu (breadfruit) varieties in the world as well as Pi'ilanihale Heiau, the largest ancient place of worship in Polynesia, made entirely of lava rock and registered as a National Historic Landmark. This structure is impressive and grand, to say the least. It is estimated to have taken several stages over several centuries to complete and is considered a sacred, cultural gift from the ancestors of the Hawaiian people. The garden is open from 9:00am to 2:00pm Monday through Saturday, with guided tours available Saturday mornings from 10:00am to 12:00pm and 1:00pm to 3:00pm. Cost is $10 per adult for the self-guided tour, $25 per adult for the guided tour, and free for children under 12 years old.

The Kahanu Garden and Pi'ilanihale Heiau is located just past Mile Marker #31 along the Road to Hana. Turn left on 'Ula'ino Road and the entrance is on the right past Ka'eleku Caverns.
#5 Wai'anapanapa State Park
As far as Maui scenery goes, this is where you'll get the most bang for your buck. Meaning "glistening water," Wai'anapanapa offers a little something for everyone, including a picture-perfect black sand beach, sea arches, a blowhole, freshwater caves, hiking and walking trails, lava tubes, cliff jumping, and stunning panoramic views of the rugged East Maui coastline. The turquoise water against the black sand and bright green plant life is truly gorgeous, and while most visitors only stop to snap a few photos and move on, we highly recommend taking a little longer to explore this park fully. Take a dip in the refreshing freshwater cave, stand inside of the lava tube and watch the locals cliff dive from jagged islets. Park entrance is free for visitors, and camp sites and cabins are available with advance notice for visitors who wish to stay longer with friends and family.

Wai'anapanapa State Park is located at Mile Marker #32 along the Road to Hana. Turn left onto Wai'anapanapa Road and public parking is available in the lot.
#6 Hana Bay Beach Park
Congratulations, you've officially made it to Hana! Hana Bay is a favorite hangout spot for Maui locals and visitors alike, and it's not hard to see why. This large, black sand beach is perfect for swimming and relaxing due to it's protection from strong wind and waves. Grab those picnic lunches, soak up some sunshine and enjoy island life at it's finest at this beloved East Maui spot. In the late afternoon, you may see outrigger canoe clubs practicing here, and to the right of the bay is Ka'uiki Hill, which was formed in one of the last lava events on Maui. Follow the trail to the small red sand beach and find the plaque where Queen Ka'ahumanu, favorite wife of King Kamehameha I, was born in a nearby cave.
Hana Bay Beach Park is located in the center of Hana Town along the Road to Hana. Follow the signs to Hana Bay, where you'll find public parking.
#7 Hamoa Beach
Consistently named one of "Maui's Best Beaches" and included in the list of "America's Best Beaches" in 2012, Hamoa Beach is only a short drive past Hana and well worth the drive. Lined with sea cliffs and beautifully surrounded by lush vegetation, this 100 foot wide and over 1,000 foot long crescent-shaped beach offers a quiet, relaxing, truly Hawaiian escape with a view. Since this beach is exposed to open ocean, waves and currents can be strong, making it perfect for bodysurfing, boogie boarding and surfing enthusiasts. Lounge in the shade or on the salt-and-pepper sand and let your worries melt away. While this spot can get crowded, you still have plenty of room to spread out and enjoy the day.
Homoa Beach is located 2.5 miles south of Hana. Turn left onto Haneoo Loop Rd. and drive past Koki Beach, where you'll find parking in a small dirt lot. Take the stairs down to the shore.
#8 Wailua Falls
Wailua Falls is an 80-foot cascading waterfall and plunge pool located directly off the side of the road before you reach 'Ohe'o Gulch. Considered the most photographed and one of the most beautiful waterfalls on Maui, you won't have to look too hard to find this amazing spot. Wear sturdy shoes and take the short but slippery hike down to the base for a truly rewarding experience and view. While the falls are usually best in the morning when the sun is shining, it's definitely worth a stop and short hike to stand in waterfall mist and marvel in nature. Keep in mind that these falls lie on Honolewa Stream, not to be confused with Wailua Valley or Wailua Stream, two separate attractions.
Wailua Falls is located at Mile Marker #45 past the town of Hana. There is a parking lot adjacent to the bridge, where vendors are usually set up to sell souvenirs.
#9 'Ohe'o Gulch aka "Seven Sacred Pools"
Located in the Kipahulu District of Haleakala National Park, 'Ohe'o Gulch is a must-see on the Road to Hana. Cascading freshwater pools stream down directly into the ocean, making this a perfect swimming spot when weather conditions are right. Since heavy rains up on the mountain can cause dangerous flash floods without warning, swimmers are strongly cautioned to be on the lookout for rising water levels. Entrance to the National Park is $10 per vehicle, but the ticket is good for up to 3 days, including a trip through Upcountry Maui to the summit of Haleakala Volcano. Drive-up camping is offered, and if time allows, make sure to explore the adjacent Pipiwai Trail, a 4-mile roundtrip hike which leads visitors to a giant banyan trees, through a thick bamboo forest and ends at Waimoku Falls, a gorgeous 400 foot cascading waterfall. Great place to stretch your legs and take a swim! Full restroom facilities and picnic tables available.
'Ohe'o Gulch is located 12 miles past the town of Hana at Mile Marker #42. Public parking is available past the entrance.
#10 Back Side of Haleakala
If you're a fan of remote beauty, you'll fall in love with this part of the drive. While most visitors on the Road to Hana turn around and drive straight back once they reach Hana Town, we recommend exploring further and driving the back road all the way around from Kipahulu into Kula. While the road on the back side is partially unpaved, narrow and, at times, steep, thousands of people have done it successfully and it's totally worth the drive! As green and lush as the Road to Hana has been up until now is exactly how deserted and different it becomes on the back side, offering stunning views of deep valleys and long stretches of undeveloped land. Along this drive you will pass the grave of famous aviator Charles Lindbergh, the beautiful Alelele Falls, empty black sand and rock beaches, Kaupo Store, St. Joseph's Church, Kaupo Gap, Pu'u Maneoneo petroglyphs and village ruins, and finally, Tedeschi Winery and the Ulupalakua Ranch Store, serving up local Maui wine and delicious elk burgers.
The back side of Haleakala begins after 'Ohe'o Gulch and stretches until Ulupalakua, leading you through beautiful Upcountry Maui. If you wish to stop and take photos, make sure you pull over in an area entirely off the road so you don't block traffic.
We hope this guide is helpful for your Road to Hana adventure, and remember, it's not about the destination, it's about the journey!
Written By Local Expert
We are local Maui guide experts and Hawaii enthusiasts who love to share the Aloha spirit and our favorite things to do on Maui.