Top 10 Free Things to Do on Maui
Get Our Newsletter: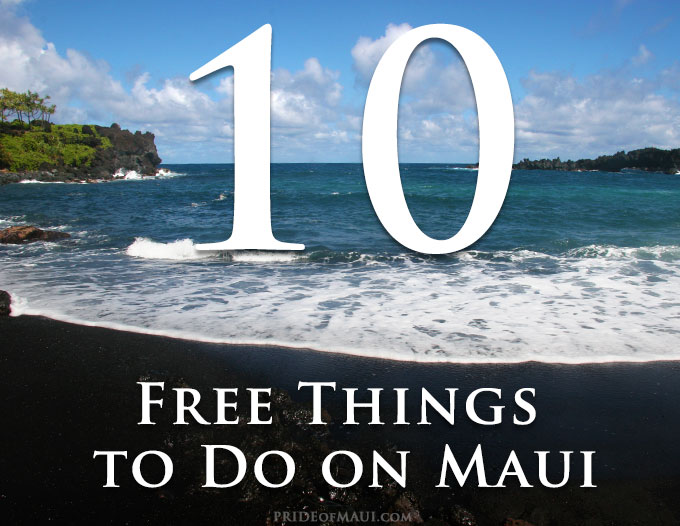 When you think of things to do on Maui, snorkeling at Molokini, watching fire dancers at a luau, hopping aboard a sunset dinner cruise, taking surf lessons and shopping on Front Street are just a few things that come to mind. You might notice, however, that none of those things are free. And although Maui certainly doesn't top any charts as the most budget-friendly tropical destination, that doesn't mean it can't be done. With year-round temperatures averaging between 75 and 85 degrees and an abundance of outdoor activities, events, and destinations to explore, at the very least remember that it's always free to go outside. Here are our picks for the Top 10 Free Things to Do on Maui.
Maui Things To Do For FREE!
Attend an Island Celebration
If there's one thing Islanders believe in, it's celebrating! No matter what time of year you visit Maui, chances are you'll catch some kind of event, celebration, festival or party, almost all of which are completely free to attend. Here's a breakdown, month-by-month, of what's going on (and where) in Maui.
January: Chinese New Year Celebration (Lahaina)
February: Chinese New Year Celebration (Lahaina), World Whale Day (Kihei), Maui Open Studios Art Events (all areas), Maui Plein Air Painting Invitational (Lahaina, Kapalua)
March: Whale & Ocean Arts Festival (Lahaina)
April: Banyan Tree Birthday Party (Lahaina), Maui County Agricultural Festival (Wailuku), Haiku Ho'olaule'a & Flower Festival (Haiku), Maui Steel Guitar Festival (Kaanapali)
May: East Maui Taro Festival (Hana), Maui Onion Festival (Lahaina), Maui Brewers Festival (Kahului), Maui Classical Music Festival (Makawao, Hana, Makena), Maui Matsuri (Kahului), Wa'a Kiakahi Sailing Race (Kaanapali)
June: King Kamehameha Day Parade & Celebration (Lahaina), Kapalua Wine and Food Festival (Kapalua), Maui Film Festival (Wailea), Slack Key Guitar Festival (Kahului), Upcountry Ag & Farm Fair (Makawao)
July: 4th of July Fireworks & Fair (Lahaina)
August: Heiva I Maui Tahitian Competition (Wailuku), Kaanapali Fresh (Kaanapali)
September: Taste of Lahaina (Lahaina), Ku Mai Ka Hula Competition (Kahului)
October: Maui Fair (Wailuku), Lahaina Plantation Days (Lahaina), Aloha Festivals (Wailuku, Kahului, Kapalua, Lahaina, Hana), Halloween Celebration (Lahaina), Maui 'Ukulele Festival (Kahului), Fall Harvest Festival (Makawao)
November: Hula O Na Keiki (Children's Solo Hula Competition, Kaanapali), Lighting of the Banyan Tree (Lahaina)
December: Wailea Wine & Food Festival (Wailea), First Light Academy Film Screenings (Kahului), Na Mele O Maui Song and Art Competition (Kahului), New Year's Eve Fireworks (Wailea)
Monthly: Friday Town Parties (1st Friday – Wailuku; 2nd Friday – Lahaina; 3rd Friday – Makawao; 4th Friday – Kihei), Cirque du Sunday (Every 2nd Sunday of the month – Lahaina), Hula Show (Tuesdays & Thursdays – Lahaina Cannery Mall), Starry Night Cinema (Once a month – Maui Arts & Cultural Center)
See the Sights
One of the best things about flying thousands of miles to a gorgeous island is the chance to explore it. Get outside and see the natural (and free) sights Maui has to offer.
North Maui: Take a scenic drive past Kapalua for picturesque, winding roads and stunning views of the rugged North Shore of Maui. Stop at Nakalele Blowhole and take the hike down for an awesome display of mother nature. Warning: Stay on the dry ground and don't get too close to the blowhole!
East Maui: There's a lot to love about the Road to Hana. If you enjoy frolicking in waterfalls, hiking through secret bamboo forests, standing in lava tubes, watching waves crash into scenic cliffs, and exploring black, red and gold sand beaches interspersed in dense tropical rainforest along on a winding highway of fun, you're in the right place. Besides the cost of gas, snacks and a highly-advised bottle of bug spray, you can enjoy a full day of exploration the best way possible… for free.
Upcountry Maui: If you're looking for a break from the heat, head upcountry to Makawao or Kula and spend the day exploring art galleries and gardens. While experiencing the sunrise or sunset atop the 10,000 ft. Haleakala volcano isn't free, we think it's well worth the $10 per car admission, which includes free entrance back into the park, including the Seven Sacred Pools in Hana, for up to 3 days.
South Maui: Drive South past Makena to La Perouse Bay, the site of the most recent lava flow on Maui. You'll enjoy sweeping views of rugged lava fields and may even see the famous Hawaiian spinner dolphins resting in the bay. Take a walk, go for a snorkel or simply enjoy the view.
Relax under the Banyan Tree
On April 24th, 1873, Sheriff William Owen Smith planted an Indian banyan tree to honor the 50th anniversary of the first Protestant mission in Lahaina. 141 years later, that same tree now shades two-thirds of an acre and reaches over sixty feet tall. Grab a book and head down to Lahaina's famous banyan tree for a relaxing time in the shade. Even though climbing the tree isn't allowed, this is one of the best spots on Maui to people-watch to your heart's desire. You can catch Art in the Park, which is a local arts and crafts fair, with live music, every second and fourth weekend of the month.
Whale Watch
From December to May, an estimated 12,000 humpback whales swim over 3,000 miles from the Gulf of Alaska to Hawaii to breed, calve and nurse their young in the shallow, warm waters around Hawaii. One of the best places in the world to see these majestic creatures in the Auau Channel, the shallow area between West Maui, Lana'i and Molokai. While there are many ways to see the whales on your trip to Maui, including a boat, kayak, stand up paddleboard, outrigger canoe, and even a helicopter, they can certainly be seen from shore for an equally magical, totally free experience. For the best whale watching spots, head to Kaanapali Beach in West Maui, the cliffs surrounding the Ritz Carlton in Kapalua, or any of the beaches in Kihei, Wailea, and Makena if you're staying on the Southside. One of the easiest ways to spot whales is the rising mist from their blowholes, and you'll likely see a full breach if you're patient enough.
If you're not opposed to spending a little money, we highly recommend taking a whale watching boat trip! This is an inexpensive alternative to watching from shore and a great way to see the whales up close and personal. Much like mai tais and Irish coffee, remember that driving and whale watching don't mix well. Pull over and enjoy!


Watch the Surfers
Hawaiian surfers are world-renowned for their skills in big wave surfing. While Maui doesn't get as much attention as Oahu, there are still some incredible breaks that bring in surfers from around the globe. Although you may not be ready to face the hardcore waves (and wind) yourself, it's definitely worth making a trip to watch the pros tackle the action. Keep an eye on local surf forecasts to find the best spots to watch while you're here, and if you do plan on trying to paddle out to catch some waves, make sure to follow proper surf etiquette. The best places to watch are usually Pe'ahi (Jaws), Lahaina Harbor, Ho'okipa Beach Park, Olowalu, and Honolua Bay.

Catch Some Live Music
What's a Hawaiian vacation without some island tunes? While you're most likely to find live music at restaurants and bars, there are plenty of free options for low-key, fun evenings outdoors.
South Maui: Every Wednesday, the Shops at Wailea host a free live music event from 6:30 to 8pm. Enjoy shopping, restaurant specials and gallery receptions with artists. Every 4th Friday in Kihei, a free town party is hosted for a great night spent under the stars enjoying live music, local crafts and an abundance of food trucks.
West Maui: Every last Thursday of the month, the Lahaina Restoration Foundation hosts a free show on the Baldwin Home Museum Lawn from 6:00 – 7:30 pm to showcase the best of Hawaii's up-and-coming musicians and singers. Want to learn to play the 'ukulele yourself? Free lessons are given every Tuesday at the Lahaina Cannery Mall. Check out 2nd Fridays in Lahaina for free live music on Campbell Park lawn.
Take a Hike
With an abundance of truly spectacular trails, hiking is definitely an activity you should consider on your trip to Maui. You'll have a chance to explore the beauty of Maui first hand and enjoy some of the best-hidden spots on the island, including bamboo forests, freshwater streams, lava rock, sea arches, and waterfalls!
Some of our favorite hikes include:
Pipiwai Trail: If you plan on visiting the famous Seven Sacred Pools on the back side of Haleakala National Park, don't miss this stunning 4 mile hike (round trip). It's worth it! Discover giant banyan trees, a dense bamboo forest and end your hike at the stunning Waimoku Falls, a 400-foot cascading waterfall. Bring your receipt from the summit of Haleakala for free entrance for up to 3 days.
Kings Highway: Beginning at La Perouse Bay in South Maui, this hike is actually an ancient pathway that was developed by King Piilani in the 16th century to circumnavigate and connect both sides of the island. Bring sturdy hiking shoes and lots of water, as this hike will take you directly over jagged lava rock. The ocean views from here are amazing!
Iao Valley: Although entrance to this park is $5 for non-residents, it's a small price to pay for an experience you definitely don't want to miss. Located only a short drive from Wailuku, Iao Valley offers stunning views of rolling clouds, towering green cliffs and ocean views from the West Maui Mountains. Make sure to pack rain gear, bug spray and a bathing suit for a nice dip in the freshwater stream.
Twin Falls: A Maui favorite for locals and visitors alike, Twin Falls is a great place to enjoy the beautiful scenery of Ho'olawa Valley and Wailele Farm, located at mile marker 2 along the Road to Hana. Choose from two hikes, the shorter and easier Twin Falls or the slightly longer hike to Caveman Falls.
Wai'anapanapa State Park:
One of the most popular destinations in East Maui, Wai'anapanapa is home to an array of gorgeous scenery, including a black sand beach, ancient temples, lava tubes, freshwater caves, a blowhole, sea arches and Kihaapi'ilani Trail, a lengthy stepping stone trail that leads directly to Hana Town. Entrance is free and stopping here is a must on the Road to Hana.
Visit the Beaches
Maui has a total of 81 accessible beaches, so if you can't find at least one that suits your fancy, chances are it doesn't exist. From calm water and golden sand to one of the best windsurfing beaches in the world, Maui has something for everyone.
Some of the most popular beaches on Maui include:
North Maui: Kanaha Beach Park, Kite Beach, Baldwin Beach Park, Ho'okipa Beach Park, Waihe'e Beach
East Maui: Honomanu Beach, Hana Beach Park, Hamoa Beach, Kaihalulu (aka Red Sand Beach), Honokalani Beach (aka Black Sand Beach), Koki Beach
South Maui: Makena Beach (aka Big Beach), Little Beach, Kama'ole Beach Parks I, II, and III, Charley Young Beach, Cove Park, Kalama Beach Park, Keawakapu Beach, Maluaka Beach, Polo Beach, Ulua Beach, Mokapu Beach, Paako Beach (aka Secret Cove), Wailea Beach
West Maui: D.T. Flemings Beach Park, Ka'anapali Beach, Kapalua Beach, Napili Bay, Launiupoko Beach, Puamana Beach, Wahikuli State Park
Brush up on your History
Did you know Hawaii is the only state whose land area is increasing, grows coffee and honors a monarch? Learn about Maui's rich culture, history, and wildlife by taking a free tour of Lahaina Town, the historic Wailuku district, Wai'anapanapa State Park, Kealia Coastal Boardwalk, and Whalers Village.
Watch the Sunset
When you're in Hawaii, sunset isn't just a time of day, it's an activity. Pick a beach and walk along the shore or pack a blanket and beverage for a truly relaxing, spectacular Maui pastime. If a 3:00 am wake up call and sunrise viewing aren't on your vacation agenda, drive up to the summit of Haleakala for an equally beautiful sunset experience. Although entrance to the park is $10, how often do you get to watch the sky change colors from atop a 10,000-ft volcano in Maui? Exactly.
Many of the photos are courtesy of Natalie Brown Photography.
Written By Local Expert
We are local Maui guide experts and Hawaii enthusiasts who love to share the Aloha spirit and our favorite things to do on Maui.