Top 20 Places to Stay on Maui
Get Our Newsletter: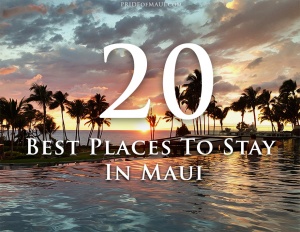 Welcome to Pride of Maui's Top 20 Best Places To Stay on Maui article! We have created an awesome list of the best places to stay while you're on vacation in Maui. With our valuable insider's perspective, we have conjured up the top Maui accommodations on each corner of our gorgeous island; South Maui, West Maui, the North Shore, Upcountry and East Maui.
When planning your holiday accommodations, there are obviously many choices, locations, and even price points to consider. Maui visitors have the ability to stay at a huge range of accommodations on the island. They all offer something different and amazing for a perfect Maui vacation home base.
With a host of 5-star resorts, intimate bed & breakfasts, privately owned inns and hotels, and super private vacation rentals, Maui has it all. From all-inclusive resort living with the stars to stargazing in East Maui in your own private tree house, you can experience it all! Create the best Maui vacation experience yet, and check out our recommendations for Maui's Best Accommodations.
South Maui Accommodations
Four Seasons Resort in Wailea
Maui's Four Seasons Resort is ahh-mazing! It is hands down, definitely one of the best resorts in all of the Hawaiian Islands. The Maui Four Seasons is nothing short of island-fabulous with everything a guest could need and more.
As soon as you step into the lobby at the Four Seasons in Wailea, you know that you're about to experience something Great. The resort is impeccably designed inside and out, with phenomenal art garnished throughout all parts, perfect lighting, gorgeous water features, a spectacular swimming pool area, and the most unthinkable views of South Maui's Pacific Ocean. From all parts of this resort you feel like you've stepped into a dream, or at the very least, a very precious watercolor painting.
Accommodations at Maui's Four Seasons are high-end and spectacular with Ocean View Rooms, Mountain-Side Rooms, Garden-View Rooms, Club Ocean-View Rooms, Small Suites and Executive Suites. Just as to be expected at a Four Seasons Resort, all rooms are gorgeously furnished for your ultimate vacation pleasure.
Amenities at the Four Seasons in Wailea are out of this world. Fine dining opportunities on the property are endless with Ferraro's, DUO and Spago easily within arms reach. The concierge can make your dreams come true, and the staff is possibly the most engaging and friendly resort staff in all of Maui. The Four Seasons in Wailea is truly spectacular and highly recommended*
For more information, please visit our in-depth review Four Seasons Resort in Wailea.
Andaz Maui
Andaz Maui is the newest resort on Maui, and one of the most incredible oceanfront destinations in Wailea.
Here, guests will surely lavish in luxury at this 15-acre Maui beachfront resort, abundant in a myriad of high-end amenities and services. Guests can choose deluxe Guestrooms, Andaz Suites, and Villas for their stay on Maui.
Every part of Andaz Maui is impeccable, with fabulous interior design elements fused with modern Hawaiian. Just steps away from Mokapu Beach, guests can fully decompress poolside at the many-tiered infinity pools or at the spectacular Andaz Spa.
Explore new adventures and enjoy kayaking, surf lessons, Maui snorkeling, and much more easily within arms reach.
For more information, please visit our in-depth review Andaz Maui.
Hotel Wailea
Located in a less traveled area of South Maui, Hotel Wailea offers gorgeous panoramic views in an intimate setting that still gets you close to the beach without any of the beach traffic or noise. With sweeping 180 degree views of neighbor islands, Haleakala Volcano and 15 acres of Zen-inspired landscaping, including cascading waterfalls and tropical gardens, guests enjoy serene luxury at this unique boutique hotel, just 300 feet above the ocean.
There are 72 one-bedroom suites on property, including Partial Ocean View, Ocean View and Panoramic Ocean View, all featuring separate bedroom and living areas, soaking tubs, kitchenettes and private lanais with chaise lounges and stunning views. Hotel Wailea offers complimentary transportation to Wailea beaches, shops, golf and restaurants and holds yoga classes in their relaxing facility several times per week. Hotel renovations, which will be completed in Fall 2014, including transforming their already-beautiful suites, spa, and pool area to elevate the 72-room boutique to a new level of "barefoot luxury." Guests can also enjoy the onsite restaurant, Capische?, which features a romantic setting, craft cocktails and delicious Italian and French cuisine.
For more information, please visit Hotel Wailea
Kohea Kai Resort
Located in Kihei, the Kohea Kai Resort is an Adults Only boutique resort on the Southwest shore of Maui. It is just a few steps away from Mai Poina 'Oe la'u, an incredible five-mile white sand beach.
The Kohea Kai Resort offers seven accommodation choices; the Ocean Front Penthouse, the Ocean View Penthouse, the Pool View Penthouse, the Full Suite, the Junior Suite, the Studio and the Standard.
There are some great amenities at this hotel! Here, guests have access to the oceanfront, dining at the Kohea Kai Bistro which features free breakfast as well as 24-hour food selections, the pool, WiFi, concierge, an event space and more.
One of the best values at the Kohea Kai Resort is the Ocean View Penthouse which boasts views all the way from Haleakala to the South Pacific Ocean. This amazing Maui hotel also features private, intimate spaces that are perfect for parties, wedding receptions or meetings such as a private rooftop patio with a wet bar and stunning views as well as a tropical garden patio, complete with gas grills, that is ideal for entertaining up to 50 guests.
Though you're sure to be pleased with Kohea Kai's in-house bistro, it's also just a short drive from local favorite restaurants like Monkeypod Kitchen, Coconuts Fish Cafe, and Morimoto Maui.
For more information about the Kohea Kai Resort, please visit Kohea Kai.
West Maui
Montage At Kapalua Bay
If you love staying at luxurious boutique-style accommodations while on vacation, then you'll absolutely adore the Montage at Kapalua Bay. This high-end boutique resort has everything you could ever ask for and more than most comparative Maui resorts. At the Montage in Kapalua, guests will be surrounded by a luxurious lifestyle from the time of booking until departure.
One thing that totally stands out about the Montage Kapalua is the element of specialization that they integrate with all of their customer service offerings; guest check-in, concierge, dining, activities, events and more. For example, after booking with the Montage Kapalua, you are assigned a personal concierge. Your concierge will tend to all needs of your initial booking and continue to go above and beyond. By personalized mail, they will send you information about your stay, and if you are traveling with kids, your children will also receive a personalized mail package. In your child's package will be a welcome letter and information about the "Paint Box;" the Montage Maui resort's unique children program.
Upon arrival at the Montage in Kapalua, you won't be battling lines to get settled into your room. The same concierge professional that handled your booking will greet you in their horseshoe driveway, and then direct you to your room while informing you of all guest amenities on your way. This type of service is different, folks.
The Maui Montage Resort is located in the supreme setting, overlooking the blue azure Pacific Ocean, and taking advantage of all island-style possibilities. With daily live music, performances, various dining choices, excellent guest amenities, art shows, beautiful swimming pool and relaxation areas, proximity to the beach, and all the additional luxurious conveniences provided by the Montage at Kapalua Bay, no guest will ever be left unattended to.
For more information, please visit the Montage at Kapalua Bay.
The Westin Ka'anapali Ocean Resort Villas
Sitting upon approximately 26 acres of Ka'anapali, the Westin Ka'anapali Ocean Resort Villas is the place to be. In line with the extraordinary reputation of Westin vacation properties international, this is one of the very best places to stay in all the Hawaiian Islands.
Guests will surely enjoy sleeping in the "Heavenly Beds" and awakening to the smooth rolling sounds of calm Pacific Ocean waves tempting the shoreline. Whale watch from your own private lanai during the Winter months and enjoy all the wonderful advantages of oceanfront Maui luxury living. "The Villas," are a mastermind of comfort. They are impeccably designed, and beautifully furnished with a long list of vacation amenities. Spa Helani at the Westin Ka'anapali Ocean Resort Villas is one of the overall best spas in the Hawaiian Islands. Guests will surely feel revitalized and at ease while they enjoy their customized treatments. Plush accommodations most definitely surround you while enjoying all the superior spa services, with a multitude of massage and aesthetic offerings.
For more information, please visit The Westin Ka'anapali Ocean Resort Villas or call (808) 667-3200.
Hyatt Regency Maui Resort & Spa
Maui's Hyatt Regency Resort is surrounded by 40 fabulously gorgeous oceanfront acres. Awarded with a AAA Four Diamond Rating for over 20 consecutive years, this place is paradise. Recently renovated, the Maui Hyatt is one of the most in-demand resorts to stay at in West Maui. Popular for adults, this resort is the perfect setting for a magical Maui vacation for two.
Rooms at the Hyatt vary in size and price, just like most resorts in Hawaii. Guests can choose from rooms with a mountain or ocean view, deluxe view rooms, regency club rooms, suites and ADA rooms ('Americans With Disabilities Act' complaint guest rooms). What makes the Hyatt stand apart from other resorts on Maui is the hotel positioning. Even standard rooms can offer an ocean view here. In addition, the Maui Hyatt also offers a really good kama'aina rate*
Resort amenities and conveniences are aplenty at the Hyatt; guests have access to many vacation activities at the Activity Center, tennis lessons, lei making classes, the Drums of the Pacific Luau, the Marilyn Monroe Spa, Golf, a beautiful swimming pool area, and incredible dining opportunities at Japengo, 'Umalu. Son'z Steakhouse, Swan Court, and the Grotto Bar.
For more information, please visit the Hyatt Regency Resort on Maui.
Honua Kai Resort & Spa
The Honua Kai Resort & Spa is set oceanfront to the incredibly gorgeous Ka'anapali Beach. When at the Honua Kai, guests will marvel in fantasy with fantastic Pacific Ocean views, and the outer island of Lana'i set the center front stage.
Here, guests have many lodging options ranging from 595 sq. ft. Studio suites to 2,650 sq. ft. Specialty Suites. The Honua Kai Resort & Spa is one of the most laid-back accommodation choices in West Maui; perfect for a quiet vacation for two, family holidays, weddings, and large group vacations in Hawaii. During the Winter months, visitors have optimum positioning for watching the incredible Humpback Whales breach and frolic upon the oceans' surface. Ka'anapali Beach offers a very convenient selection of restaurants, spas, shops, and nightlife for year-round guest enjoyment. At the beach, guests can easily venture on a sunset cruise, snorkel tour, or stand up paddling and parasailing adventures.
For more information, please visit Honua Kai Resort & Spa or call (855) 718-5789.
Lahaina Shores Beach Resort
Lahaina Shores Beach Resort is a particularly unique place to stay in Maui. In fact, it's the only beachfront vacation condo resort located right in Lahaina, and that's pretty cool! Just within a short walk away, Lahaina Shores guests can peruse restaurants, shops, cafe's, and art galleries on the Lahaina's historic Front Street. This Maui condo resort is also super close to Lahaina's wharf area where visitors can find snorkel tours, sport fishing charters, whale watching tours and Maui sunset cruise charters.
There are many accommodations options to choose from at Lahaina Shores Beach Resort; studios with mountain views, premier studios with mountain views, oceanfront studios, premier oceanfront studios, one-bedrooms with mountain views or an ocean view, mountain view penthouses, and finally the tour de force, the oceanfront penthouse.
This awesome oceanfront Maui condo complex offers an abundance of vacation conveniences and amenities. Condos include fully equipped kitchens, central AC, private lanai's, 27" TVs, and more pending your accommodation choice. Additional services include a concierge team, a 24-hour front desk, daily maid service, complimentary continental breakfast on the morning after your arrival, free WIFI, laundry facilities, dry cleaning and on-site parking.
The property also has a beautiful swimming pool and outdoor lounge area, a whirlpool spa Jacuzzi, and poolside BBQ gas grills. Let's not forget that it's beachfront, so you can enjoy swimming in the warm Pacific Ocean every day!
For more information, please visit Lahaina Shores.

North Shore
Inn at Mama's Fish House
Most visitors are well informed about Mama's Fish House Restaurant in Kuau, Maui. It is hands down, the BEST restaurant on Maui. But, most people don't even know that Mama's also offers amazing vacation accommodations.
Located just steps away from one of Maui's most beautiful white sandy beaches, the Inn at Mama's is a dream. It is a perfectly exclusive, and conveniently located private vacation destination.
Just like their restaurant, the Inn is charming and warm; all about the guest experience. The Neo-Polynesian decor is inviting, and the accommodations are definitely a casual luxury. Guests have an option to choose from their Beachfront Cottages, Garden Cottages, or Luxury Junior Suites. They are all more than reasonably priced, and a huge value for those that desire a vacation rental style privacy with expert services and a multitude of amenities included.
For more information, please the Inn at Mama's Fish House or call (808) 579-9764.
Mangolani Inn
The Mangolani Inn is well regarded as "a Tropical Sanctuary in Paia, Maui," and that is exactly what it is. Recently remodeled, this location offers all the comforts of home with free WIFI, a BBQ area, hot tub, beach gear, picnic areas, and surfboards and bicycles available for rent. Several units are available at the Mangolani, including a 4-bedroom Upstairs House, the Mango Treehouse, and a Large, Medium and Small Studio.
The Mangolani is the perfect destination to choose for those that want to feel fully immersed in Maui's North Shore culture. The property is beautifully landscaped and very well cared for, offering a host of conveniences.
Just a 5-minute walk down the road, guests can feel completely integrated with the energy of the Historic Town of Paia; chic bohemian style boutiques and gift shops, a health store, post office, gas stations, bank, yoga and massage studios, surf shops, and a unique collection of restaurants and cafe's.
For more information, please visit Mangolani Inn or call (808) 579-3000.
Lumeria
Lumeria is Maui's premiere wellness retreat center. But, you do not have to participate in a retreat to stay at this fabulous property. Located in between Paia and Makawao Town, Lumeria is set on an incredible location with gorgeous views and luxurious accommodations.
Lumeria offers 24 individually designed guest rooms; all beautifully designed, furnished and decorated. Guest rooms at Lumeria feature housekeeping service twice a day, a luxurious bathroom, organic linens and bathrobe, AVEDA bath products, a safe, a mini-fridge, complimentary bottled water, and WiFi. Guests of Lumeria receive many perks like access to daily classes, activities and events, complimentary breakfast, free parking, and so much more.
Lumeria Maui is a really special place to stay on Maui, and also a great place to hold an event. In addition, the Spa at Lumeria offers guests many singular healing arts opportunities with a variety of incredible practitioners; a variety of massage therapists and healers, acupuncturists and herbalists, hydrotherapists, psychics, meditation teachers, and more.
For more information, please visit Lumeria or call (808) 573-0066.
Haiku Cannery Inn
First of all, I have to say that I absolutely love this property. I always suggest this Maui vacation rental to friends and family. The main cottage is a great place to stay on Maui if you're traveling with small children*
Located on three acres in Haiku, this historic Maui B&B offers a few different accommodation types; The Meadow Cottage, the Bamboo Suite, the Sunrise Room and the Malia Room. The main residence was originally built in 1921 for the Manager of the Haiku Pineapple Cannery and has been since restored. The family that runs the Haiku Cannery has owned and managed it for over 40 years. Throughout the property, guests will find beautiful and cozy furnishings, local artwork, custom made furniture, impeccably landscaped grounds, and an overall relaxed Haiku vibe.
The Meadow Cottage is perfect for a small family with a Master bedroom with a king bed, and a second bedroom outfitted with two twin beds. The open spaced kitchen/living room is a great place to cook and unwind into the evening, and guests can thoroughly enjoy the outdoor space. There is also a covered garage space with storage and lots of useful beach accessories; snorkels, beach chairs, coolers, etc. Surrounded by lush green landscaped lawns, children will definitely enjoy running around and playing, and taking turns on the rope swing. Without a doubt, all will enjoy the very mature avocado tree on the property*
The Bamboo Suite is a great choice for a single traveler or a couple. It is outfitted with a queen-sized bed, a small kitchenette (mini fridge, microwave, toaster, and coffee maker), and a private bath. The Sunrise Room is outfitted with a 10-ft high ceiling and includes a king bed (or two twins), a futon bed/couch, a private en-suite bathroom with a shower, and access to the guest pantry. The Malia Room is the smallest of all accommodations and includes a double bed, desk area, a private bathroom and access to the guest pantry. Guests staying at the Bamboo Suite, Sunrise Room, and the Malia Room will receive a daily continental breakfast*
For more information, please visit Haiku Cannery Inn.
Maui Tradewinds
Maui Tradewinds is commonly considered a tour de force bed and breakfast on Maui; though it's so much more, skip the breakfast, if you need – as your room will offer plenty of accommodations for a stay-in. This locale is sure to be your dream home away from home. Whether you'd like to explore or take in views of the ocean or Haleakala from your suite, Maui Tradewinds is simply one of the best around and an undeniable marvel.
In the words of owner, David Dantes, Maui Tradewinds is "a romantic honeymoon vacation retreat on Maui's beautiful North Shore." Here, guests can have the best of both worlds by staying away from crowds and commercialized development, yet still be conveniently situated for exploring the entire island. The property is a rare combination of gracious island lifestyle, unspoiled natural beauty, and the privacy of being the only guests. Experience panoramic views, brilliant rainbows, sunsets over the ocean, your exclusive Jacuzzi overlooking a rain-forest, tropical garden, kitchen, and luxurious bath. This spot is highly rated by respected travel authors in many popular travel media outlets including Frommer's, TripAdvisor and Best Places to Kiss.
For more information, please visit Maui Tradewinds or call (808) 573-0066.
UpCountry
Kula Lodge & Restaurant
One of the very best panoramic views of the elusively gorgeous Island of Maui is from a prime vantage point in Kula, Maui. Lucky for the Kula Lodge and Restaurant, they have the most optimum piece of Up Country Maui property for the most incredible view of the Valley Isle. Without a doubt, this location is magical. From here, guests can see the most southern part of the South Maui coastline stretch as far as the West Maui Mountain Range, and even further through the Central Maui Mountain Valleys.
For years, the Kula Lodge has been a favorite destination for visitors and locals alike. The 5 "Chalets," are the accommodations provided by the Kula Lodge, and are a perfect home-style place to stay for those that crave solace, comfort, and the closest lodging proximity to the Haleakala National Park. A stay at the Kula Lodge is most definitely an experience that will not soon be forgotten. The Up Country areas of Maui are diverse in topography, rural Maui country culture, and unique offerings. Enjoy the many splendors of the Haleakala National Park, the Ali'i Kula Lavender Farm, or the Maui Winery just within a short drive away.
The YouTube ID of g8lOdq8tGkQ?t=7s is invalid.
For more information, please visit Kula Lodge & Restaurant or call (808) 878-1535.
Hale Ho'omana Spa
The Hale Ho'omana Spa is one of Maui's best kept secret gems, and one of the greatest vacation hideaways on the planet. The intention of Ho'omana's mission is "to bridge ancient values embraced as a way of life for generations with the modern cultural rhythms of the present times." Hale Ho'omana is the Hawaiian Experience, offering a truly healing selection of spa services, including Lomi Lomi Nui Massage.
Located in Olinda, on the slopes of Mt. Haleakala, the Ho'omana Spa is in the most supreme area for those seeking personal reflection and spiritual wellness. Lodging offered at the Ho'omana Spa is rare and extremely private. Here, guests can choose from accommodations for up to 13 guests for groups, family, and personal retreats. Cottages offer private kitchens and bathrooms, and most notably recognized for the serene location and customized environment provided.
For more information, please visit the Hale Ho'omana Spa or call (808) 573-8256.
Hale Ho'okipa Inn
Located in Makawao Town, Hale Ho'okipa Inn is a beautiful plantation era property. This Maui bed and breakfast is a perfect place to stay if you're looking for solace, and convenience to North Shore and Upcountry areas.
Built in 1924, Hale Ho'okipa Inn is listed on the National Historic Register. It's not often that you get a chance to stay at a historic site in Hawaii, so this is a great place for those that want to learn a bit more about Maui's unique history. At this Maui B&B, guests can choose from four separate rooms; The Hibiscus Room, The Jasmine Room, The Rose Room and The Kona Wing.
The Hibiscus Room is a sweet accommodation garnished in Hawaiiana. This room for two is outfitted with a queen sized bed, cable TV, a private en-suite bath and shower, and a separate lanai area with views of Mt. Haleakala. The Jasmine Room is appropriately named with a calm breeze carrying the scent of jasmine flowers through the bedroom. This room is suitable for three guests with a queen bed, a full sized day bed, an en-suite bath with a shower and cable TV. The Rose Room is furnished with a queen bed, a day bed, a sofa, a private bath (with a shower and a clawfoot tub), a small fridge and cable TV. This room also has a private lanai* Last, but not least, the Kona Wing is perhaps the best value at Hale Ho'okipa. This two-bedroom suite has a master bedroom, a queen bed, a private lanai with a cozy rocking chair, a den/second bedroom with a double bed, a futon sofa bed, a private bath (with a shower and a clawfoot tub) and cable TV. The Kona Wing is a great choice for small families or those on an extended vacation. Use of the large kitchen at Hale Ho'okipa is also available to guests of the Kona Wing*
Within minutes from Hale Ho'okipa, guests can visit Haleakala National Park attractions, visit the Historic Makawao Town, stroll the coastal Town of Paia, and check out a myriad of North Shore beaches and activities. This is a great place to stay on Maui if you want to experience a little glimpse of what it's like to live on Maui.
For more information, please visit the Hale Ho'okipa Inn.
East Maui
Travaasa Hana
Voted #1 Boutique Hotel by Hawaii Magazine, and No.1 Resort Spa in Hawaii by Conde Nast Traveler's 2012 Readers Choice Awards, Travaasa Hana totally meets all competitive challenges.
Located off the beaten path in the sleepy Hana Town of East Maui, Travaasa offers unimaginable experiences for all that lay foot on their grounds; a deluxe Hawaiian style spa, 5-star dining, and the option of all-inclusive or inclusive accommodations. This fabulous boutique hotel is beautifully designed among one of the most gorgeous natural settings in all of Hawaii. At this locale, guests can fall back in time, and worry about nothing. Savor euphoric days of sunshine, solace, and an overall calm at Travaasa Maui. Within moments away guests can explore waterfalls, freshwater swimming holes, hiking, pristine beaches and horseback riding.
For more information, please visit Travaasa Hana or call (888) 820-1043.
Hana Kai Maui
Perfectly set on Waikoloa Beach, Hana Kai Maui is definitely a cool spot to know about. They offer a variety of oceanfront vacation rentals including studios, one and two bedroom units.
Hana Kai's private vacation rentals are equipped with kitchens, lanai's and free WIFI. Surrounded by breathtakingly panoramic views and lovely landscaped grounds, everyone will love a Maui vacation at Hana Kai. In addition to their cozy accommodations, Hana Kai also provides amazing convenience amenities; daily housekeeping, beach towels, continental breakfasts, emergency medical services and activity bookings.
When in Hana, guests can truly appreciate the calm, and natural serenity that Hawaii has to offer. Hana Town is small and quaint, and the community surrounding is charming and full of aloha. Visitors can check out weekly farmers' markets, visit artist galleries, hike to waterfalls, see black sand beaches, go surfing, sleep in late, and without a doubt enjoy a vacation of relaxation. There's no place like Hana!
For more information, please visit Hana Kai Maui.
Tree Houses of Hawaii
Yes! You can stay at a tree house on Maui! What a fabulous idea to create a simple and streamlined holiday on Maui, not far-fetched from indoor camping. Invoke your childhood dreams amongst Maui jungle living, and have the time of your life.
The Tree Houses of Hawaii in Hana, Maui, are out of this world. Accommodations vary based upon treehouse but offer linens and basic necessities. Be prepared for a bit of the rustic life, but clean, magical, and one of the best experiences you'll ever have in Hawaii. Residents and visitors alike love staying at the Treehouse in Hana. The tree houses are a great choice for those that are so-to-speak "raising the bar," or prefer a roof over their head and an accessible bathroom versus the common tribulations of camping.
For more information, please visit Tree Houses of Hawaii or call (808) 248-7241.
Mahalo Nui Loa for reading Pride of Maui's 20 Best Places to Stay on Maui article. We hope that you have thoroughly enjoyed learning more about some of Maui's top accommodations, and sweet vacation hideaways. No matter where you choose to stay during your vacation on Maui, you can feel confident knowing that you are about to embark on one of the best vacations of your life!
Enjoy all of Maui's beautiful offerings, and remember to check back with us for all the most current information about everything on Maui. Where are your favorite places to stay on Maui? Please comment below… A hui hou kakou, until we meet again!
Written By Alexandra Mitchell
Alexandra is a marketing professional with a passion for writing about travel to the Hawaiian Islands, vacation rentals, and luxury real estate. She exposes readers to glimpses of 'Old Hawaii,' new destinations to explore, local events, and all the best things to do on Maui.