Top 10 Musicians on Maui
Get Our Newsletter: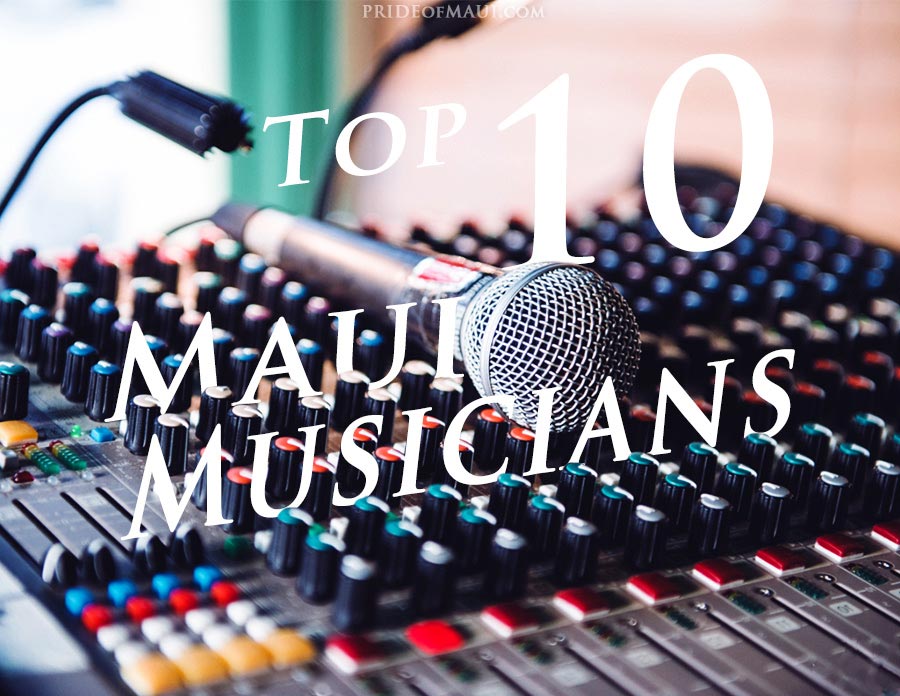 When most people think of music in Hawaii, sounds of ukulele, slack key guitar, and famous tunes like Don Ho's Tiny Bubbles and Israel "Iz" Kaanaoi Kamakawiwoole's Somewhere Over the Rainbow are typically the first to come to mind.
And while we continue to celebrate traditional Hawaiian music and musicians, we're also excited to celebrate those who introduce new styles and musical genres to Maui's live music scene.
On your next trip to Maui, make sure to reserve some time to enjoy live music at one of Maui's many venues, including the Maui Arts & Cultural Center, Maui Tropical Plantation, Charley's Restaurant & Saloon, Casanova Italian Restaurant, Mulligans on the Blue, Fleetwood's on Front Street, Cool Cat Cafe, Longhi's, Lulu's Lahaina Surf Club & Grill and more.
MAUI'S FAVORITE MUSICIANS
Willie K
Willie Kahaiali'i was born and raised in Lahaina, Maui. Son of Hawaiian musician, Manu Kahaiali'i, Willie began performing alongside his father and brothers at the age of 10 and quickly developed a knack for music and stage presence. By high school, Willie was performing with as many as 8 local bands. After briefly moving to San Francisco to pursue a music career, Willie returned to Maui and released his first album, Kahaiali'i, in 1991. He was awarded several Na Hoku Hanohano Awards from the Hawaiian Academy of Recording Arts – Hawaii's Grammy equivalent – including Most Promising Artist, Album of the Year and Best Contemporary Album of the Year.
Seamlessly blending styles such as Hawaiian, jazz, R&B and blues, Willie K's three octave range and overall musical talent changed the scene of Hawaii music in the 90s. After releasing two more albums in the mid 90s, both of which were also well-received, Willie K partnered with fellow musician Amy Hanaiali'i to produce three albums – Hawaiian Tradition, Hanaiali'i and Nostalgia – which went on to win two Na Hoku Hanohano Awards for Producer of the Year.
In 1999, Willie released his own Christmas album, Willie Kalikimaka, which included a duet rendition of "Away in a Manger" with fellow Maui homeowner and musician, Willie Nelson, and became the biggest selling Christmas album in 1999, making it to #11 on the Billboard Worldbeat charts.
A year later, Willie released The Uncle in Me, a retrospective of many of his best hits, in addition to starting Maui Tribe Productions, his own music and entertainment corporation. Today, Willie K continues to tour and play at events such as his annual Uncle Willie K's BBQ Blues Fest on Maui and Willie Nelson's 4th of July Picnic in Austin, Texas. Catch one of his weekly live performances on Maui by checking upcoming show dates.
For more information, please visit Willie K online.
Marty Dread
Dubbed "Hawaii's Reggae Ambassador", Marty Dread was born in the Bronx in 1969 before moving to Maui with his mother at the age of 8. After graduating high school, Marty was selected by the Youth Ambassadors of America to join a trip to the Soviet Union to assist in 'Maui to Moscow', a mural representing peace between Maui's children and the children of Moscow. A year later, Marty performed alongside his reggae band to an international audience at 'Moscow Meets Maui'.
In 1992, Marty released his first hit, Wicked Wahine, and in 1994, launched his own record label by the name of Five Corners Music, recording a song with musician and part-time Maui resident Kris Kristofferson soon after. Two years later, three of his songs were featured in the TV movie Maui Heat.
Over the last 21 years, Marty has released 16 albums, the latest of which include Island Rhythms and Upcountry Boy, and has performed all over the world, including the White House, Moscow's Red Square, Harlem's Cotton Club, Farm Aid, Reggae on the Rocks, Sierra Nevada World Music Festival, Reggae on the River, Jamaica Jazz & Blues Fest and the Virgin Holidays Music Fest in Barbados.
Over the last two decades, Marty has recorded with artists such as Willie Nelson, Inner Circle, Michael McDonald, Mad Professor, Tippa Irie, Irie Love, Anthony B, Oshen, Common Sense, Bluetech, Sly and Robbie, Pato Banton, Mikey Dread, Junior Reid, Toots Hibbert and more. He performs throughout the Island of Maui on a regular basis. Check his website for his event schedule.
For more information, please visit Marty Dread online.
Eric Gilliom
Brother of award-winning and highly acclaimed Maui musician Amy Hanaiali'i, Eric Gilliom is an actor, producer and award-winning recording artist on Maui. Featured in movies like Get a Job, Defense Play and Hoosiers, TV shows such as Moonlighting and the Jamie Foxx Show, and Broadway's Carrie, Eric was raised on Maui and studied music in Chicago.
Beginning in the mid 90s, Eric delved into many artistic ventures, including fronting the Eric Gilliom Project, playing Judas in a production of Jesus Christ Superstar, releasing two albums, Into the Mystic and Like Chow Fun, playing Dr. Frank-n-Furter in a production of The Rocky Horror Picture Show, and winning a Na Hoku Hanohano Award for Best Contemporary Hawaiian Album of 2007 for his debut of Barefoot Natives with fellow local musician, Willie K.
Eric has performed with many of music's top names, including Rick Vito, Michael Ruff, Hutch Hutchinson, Steven Tyler, Johnny Lang, Joe Caro, Barry Flanagan, Amy Hanaiali'i, Carlos Santana, Alice Cooper, John Mayall, Pat Simmons and James Hetfield, and is currently playing with Mick Fleetwood.
For more information, please visit Eric Gilliom online.
Lukas Nelson
When Willie Nelson is your dad, it's not surprising that musical talent comes naturally. Born in 1988, Lukas Nelson was raised on Maui's north shore, traveling and performing with the Highwaymen, his father's first group, alongside Waylon Jennings, Kris Kristofferson, Johnny Cash and his siblings from the age of 6. At just 11 years old, Lukas wrote "You Were It", featured on Willie's album, It Always Will Be.
Not one to simply capitalize on his father's fame, Lukas branched out and made his dream of becoming a professional musician a reality, dropping out of Loyola Marymount University to pursue his own career. Drawing inspiration from musicians such as Bob Dylan, John Mellencamp, Neil Young and Jimi Hendrix, Lukas eventually went on to write, play and sing in his own band, Lukas Nelson & Promise of the Real. When he's not touring the country, Lukas can be seen playing throughout Maui alongside his father and band members, Anthony LoGerfo, Tato Melgar, and Corey McCormick.
For more information, please visit Lukas Nelson & Promise of the Real online.
Erin Smith
Erin Smith is a talented singer-songwriter and guitarist originally from Canada. After graduating from York University, Erin pursued her music career, performing throughout Canada alongside musical artists such as Feist and Tegan and Sara. Soon after, she was asked to perform in popular Canadian music festivals, North by Northwest and Canadian Music Week.
In 2004, Erin packed up and moved to Maui, forming The Throwdowns alongside musicians Ola Shaw and Ian Hollingsworth. With hits like Stay HI, featuring Marty Dread, and local chart-topper Kihei Town, Erin quickly made a name for herself in the local and national music scene, performing with groups such as The Fray, The Dirty Heads, Matisyahu, Steel Pulse, The English Beat, Panic at the Disco, and 311.
After releasing two albums and being nominated for three Na Hoku Hanohano Awards, Erin released her first solo album, American Boy, and is currently playing throughout the Hawaiian Islands.
For more information, please visit Erin Smith online.
Lily Meola
Born and raised on Maui, Lily is the sister of Matt Meola, one of Maui's best surfers. Influenced by singers like Ella Fitzgerald from an early age, Lily began honing her craft and is now one of Maui's favorite local musicians. With a voice that reaches far above her age, Lily has made a name for herself alongside longtime musicians such as Tom Conway, Makana and Willie Nelson, who she performed a duet with, titled "Will You Remember Me" on his 2013 album, To All The Girls.
Today, Lily can be seen performing around the country, including Maui, Oahu, Austin's SXSW Music Festival and more. Check the list of upcoming performances to see her live.
For more information, please visit Lily Meola online.
Anuhea
Born and raised on Maui, Rylee Anuheake'alaokalokelani Jenkins, or Anuhea, performs a mix of reggae, pop, and soul music. A self-taught guitarist and songwriter from a musical family, Anuhea briefly went to film school in California before returning to Maui to pursue her music career. After gaining exposure by playing in local coffee shops and restaurants, Anuhea released her self-titled debut album in 2009, which quickly rose to the top of the iTunes Pop and World Reggae Billboard charts and earned her two Na Hoku Hanohano Awards for Best Contemporary Album of the Year and Most Promising Artist.
Since then, she has performed with artists such as SOJA, Jack Johnson, Ziggy Marley, Taj Mahal, Bruno Mars, Pepper, Al Green, FloRida, Babyface, and Hoobastank, and has released two subsequent albums, Come Over Love and For Love. Visit the list of upcoming performances to see Anuhea live in Hawaii or on the mainland.
For more information, please visit Anuhea online.
George Kahumoku, Jr.
It's no easy task to earn the title of "Hawaii's Renaissance Man". A longtime Maui resident, George is an award-winning master slack key guitar player, songwriter, sculptor, teacher, storyteller, author, and farmer. From his early beginnings playing alongside singer-songwriter Kui Lee to his work on soundtracks for several films, including Onipa'a, The Hawaiian Way, and Troubled Paradise, among others, to becoming the founding director of the Institute of Hawaiian Music at the University of Hawaii – Maui College, it's safe to say that George Kahumoku, Jr. is well-rounded.
Four-time Grammy winner and multiple Na Hoku Hanohano Award winner, George currently farms, officiates weddings, tours the country and plays twice weekly at his Slack Key Masters of Hawaiian Music Show at the Napili Kai Beach Resort. He was also recently featured in a documentary about his life, titled Seeds of Aloha.
For more information, please visit George Kahumoku, Jr. online.
Tom Conway
Tom Conway is a talented performer, writer, recording artist and teacher on Maui. After listening to Jimi Hendrix as a kid, Tom picked up a guitar at the age of 9 and quickly developed a knack for the instrument. Although he mostly performs solo, Tom has previously toured with Willie Nelson and has worked with artists such as Bob Rock, Marty Dread, Willie K, Pat Simmons, Ekolu, Gypsy Pacific and Joe Cano.
Combining styles that include country, reggae, blues, jazz, rock and pop, Tom currently performs at Wailea's Monkeypod Kitchen on Thursdays and Fridays and Kihei's Tiki Lounge on Saturdays.
For more information, please visit Tom Conway online.
Andrew Corradini
Originally inspired by his father's passion for music and the arts, Andrew got his first guitar at the age of 14 and has been making music ever since. Getting his start as bass player for the reggae/hip-hop band Badfish in the late 90s in Southern California, Andrew went on to form the indie-pop band, Handsome Grandpa, as singer/songwriter/guitarist and keyboardist, releasing two albums.
In 2012, Andrew went on to form a new band, Andrew & The Tall Ships of the North, before branching out to move to Maui with his family in 2014. Today, Andrew is a singer, songwriter, producer and mixing engineer, and can be seen performing weekly at local venues such as Charley's Restaurant & Saloon in Paia and Mulligans on the Blue and Tommy Bahama's in Wailea. He also definitely wins the award for best musical beard.
For more information, please visit Andrew Corradini online.
BONUS:
Joe Cano
Born in 1956, and raised in San Antonio (Texas), Joe Cano comes from a musical family. His namesake is the same as his father, Joe Cano Sr., who was also an extremely gifted musician. Since childhood, Joe has been a musical prodigy. Taught, and tutored by his father in the art of the guitar, Joe is not only a well-versed professional musician, but he is also a performance veteran.
This Maui musician raises the bar for talent in Maui's musician entertainment world, as he is internationally renowned for his musical styles and talent of ethnic fusion sounds. Even as a teenager, Joe performed with Jorge Santana. He continued on his musical path, and gained much professional experience working with high-level musicians such as George Benson, Sheila E, Tom Scott and Al Di Meola. Joe's undying musical talent combined with professional music industry experience allows him the very rare position to effectively bring his best to Maui stages.
Joe Cano is one of the those kinds of musicians that can play everything, probably by ear. From Jazz to Reggae, Blue Grass to Soul, Salsa to Polka, and Flamenco to Classical guitar; Joe Cano is a truly brilliant guitar virtuoso. In fact, he also has a lot of original work that can be heard on any of his internationally famous albums. Make sure to look them up on his website.
The island of Maui is truly lucky to have an individual like Joe Cano contributing to our melodic archipelago. He can be seen, and heard playing solo on Pride of Maui's Tuesday and Thursday sunset cruises, or on Friday and Saturday's sunset cruises with his trio; Edigadier "Nuno" Avlies on bass guitar and vocals, and Larry Fitzpatrick on congas and hand percussion.
For more information about Joe Cano, please visit Joe Cano online.

We hope you enjoyed Pride of Maui's picks for the best Maui musicians! Let us know who we missed in the comments below, and mahalo for reading!
Written By Local Expert
We are local Maui guide experts and Hawaii enthusiasts who love to share the Aloha spirit and our favorite things to do on Maui.