Top 10 Things Made in Hawaii
Get Our Newsletter: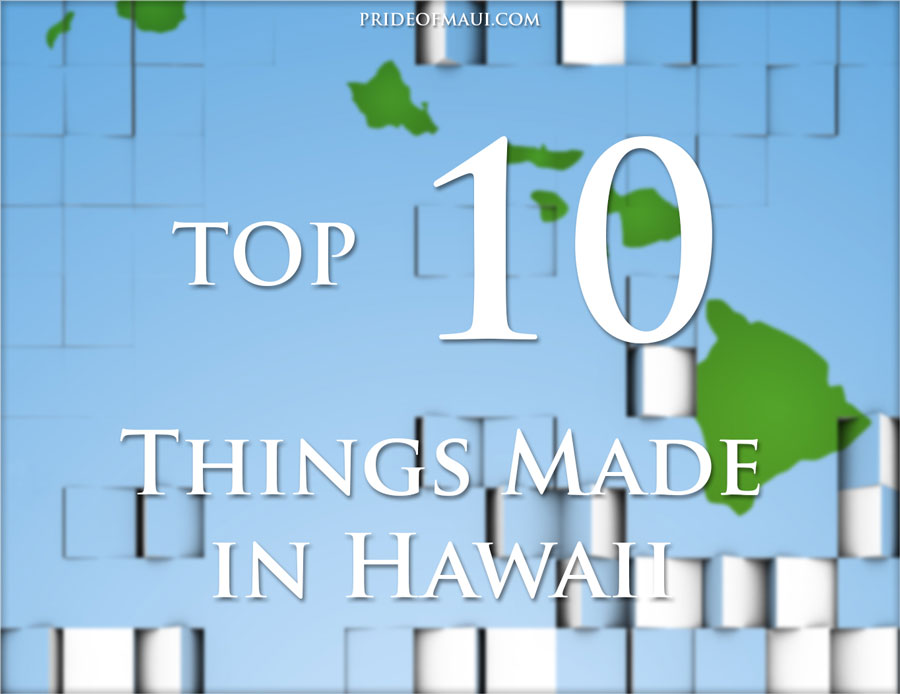 Without a question, Hawaii produces some of the best foods and drinks — from coffee, to rum, to shortbread cookies. It's no surprise that the State of Hawaii knows a thing or two about surfboards too! Some of these products are not only made in Hawaii; they are only available in Hawaii. This is the perfect article for you if you're looking for the best place to learn about the best Hawaii made products. As you'll see below, you'll also get a chance to explore a little bit of Hawaii's history and information about upcoming brands produced in the beautiful State of Hawaii.
10 Best Things Made in Hawaii
#1 Hawaii Grown Coffee
Hawaii is the only State in the U.S. that produces its coffee and has been doing so since the early 1800s. Coffee grown in Hawaii is world renowned and some of the most exclusive coffee varieties because of it. Nearly every mass-market coffee shop in the world sells Kona coffee along with varietal staples from the regions of Costa Rica, Italy, Ethiopia, Guatemala, and Kenya.
Not all Hawaii coffee is the same. Much like Napa or Sonoma wines, Kona has a lot of brand recognition, but some sub-par quality products do slip under the radar just by being associated with the region. Only coffee marked "100% Kona Coffee" is reliable. Although Kona coffee has made the most significant name for itself in the global industry, all of the major Hawaiian Islands produce their coffee, and a lot of it is award-winning Hawaii coffee. The mineral-rich volcanic soil in Hawaii provides the perfect scenario for growing coffee beans. There are about 800 coffee farms on the Big Island, and nearly 50 on the other islands.
Hawaii visitors and residents have the rare opportunity to buy beans directly from the grower. Some popular coffee plantations include Hula Daddy Kona Coffee, Maui Grown Coffee, Malulani Estate, Waialua Estate Coffee, Pele Plantations, and Rusty's Hawaiian to name a few.
For more information about Hawaii grown coffee, please visit hawaiicoffeeassoc.org.
#2 Hawaii Beer
Three emerging beer companies brew beer in Hawaii; Kona Brewing Company , Maui Brewing Company and Kohola Brewery. Kona Brew's 2010 induction into the Craft Brew Alliance and Maui Brew's 2015 alliance with Stone Brewing Company (Maui Stone Craft Beverages) have catapulted the availability of Hawaii made beer all over the mainland.
Hawaii has a thriving and expanding beer business that extends well beyond these three brands. There are currently about 15 Hawaii breweries, with new ones popping up regularly. As of 2012, Hawaii ranked 27th in the nation for craft breweries per capita. Other notable breweries include Big Island Brewhaus out of Waimea, Aloha Beer Company out of Honolulu, Hawaii Nui Brewing Company out of Hilo, Mehana Brewing Company out of Hilo and Primo Brewing out of Honolulu and Maui Brewing Company.
For a beer brewed in a tropical climate, most would assume the most popular beers to be light in style, like lagers and Pilsners. Kona Longboard Lager is probably the most recognizable Hawaiian beer worldwide. However, some of the favorite Hawaiian beers include porters and stouts rich in Hawaiian flavors of coffee, chocolate, and coconut. Try the Coconut Hiwa Porter from Maui Brewing Co. or the White Mountain Porter from Big Island Brewhaus for a real taste of Hawaiian craft beer. Many of these brands are available throughout the Hawaiian Islands, on the mainland and even worldwide. If you're a beer lover planning a trip to Hawaii, make sure to seek out beer tours and brewpubs in Hawaii.
For more information check out our guide on the Best Hawaii Beers.
#3 Life Foods
Life Foods started out in February 2013 as a tiny company based out of Wailuku, Maui. It has since been rapidly expanding to more Hawaiian Islands and the West Coast of the United States. They have a distribution center in San Francisco. As a Bay Area-Hawaii transplant, founder Azeem Butt's concept is simple. He provides easy, plant-based, meatless nutrition for families; all products are enriched with yummy and healthy organic superfoods.
Life Foods' idea is to create food that people can live off of — food that has real nutritional value. Their products are also convenient and great for busy families. They sell 100% organic superfood burgers, meatless breakfast patties, salad dressings, sauerkraut and more. Their products are available in Safeway, Foodland and Whole Foods as well as select natural foods stores in both Hawaii and California. Their super popular vegan burgers are also available at restaurants throughout the Hawaiian Islands and California.
Beyond meat alternatives, Life Foods has also revolutionized the condiment industry with their condiment line made from fermented vegetables and probiotics. They offer condiments they call "red," "yellow," and "white," which are akin to ketchup, mustard, and mayonnaise, but with substantial nutritional value and taste. Keep an eye out for these made in Hawaii products to become a staple in the veggie burger industry in the next year (rivaling companies like Morning Star, Gardenburger and Amy's).
For more information, visit their website at lifefoodsinc.com.
#4 Maui Babe
It would be a challenge to find a female in her teens to mid-thirties who hasn't heard of Maui Babe browning lotion. This Wailuku based coffee tinted tanning lotion is considered one of the best in the business and is certainly one of a kind. It's made from coconut oil, coffee, aloe, and kukui nut oil. It's the top-selling tanning oil in Hawaii, and consistently ranked among the "Top 6 Best Outdoor Tanning Lotions" worldwide (presscave.com, 2016).
Maui Babe is now sold internationally in Canada, Australia, South Africa, Mexico, Japan, and even in Saudi Arabia. One would expect to find a giant warehouse with hundreds of employees on a visit to the Maui Babe HQ in Wailuku. Surprisingly, only six people run the show. Founder, Joe Rossi, started the company by mixing the lotion in his Maui home and passing out samples on Maui beaches. The entire production is still very mom-and-pop, adding to its Hawaii-made appeal. Maui Babe has since expanded its product line to include both indoor and outdoor tan accelerators, sunblock and after sun lotion.
For more information about Maui Babe, please visit mauibabe.com.
#5 Honolulu Cookie Company
While visiting some of Hawaii's most popular towns and areas, there seems to be a Honolulu Cookie Company on every corner. It has become a staple in Hawaii's resorts and shopping landscape, much like how a Starbucks would be on the mainland. Honolulu Cookie Company was founded in 1998 with the intention of spreading a little bit of aloha. Needless to say, they spread a lot of sweet aloha to cookie lovers! Much like the cupcake culture of Beverly Hills, there is a cookie culture in Hawaii, and Honolulu Cookie Company's pineapple shaped shortbread rules all!
Honolulu Cookie Company offers Hawaiian inspired flavors like lilikoi (passionfruit), Kona coffee, chocolate macadamia, mango, and pineapple. If this sounds tasty to you, visit one of their stores for a free sample! The company has grown considerably in the past five years, but their cookies are still baked fresh daily and individually packaged by hand at their Honolulu cookie factory.
What's cool to know is that the Honolulu Cookie Company began as a way to encourage Hawaiian hospitality. In fact, the pineapple is the international symbol for hospitality and dates back several centuries, also being the primary logo for this Hawaii-made product. Both visitors and locals love to purchase cookie themed Hawaii gift boxes from Honolulu Cookie Company. It's such a great way to celebrate and share a little bit of the Hawaiian Islands with those back home. The cookies are now available at 13 locations on Oahu and Maui, two locations in Las Vegas, in Korea, and of course, online!
For more information, please visit their website at honolulucookie.com.
#6 Hawaii Liquor
The Caribbean associates with rum, while Russia undoubtedly associates with vodka. Pineapples, coconuts, coffee, and sugarcane are natural resources of Hawaii. Hawaii is gaining ground in the world of distilleries and where most utilize sugarcane to make vodka, rum, whiskey, and liqueur.
The most recognized of these distilleries is Ocean Vodka. Ocean Vodka produces Maui made organic vodka from sugarcane and deep ocean mineral water. This family business started in 2005, sells their vodka in 36 states, Canada, South America and Asia. Ocean Vodka has since expanded production to include rum, whiskey, and liqueurs and produced on Hawaii Sea Spirits Organic Farm and Distillery.
Other Hawaii distillers also produce a product from Hawaiian sugarcane, although they make rum, not vodka. Manulele Distiller's popular Kō Hana Hawaiian Agricole Rum is making waves in the craft cocktail industry. Kauai's Kōloa Rum also produces seven local rums in award-winning Hawaiian flavors, like coconut.
Hawaii is also home to three other distilleries: Haleakala Distillers, Kolani Distillers and Island Distillers. The distillery industry in Hawaii is still in its infantile stage, but expect major global contributions in the next few years.
For more information, please visit Ocean Vodka's website at oceanvodka.com.
#7 North Shore Goodies
Almost everyone who has spent any amount of time in Oahu or visited an ABC store in Hawaii knows about North Shore Goodies' Coconut Peanut Butter. If you don't already know, you do now! It only has 35 calories per serving and is made from only two ingredients: coconuts and peanuts. This popular Hawaii peanut butter brand first started out at Oahu farmers markets and quickly made a name for itself throughout the islands.
This family-run Hawaii made company started on the North Shore of Oahu with one single product. They have since expanded their operation to include over 55 products. North Shore Goodies now sells a variety of other foods including flavored peanut butters, jams, salad dressings, coffee and syrups. They limit all products to 3-4 ingredients, specializing in Hawaiian flavors like coconut, lilikoi, guava, macadamia nut, pineapple, vanilla bean, and ginger.
North Shore Goodies still holds a strong tie to their farmer's market roots, making multiple appearances a week in Oahu, and handing out addicting samples religiously. Their products are available online and at over 50 stores in Hawaii, locations as far as Alaska, Connecticut, and even Japan.
For more information on North Shore Goodies, visit their website at northshoregoodies.net.
#8 Surfboards

Native Hawaiians have been making surfboards since the 1700s. Boards once weighed over 150 pounds, were 10-16 feet long, and made of solid local wood with no fins. Wow, surfboards have changed some since them! In ancient Hawaiian days, surfing wasn't just a recreational activity, it was deeply ingrained in Hawaiian culture and ritual.
Hawaiians like to keep their surfboards local. Town & Country, Kazuma and SOS Surfboards (Sean Ordonez Shapes) are three of the best brands in the Hawaii made surfboards industry. Town & Country is an Oahu based surfboard shaping company founded in 1971, rich in the history and heyday of Waikiki longboard surf culture. Their distinctive yin-yang logo is respected worldwide in the surf community. SOS is probably the most recognized big wave board shaper in the world and is the best place to go if you're looking to get a custom Maui-made surfboard. Kazuma Surfboards, founded by owner and shaper Matt Kazuma, has been making custom surfboards in their Haiku, Maui store for over 25 years. The factory is open to the public and Kazuma encourages customers to watch the shaping process firsthand.
There are dozens of other Hawaiian surfboard brands like Tropix and Hawaii Surf Factory, as well as countless amateur and semi-amateur surfboard shapers.
For more information about Hawaii made surfboards, visit sosshapes.com, tcsurf.com or kazumasurfboards.com.
#9 Pineapple
The second most visited attraction in Hawaii after the Pearl Harbor Memorial is the Dole Pineapple Plantation. This pineapple plant was imported to Hawaii as early as the late 1700s and was once the top producer of pineapple in the entire world. Today it consists of only a fraction of a percent of global pineapple production, but still holds immeasurable symbolic value for the State of Hawaii.
Aside from Dole, other pineapple plantations like Maui Gold Pineapples grow sweet and nutritious, vitamin C rich Hawaii pineapples. Hawaiian pineapple is known for its extra sweet flavor and low acidity. Both the Dole Pineapple Plantation on Oahu and Maui Gold Pineapple offer tours highlighting the historical significance of pineapple in Hawaii, and fun facts about pineapple history and production. For example, it takes about 19 months to grow a pineapple, but only has a 2-3 day window of prime ripeness.
Hawaiian pineapple is available in pre-inspected boxes for those that want to take some Hawaii sweetness home with them. It makes a great gift, and while pineapple is no longer a significant cash crop in Hawaii, it remains as the most identifiable symbol of the Hawaiian Islands. Check with your airlines; most will check pre-inspected pineapples for free*
For more information about Hawaii pineapples, please visit pineapplemaui.com and dole-plantation.com.
#10 Macadamia Nuts
Nothing says Hawaii like Macadamia Nuts. Most of Hawaii's Macadamia Nuts are grown on the Big Island. In fact, Macadamia Nut trees are not native to Hawaii. Sorry folks! They were brought over from Australia in the 1800s. Despite this, Hawaii remains one of the largest producers of Macadamia Nuts worldwide.
Mauna Loa has made a name for itself as the tastiest source for anything made with Macadamia Nuts in Hawaii. Since 1976, they have been making a huge impact in the Hawaii-made foods industry. Also, Oahu's Hawaiian Host produces Hawaiian Macadamia Nuts roasted with Maui onion, Hawaiian honey, Kona coffee and other sweet and savory flavors. Throughout all Mac Nut brands, chocolate covered Macadamias are among the top sellers, and on that note, Hawaii is the only US State that also grows its cacao.
There are also countless smaller macadamia nut businesses like Kona Coast Macadamia Nut, Hamakua Macadamia Nut Company and Bad Ass Macadamia Nut Company. Today, Macadamia Nut production in Hawaii includes 700 farms and eight processing plants. Hawaii made Mac-nut goods are readily available at farmer's markets, ABC Stores, Foodland, Safeway, Costco, Walmart, select mainland retailers and online.
For more information about Macadamia Nuts in Hawaii, visit maunaloa.com and hawaiianhost.com.
There are thousands of products made with pride in Hawaii! If you're on vacation in Hawaii during one of the awesome 'Hawaii Made Festivals' that takes place annually on each Hawaiian Island, we suggest that you check them out! What are your favorite products made in Hawaii? Let us know in the comment section below… aloha.
All photography was either taken by Pride of Maui staff, from owners that have given us written permission, and/or purchased for use. We have all the rights necessary to use these images on our website.
Written By Stacey Alonzo
Stacey is a travel writer, journalist, and photographer from Lake Tahoe who now lives in Maui. She has a passion for travel, surfing, yoga, and organic eating and aims to find the most adventurous activities for readers to do both on Maui and Hawaii in general.