21 Secret Peaceful Spots on Maui
Get Our Newsletter: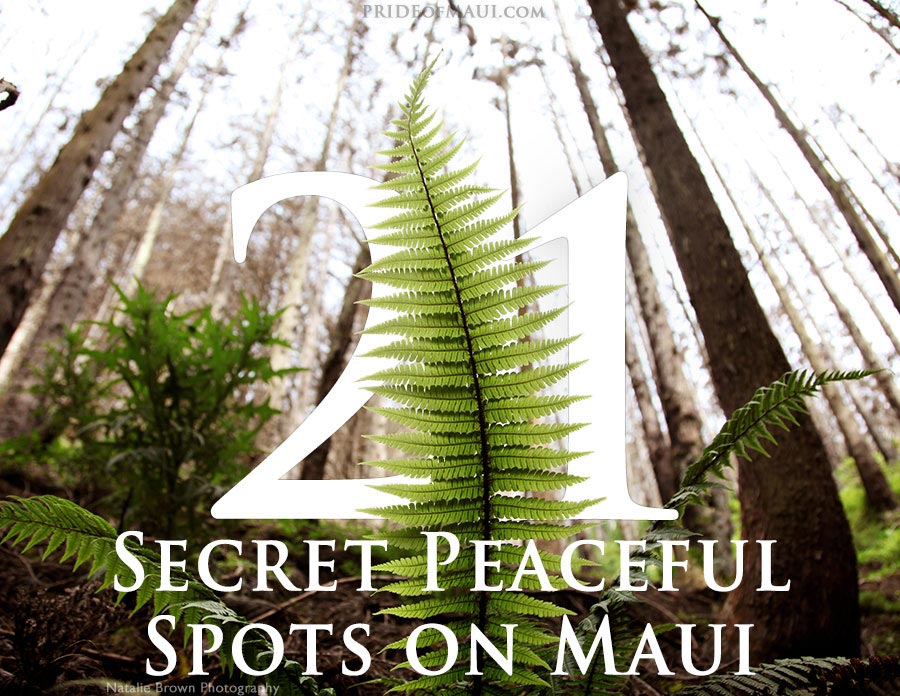 When we hear the word "Maui," our mind usually floats away to umbrella-laden cocktails and sun for days. For those that are looking for more R&R while on vacation in Maui, then you'll love learning more about the 21 Secret Peaceful Spots on Maui.
Colorful umbrellas dot the beach, and children splash through the tropical waves. It's all well and good if you're traveling to join the yearly 2.2 million Maui visitors. But, if you're in need of some serious space and deep relaxation away from the masses, we've got you covered with this comprehensive list of the best secret spots on Maui. Enjoy…
Ali'i Kula Lavender Farm
Lavender is a natural health superstar and is a perfect partner for a peaceful trip. In fact, in ancient times, they used to use it to tame lions and tigers! If you feel like you need a heavy dose of calming love, this place is for you! This Kula agricultural organization is here to nurture our island as well as your anxiety. The Ali'i Kula Lavender Farm is known for their tours, but they also offer gourmet picnic lunches, craft classes and a gorgeous location for Maui weddings and events. No matter how you visit Maui's lavender farm, it's sure to invigorate your breath and spirit.
Oneloa Beach
You've come all this way to Maui, and it's no surprise that you want to find a piece of sandy paradise to call your own. In fact, on Maui, you actually don't need to battle the mobs to make this dream come true! Oneloa Beach is one of Maui's most remote and in-the-know beaches on the island. The beach offers warm and soft sand, the sunshine and calm waters (it's best to come before the afternoon winds kick up though). If you feel like stretching your legs, meander down the Kapalua Coastal Trail which hugs the coastline and has large seat-like rocks you can meditate on. Here, you can breathe in the cleansing air and breathe out all that you want to leave behind.
Turtle Town
It's just you and the deep blue, gently bobbing above Maui's vibrant coral reef and sea life. Take a moment to appreciate what snorkeling on Maui with turtles can offer you! If you're craving a friend or two, glance around, and you may very well find yourself in the quiet company of our incredible Green Hawaiian Sea Turtles. These old souls appreciate the harmonious balance that life in the ocean offers, and can most definitely extend their peaceful demeanor to you just by being in their presence. Watch their playful antics and laissez faire movements, and you'll soon find your peaceful rhythm.
Thompson Ranch
If you're ready to explore more than sugary sand and aqua-infused waves, then head Upcountry to the slopes of Mt. Haleakala. Thompson Ranch is a family-owned Maui ranch that sits high above the hub of tourists. Their professional guides will take you and your loyal horse along a country trail 4,000 feet above sea level. There, you'll traverse through secluded and untouched Maui lands; a very rare Maui horseback riding tour indeed. Keep an eye out for the possible peacock or Axis Deer along your journey, as they tend to relish in this peaceful terrain.
Garden of Eden
The Garden of Eden isn't just one of Maui's most peaceful spots, it's also one of the most in-the-know sights to see on the Road to Hana. Part of the first Jurassic Park movie was filmed at the Garden of Eden in Maui. This is one of the most incredible outdoor botanical gardens in Maui, all should make sure to stop here while en route to East Maui. There are thousands of beautiful tropical plant species including native Hawaiian flora and fauna. In total, there are 26 acres of vegetation for you and your group to explore. Before leaving Maui's Garden of Eden, make sure to visit their gift shop for all of your Maui souvenir needs; it's full of locally made Maui art, crafts, and gorgeous handmade island jewelry.
Sacred Gardens
The Sacred Garden of Maliko is tucked away in the rainforest of the North Shore's Haiku area. It's an incredible botanical nursery, spiritual center and hub for the Maui health and wellness community. Within the Sacred Garden, you'll find two medieval-style labyrinths, a sweet spiritual gift shop, a nursery, the 'Mother Shrine' and so much more. There is a certain essence of calm that will take a hold of you as soon as you enter the Sacred Garden of Maliko. Every genre of spirituality is represented on this amazing property included Buddhism, Hinduism, Christianity, and more popular and lesser-known sects of faith. All are welcome to enjoy this peaceful space!
Makawao Forest Reserve
As you drive up towards Upcountry Maui and Mt. Haleakala, you may wonder if you're still on the Island of Maui… The road curves its way around ancient Eucalyptus trees and rolling hills speckled with goats and horses munching its grassy fare. The topography changes entirely as you travel higher in elevation, and suddenly you'll see some of the most spectacular island views on Maui.
When you arrive at the Makawao Forest Reserve, you'll find yourself in the middle of a Northwestern-looking forest; brimming with Eucalyptus trees, Pine trees, and hooting owls. As you hike along the path, you'll notice the sun dotting the way through the branches, offering a bit of warmth in this cooler climate. If you make your way around the loop trail, you might find a tepee built out of branches, perfectly sized to enjoy a picnic lunch or a mid-day snooze. If you see others on the trail, rest assured that they're there for the same peace-seeking reasons you are.
The Makawao Forest isn't just popular for hiking, it's also a great place for mountain biking on Maui!
Temple of Peace
Maui's Temple of Peace is located in the gorgeous Haiku area of Maui's North Shore. It's a place where a beautifully tiled temple meets you, and then you're taken to a place of tranquil energy. Their eco-friendly cleansing spa offers colonoscopy services, an infrared sauna, herbal steam room, a cold plunging pool and more. It all depends on your wants and needs; they also offer weekly seminars, Maui spiritual workshops and many different types of meditation events.
Temple of Peace is one of Maui's most popular cleansing spas and retreat centers for a good reason. You're sure to be introduced to a metaphysical sense of the aloha spirit and a handful of the most world-renowned healers at this Maui spiritual retreat.
Haleakala Crater
The sunrise at the 10,023 foot high Mt. Haleakala Crater meets many bleary-eyed travelers and residents that are willing to wake up as early as 3 am to make it in time to see a magical Maui sunrise. If you're craving a breathtaking view without all that company, consider strolling up before sunset instead. Pack a picnic dinner, some libations, and cheers to a stunning display of color and sunbeams as they descend into the clouds. Maui is No Ka Oi (the best!) for good reason!
Lahaina Jodo Mission
The Lahaina Jodo Mission is one of Hawaii's most famous Japanese Buddhist temples. A visit here is truly a peaceful and serene experience. It's one of Lahaina's lesser-known and less visited historical attractions. It's popular for Hawaii resident visitors and local Maui folks, but less known by the average tourist. Long known for its peaceful ambiance, this area became a favorite refuge site for Japanese plantation workers; those who erected this Maui sanctuary for meditation and respect.
A towering 12 ft. tall, three and a half ton Great Buddha statue was installed in 1968 to commemorate the 100th anniversary of the arrival of Japanese immigrants in Hawaii. The impeccable grounds also feature a replica of the original Jodo Mission wooden temple and a 90-foot-tall pagoda.
Kula Botanical Gardens
With 8 acres of beautifully maintained landscaped grounds, you'll surely find pockets of peace all over Maui's Kula Botanical Gardens. Waterfalls and koi ponds add charm and tranquility to your visit as you sit in the simple contemplation of Maui beauty. If you want more info, attach yourself to one of their guided tours and get the insider's scoop on the local botanicals we cherish. The Kula Botanical Gardens in Upcountry Maui is not to be missed!
Leleiwi Lookout
The view at the Leleiwi Lookout is magnificent. However, that's not the best part of this Maui sight. There is a phenomenon that happens here that occurs in only two other places on the planet: Scotland and Germany. If you get there around sunset and the sun is setting behind you, and the clouds are low, you can see the reflection of your own shadow on the clouds (ringed with a rainbow halo). In ancient Hawaiian, this breathtaking display is called Akaku Anuenue (reflection rainbow) and the indigenous feel it's likened to seeing your soul. Yes! That is so very cool…
Lumeria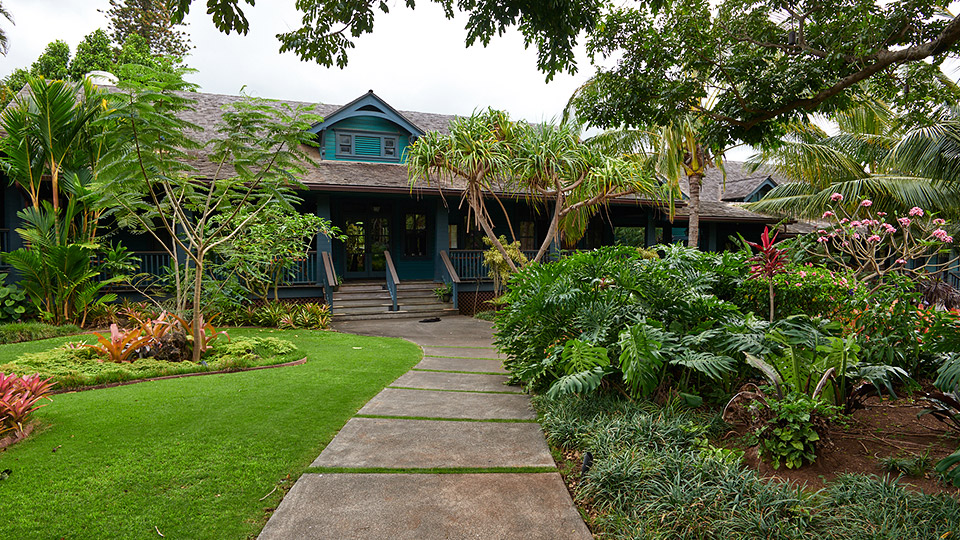 "Our mission is to nurture, support and inspire individuals and groups to remember the beauty, love and creativity that lives inside each one of us." (LumeriaMaui.com, 2016)
Lumeria is a lush property built on a foundation of peace and honor for spiritual retreats in Maui. Lumeria offers sacred silent meditations, daily yoga classes, Maui foodie events, wellness workshops, live music, events and so much more.
Lumeria is a great place to stay in Maui if your visit is based on rest and relaxation, healing, decompression and a focus on one's Self. They provide a full Maui vacation lifestyle of wellness through all aspects of their business and property.
Maui Dharma Center
As the Buddhist prayer flags gently float in the breeze, you can feel the energy of this alluring temple draw you in as soon as you arrive at the Maui Dharma Center. Spend some time alone or join the local monks for a morning or evening prayer (which are all chanted in Tibetan). If you'd like a keepsake, walk over to their gift shop which showcases blessed mala beads and Tibetan singing bowls. You should know that the Maui Dharma Center in Paia was blessed by His Holiness the Dalai Lama himself. Wow. Make a stop here to visit the stupa and bring some peaceful Maui vibes home with you!
Waianapanapa State Park
While Wai'anapanapa State Park is not a secret, it's so serene, so it just had to make it on this list! The translation for Wai'anapanapa is "glistening water" or "water flashing rainbow hues" in the ancient Hawaiian language. The black sand beaches and the vibrant colors that surround this Maui attraction are most definitely a sight sore eyes. No matter your vacation function, do not miss visiting Wai'anapanapa State Park and Black Sand Beach while you're on Maui.
Iao Valley State Park
Named a 'National Historic Landmark' in 1972, Iao Valley is immersed with lush beauty and Hawaiian history. It's easy to see why the ancient Hawaiians considered Iao Valley a place of "mana" (divine power and life force energy). Within a 5-minute drive from Wailuku town, this 4000-acre State Park is hands down one of the most gorgeous and peaceful areas on Maui.
Iao Valley is also the famous battleground where King Kamehameha defeated Maui's warriors in 1790; leading to the unification of the Hawaiian Islands. Here, guests will find easily accessed walking trails that range from easy to moderate. The most popular walk is to the Iao Needle Lookout, a trail which leads hikers to a spectacular view of the Iao Needle. This magnificent 1,200-foot natural rock pinnacle is covered in lush tropical foliage, reaching out of the valley and into the clouds. There's also a trail that follows the rain-fed stream, looping through an ethnobotanical garden that's full of indigenous Hawaiian plants.
Visitors will enjoy informative signs along the way that recount the ecology and the history of this enchanting area. Keep in mind- this is one of the wettest parts of Maui, so bring your rain gear and an umbrella just in case. Exploring Iao Valley State Park is the perfect way to spend a peaceful day on Maui.
For more information, please visit Iao Valley State Park.
Waihe'e Ridge Trail

Located just outside of Wailuku town, this peaceful 4-mile (roundtrip) trail climbs the windward slopes of West Maui Mountains. Hikers will be amazed by the panoramic views of the Waihe'e Valley and East Maui from the Waihe'e Ridge Trail.
The hike begins at a grassy pasture and leads hikers through a rainforest that is filled with gorgeous endemic flora and ferns. The trial continues climbing along a crest that leads straight into the clouds. Hikers will enjoy the breathtaking views that overlook the Waihee Canyon. On clear days, you can also see the amazing Makamakaole Falls, off in the distance. There are also many opportunities to enjoy spectacular ocean views all along this amazing ridge hike. Although this trail is maintained, keep in mind there are portions that can be very wet and muddy, making this trail unsuitable for small children. Be prepared to get dirty!
To find this trial, look for the entrance across the road from the Mendes Ranch. Take the road up and keep driving past the first pasture for about a mile. The road ends at the upper parking lot just below the trail. Look for the gate with a sign that says, "Waihe'e Ridge Trail." Take this path straight up the paved hill to reach the trailhead. Waihe'e Ridge trail is a great place for those looking for a peaceful hike with beautiful scenery and one of a kind views while visiting Maui.
Secret Beach (Paako Cove)
South Maui's Secret Beach isn't quite a secret anymore, but it's still well worth a visit! This Maui beach is one of the most popular wedding beaches on Maui. So, if you find yourself at Secret Beach, you may also be a witness to some I Do's.
The best thing about Secret Beach is that it's quiet, off the beaten path, serene, and the water is calm. You can always catch a tan here, but around 1 pm there will be some overcast shade above you. What's not to like about a secret beach cove in Maui? There aren't many left that the public doesn't know. This one is visited mostly by locals- so, you can get away from the tourist hustle and bustle here. But, don't forget! It's a secret…. (sssshhhhh)
Paia Bay Coffee
Paia Bay Coffee Shop is off the beaten path, and thankfully so! Its canopied patio holds a handful of perfect people sipping perfect dirty chai's, Hawaii grown coffee, or bacon, avocado and brie croissants. Here, it is possible to curl up with a coffee and a good book in the corner and get lost for hours as the coffee shop hub drifts by you…
This is an excellent spot for those looking for some charged-up R&R in a superb North Shore Maui locale.
O'o Farms Farm to Table
O'o Farms is located in Maui's Upcountry farming community of Kula. Located on 8-acres of impeccably maintained, bio-dynamically cultivated land, all will love a chance to visit this peaceful Maui paradise. If you're headed Upcountry to check out Maui farms and MauiWine in Ulupalukua, make sure O'o Farms is on your list.
Not only does O'o Farm's supply some of Maui's best restaurants with the finest organic produce on island, but they also offer Maui Farm Tours, a Gourmet Lunch, and Farm Tour, the famous "Seed to Cup" Maui Coffee Tour and private chef events. This gorgeous Maui farm is an inspiration for all Maui farms! The environment is prime, the vibes are full of aloha and everyone who lays foot on their gorgeous land will feel this immediately.
Maui Spa Retreat
It's not a stretch of the imagination to find peace in a spa setting on Maui. Best to just trust us, Maui Spa Retreat has thought of every way to nurture you back to happiness. Also known as Ho'omana Spa Maui, you can book healing massages, body treatments, esthetic services, Hawaiian healing and more at this incredible Maui spa. Guests can enjoy exquisite views from their botanical gardens and facilities; all built around the philosophy that you can draw inspiration and healing from the balance of ancient Hawaiian healing, Zen Buddhism, and art.
Written By Local Expert
We are local Maui guide experts and Hawaii enthusiasts who love to share the Aloha spirit and our favorite things to do on Maui.