A Complete List of Maui Camping Spots
Get Our Newsletter: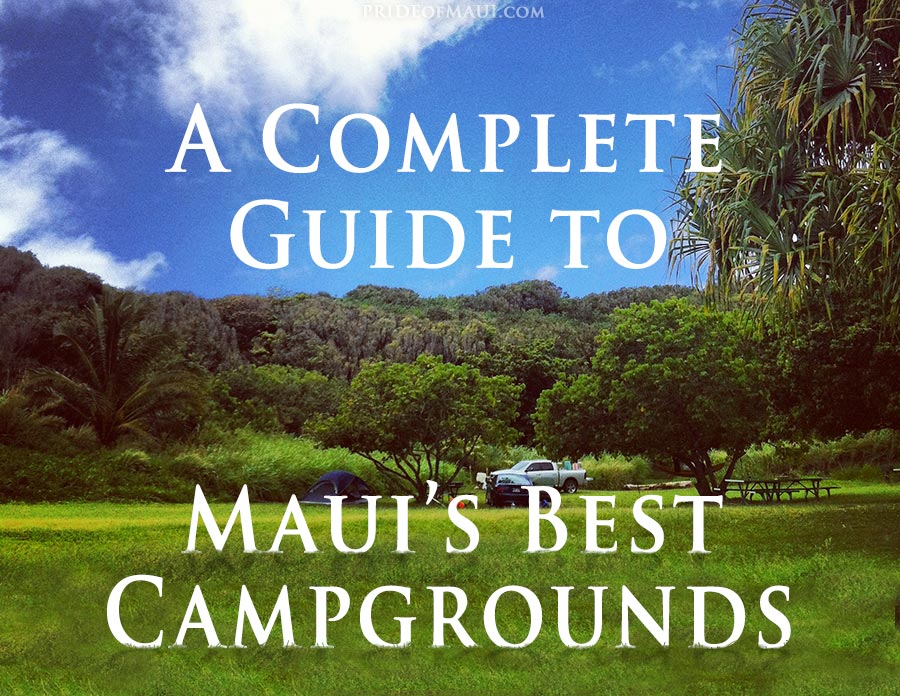 Aloha. Welcome to our comprehensive list of camping spots on Maui. The Valley Isle offers some of the most diverse camping terrain in the world for its relatively small landmass; it has something to offer for every camper in its seven distinct climate zones, second only to the Big Island's eleven zones. Maui campgrounds can be categorized into five types: Haleakala National Park, county, state, private, and unofficial.
We'll give you all the details necessary to camp with a permit in designated campgrounds.
MAUI'S BEST CAMPGROUNDS
Drive-In Campgrounds in Haleakala National Park:
Two drive-in campgrounds are available in Haleakala National Park, Hosmer Grove at 7,000 feet and Kipahulu at sea level. The two sites could not be more different from one another regarding climate and terrain. However, both sites have amenities such as picnic tables, BBQ grills, and pit toilets. Note that there are no showers available at either site, and Kipahulu does not have drinking water.
Park fees for a 3-day pass required for every vehicle entering the national park. If you plan on visiting both campsites, hiking, or would like to visit the national parks on the Big Island, the annual pass is your best value. Free camping at both sites is on a first come, first serve basis. There is no food or gas in the park, so make sure to prepare properly.
#1 Hosmer Grove
Hosmer Grove is a drive-in camping spot between Kula and the Haleakala summit, just short of a half hour from each. It characterizes a grove perfectly- a small cluster of trees and grass amidst a barren, volcanic landscape.
The grove derived its name from Ralph Hosmer, who planted a variety of non-native trees on the land in hopes of creating timber farming in the early 1900's. A sign in Hosmer Grove at the beginning of a self-guided nature trail accurately describes Hosmer's venture as a "failed experiment". However, the half-mile loop makes for a relaxing early morning walk through pine, spruce, cedar, and eucalyptus trees and the sound of birds singing after sunrise.
The site sleeps 50 people and allows dogs on leash. Hosmer Grove generally gets quiet quickly after sundown, as most campers are there to beat the sunrise summit crowds, which start as early as 4 a.m. The sunrise is not to be missed. However, the sunset is arguably just as beautiful with virtually no traffic.
Note that it gets cold in Hosmer Grove. Very cold! Bring several layers of winter clothes and an insulated sleeping bag. Temperatures below freezing are common. Come here for a quiet evening of stargazing and a majestic morning.
#2 Kipahulu
Hosmer Grove may have the Haleakala summit, but Kipahulu has 'Oh'eo Gulch. Also known as "Seven Sacred Pools," this string of freshwater pools is just a 10-minute walk from the grassy campgrounds on the Kuloa Point Trail. Kipahulu is the place to go for hiking, beautiful coastal scenery, and swimming in fresh water.
'Ohe'o Gulch is a popular tourist attraction on the Hana Highway, so it's best to go early in the morning before the crowds arrive. Park signs prohibit jumping into the pools and contain reprinted articles highlighting past deaths, but these signs are largely ignored. It's common to see even small children jumping off the miniature cliffs into the main pools.
With that being said, please use common sense when jumping and be wary of slippery rocks.
Consider taking the less-trafficked Pipiwai Trail later in the day to the awe-inspiring 400-foot Waimoku Falls waterfall and a bamboo forest.
Rare birds like the 'Iwa with its characteristic red throat and non-native Myna can sometimes be spotted on this 4-mile loop trail.
Kipahulu can accommodate up to 100 people on its grassy, sunny lawn. It's perfect for throwing a frisbee or a BBQ with friends. It sits adjacent to cliffs overlooking the ocean, but with the proximity to the ocean and rainforest come mosquitos. Nighttime brings sounds of acoustic guitar and waves crashing on the cliffs.
The closest groceries are in Hana, about 10 miles away at Hasegawa General Store.
Hike-In Wilderness Camping and Cabins in Haleakala National Park:
There are three remote, hike-in spots to stay the night in the Haleakala wilderness: Paliku, Holua, and Kapalaoa. All require significant hiking, wilderness experience, preparation, and an adventurous spirit. Hikers are rewarded with sightings of the endangered Nene bird, volcanic cinder cone, and historic lodging in the midst of desolation.
Paliku and Holua offer tent camping with a permit, and all provide wilderness cabins with advance reservation. Permits for free tent camping can be obtained at the Haleakala Visitor's Center from 8 a.m.-3 p.m. up to 24 hours in advance. Cabin reservations are available up to 6 months in advance. A flat fee is charged per night. Cabins come with 12 bunks, a wood burning stove, cooking utensils, and dishes but have no electricity.
***Note: The Haleakala campsites and cabins sit in remote areas. First aid, supplies, and rescue can be several hours away. Plan accordingly for heavy rain, high winds, high elevation, below freezing temperatures, and minimal amenities.
#3 Paliku
Paliku is by far the most strenuous area to hike to, sitting at 6,380 feet on a rain forest cliff. It's a 9.3-10.4 mile hike in, depending on which trail you choose to take.
The Keoneheʻeheʻe or "Sliding Sands" trail route offers isolated, volcanic landscape while the Halemau'u Trail has lush greenery. The climate in this area is especially prone to fog and rain, so be prepared for anything.
Pit toilets and non-potable water are available. The site can accommodate no more than 25 people.
#4 Holua
Holua, in contrast, has the shortest hike in of the three wilderness sites. It is 3.7 miles in on the Halemau'u Trail or 7.4 miles on the Sliding Sands Trail. The camping area is a mixture of volcanic rock and tall grass at 6,940 feet. Holua also offers pit toilets and non-potable water and a maximum of 25 campers.
#5 Kapalaoa
The Kapalaoa cabin sits at 7,250 feet and requires either a 5.5-mile hike down the Sliding Sands Trail or a 7.3 mile hike down the Halemau'u Trail. Keep an eye out for silversword, a rare plant only found in Haleakala with sword-like leaves and silver hairs. The cabin is rustic with minimal amenities but provides a welcome refuge from the harsh Haleakala conditions.
County Campgrounds:
County campgrounds offer a minimalistic approach to camping with budget rates. Permits have different prices for Monday-Thursday, Friday-Sunday and holidays for residents and non-residents. There is an additional per night charge for dogs.
#6 Papalaua Wayside Park
Papalaua is the most easily accessible campground on the list. You can literally pull off the main road and onto a campsite.
Occasional noise from the nearby traffic is a small price to pay for such a convenience and having the ocean just footsteps in front of you.
Aside from its convenience, Papalaua has much to offer. It sits on a stretch of water called "Thousand Peaks" that is popular with beginner surfers in the summertime. It's also a popular spot for fishing, body surfing, and snorkeling. Papalaua is literally right on the water. Make sure you take rising tides into account when setting up your tent, so you don't wake up to a wave crashing on you in your sleep!
The Olowalu General Store is the closest place for groceries and supplies, but Papalaua is a short drive from both Lahaina and Ma'alaea. Note that the park is closed Wednesdays and Thursdays and has no water.
The general vibe is laid back and serene, and Papalaua is the perfect place to meet local surfers and fisherman.
State Campgrounds:
Two state campgrounds offer majestic Maui scenery with an inexpensive price tag and abundant amenities. Tent camping is charged per person per night for residents and non-residents. You can reserve online
#7 Wai'anapanapa
Wai'anapanapa State Park sits on 122 tropical acres just outside of Hana with a black sand beach, fresh water caves, and lava arch. It's considered an essential stop on the Road to Hana and just 10 miles from town.
Wai'anapanapa's offers cabins, tent cabins and van camping. The tent camping sites overlook the beach and lava arch and open up into walking paths leading to both places. These sites have adequate shade from a canopy of trees and on-site showers and bathrooms. Reservations can be made online. When open, cabins can accommodate up to six people.
Wai'anapanapa is the place to stay overnight in the Hana area, providing some of the best views on the island and most easily accessible activities like hiking to lava caves and swimming in clear, clean water. Make sure to stop by a local fruit stand on the way in!
#8 Polipoli State Park
Polipoli enjoys the benefits of a 6,200-foot elevation climate in the Kula Forest Reserves. It's known for its Redwood trees and scenery that looks more reminiscent of the Pacific Northwest than Maui. It is a great jumping off point for scenic hikes, mountain biking, and trail running in the Kula area. Polipoli State Park is closed until further notice as it undergoes sewer system upgrades. Please check for current conditions.
When open, Polipoli has both tent camping and a single cabins for rent that can accommodate up to eight people. Temperatures often reach freezing, and rain is common in the wet, chilly region.
The road to Polipoli is easily more difficult than the Hana Highway and requires a 4-WD vehicle capable of navigating a foggy dirt road of switchbacks and large potholes. The reward of this drive on a clear day is a view of the grazing cattle amidst a backdrop of Mauna Kea summit on the Big Island.
Private Campgrounds:
#9 Camp Keanae
Camp Keanae offers a quiet, remote accommodation on The Road to Hana at mile marker 16 ½. Accommodations are basic, but the views of the jagged Keanae Peninsula are not.
The YMCA-run spot offers tent camping, van camping spaces, cabins capable of sleeping 12 to 60 people, and 2-bedroom cottages with lanais overlooking the ocean.
Rates are discounted for YMCA members in tents. Prices are slightly higher for non-members. Camp Keanae can accommodate large groups at various prices.
As with many places in East Maui, the nearest grocery store is a trek, in this case about 45 minutes. Guests are urged to prepare properly by bringing their own linens, charcoal, cooler, camp stove, etc.
#10 Camp Olowalu
Camp Olowalu is a special place. It sits just off Honoapiilani Highway a few minutes south of Lahaina with breathtaking views of the West Maui Mountains. Situated in a protected cove of sorts, Camp Olowalu is the perfect playground for kayaking, stand up paddle boarding, snorkeling, and whale watching during the winter months. They offer kayaking rentals on site via Kayak Olowalu.
Camp Olowalu has 36 tent camping sites on a first come, first serve basis with 2 enclosed showers, drinkable water, one outdoor shower, picnic tables, and grills.
The closest food is at Olowalu General Store and the Olowalu Cultural Reserve Farmer's Market. Lahaina is just a short drive away.
For those who want a little more luxury, A-frame cabins with 6 cots, fans, outlets, and storage space are also available. The cabins come with a private 900-square foot dining hall and a kitchen with a refrigerator, stove, microwave, freezer, cookware, and utensils. They also have Wi-Fi and a washer and dryer. Cabins can be rented per night for up to 36 people, making Camp Olowalu a good resource for birthday parties, weddings, and family reunions. A 20% kamaaina discount is also available.
**A note on camping off-grid in Maui: You would be hard-pressed to find a legal document regarding lawful camping in Maui. The general word of mouth on the issue is summarized well here, stating that "camping is officially allowed only in campgrounds; however visitors and residents alike camp along any beach as long as there are no signs posted against camping. Camping on the beach is legal for fishing purposes, so put a fishing pole by the water and you're fine. No camping is allowed at Ahihi-Kina'u Natural Area Reserve, Honolua Bay Marine Reserve, and Oneloa (Big Beach) state park". With that being said, "pretending to fish" is not looked kindly on by locals, so please limit your unofficial camping to strict fishing purposes.
If in doubt, we recommend camping with a permit at any one of the aforementioned campsites. They certainly won't disappoint, and you'll have your choice of being steps away from clear water, jagged coastal cliffs, misty mountains, or black sand beach.
Mahalo for reading our comprehensive list of all camping on Maui. There is a unique and cleansing mental shift that happens with fresh air, a tent, close family and friends, and a minimalist attitude. We encourage you to find that experience. What is your favorite place to camp in Maui? We'd love to know why in the comments section below.
Written By Stacey Alonzo
Stacey is a travel writer, journalist, and photographer from Lake Tahoe who now lives in Maui. She has a passion for travel, surfing, yoga, and organic eating and aims to find the most adventurous activities for readers to do both on Maui and Hawaii in general.