Top 10 Maui Non-Profits
Get Our Newsletter: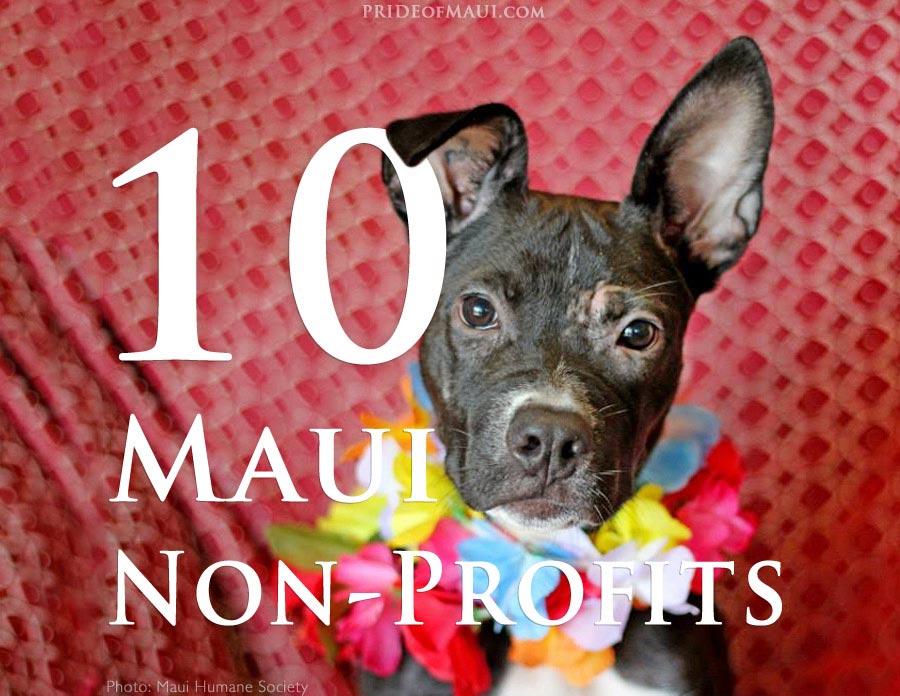 As we all know, Maui is one of the most incredible places in the world. The island boasts natural beauty full of the essence of the ancient Hawaiian culture. Vast Pacific Ocean reef systems, panoramic views, vibrant and colorful scenery, lush jungles, rolling pastures, and a wonderful local community of residents are just a few reasons why Maui is No Ka Oi.
On an island that is held so dear in everyone's hearts, there are deep passions for causes and Maui organizations to support. From marine animals to clean oceans, preserving Hawaiian culture to child education, elderly care and the environment, there are no lack of causes to care for. Throughout the island of Maui, there are various non profit organizations that are doing really amazing things! Listed below, we are sharing only a few with our dedicated readers. Whether you are a Maui resident or a visitor, we encourage you to learn more about Maui's non profits throughout our blog. Please look into supporting them in any way you can.
With Sincerity, Me ka 'oia 'i'o
SUPPORT MAUI NON PROFITS
#1 Hawaii Marine Mammal Alliance- Monk Seals
One of the most crucial marine cause organizations in the State of Hawaii is the Marine Mammal Alliance. They are dedicated to preserving the endangered Hawaiian Monk Seal, whose population drops no less than 4% with each passing year. Possible Monk Seal extinction has been a threat for a long time, with very few past organizations focusing on conservation and protection efforts.
There are currently less than 1,100 Monk Seals left, and the foundation stays positive that we can reverse their decline with proper support, continued protection, and a change of human ways. The main reasons why the Hawaiian Monk Seal could be an obsolete marine species is due to many threats – loss of habitat, human disturbance, intentional human hunting, interactions with fishery, entanglement in marine debris and fishing lines, disease by pollutants, and predator shark feeding. They are protected under the Endangered Species Act and the Marine Mammal Protection Act. Monk Seal disturbance and harassment can incur up to 5 years in prison and up to $50,000 in fines.
If you ever see a Hawaiian Monk Seal on a beach in Hawaii, DO NOT TOUCH IT or go near it. Please stay at least 150 feet away. If the Seal is not already being guarded by a protection zone, or roped off for safety, make sure to call one of the NOAA (National Oceanic & Atmospheric Administration) Hotlines. You can also call if you spot one near a shoreline and are concerned. For example, swimming near a shoreline with many fishermen. Please save these numbers in your phone right now!
Oahu: 808-220-7802
Kauai: 808-651-7668
Molokai: 808-553-5555
Maui/Lanai: 808-292-2372
Big Island: 808-756-5961 (East), 808-987-0765
For more information or to learn how to make a donation or volunteer with the organization, please visit the Hawaii Marine Mammal Alliance
#2 East Maui Watershed Partnership
"The overall mission of EMWP is to protect the Watershed from degradation by protecting native forests and their component native species as well as educating the local community about conservation and other issues relating to watershed protection." (eastmauiwatershed.org 2014)
The EMWP (East Maui Watershed Project) is a very cool organization, and the work they do is crucial for Maui's continued sustainability. They are a movement of combined efforts from federal, state and private land owners. In total, the EMWP encompasses over 123,000 acres of East Maui watershed land. The areas produce over 60-billion gallons of water for Maui's residents, farmers and agribusinesses each year. The East Maui Watershed is actually the largest source of surface water in the entire State of Hawaii. Wow!
East Maui Watershed Project is not a political organization, nor a group that has their hands in the development of new water resources. Their main goal is to preserve Maui's native forests to ensure that future generations of residents and farmers have a clean source of water. Since 1991, the staff of the EMWP has implemented a variety of programs and projects to monitor Maui's ecosystems.
Projects have included removing invasive feral animal species from the watershed, such as Mongoose, Rats, Cats, Axis Deer, and Wild Boar. They are also continually removing invasive plants species such as Miconia, Strawberry Guava, Pampass Grass, and African Tulips. They have implemented a hunting program to increase access for hunters, developed ongoing water management and monitoring programs, created protection measures for runoff and streams, and constructed over 7-miles of fencing surrounding the more remote areas of the East Maui Watershed.
For more information or to learn how to make a donation or volunteer with the organization, please visit the East Maui Watershed Project.
#3 Maui Humane Society
"The Maui Humane Society's mission is to save the lives of unwanted pets on the island of Maui, accepting all in need of shelter and working to humanely reduce the homeless pet population; to advocate for animals, rescue and protect them from suffering and promote responsible and caring treatment; and to educate our community, inspiring respect and compassion towards all animals." (mauihumanesociety.org, 2014)
Since 1953, the Maui Humane Society has been doing their very best to improve animal welfare conditions on Maui. In 1987, the Maui Humane Society received a contract with the County of Maui to handle all animal related field issues for animal management, and partial funding for an animal shelter and an adoption center. They are an independent non-profit organization, and rely on donations for over 60% of their operational costs. They have the largest spay/neuter assistance program in the county, they are Maui's only open admission animal shelter, offer educational training programs, and more animal related services.
Unfortunately, widespread treatment of domesticated and feral animals is not best in the State of Hawaii, Maui included. Compared to California, where residents can easily find free spay/neuter programs and animal activists are ready to roll heads at any time, Maui is just at the tip of this type of change. The community needs an organization like the Maui Humane Society to help increase awareness on issues such as humane animal care, spay/neuter necessities, animal abuse and neglect, and lost and found pets.
For more information or to learn how to make a donation or volunteer with the organization, please visit the Maui Humane Society.
#4 Imua Family Services
"Our staff includes over 20 therapeutic professionals with Masters level educations or beyond. They are supported by a dedicated team of paraprofessionals with education and experience in their respective fields. Imua's staff consists of highly qualified Social Workers (Care Coordinators), Speech – Language, Occupational and Physical Therapists, Special Instruction and General Educators. We utilize Skills Trainers to provide Intensive Behavior Support. The most significant time in each child's development occurs in the first five years of life. Research shows continued therapeutic early intervention service for children through the age of five reduces long term social costs and lays the foundation for a healthy productive life. Our work would not be successful without the dedicated individuals listed here who have a passion for our Maui families." (imuafamilyservices.org, 2014)
Imua Family Services is a non-profit organization based on Maui and the outer Island of Lanai. Since 1947, they have been providing invaluable community services for Maui families that have child development, disabilities, and behavioral challenges. Their services are focused on children from birth to 6 years old, and their families.
Imua provides a variety of specialty programs including Camp Imua, Infant & Child Development Programs, Early Childhood Development Programs, Newborn Hearing Screening, Support Groups, Clinics, Workshops, and more. They also provide education and training events addressing needs related to specific support services, like the everyday challenges of Autism. Just in the past 3 years, Imua has implemented a wonderful Preschool program for children 3-5 years old, with a student to teacher ratio of 8:1. The preschool is a 'play based' curriculum that encourages development of social and communication skills.
Imua Family Services has a variety of fun promotional events throughout the year. They offer multiple events in public schools, car washes, and consistent annual events. Imua's annual Maui non-profit events are Fantasia Ball, Paddle Imua, and Roy's Restaurant Golf Classic. Whether you are a teacher, mental health professional, philanthropist or a volunteer, there are numerous ways to support Imua's mission.
For more information or to learn how to make a donation or volunteer with the organization, please visit Imua Family Services.
#5 Women Helping Women Maui
"Domestic violence can happen to anyone regardless of race, age, sexual orientation, religion, or gender. Domestic violence affects people of all socioeconomic backgrounds and education levels. Domestic violence occurs in both opposite-sex and same-sex relationships and can happen to intimate partners who are married, living together, or dating." (womenhelpingwomenmaui.com, 2014)
Since 1977, Women Helping Women has been providing assistance to women on Maui that are dealing with domestic violence. Once a grassroots agency, they are now an established non-profit that offers a variety of services for over 600 Maui women a year. With offices located on Maui and Lanai, their organization is focused on direct intervention, advocacy, education and prevention.
In 1981, Women Helping Women opened Maui's only shelter dedicated to helping female victims of violence and their children. The shelter offers a variety of support services including intake, case management, progress evaluation, support groups, parenting classes, goal setting, transportation, individual and group advocacy, legal referrals, and assistance with temporary restraining orders. They also provide women with medical, housing, welfare, substance abuse and mental health services.
The Children's Program through Women Helping Women provides invaluable services to Maui's children that are affected by domestic violence. At the shelter, the Women Helping Women staff provides private intake of each child, socialization activities, and individual and group therapy sessions. In the community, the Children's Program provides group sessions for children who have experienced violence and abuse, and help to implement exit plans. They encourage the mother and child to work together for their own safety. Women Helping Women Maui also works with teenaged domestic violence victims, and those experiencing or affected by teen dating violence.
The ReVive Boutique is Women Helping Women's trendy and fashionable thrift store located in Kahului. All proceeds of this re-sale boutique go directly into their programs and services. Donations are always welcome!
Women Helping Women also offers a 24-hour crisis hotline. The number is (808) 579-9581.
For more information or to learn how to make a donation or volunteer with the organization, please visit Women Helping Women.
#6 Positive H2O
"+H2O is a Maui based organization founded by professional athletes bringing together a community of athletes, conservationists, non-profits and companies to facilitate local solutions on a global scale. We are a social brand leader in environmental social awareness seeking to protect our water playgrounds through collective action." (positiveh2o.com, 2014)
Positive H2O is a great foundation to be involved in if you are looking for ways to contribute to the Maui community. They do everything they can to preserve the ocean and Maui's natural watersheds. They also support better enforcement of existing waste related regulations and protective laws. Ocean waste affects over 80% of the world with disease and pollution, threatening many life species (ocean and land). Due to watershed disintegration and environmental pollutants, the quality of fresh drinking water is also threatened.
Community outreach, ocean education, viral social media campaigns, and Maui beach cleanups are just a few ways +H2O plans to make a change. The organization is making it really easy for advocates to become involved with a variety of volunteer openings, and opportunities to be a Positive H2O Pro Rider or a Positive H2O Ambassador. As a rider or an ambassador, participates become public role models spreading +H2O's mission through words and leading by example raising awareness towards H2O's individual causes.
For more information or to learn how to make a donation or volunteer with the organization, please visit Positive H2O.
#7 Paia Youth & Cultural Center
"Paia Youth & Cultural Center is a 501(c)(3) non-profit corporation funded by grants from the Maui County Department of Housing & Human Concerns, the State of Hawaii Office of Youth Services, private foundations, community donations, and fundraisers." (pyccmaui.com, 2014)
Paia Youth and Cultural Center's (PYCC) main goal is to build community through Maui's youth. They provide a safe place for Maui's children to receive a variety of valuable social, educational, cultural, recreational, and vocational activities and experiences. Located right on Paia Bay on the North Shore of Maui, their facilities consist of an ocean coastline for water sports activities and lessons, Stone Wave Skate Park, Hekili Multimedia Lab, a clubhouse, a radio station (radiOpio), Paia Bay Cafe, and more.
PYCC is founded upon a Mission, Values and Purposes. These are ideals that are drawn upon Hawaiian values of Social Interaction, Economics, Ethics, Health and Well-Being, Learning & Human Development, Science and Technology, Aesthetics and Governance.
Youth membership at PYCC is free, and offers a variety of daily activities and services at their Drop-In Center. The Drop-In Center is a great place for the youth to engage in healthy and safe after school activities, including pool games and tournaments, basketball, outdoor team sports, hula hooping, yoga, ping pong, art projects, homework help, a computer and media lab, music, videos and games, and Friday Night (and rainy day) Movies.
For more information or to learn how to make a donation or volunteer with the organization, please visit Paia Youth & Cultural Center.
#8 Hospice Maui
"For over 30 years, families and physicians on Maui have entrusted Hospice Maui with the care of their loved ones and patients. Hospice Maui provides quality, compassionate hospice care to maximize the comfort and dignity of those in their last months and weeks of life, wherever they call home." (hospicemaui.org, 2014)
Hospice Maui is a necessary organization on the Island of Maui. They know that caring for a dying person is one of the most challenging and emotional experiences that anyone will come across in their entire life. Since 1981, their professional staff have been providing the Maui community with a full range of services for individual and family support.
Services rendered by Hospice Maui are provided by a team of trained support professionals: Physicians, RN Nurses, Hospice Aides, Social Workers, Counselors and Chaplains. They can assist with pain and symptom management, 24-hr on call services, medicines and supplies related to illness types, caregiving instruction, spiritual and emotional support, trained volunteers, and post death support. Hospice Maui offers services regardless of insurance and ability to pay. Community donations and promotional events cover the cost of care for those without HMSA, Medicare, Kaiser or Medicaid.
For more information or to learn how to make a donation or volunteer with the organization, please visit Hospice Maui.
#9 Maui United Way
"Maui United Way is an independent 501(c) 3 tax-exempt non-profit charitable organization that has operated for over 64 years in Maui County, Hawai'i. In an effort to meet the goals of our mission, Maui United Way raises and invests corporate and individual donations in 40 health and human services partner agencies and 41 programs. We work to build stronger communities by convening leaders throughout the county to seek solutions to problems." (mauiunitedway.org, 2014)
Maui United Way at times seems like it is just a fundraising organization, but they are much more. Their work focuses on a variety of issues within the Maui community, and have become something like a 'bridge between the gaps.' They serve as a network between many different community organizations, and pick up the pieces in between. They develop resources for the Maui community between governmental services, religious and ethnic groups, various non-profits, businesses and Maui residents. Through their successful fundraising, they help to assist others organizations in their network.
Programs initiated by Maui United Way include:
Information & Referrals: Pairing individuals with a network of services they need for specific issues
Volunteer Matching: Linking volunteers with the correct organizations so that opportunities can be maximized for all parties involved
Fund Distribution: Explore ways to improve community conditions and execute distributions accordingly; review grants and applications, agency site visits, resource distribution, etc.
Gifts In-Kind Program: Donation support services; acquires donated goods and distributes them through their network related to a need basis
For more information or to learn how to make a donation or volunteer with the organization, please visit Maui United Way.
#10 Kaho'olawe Island Reserve Commission
The Kaho'olawe Island Reserve Commission (KIRC) is a 170(c)(1) organization. They are a government agency that manages the Kaho'olawe Island Rehabilitation Trust Fund and all activities that surround the rehabilitation of the Island of Kaho'olawe. Established in 1993 by the Hawaii State Legislature, they are dedicated to managing the island reserve while it is held in trust for a future Native Hawaiian sovereign entity. They are pledged to provide for a safe and meaningful use of Kaho'olawe.
The island and waters surrounding Kaho'olawe are currently under restoration from years of abuse and neglect. In the past, the Island of Kaho'olawe was used by the United States Military for military bombing and routine foraging. The natural environment of this island was literally destroyed, even though there was a 10-year cleanup implemented by the US Navy. Due to destruction, the island loses approximately 1.9 million tons of soil per year from erosion. Runoffs are affecting surrounding reef and ocean ecosystems, and over 3,000 of the islands historic sites are constantly in need of protection.
To say the very least, there is much work to do to rehabilitate the Island of Kaho'olawe. The grand vision is that the land is restored, native Hawaiian flora and fauna are abundant in all slopes and valleys, and the reef and ocean eco systems are healthy and thriving.
For more information or to learn how to make a donation or volunteer with the organization, please visit Kaho'olawe Island Reserve Commission.
#11 Honorable Mention: ARC of Maui
Dedicated to bringing support to those with developmental disabilities in Maui, ARC of Maui is the oldest non-profit of its kind in the State of Hawaii. The group was established in 1954, and to this day receives its funding from County, State and Federal Medicaid grants. Private donations are whole-heartedly appreciated for this amazing Maui non-profit.
Besides providing support programs for their clients and families, they offer high-end professional health care for their clients, vocational and skills training, job placement programs, and 6 group homes that are actually 'real homes.' Five of their group homes are on the Island of Maui, and they recently opened one on the Island of Moloka'i. It is the very first home for the developmentally disabled on Moloka'i.
ARC's Mission Statement:
"The ARC of Maui County promotes and protects the human rights of people with intellectual and developmental disabilities. We actively support programs and services that assure full inclusion and participation in the community throughout life.
People with developmental disabilities are defined by their strengths, abilities and inherent value, not by their disability. They are entitled to the respect, dignity, safety and security enjoyed by other members of society; and are equal before the law.
A developmental disability can be cognitive, physical or both, and begins before adulthood. Its effects are long term and alter essential life functioning activities."
For more information about ARC, or to make a donation, please visit them online
Mahalo Nui Loa for reading our Non Profits blog post. What do you think are some of the biggest non-profit causes on Maui? Do you donate or volunteer with any of Maui's non-profit organizations? Let us know in the comment section below, and make sure to share this article with your family and friends!
A hui hou kakou, until we meet again!
Written By Alexandra Mitchell
Alexandra is a marketing professional with a passion for writing about travel to the Hawaiian Islands, vacation rentals, and luxury real estate. She exposes readers to glimpses of 'Old Hawaii,' new destinations to explore, local events, and all the best things to do on Maui.