Top 10 Cocktails to Drink on Maui
Get Our Newsletter: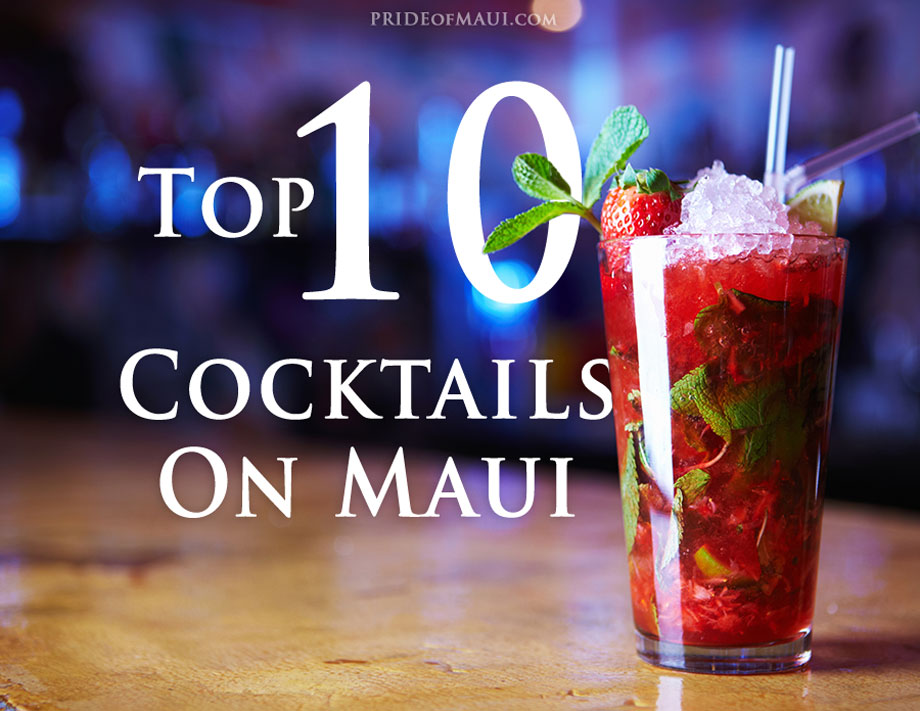 Cocktails in Maui are like hot dogs in New York City! Originally defined in 1806 as a "stimulating liquor composed of any kind of sugar, water and bitters," the modern cocktail has come a long way.
On Maui, several of the best bars and restaurants utilize Hawaii's wide variety of local ingredients as staples of their cocktail menus, from onsite herb gardens to delicious locally grown fruits like lilikoi, Maui Gold pineapple and starfruit.
While it's extremely hard to narrow down the Top 10 Cocktails on Maui, as many cocktail menus change based on the availability and/or seasonality of ingredients, we've done our best to provide some of the best drinks on the Valley Isle. Kāmau kī`aha!
BEST COCKTAILS TO ENJOY ON MAUI
#1 Makawao Ave – Monkeypod Kitchen, Wailea
Whiskey may not be at the top of your list when you think about cocktails to try on a tropical island, but for those of us that drink year-round on Maui, it can be a welcome change of pace from drinks that come in a pineapple or coconut, which, while providing a picture-worthy presentation, are ultimately prettier than they are convenient.
If you enjoy delicious craft cocktails without unnecessary flair, head to Monkeypod Kitchen in Wailea, where local musicians offer the perfect background noise to spectacular sunset views. And of course, cocktails.
Ingredients:
Rittenhouse Rye Whiskey
Lemon
Honey
Angostura Bitters
Housemade Cayenne-Ginger Beer
For more information or to see the rest of the cocktail menu, please visit Monkeypod Kitchen.
#2 Irish Coffee – The Mill House, Waikapu
The Mill House at Maui Tropical Plantation has made quite a splash this year in the local foodie scene. With the addition of award-winning Executive Chef Jeff Scheer and the team from Maui Executive Catering, this gorgeous outdoor venue features full lunch, dinner and cocktail menus with a unique take on Maui's local ingredients.
The Irish Coffee is decadent and delicious, and we particularly love the view from the outdoor area just after sunset.
Ingredients:
Cold Brew 100% Maui Coffee
Tullamore Dew
Hand Whipped Cream
Vanilla Bean
For more information or to see the rest of the cocktail menu, please visit The Mill House.
#3 Monkeypod Mai Tai – Monkeypod Kitchen, Wailea
Alright, alright. So a mai tai's a mai tai's a mai tai, right? Well, you'd be surprised, especially when said mai tai includes fancy lilikoi (passionfruit) foam on top, and none of that overly sugary orgeat syrup in a plastic bottle. Hooray!
While mai tai's are a dime'a dozen in Hawaii, Monkeypod's is the best we've had, especially when accompanied by the lovely sunset view from their covered lanai. Grab some friends and head here for happy hour, which happens twice daily from 3 to 5:30pm and 9:30 to 11pm, and enjoy a mai tai done right.
Ingredients:
Old Lahaina Light & Dark Rum
Lime Juice
Housemade Macadamia Nut Orgeat
Orange Curacao
Housemade Honey-Lilikoi Foam
For more information or to see the rest of the cocktail menu, please visit Monkeypod Kitchen.
#4 Canton Ginger Martini – Mala Ocean Tavern, Lahaina
Sometimes the simplest things are the tastiest. Enter the Canton Ginger Martini on a sunny afternoon. Grab a seat at the bar or lanai and enjoy spectacular views of the ocean, as well as Maui's neighbor islands. During winter months, this also doubles as an excellent place for whale watching! With a martini! Can life get any better?
Grab an order of the Seared Ahi Bruschetta to complete your afternoon and thank us later.
Ingredients:
Organic Maui Ocean Vodka
Canton Ginger Liqueur
Candied Ginger Garnish
For more information or to see the rest of the cocktail menu, please visit Mala Ocean Tavern.
#5 Butchertown – Cow Pig Bun, Kihei
You may have heard of Maui's Slaughterhouse Beach, but you may have missed its boozy counterpart, the Butchertown. Located at the Tech Park in South Maui, Cow Pig Bun serves up some excellent burgers (with chicharrón and bourbon bacon jam!), pork belly Banh Mi Sandwiches and Mac-N-Cheese. The real kicker, however, is the cocktail menu, which features an impressive variety of bourbons and bitters.
While you can't go wrong with any of their Specialty Cocktails, we love the Butchertown for the muddled pineapple, a subtle reminder that you're happily drinking on a stunning Hawaiian island.
Ingredients:
Maker's Mark
Muddled Pineapple
Fernet Branca
Lime
For more information or to see the rest of the cocktail menu, please visit Cow Pig Bun.
#6 La Paloma – Frida's Mexican Beach House, Lahaina
If you plan on spending a day in West Maui, don't miss Maui's new Latin addition, Frida's. With a delicious Mexican and Latin fusion menu, sit back and enjoy a killer view with a cocktail. While the menu includes over 40 tequilas (YES!) and a variety of innovative drinks, we love the refreshing La Paloma, perfect with a Ceviche Tostada or Scallops.
The bar is beautiful, and the artwork from local artist Angel Salavec lends itself perfectly to the fun decor. Also, they get 10 cool points for naming a cocktail 'Rum DMC'.
Ingredients:
Espolon Blanco Tequila
Fresh Lime
Fresh Pressed Cane Juice
Fresh Grapefruit
Jarritos Grapefruit Soda
For more information or to see the rest of the cocktail menu, please visit Frida's Mexican Beach House.
#7 Pau Hana – Mama's Fish House, Kuau
Named the 'Second Most Popular Restaurant in the U.S.' by Open Table, Mama's Fish House was the first fresh fish restaurant on Maui. Featuring menu items caught by local fisherman that same day, Mama's has truly earned a reputation for its food, beautiful presentation, and impeccable views and service.
The Pau Hana, meaning 'finished working' in Hawaiian, is the perfect cocktail to enjoy, well… after work. Shaken table-side, this fresh and delicious adult beverage will put a smile on your face (albeit a dent in your wallet).
Ingredients:
Tropical Guava Juice
Kula Lime
Bombay Gin
For more information or to see the rest of the cocktail menu, please visit Mama's Fish House.
#8 Bikini Blonde Lager – Maui Brewing Company, Kahana & Kihei
Attention, beer drinkers! This one's for you. While Maui Brew Co. beers can be purchased from nearly any store and are offered at most bars on the island, we recommend a trip to one of their two brewery locations for the real experience.
Taste Flagship beers like the ever-popular Bikini Blonde Lager, Big Swell IPA, Coconut Porter or Mana Wheat, as well as seasonal varieties and Limited Releases like the all new Kihei Kolsch and Lorenzini Double IPA. Their newest Kihei location even offers food trucks, live music and games like adult-sized Jenga and Connect 4.
For more information or to see the rest of the cocktail menu, please visit Maui Brewing Company.
#9 Lilikoi Margarita – Cafe des Amis, Paia
While not necessarily the most innovative use of local ingredients, it's hard to beat a refreshing Lilikoi Margarita in a charming courtyard in Paia Town. Grab your significant other or a group of friends for happy hour, held daily from 4 to 6pm, and enjoy live music, half-priced drinks, and yummy snacks like the Mediterranean Platter or a savory crepe.
It might just be the best $5 you spend on Maui.
Ingredients:
Fresh Maui Lilikoi
Gold Tequila
Triple Sec
For more information or to see the rest of the cocktail menu, please visit Cafe des Amis.
#10 Holiday in Jalisco – Lehua Lounge, Wailea
Spicy cocktails aren't everyone's cup of booze, but we love the flavors and tropical flare of the Holiday in Jalisco, a drink best enjoyed with a view, which the Lehua Lounge at Andaz Resort absolutely provides. While it's got a bit of a kick, it helps bring out the flavors of the tequila and still offers sweet and tropical notes.
Located on the top level of the stunning three-tiered pools, this bar is popular for its nearly unparalleled sunset views and fresh ingredients. Go for the view, stay for the cocktails.
Ingredients:
Blanco Tequila
Jalapeno Syrup
Fresh Lime
Fresh Pineapple
Soda
For more information or to see the rest of the cocktail menu, please visit Lehua Lounge.
Although the first recorded cocktail party was called the "newest stunt in society" by the St. Paul Pioneer Press, it surely wouldn't be the last. If all else fails, make your own cocktails to enjoy while watching the sunset from your lanai!
Mahalo for reading Pride of Maui's list of the Best Cocktails on Maui. Which of your favorites did we miss? Let us know in the comments below!
All photography was either taken by Pride of Maui staff, from owners that have given us written permission, and/or purchased for use. We have all the rights necessary to use these images on our website.
Written By Local Expert
We are local Maui guide experts and Hawaii enthusiasts who love to share the Aloha spirit and our favorite things to do on Maui.