12 Best Breakfast Spots on Maui
Get Our Newsletter: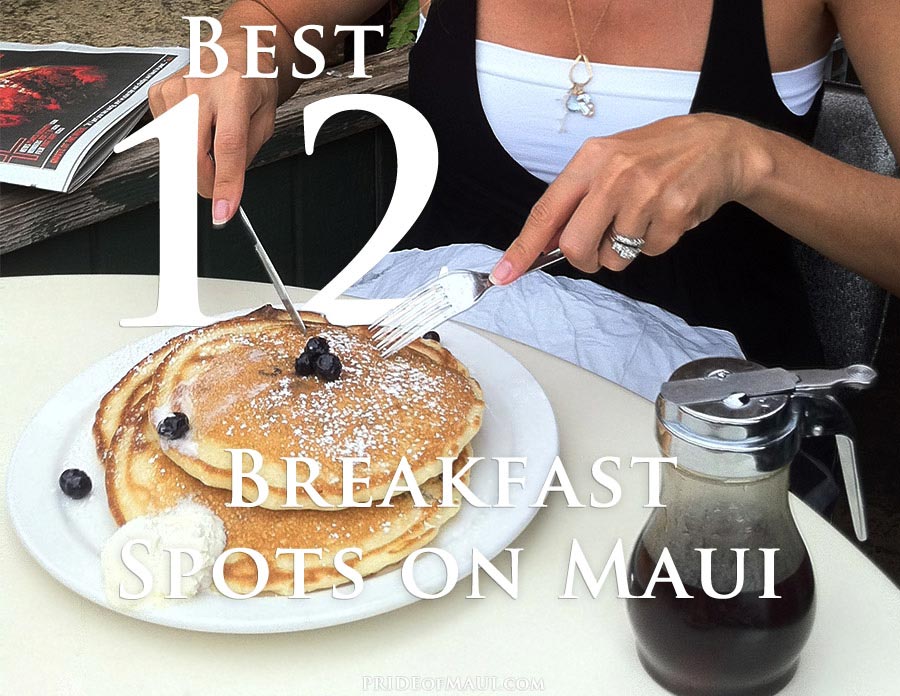 Who doesn't love enjoying a fantastic breakfast while on vacation? Whether you're a resident or a visitor, we know that you will all get something out of this article. Each one of these Maui breakfast spots offers something unique and individual. They are all perfect in their own way, it just depends on where you are and what you're looking for. We have broken this article down by Maui's most popular neighborhoods and locales, so check it out and let us know what you think!
From all of us at Pride of Maui, please enjoy this Ono Makana (delicious gift)!
BEST PLACES FOR BREAKFAST ON MAUI
UPCOUNTRY
#1 Kula Bistro
Kula Bistro is located in Kula across the street from Morihara's Store. The location might be more commonly remembered because it used to be Cafe 808. We were so looking forward to checking out the menu and environment at the newly refurbished Kula Bistro, and have to say, it's truly unique! The Kula Bistro offers Breakfast, Lunch and Dinner fare, and is BYOB, which is really cool! All you have to do is run across the street to Morihara's for a bottle of wine or a six-pack, and you're good to go. Besides the menu, some of the greatest things about Kula Bistro is how the staff and the atmosphere are so chill. It's exactly how an Upcountry restaurant should be.
The walls are adorned by creations of local Maui artists, and the staff is happy, knowledgeable and friendly. Why wouldn't they be? They work Upcountry in a super cool location that promotes local food vendors, a contemporary menu, and huge food portions, which is somewhat scarce in Hawaii these days. We love Hawaiian-style food portions and supporting local businesses.
Here, you'll find that the prices are average, and the food is just delicious. Favorites on the Breakfast menu include the Mahi Mahi Benedict, Steak Frittata, Big Bistro Breakfast, French Toast, and the White Chocolate Macadamia Nut Pancakes. Currently closed for Breakfast on Mondays.
For more information, please visit Kula Bistro.
#2 Colleen's At The Cannery
If you happen to wake up in Haiku and wonder where to go for coffee, no worries, brah! All you have to do is get yourself to Colleen's at the Haiku Marketplace. When you find this Haiku gem, you will not only be happy that you did, but you will soon realize that you are drinking the best cup of coffee available on the north shore, and your people watching skills have literally just turned up to the max! Opening at 6 am every day, Colleen's is definitely a go-to for Breakfast, 7-days a week.
Favorite items on the Breakfast menu at Colleen's include the traditional Cannery Breakfast, Market Vegetable Omelet, French Toast, Haiku BLT, variety of Eggs Benedicts, Organic Tofu Vegetable Wrap, or the all-time-favorite Hangover Cure – black forest ham, oven roasted potatoes, jack and cheddar cheese, onions, and green chiles all sautéed together. We love that Colleen's uses local ingredients whenever possible, their breakfast smoothies are delish, and the Cannery Bloody Mary is the bomb!
For more information, please visit Colleen's at the Cannery.

HAIKU
#3 Baked On Maui
Located in the Pauwela Cannery, Baked On Maui is a wonderful and quaint Haiku coffee shop and cafe. Open for Breakfast and Lunch, this is a great little place to go to check out the local scenery in a hip environment. Just steps away from Baked on Maui are surfboard shaper studios, retail vendors, art galleries, a hardware store, a cool little video store, and more. We also love that they have outdoor seating, so you can easily meet friends for a meal in the sun, or just sit outside with your laptop and a latte. (Hey, Maui residents, they are dog-friendly!)
Baked on Maui makes all of their own bread and pastries, which gives a super authentic feel and makes all of their meals even yummier. Favorite items on the Breakfast menu are definitely the Omelets, French Toast with Strawberry Compote, and Smoked Salmon Benedict. If you're in a rush, you can easily just stop in for a quick to-go order or grab some espresso drinks and pastries. The ham and cheese croissant is excellent, and no stop at Baked on Maui is valid unless you pick up a naughty dessert or a loaf of their homemade bread on your way out!
For more information, please visit Baked On Maui.

PAIA
#4 Paia Bowls
Paia Bowls is one of Maui's newest and best additions to breakfast and healthy eats throughout the day. Located in Historic Paia Town, Paia Bowls is owned by local Maui surfers (brothers) Ian and Luke Walsh. They felt a need for a new, creative and healthy cafe on Maui's North Shore-one that's become super popular with the water sports community, residents and visitors. At Paia Bowls, look forward to a streamlined menu of organic options; acai bowls, smoothies, Hawaii coffee and kombucha on tap.
Acai Bowls are made to order and can be completely customized. First, guests choose from a Blend Bowl (acai, strawberries, blueberries, and bananas) or a Surf Bowl (frozen acai puree). They're both topped with organic hemp granola, fresh bananas, coconut flakes and drizzled honey. They also have a huge selection of additional toppings like fresh tropical fruit, bee pollen, spirulina, maca powder, wheatgrass, cacao nibs, almond butter and more.
If you love smoothies, you'll be in 7th Heaven here. Choose from the Aloha, Lanai, Paia, Hana, Haleakala or the Jaws. The Paia is our favorite and is made with acai, strawberries, blueberries, cacao nibs, bee pollen, spirulina, and coconut oil.
Paia Bowls isn't just one of the healthiest cafe's on Maui's North Shore, it's also a hot spot that fosters aloha and positive vibrations. Check out their menu and their awesome community next time you're headed down the Hana Highway.
For more information, please visit Paia Bowls.

#5 Paia Bay Coffee & Bar
Located in the hub of Maui's North Shore is Paia Bay Coffee & Bar. Not only is it a fantastic choice for one of the best places for breakfast in Maui, but it's also a great spot for coffee with friends, lunch, happy hour, dinner, movie nights, and late night events in Paia Town. Another thing that makes this spot so convenient is the free, and super fast WIFI. Here's where you can also enjoy a meal and get some work done from your laptop with a tasty caffeinated bevy.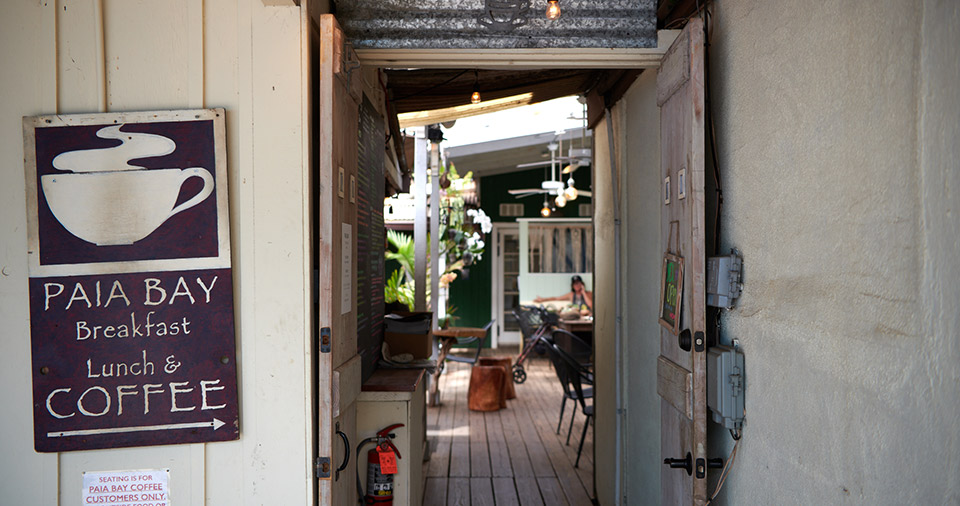 Paia Bay's breakfast menu is nothing short of sweet perfection. All items are made from local, sustainable, and organic ingredients. They use local Maui coffee beans for all drinks, there's freshly baked croissants, vegan and gluten-free options, and awesome vibes from their well-chosen staff members.
Our favorite breakfast items at Paia Bay Coffee include the Acai Bowl, Organic Eggs & Smoked Salmon, and the Vegan Bagel Sandwich that's made with pesto, hummus, roasted red peppers, avocado, tomato, and locally grown baby greens. Their fresh baked croissants can be ordered as a breakfast sandwich with options that include Nutella, Feta Cheese, and Bacon & Brie.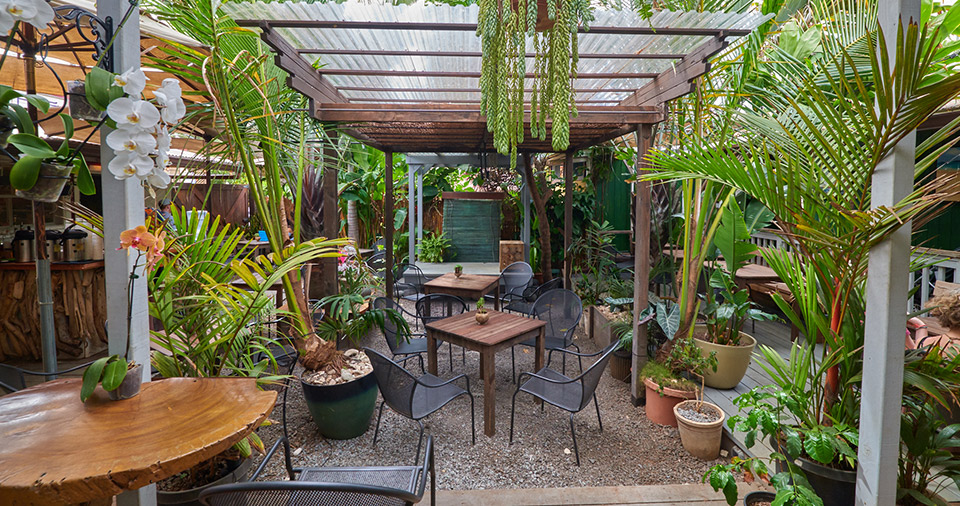 This breakfast spot also provides a super mellow and comfortable environment. Tables are well placed with privacy, and you can find a table under the sun or one covered by shade. Another note: the breakfast and lunch menu are served from 7am-4pm, so if you're taking your time on vacation, you can still enjoy breakfast for lunch or in the later afternoon.
For more information about Paia Bay Coffee & Bar, please visit Paia Bay Coffee.

#6 Café Des Amis
Café Des Amis is one of the cutest, quaintest little eateries on Maui. Located in the heart of Paia Town, this gem offers a menu unlike any other in Hawaii, with a fusion of Mediterranean and Indian Cuisine, somehow wrapped in a little French package. The most popular items on the Café Des Amis menu are the crepes, and up to noon daily they have crepes for your early morning craving. All savory crepes are served with organic local baby greens and sour cream, and each sweet crepe is served with its own particular decadent splendor.
Favorite Breakfast Crepes are the Spinach, Feta, Maui Tomato, and Scrambled Egg, and everyone adores the warm sweet Nutella Crepe. Café Des Amis also serves Illy Caffe coffee and espresso drinks, which we think is molto bene. We love their coffee! When visiting Café Des Amis, check out their Lunch and Dinner menu – salads, appetizer plates, and curries are excellent with a tempting glass of sangria or lilikoi margarita. Don't forget to ask staff about live music in their Bali-like outdoor courtyard for pau hana. This spot is always a good time with a glass of wine, whether you're flying solo, dining with a loved one, or meeting up with friends.
For more information, please visit Café Des Amis.

#7 Charley's Restaurant & Saloon
"Charley's is my kind of place."
Willie Nelson, (charleysmaui.com)
Since 1969, Charley's Restaurant and Saloon in Paia has been a Maui institution! Not only is Charley's a great place to visit to see a glimpse of Maui's country scene, but it's also an awesome spot for food, live music, dancing and talking story with some locals while catching a sports game. We love Charley's in Paia!
Throughout the years the scene at Charley's has always been consistent; you'll enjoy great music, positive vibes, and a fulfilling menu. At Charley's, guests can savor a delicious Breakfast, Lunch, Happy Hour, Dinner and Late Night dining menu on Maui. There's nothing like the feeling of walking through swinging doors into Maui's most happening North Shore venue… Cowboy Up!
Charley's 'World Famous' breakfast menu includes classic eye-opening favorites like a 2-Egg Breakfast, Eggs Benedict, Omelettes, French Toast, and Buttermilk Pancakes. They also offer local favorites like the Loco Moco, a 1/2 pound Maui cattle burger served over steamed white rice with mushroom gravy, two fried eggs, and crispy onions. One of our favorite breakfast items at Charley's in Paia is the Buttermilk Biscuits served with sausage gravy, two farm fresh eggs, crispy breakfast potatoes, and your choice of bacon, link sausage or Portuguese sausage. If you're looking for lighter breakfast options, Charley's also has a 'Healthy Choice' menu where guests can choose from egg white omelets, tropical fruit salads with Greek yogurt, Acai bowls, almond granola or tofu scrambles*
Five things that you can always count on when you have breakfast at Charley's in Paia are, 1) friendly customer service with aloha, 2) delicious and hot Maui Oma coffee w/refills, 3) mouthwatering bacon, 4) the best breakfast potatoes on Maui, and 5) healthy portion sizes.
For more information, please visit Charley's Restaurant & Saloon.
WAILUKU
#8 Farmacy Health Bar
Farmacy Health Bar is located on Main Street in Wailuku. Actually, they are right next to Request Records, and close to a variety of shopping locales, making it super easy to check out all the cool stuff that Wailuku has to offer (with a full stomach of course). Farmacy has only been open for a few months now and is one of the newest and greatest little in-the-know spots on Maui. At Farmacy, all ingredients on the menu are GMO-free, organic and from the islands! Isn't that so radical? We love to see businesses that support the 'aina (land) and the people. When at Farmacy, guests can feel at ease knowing that their food and juices are not only nutritious and healthy, but they are also aimed at curing ailments. Having a meal at Farmacy will heal your mind, body, and soul! Their passion for healthy food goes deep and is seen throughout all their delicious offerings.
Favorite items on Farmacy's menu include all of their smoothies and alkaline juices; our favorite being the Tamarindo Juice because it's so unheard of outside of California, Mexico, Latin America, and the Caribbean. The Valley Isle Kombucha is to die for, as is the Maui Coconut Water. Definitely check out all of their delicious Acai Bowl selections, and our personal fave, the Pono Bowl (quinoa, soup, kale salad, cashew dressing, feta cheese, and popcorn tofu). Everything on the menu at Farmacy is crazy good. Do not miss out on an opportunity to visit this location!
For more information, please visit Farmacy Health Bar.

#9 Tasty Crust
Tasty Crust in Wailuku is a must if you love local Hawaiian-style diner food, garnished with old-school Coca-Cola branding. This place is a great breakfast spot on Maui and one that will really let you have a feel for Maui's historic local food culture. No, this is not a greasy spoon kind of a place, but more like a Maui foodie institution! At Tasty Crust, you can have Breakfast, Lunch, and Dinner, but our favorite is definitely Breakfast.
You probably won't find GMO-free fare at this Maui locale, but you will find an abundance of delicious comfort food items on their menu. Each item definitely has a feel of country island livin'.
Here, guests will not be disappointed by the prices or food portions. Prices are less than expected, and the portions are Hawaiian-style (yeah, baby) with big plates! (FYI, you can also order mini-plates, which is cool.) Favorite Breakfast items at Tasty Crust are definitely the Banana Pancakes, the Pork Fried Rice with a Fried Egg, the Loco Moco Breakfast ($5.50, wah!), and the Traditional Breakfast. Honestly, there is also something very unique and nostalgic about the coffee at Tasty Crust, it's just amazing! You have got to check this place out!
For more information, please visit Tasty Crust.
WEST MAUI
#10 Plantation House
The Plantation House in Kapalua is the creme de la creme of breakfast spots on Maui. This locale is ideal for celebrating birthdays, holidays and special family occasions. Set above Kapalua, the Plantation House offers sprawling views of the West Maui coastline, and tri-island views of Molokai, Lanai, and Kaho'olawe.
Their fine dining Breakfast menu includes specialty versions of all kinds of traditional Breakfast fare, including Classic Breakfasts, Eggs Benedicts, Fruit Plates, and Pancakes. They are also well-known for Salads (definitely try the Ahi Salad), Sandwiches, and their awesome Guava Mimosas.

For more information, please visit Plantation House.

SOUTH MAUI
#11 Ka'ana Kitchen
Ka'ana Kitchen is located at the Andaz Resort in Wailea. This Maui breakfast spot is truly amazing because it features all farm fresh Maui foods. From the meats to the produce, cheeses to cured fish and eggs, and baked goods to pastries, you will be delighting in the heavens of a Maui-born menu. Ka'ana Kitchen is another great place to go for the holidays, family celebrations, birthday brunches or a romantic table for two.
We have to say that the breakfast menu at Ka'ana Kitchen is somewhat short, but that does not define or judge the divine offerings of these breakfast foodie selections. We'd rather say that it's just streamlined, modern-gourmet, and to the point!
The flavors and tastes on this menu are unique, original, and absolutely fabulous! Breakfast favorites at the Ka'ana Kitchen include the Kalua Pork Benedict (served with a ponzu hollandaise and heirloom tomato salad), the Breakfast Bruschetta (served with citrus mascarpone and tropical fruit), Poached Eggs and Sweet Potato Cake (with Molokai sweet potatoes and an avocado watercress salad), and finally the Waffles, which are served with caramelized bananas, coconut creme and Nutella. Top any of these breakfast options off with a side order of the Cured Grilled Slap of Bacon and a Maui Mimosa, and believe us, you are golden!
For more information, please visit Ka'ana Kitchen.

#12 Kihei Caffe
This fabulously honest South Maui breakfast venue boldly states, "You Can't Go Wrong At The Kihei Caffe." Umm… they are exactly right! This spot is downright casual and serves up some of the best breakfast plates on Maui. If you're looking for a low-key environment where you can keep your sunglasses on throughout your meal, definitely check out Kihei Caffe. Whether you are a resident or a visitor, you will fall in love with this Maui breakfast restaurant. Located across from Kalama Park, you can easily go for a swim, then grab breakfast and coffee, or plan your perfect South Maui adventure beginning at the Kihei Caffe.
By the way, Breakfast is served all day here. Ahhh, yes! All items on Kihei Caffe's Breakfast menu are very well-priced and finger-licking good. Oh la la! We suggest the Classic #1 Breakfast with 2 eggs, bacon, home fries and a biscuit ($7.95), the Southern Style Sausage Gravy and Biscuits, the Huevos Rancheros, or the Pork Fried Rice and Scrambled Eggs. No matter what you choose to order at Kihei Caffe, you are going to be more than pleased and probably in a food coma after. Just sayin.' Don't forget to pick up a bag of their Maui coffee on your way out. Shoots!
For more information, please visit Kihei Caffe.

Mahalo Nui Loa for reading Maui's 12 Best Breakfast Spots! We hope that you have thoroughly enjoyed reading this article and that you may be encouraged to plan some more wonderful Maui breakfasts in your near future.
Where are your favorite Maui breakfast spots? Do you have anything to add to this list? We want to hear what you have to say! Please share this article with all of your friends and family! From all of us at Pride of Maui, Hau'oli Lanui!
Written By Alexandra Mitchell
Alexandra is a marketing professional with a passion for writing about travel to the Hawaiian Islands, vacation rentals, and luxury real estate. She exposes readers to glimpses of 'Old Hawaii,' new destinations to explore, local events, and all the best things to do on Maui.