Top 5 Sky Tours In Maui
Get Our Newsletter: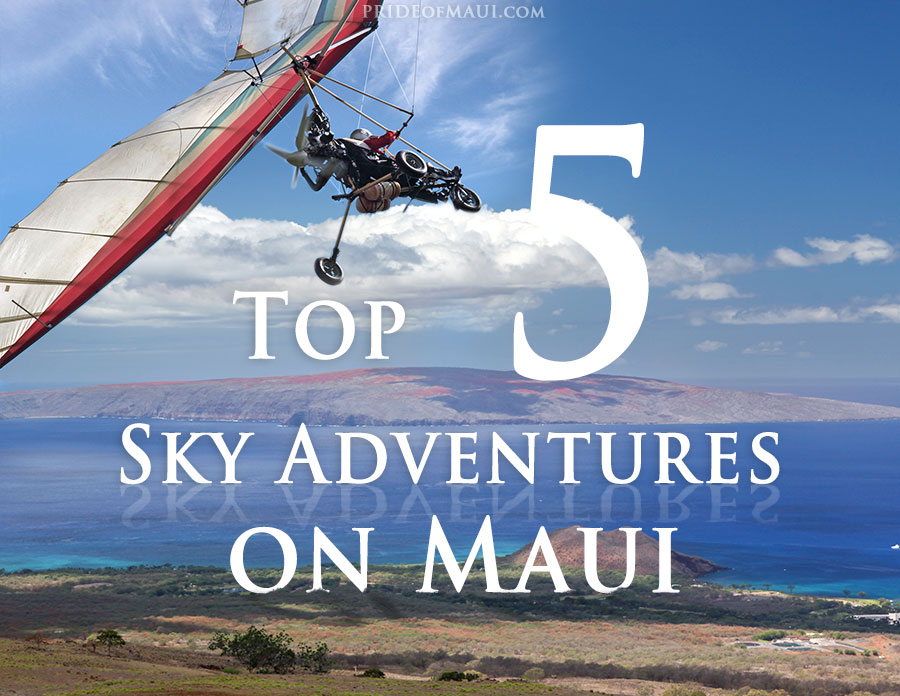 Have you ever thought about doing something adventurous like a sky tour in Maui? While we have yet to find a view of Maui we don't like, seeing the island from a new perspective is always a welcomed surprise, and one that offers many world class views of Maui's most lush, sparse and breathtaking locations. In addition to offering some of the most amazing aerial views of the Valley Isle, Maui sky tours come in many different forms. From incredible Maui helicopter tours to private pilot lessons in Kahului, there are many adventures with a birds eye view to be taken advantage of.
Check out our list of the Top 5 Sky Tours in Maui, and take advantage of all unique opportunities to see the Valley Isle in total majesty from an off-land, in-flight kind of perspective. Paradise awaits you!
MOST AMAZING MAUI SKY TOURS & AIR ACTIVITIES/h2>
#1 Helicopter Tours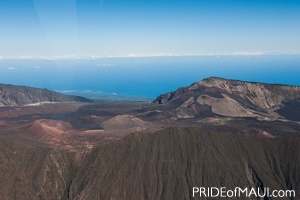 Helicopter tours are one of the most popular activities in Hawaii, and for such a good reason! Oftentimes, a Maui helicopter tour is the only way to see some of the island's most inaccessible areas, from cascading waterfalls hidden deep within the West Maui Mountains, to Jurassic Rock and the backside of Haleakala Volcano. Blue Hawaiian Helicopters has over 30 years of experience, and offers several unique aerial tours of Maui. Guests have a choice of two helicopter models, the A-Star or the Eco-Star. Each Hawaii helicopter tour includes narration by a certified Hawaii tour guide, safety information, and tips to getting the best photos from a helicopter vantage point. Guests can also choose from group tours, private Maui helicopter tours, and even a windows-off kind of Maui adventure tour for the innate photography lovers.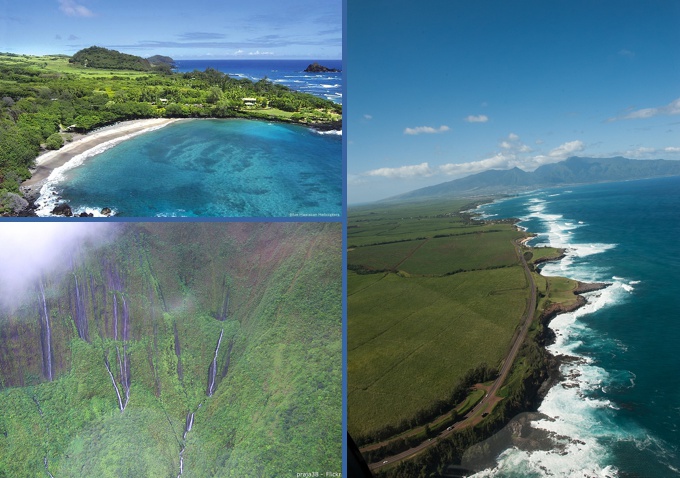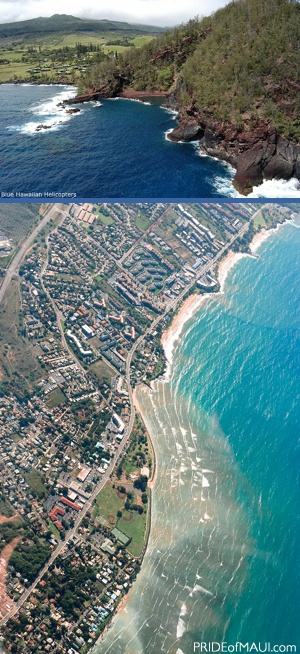 West Maui Mountains – See the inner beauty of the West Maui Mountains. Approximately 30-minutes, and an advance online booking discount.
West Maui & Molokai – See the West Maui Mountains and world's steepest sea cliffs of eastern Molokai. Approximately 50-minutes, and an advance online booking discount.
Hana & Haleakala – See Upcountry Maui, Haleakala Crater, the rugged back side and rainforest of Hana. Approximately 50-minutes, and an advance online booking discount.
Complete Island – See (you guessed it) all of Maui from above. Approximately 650minutes, and an advance online booking discount.
Maui Spectacular – Combination of West Maui and Hana & Haleakala tours, plus a landing in Upcountry Maui. Approximately 90-minutes, and an advance online booking discount.
Maui & Big Island – Includes flight alongside Haleakala Crater, brief landing on the Big Island, flight over the Kohala Mountains, and return to Maui for a flight over rainforest of Hana. Approximately 2 hours, and an advance online booking discount.
Get in touch with Blue Hawaiian tours for current rates*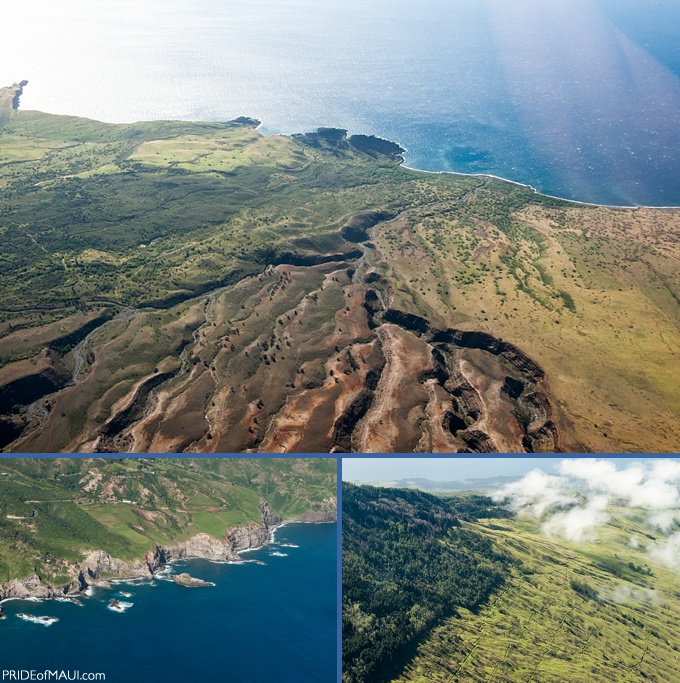 For more information, please visit  Blue Hawaiian Helicopter Tours

Air Maui helicopter tours fly around Maui and to the outer island of Molokai. What makes this Hawaii helicopter tours company so unique is the true sense of ohana that they embody through everything they do.
From the beginning of the booking process, to a safe return back to Kahului Airport, these folks show all guests amazing sights, all well embodying a true essence of the aloha spirit. Every pilot is an experienced professional with thousands of hours of flight time, and Air Maui owner and Chief pilot still graces Hawaii skies with his guests. All participants will experience one of the best air activities in Maui while gaining invaluable knowledge about the history of Maui, geological history, Hawaiian culture and Hawaii's flora and fauna.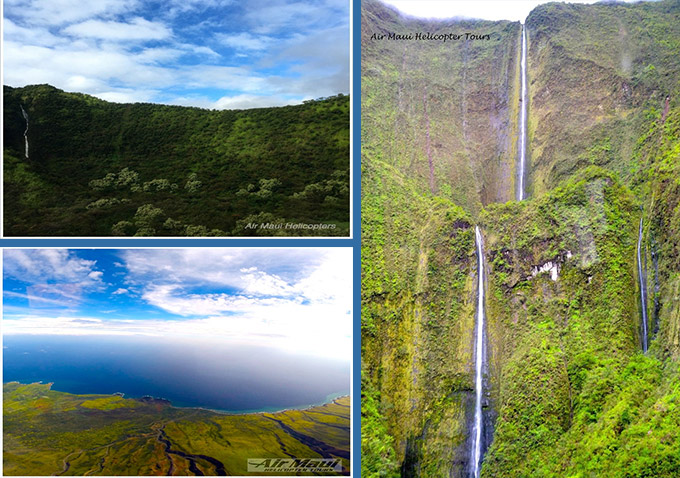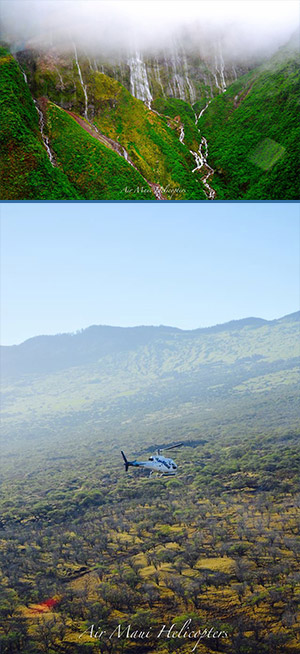 Hana & Haleakala Helicopter Tour – Taking off over South Maui, guests will cruise the magnificent Mt. Haleakala with an amazing cliff side landing with views of Maui's coastline and the gorgeous Pacific Ocean. This tour continues to survey over Hana rainforests, waterfalls, lush valleys, and the East Maui coastline while en route back to Kahului Airport. Approximately 60 minutes.
West Maui & Molokai Special – Air Maui is an exclusive provider of this incredible West Maui and Molokai helicopter tour. On this Maui tour, guests can expect to see deep valleys, secret spots in the West Maui Mountain Range, and Molokai's dramatic sea cliffs. Approximately 45-minutes.
Maui Lite – This tour is great for those on a vacation budget! With this tour you can choose from viewing the Haleakala Crater or the West Maui Mountain Range. Approximately 30-minutes.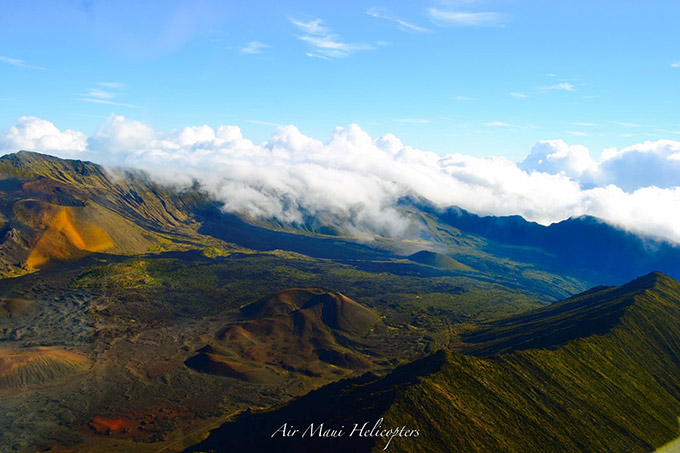 For more information, please visit Air Maui Helicopter Tours in Hawaii.
#2 Powered Hang Gliding Lessons
While hang gliding on Maui is a thrill in and of itself, its success is often at the mercy of weather conditions, which shift dramatically and quickly in the Hawaiian Islands. Thus, the owners at Hang Gliding Maui introduced something new – Powered Maui Hang Gliding flight instruction on the Hana Coast. They like to think of it as motorcycle-riding lessons… in the sky. Well, that sounds super fun!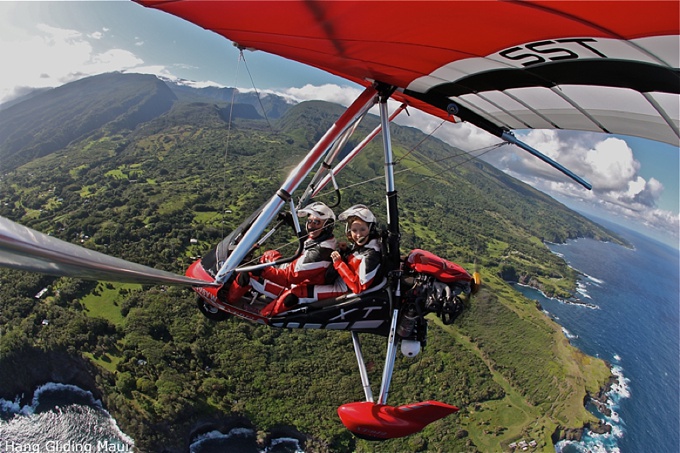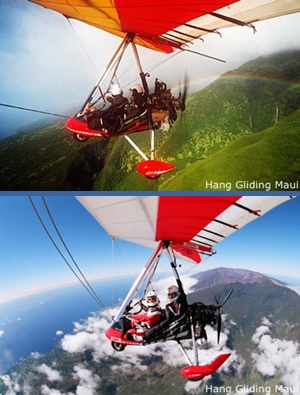 With a 100% successful safety record for over 25 years, and highly experienced instructors, all willing guests will learn the basics of weight-shift control, as well as basic aviation safety and aerodynamics. A two-way headset intercom and tandem seating with dual control from the front and rear seats is used for easy communication with your instructor. The Airborne Trike has been tested for 6 G-forces positive and 3 G-forces negative, higher than most conventional planes, and allows for longer flight time than a typical hang gliding session.
The take-off point is from the Hana Airport in East Maui, allowing for a handful of the best views of the island; including the rainforests of Hana, rugged ocean cliffs, 'Ohe'o Gulch (7 Sacred Pools), waterfalls, the backside of Haleakala Crater, the East Maui Watershed and more. Lessons are available for guests ages 12 and over, and additional services for digital photography or video is available.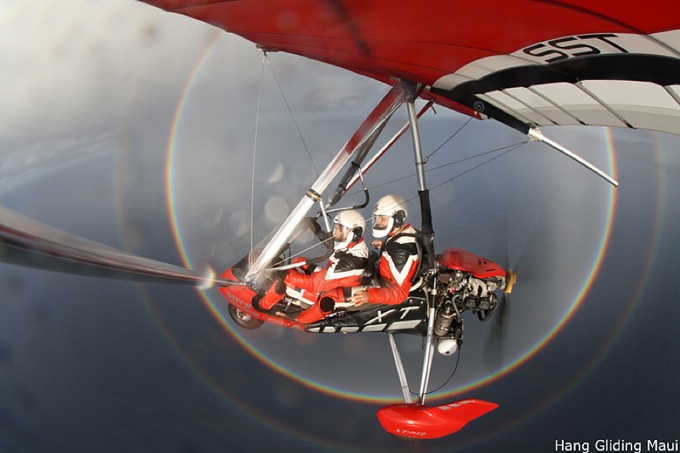 For those that are thinking they could do this on a honeymoon vacation in Maui, you're off to a great start! But, you have to fly tandem with an instructor. That is the one hard limit when going hang gliding in Maui. It's ok, though. You can still do this together. Make sure to let Hang Gliding Maui know if you are trying to plan a surprise or something unique- they will surely accommodate you to the best of their ability.
For more information, please visit Hang Gliding Maui.
#3 Ziplining at Piiholo Ranch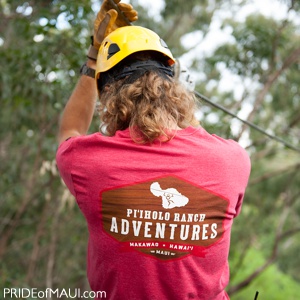 A 6th generation Maui resident, Peter Baldwin founded Piiholo Ranch in Upcountry Maui alongside his three sons, Jeff, Duke and Chris. What once began as a Maui horseback riding and cattle business has evolved into the most popular Maui ziplining tour company.
Hosting the longest side-by-side zipline in the State of Hawaii, Piiholo Ranch is located in Olinda, right on the slopes of the dormant and towering Mount Haleakala (10,023 feet). Here, you'll find zipline and canopy courses that soar through deep gulches, rolling meadows, and cattle pastures at a pretty high elevation. All guests will definitely feel the thrill of life while zipping through gorgeous Maui lands, and being and eyewitness to Hawaii aerial adventure with panoramic views of Maui and the vast Pacific Ocean.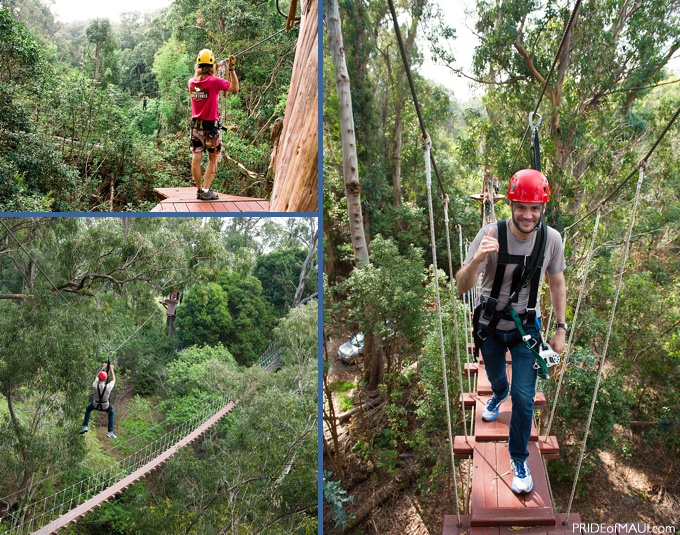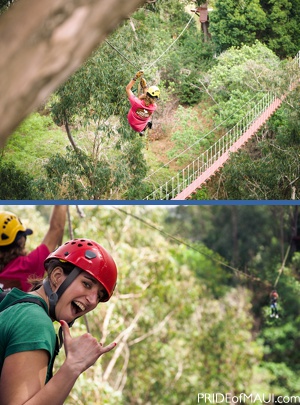 Piiholo Ranch Zipline Tours includes a 4-Line or 5-Line option.
Zipline Canopy Tours include a 3-Line, 5-Line or 6-Line option.
For the extra adventurous zipliner extraordinaire, Piiholo Ranch also offers a Zipline/Waterfall Hike Combo (8-9 hours), including side-by-side ziplining, guided hiking, and swimming at two private waterfalls along the Road to Hana. Guests must be at least 8 years old.
For more information, please visit Piiholo Ranch Zipline.
#4 Tandem Paragliding
Departing from Waipoli Flight Park on the slopes of Mt. Haleakala, Proflyght Paragliding on Maui is the "oldest and only full-time paragliding school in Hawaii." They offer tandem paragliding instruction for first-timers, and solo paragliding instruction for those who wish to take their paragliding skills to the next level. Tandem lessons require no prior experience, and this Maui sky tour is open to all ages.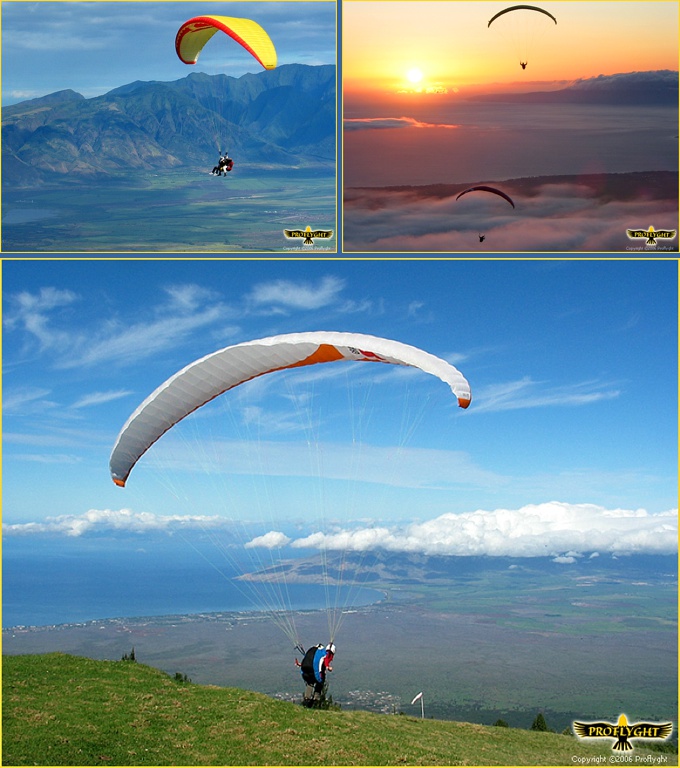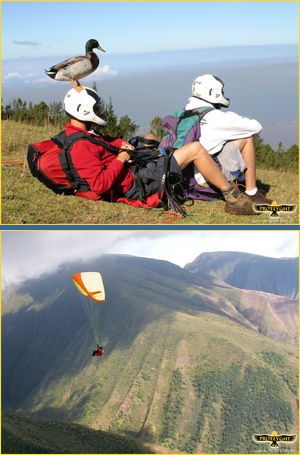 Due to the location on Haleakala, there is no jumping off of cliffs. All you have to do is run down the hill, and fly!
The most popular Maui paragliding tour option is the 3,000 foot descent, which allows approximately 12-15 minutes of air time, with a total instructional time of around 1 hour. They also offer a 1,000 foot descent, which allows approximately 3-5 minutes of air time, with a total instructional time of around 30-minutes.
For more information, please visit Proflyght Paragliding.
#5 Maui Flight Lessons
For those that have a serious passion for the sky, a hankering for aviation life, or simply just want to cross off an item off your bucket list, flight lessons on Maui with a certified flight instructor will for sure be an awesome experience.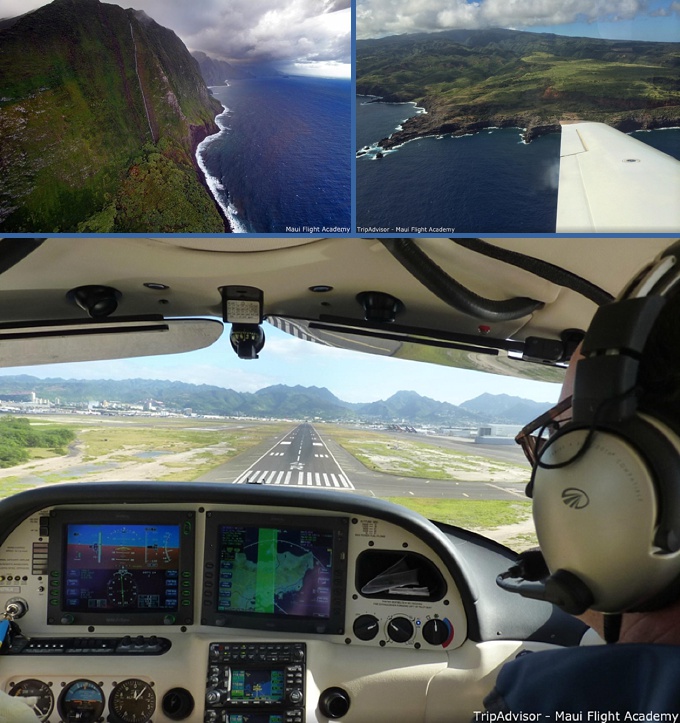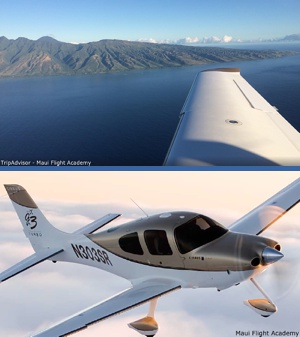 Maui Flight Academy, a 2015 TripAdvisor "Certificate of Excellence" Winner, offers several options for flight lessons for both amateurs and existing pilots aboard a Cirrus SR22. Maui flight students can choose from a variety of adventures to Molokai (1 hour 20 minutes), Hana Circle Island (2 hours), Lanai & Molokai (3 hours), Pearl Harbor (5-6 hours), Volcano (3 hours), Advanced IFR Training (3 hours), and Fabulous 5 (all day, call for pricing).
If you have a dream of flying an airplane for the first time, this is your ticket! If you're an existing pilot, and want the experience of flying above the Hawaiian Islands, this is your very best, and ideal option for flying planes in Hawaii.
For more information, please visit Maui Flight Academy.

Mahalo for reading Pride of Maui's list of the best sky activities to do on Maui! What did we miss? Let us know in the comments section below…
Written By Local Expert
We are local Maui guide experts and Hawaii enthusiasts who love to share the Aloha spirit and our favorite things to do on Maui.