Top 10 Restaurants in Hawaii
Get Our Newsletter: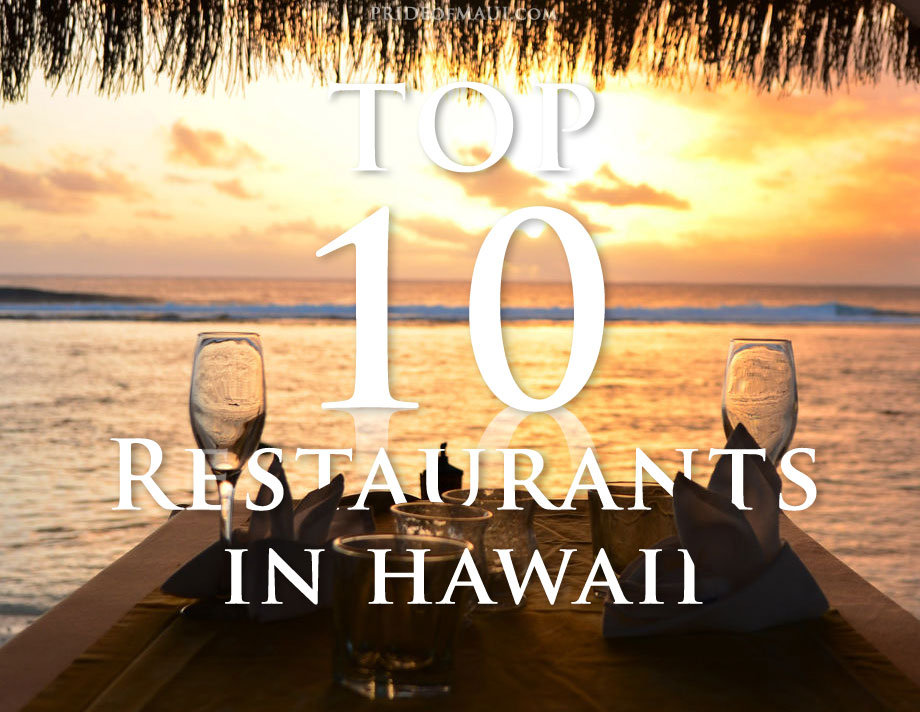 When you heard the word "Hawaii" you thought of surfing, sunshine, sunsets and swaying palm trees. Then, twelve creative chefs became known for their "Hawaii Regional Cuisine." Four of whom have restaurants on this Best Restaurants in Hawaii list. Seven others own successful restaurants throughout Hawaii. Now, with fantastic fresh fish and meats, farm to table produce and inspired chefs coming up through the ranks, Hawaii is fast becoming a mecca for food lovers.
Each island has unique restaurants that run the gamut from worldwide influences to backyard family barbecue recipes. Our Best Restaurants in Hawaii list was tallied and compiled using polls, publications, and awards voted on by chefs, consumers and industry leaders. Check out the Top 10 Restaurants in Hawaii below…

Best Restaurants in Hawaii
#1 Alan Wong's – OAHU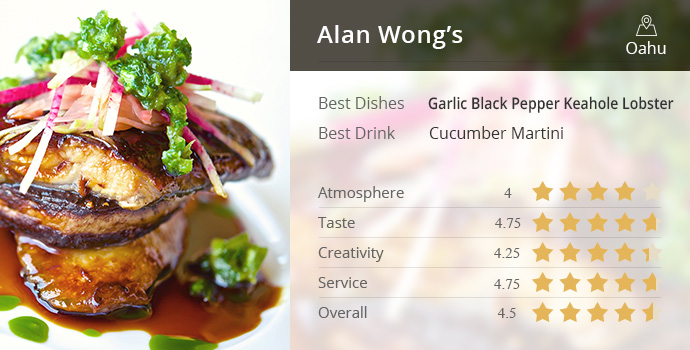 Alan Wong's success on Oahu (especially in a location without a view) is a true testament to his innovative Hawaiian Regional cuisine dishes that he has built his reputation on. Since 1995, Wong's Honolulu restaurant has been providing top tier menu items to those lucky enough to frequent his establishment. Located on the third floor of an office building, Wong took his concept of creating an ongoing "studio" where he could nurture his staff by brainstorming and trying new recipes. That effort has definitely paid off! Wong's culinary team uses authentic and fresh ingredients that are native to the islands.  Since 2006,  Alan Wong has received many accolades for his food, incredible service and delicious desserts.

Favorite Pupus (appetizers):
Seafood Cakes made with lobster, crab shrimp and a mayo with a Japanese relish.
Salad – Hawaii Island Fried Goat Cheese and Tomato – needs no further description.
Entrees:
Ginger Crusted Onaga (Long-tailed Red Snapper) in a Miso sesame vinaigrette with Hamakua mushrooms and corn.
Garlic Black Pepper Keahole Lobster
Desserts:
With seven choices, it's difficult to choose just one! So, it's a toss- up between the Lilikoi Crème Brulee and the Kualoa Banana Cream Pie. Neither of which needs much of a description. Decadence at its best! Also, don't miss out on "The Coconut," a Haupia Sorbet in a Chocolate Shell, Tropical Fruits and Passion Fruit Sauce.
For more information about Alan Wong's, please visit alanwongs.com or call 808.949.2526.
Address: 1857 S. King St., Honolulu
Hours: Daily 5:00pm -10:00pm
#2 Mama's Fish House – MAUI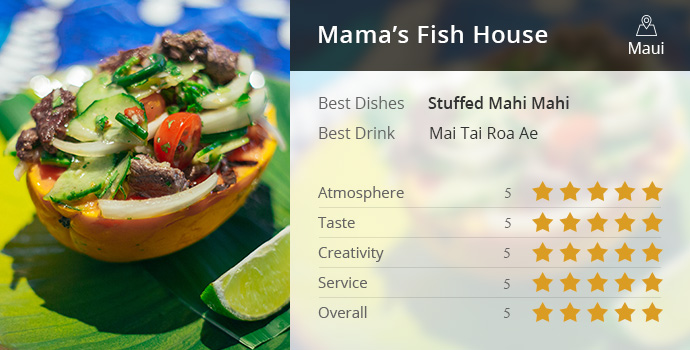 Mama's Fish House on Maui is consistently on the must-do restaurant list for both visitors and residents of the Valley Isle. Many of Mama's fans come back year after year to dine there. It's been awarded for being "the Maui-est" restaurant on Maui, although you definitely won't get plate lunch prices here.
Located on a white sand beach at the beginning of the famous Road to Hana, Mama's provides magnificent views. The atmosphere feels like "Old Polynesia" with Hawaiiana  décor and the sound of the waves lapping on the shoreline. The fresh fish dishes are unrivaled. They purchase from local fishermen daily, and actually list who caught each fish on the menu. For landlubbers, they also serve three different cuts of quality beef. You can also choose menu from items with Wild Boar, poi, duck and octopus.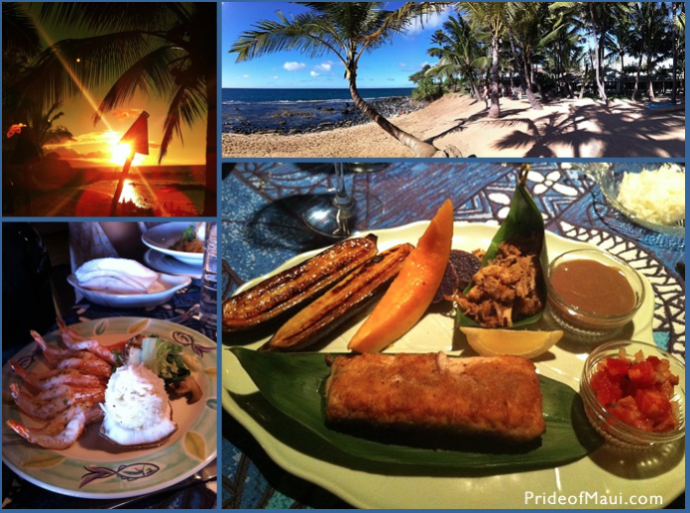 Favorite Pupus (appetizers):
Wasabi Crusted Calamari. Tender on the inside and crispy on the outside.
The Shrimp Wrapped in Wonton are delightful.

 
Entrees:
The Stuffed Mahi Mahi with lobster and crab surely brings guests back.
Desserts:
Hana Banana Macadamia Nut Crisp served warm with Tahitian Vanilla Ice cream. Or, the famous Black Pearl.
For more information about Mama's Fish House, please visit mamasfishhouse.com or call 808.579.8488.
Address:
799 Poho Place, Paia
Hours: Daily 11:00am-9:00pm
#3 Lahaina Grill – MAUI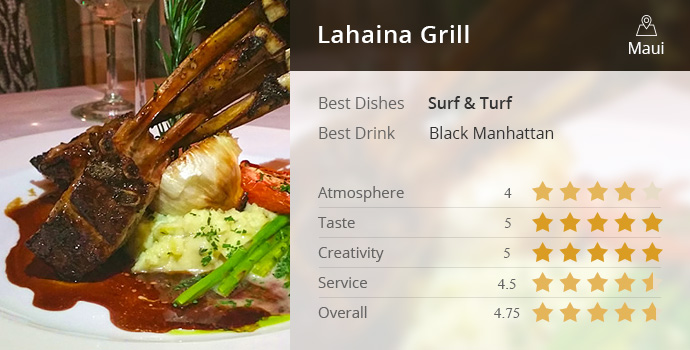 Lahaina Grill has been named 'The Best Restaurant on Maui' for 22 years in a row by Honolulu Magazine's readers' poll, and always has a place near the top for the Ai Pono Awards. It is a favorite spot for tourists and those who live on Maui.  In the heart of Lahaina Town, the restaurants sits beneath an old inn with windows that face the street. The ambiance is intimate, relaxing and oh so romantic. Like Alan Wong's, Lahaina Grill does not have an ocean view (but it isn't missed once you are seated).  The service is impeccable. The menu is very broad so there is something for everyone.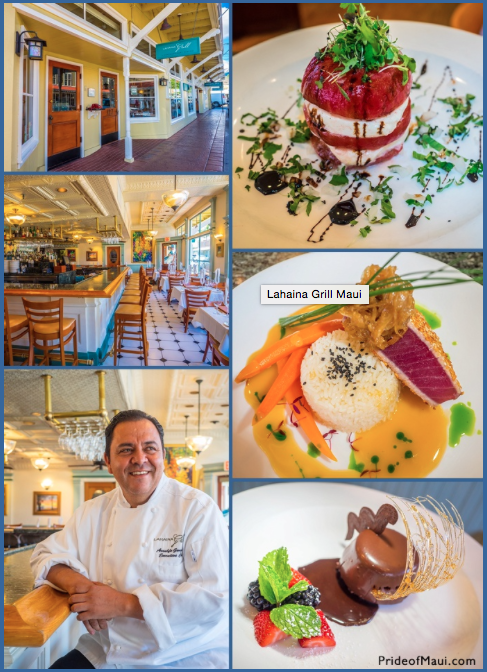 Favorite Pupus (appetizers):
Carpaccio of Filet Mignon, which is a beef filet with arugula, orange-infused olive oil, shaved parmigiano-reggiano, spicy mustard aioli, fried capers, fig and Mediterranean olive crostini
Dungeness Crab Salad which consists of fresh asparagus, avocado, Tahitian vanilla bean infused shallot vinaigrette, reduced balsamic vinaigrette, truffle oil and local mixed greens.
Entrees:
Maui Onion & Sesame Seed Crusted Seared Ahi, which includes fresh local sashimi-grade ahi steak, vanilla bean jasmine rice and apple cider butter vinaigrette.
Surf & Turf
The Pepper Encrusted Rib Eye truly melts on your tongue. You can cut it with you fork. So good!
Desserts:
Triple Berry Pie luscious raspberries, blueberries and black currants cradled by a light flaky crust. It is amazing.
For more information about Lahaina Grill, please visit lahainagrill.com or call 808.667.5117.
Address: 127 Lahainaluna Rd., Lahaina
Hours: Daily 5:30pm -9:00pm
#4 Roy's – OAHU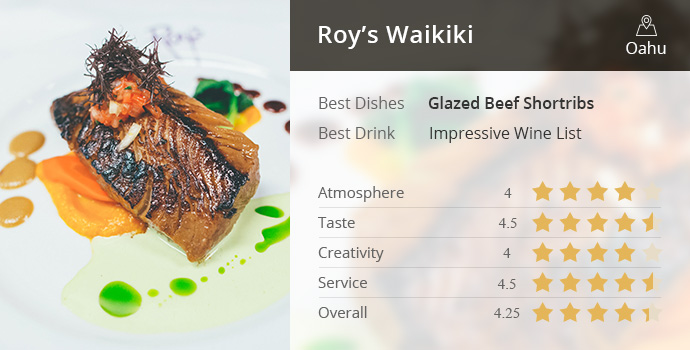 Roy's in Waikiki has been the anchor restaurant for Chef/Owner Roy Yamaguchi's Hawaiian fusion empire since 1988. It's located a block from the beach near Fort DeRussey. Quite the entrepreneur, Chef Roy Yamaguchi has 31 locations throughout the world that include: four on Oahu, an eatery on Kauai, Roy's Waikoloa on the Big Island and Roy's Ka'anapali on Maui. Chef Yamaguchi shares his recipes via three cook books, and he's been recognized for his humanitarian work on behalf of children with disabilities.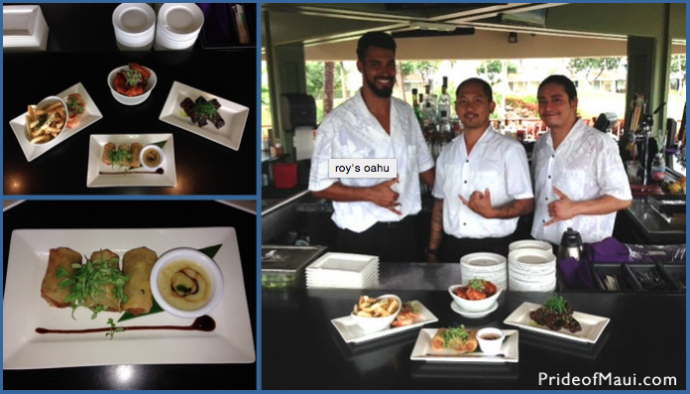 Favorite Pupus (appetizers):
Sashimi/Nigiri
Ahi Poke
Crispy Chinatown Spring Rolls
Shinsato Pork Belly
Entrees:
Misoyaki Butterfish. This is a signature dish with melt in your mouth tenderness
Garlic Buttered Filet Mignon
Glazed Beef Short Ribs
Macadamia Nut Encrusted Monchong
Desserts:
Hot Chocolate Soufflé. It arrives warm so, get your spoons ready to dig in!
Also, the cocktails here are delicious but STRONG! Try the Lychee Martini and you won't be disappointed.
For more information about Roy's Waikiki, please visit royshawaii.com or call 808.923.7697.
Address: 226 Lewers Street, Honolulu
Hours: Sunday-Thursday 11:00am-9:30pm, Friday-Saturday 11:00am-10:00pm
#5 Beach House – KAUAI

Beach House on Kauai has a  simple food philosophy. They offer good old-fashioned aloha spirit hospitality, yummy Pacific Rim cuisine and an outstanding view caters to all the senses we humans possess. Their use of all local ingredients and fresh seafood is definitely worth an award. The venue is especially appreciated for their fabulous views where guests can watch the surfers, and fall in love with amazing sunsets that turn into a star-filled sky.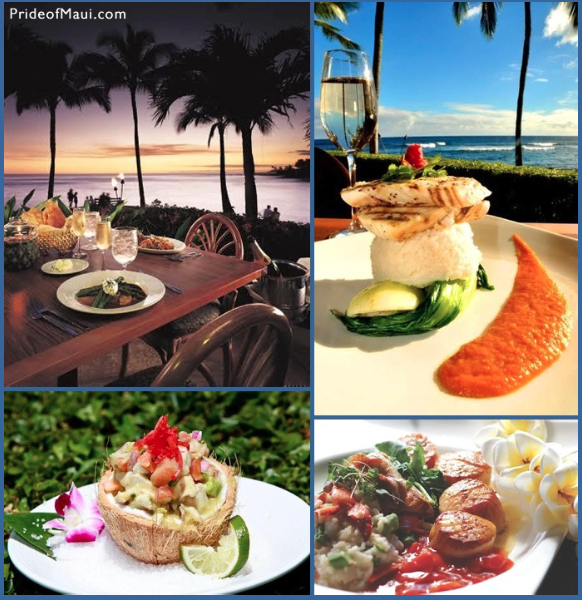 Favorite Pupus (appetizers):
Beach House Ceviche
Lobster Mac & Cheese
Thai Coconut Crab Cakes
Entrees:
Wasabi Crusted Monchong (or fresh catch) with Lilikoi Lemongrass beurre blanc
Crab-Crusted Island Catch
Multi-flavored delicious Seafood Corn Chowder with Snow Crab, fresh fish, corn and Sherry.
Desserts:
Bananas Foster (portioned big enough for four)
For more information about Beach House on Kauai, please visit the-beach-house.com or call 808.742.1424.
Address: 5022 Lawai Rd., Koloa
Hours: Daily 11:00am-10:00pm
#6 Merriman's Kamuela – BIG ISLAND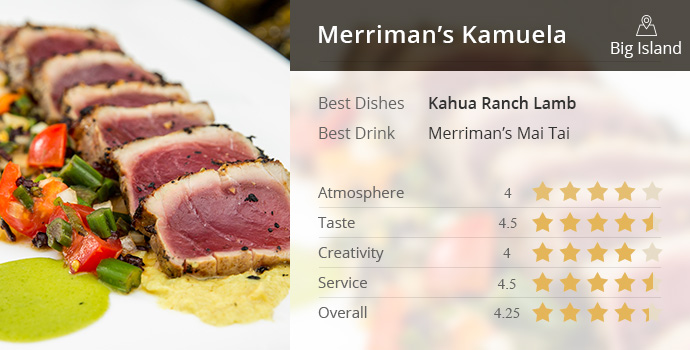 Merriman's Kamuela on Big Island has been serving fabulous farm-to-table meals for over 20 years. This location has long known as the best restaurant on the Big Island of Hawaii. In fact, Honolulu Magazine has said so for 15 years in a row. The menu choices are very similar at the Kapalua location, and they get fresh fish daily from local fishermen. The venue is intimate and relaxed just like Hawaii should be. In addition, Merriman's Kamuela has been awarded for its excellent wine offerings by Wine Spectator for more than 10 years.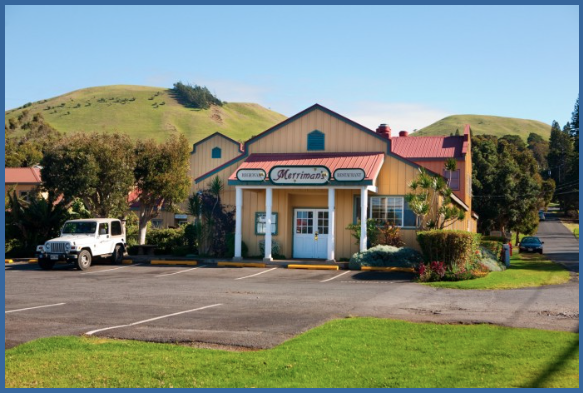 For more information about Merriman's Waimea on Big Island, please visit merrimanshawaii.com or call 808.885.2822.
Address: 65-1227 Opelo Rd., Waimea
Hours: Daily 5:30pm-9:00pm
Favorite Pupus (appetizers):
Hawaiian Ahi Poke
Bulgogi Spiced Kauai Prawns
Big Island Tomato Salad
Entrees:
Kahua Ranch Lamb
Original Wok Charred Ahi
Hawaiian Butcher's Cut Grass Fed Beef
Desserts:
Caramelized Coconut Creme Brûlée
#7 Merriman's Kapalua – MAUI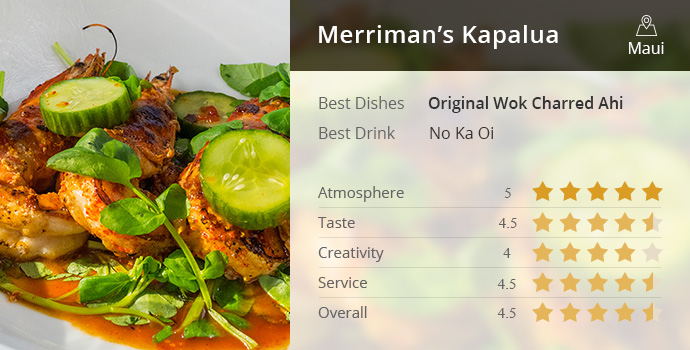 Peter Merriman has once again outdone himself. In addition to a fabulous menu, his Kapalua restaurant is stunningly gorgeous with the fantastic patio that sits right above the ocean at Kapalua Beach. Merriman's historical use of locally sourced fresh produce and ingredients (90%) has earned him the well-deserved accolades for all of his locations.
Kapalua is open and airy. There is not a bad table in the place. It is very romantic and a favorite for honeymooners, those celebrating anniversaries, birthdays and engagements. The locals love this place as much as island visitors do.
Favorite Pupus (appetizers):
Merriman's Pupu Taster
Housemade Cavatelli Pasta
Keahole Lobster, Avocado & Tomato Salad
Entrees:
 Kona Kampachi
Original Wok Charred Ahi
Macadamia Nut Crusted Mahi Mahi
Dessert:
Waialua Molten Chocolate Purses (absolutely worth the calories)
For more information about Merriman's Kapalua, please visit merrimanshawaii.com or call 808.669.6400.
Address: 1 Bay Club Place, Lahaina (Kapalua)
Hours: Daily 5:00pm to 9:00pm
#8 Michel's at Colony Surf – OAHU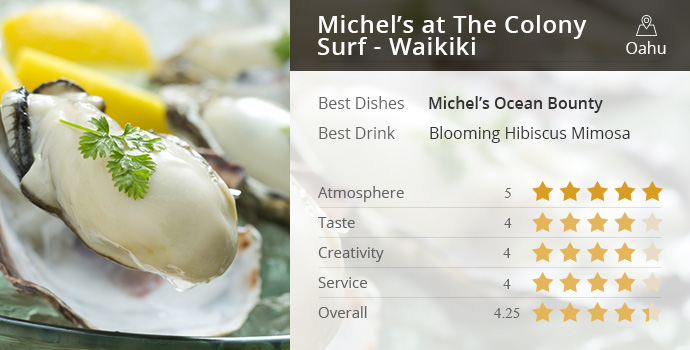 Michel's is situated on Oahu's "Gold Coast," right at the base of Diamond Head. Here, you'll find fabulous sunset views and stunning skylines of Waikiki and Honolulu. Michel's is known for being the most romantic restaurant on Oahu.
Located at the Colony Surf, the décor and atmosphere is quite "elegant." Andy Anderson, (former owner of John Dominis) and his partner Philip Shaw took over the 54 year old establishment 18 years ago.
Michel's wine selection is stellar. There's also nightly  live music that ranges from a harpist to Jeff Peterson on slack key. There are so many reasons why Michel's is ranked one of the Top 10 Restaurants in Hawaii, check them out!
Favorite Pupus (appetizers):
Hot Spinach
Table made Caesar Salad.
Entrees:
Desserts:
Apple-Bananas Flambé
Cherries Jubilee.
For more information, please visit michelshawaii.com or call 808-923-6552
2895 Kalakaua Avenue, Honolulu
Hours: Sunday-Thursday 5:30pm-9:00pm, Friday & Saturday 5:30pm-9:30pm
#9 Gerard's – MAUI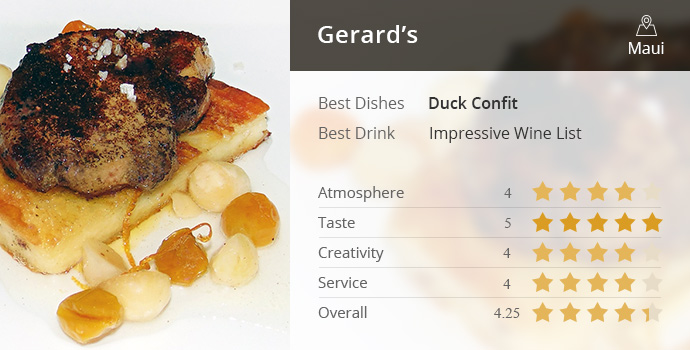 Gerard's in Lahaina on Maui comes in at number nine. Fancy that! Another French restaurant. This one is located right up the block from Front Street in the center of Lahaina Town. Set inside a stately old plantation house, you'll love the dining in the verandah, or having an intimate meal in the indoor dining room that exudes old world charm. Chef Gerard Reversade was trained in his home country of France, and blends French cuisine with a sparkle of Hawaiian fusion.
Favorite Pupus (appetizers):
Shitake Mushrooms cooked in a puff pastry
Baby Spinach with Scallops Salad
Quail Souvroff
Entrees:
Confit of Duck
Venison en Croute
Daily Fresh Catch
Scallops Au Gratin
Desserts:
Chef Gerard's Crème Brûlée or the Rhubarb Pie are both legendary
For more information about Gerard's in Lahaina, please visit gerardsmaui.com or call 808.661.8939.
Address: 174 Lahainaluna Rd., Lahaina
Hours: Daily 6:00pm-8:00pm
#10 Chef Mavro – OAHU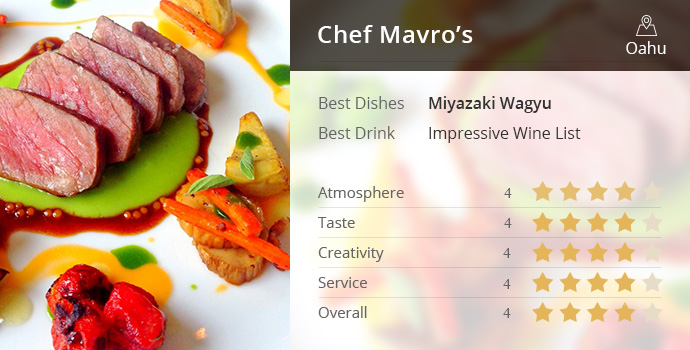 Chef Mavro is located at 1969 S. King Street (@ McCully), and is owned by yet another famous Frenchman. Chef George Mavrothalassitis is one of the original 12 Founders of Hawaiian Regional Cuisine along with Alan Wong, Roy Yamaguchi, Peter Merriman and seven others who all own restaurants in Hawaii. Chef Mavro has long been recognized for his innovative approach to food creation. His restaurant has been numerously ranked as one of the  'Top 10 Restaurants in the World,' the 'Top 40 in the U.S.' and the 'Top 10 Seafood Restaurants in the U.S.'
FYI, Chef Mavro offers a 4 course, 6 course or Tasting Menu with or without wine pairings*

Favorite Pupus (appetizers):
Meli-Melo Salad
Shutome
Fois Gras
Entrees:
Onaga Baked in a Salt Crust
Miyazaki Wagyu
Foie Gras Lobster
Provence Style Lamb
Desserts:
For more information about Chef Mavro, please visit chefmavro.com or call 808.944.4714.
Address: 1969 S. King Street, Honolulu
Hours: Wednesday-Sunday 6:00pm-9:00pm
Mahalo to Sam Choy, Philippe Padovani, Roger Dikon, Gary Strehl, Roy Yamaguchi, Amy Ferguson Ota, Jean-Marie Josselin, George Mavrothalassitis, Bev Gannon, Peter Merriman, Mark Ellman and Alan Wong for the development of Hawaii Regional Cuisine. E'ai kakou! (Hawaiian version of bon appetit)
Thanks for reading through Pride of Maui's Best 10 Restaurants in Maui article! What are your favorite restaurants in Hawaii? Let us know in the comment section below…

All photography was either taken by Pride of Maui staff, from owners that have given us written permission, and/or purchased for use. We have all the rights necessary to use these images on our website.
Written By Local Expert
We are local Maui guide experts and Hawaii enthusiasts who love to share the Aloha spirit and our favorite things to do on Maui.