Top 20 Vegetarian Restaurants in Hawaii
Get Our Newsletter:
Aloha Nui Loa, and welcome to our 2019 Top Vegetarian and Vegan Restaurants on the Hawaiian Islands blog review! Our list proves that great vegetarian and vegan food is not hard to come by in Hawaii. With year-round access to some of the freshest island produce and plenty of inspired plant-based proponents, Hawaii's vegetarian and vegan restaurants are top-notch. Our list includes some long-established favorites, as well as some new hot spots from four Hawaiian Islands. These top picks are serving up delicious plant-based foods inspired by essentially every culture. You will find some exciting and new creative culinary plates in addition to many perfected classics. With so many satisfying high-concept cooked and raw plant-based food eateries to choose from, even the most abiding carnivores will be delighted with these vegetarian and vegan gems.
Although all vegetarians do not eat foods that consist of and/or are created from any part of the body of a living or dead animal, there are different types of vegetarians:
Lacto-ovo-vegetarians eat free-range eggs and dairy products (Most common type).
Lacto-vegetarians eat dairy products, but not eggs.
Ovo-vegetarians eat eggs, but not dairy products.
Vegans do not eat eggs, dairy products, or any other product which are derived from animals, which can include honey.
BEST VEGETARIAN AND VEGAN RESTAURANTS IN HAWAII
MAUI
#1 Maui Kombucha
Located in Haiku, a charming town on Maui's North Shore, Maui Kombucha is a raw vegan fusion café and kombucha brewery. This island favorite offers the perfect place to get your booch on! Though you are guaranteed to quench your thirst with Maui's best fresh brewed Kombucha on the island, you can also fill your tummy up with mouthwatering and delicious raw vegan fusion cuisine. When asked what the secret is? Their answer is Love, Love, Love! And you can taste it in every bite. They are serving breakfast, lunch, an array of delectable snacks. The mouthwatering raw desserts here are so amazing; they will keep you coming back for more again and again. The brightly colored interior and walls adorned with local artwork is a nice touch to the unique quasi-bar like setting. It is most definitely a gathering place to catch up with old friends, as well as being a great place to strike up a conversation with new friends. You will find the "buchtender" and bar seating so welcoming that once you sit down, you may not want to leave. Maui Kombucha is one of the best places to try kombucha for the first time. It has a surprisingly soft taste on the kombucha scale. It is not as acidic or vinegary tasting as others. They offer unique rotating flavors like island-grown ginger-turmeric, palo santo, sangria, and MOG (mango, orange, guava). Locals swarm here for the kombucha, the amazing food and inviting atmosphere. Their menu offers a wide range of cuisine ranging from fresh Thai spring rolls, delicious raw pizza's and vegan nacho's that will blow your mind. Just like their kombucha, they aren't afraid to get creative with their menu. They generally change it up every day. However, staples on the menu include daily house-made soups, fresh local green salads with yummy homemade dressings, and of course their raw desserts that are hands down some of the best made on Maui. There is also a selection of grab and go meal items, snacks, and juices if you need something fast, delicious and nutritious.
Location: 810 Kokomo Rd. #202 Haiku, HI 96708
Phone Number: 808.575.5233
For more information, please visit Maui Kombucha
#2 Choice Health Bar
Choice Health Bar, winner of the 2018 'Aipono Gold Award for "Best Healthy Fare" 2018, is a vegan-vegetarian restaurant that is serving up delicious acai bowls, fresh fruit smoothies, cold pressed juices, homemade soups, salads, and delicious raw foods. Choice Health bar is utilizing local Hawaiian sourced ingredients and superfoods in two West Side locations. Their original location is in Lahaina Town, and you can find their second location is in Ka'anapali at Whalers Village. Choice Health Bar believes that fresh food makes you feel good, so they make sure to hand-select the finest and freshest organic produce that is growing on Maui's farms. Their goal is to help create a sustainable future for Maui's small family farms. This means that they have an improv kitchen that is based on what is growing in the season on Maui. Menu items and flavors can change daily. They offer a daily "epic entrée," a special raw pizza of the day and a house-made vegan soup. The Healthy Plate Lunch is a crowd pleaser. This healthy and hearty plate lunch lets you taste an array of their delicious food, including a fresh local greens salad, vegan soup of the day, a scoop of their amazing coconut garlic quinoa and the daily sweet treat. Portions are plenty, and no one leaves hungry. Make sure to try one of their amazing shots and elixirs. Some of our favorites are the house regulars: wheat grass, noni juice, and the probiotic shot.
Locations:
Lahaina Address: 1087 Limahana Place #1A, Lahaina, HI 96761
Phone Number: 808-661-7711
Ka'anapali Address: Whalers Village 2435 Ka'anapali Parkway, Lahaina, HI 96761
Phone Number: 808-661-4567
For daily specials, online ordering and more information, please visit Choice Health Bar
#3 Veg-Out
Veg-Out is a quaint, no-frills restaurant with an expansive menu located in the town of Haiku on Maui's North Shore. Their 100% vegetarian menu is inspired by a variety of cultures including Middle Eastern, Thai, Mexican, Italian, Greek, and Indian. They also have some tasty vegan dishes on the menu. Veg-Out is the perfect place to pick up some delicious food to take with you on the Road to Hana. No worries if you are coming straight from the beach, there is no dress code in the laid back atmosphere of this easy-going eatery. Families will enjoy the large size portions and varied menu that has something for everyone. Some of the offerings from the extensive menu include veggie stir fry, tasty curries, falafel wraps, veggie burgers, pizza's, burritos, pasta and array of fresh salads including Greek and Mexican-inspired salads. Everything at Veg-Out is made with locally sourced greens and fresh produce. They even have a Keiki (kids) menu, which has a variety of kid-friendly items like grilled cheese. Smoothie lovers must try their tasty and refreshing build-your-own smoothies, made to order from locally sourced fruits and veggies. Everyone will leave happy and full after eating a delicious vegetarian meal from Veg-Out.
Location: 810 Kokomo Rd. Haiku, HI
Phone Number: 808.575.5320
For more information, please visit Veg Out
#4 Farmacy Health Bar
Farmacy Health Bar has three locations on Maui; Wailuku, Pukalani and their newest location on Front Street in Lahaina Town. Farmacy Health Bar's motto is, "Let food be thy medicine, let medicine be thy food." The food here is as fresh and locally sourced as it gets. It is hands down, one of the best places on Maui to go for an acai bowl. They have a mouthwatering Acai here that they blend with blueberries, strawberries, bananas, coconut and macadamia milk, aloe vera, and organic alkaline sugarcane juice. It comes in two sizes and your choice of fresh fruits. You can order it with the regular or gluten-free granola, and we recommend adding the organic Farmacy made poi at the bottom for a real treat. Farmacy makes everything with fresh-squeezed juices, which makes their products almost 100% alkaline — also offering fresh locally sourced salads, delicious homemade soups and amazing sandwiches that includes a delicious veggie burger that is house-made. If you love fresh, healthy smoothies and cold-pressed juice, this is the place for you, offering many local fruits and veggies from which to choose. They are also serving up fresh Maui Coconut water daily, and have local made Kombucha on tap. The vibes here are just right with friendly aloha service, a casual atmosphere, great music and a menu full of locally grown and sourced Hawaii produce.
Locations:
Wailuku Address: 12 North Market St., Wailuku
Phone Number: 808-866-4312
Pukalani Address: 55 Pukalani St. #11, Makawao
Phone Number: 808.868.0443
Lahaina Address: 624 Front Street, Lahaina, HI 96761(Sharing space with Local Boyz Shaved Ice)
Phone Number: 808-868-347
To order online and for more information, please visit Farmacy Health Bar
#5 Joy's Place
Conveniently located across from the beach in Kihei, Joy's Place may be tiny, but its hype is not. This eatery is very popular with locals and tourist alike and offers delicious vegetarian options for breakfast and lunch, Joy's Place is the perfect spot to grab some tasty homemade soups, spelt muffins, and sweet treats, all of which are made fresh daily. Regulars know to get here early to ensure they don't run out of their favorite treats! The "Cold Buster" juice is also an island favorite, due to medicinal qualities. This delicious combo is made from local orange, lilikoi and mango juice. Then they add a shot of booster tonic, which is a mixture of garlic, onion, habanero, pepper, salt, parsley, cayenne, and apple cider vinegar. This healthy and flavorsome juice is sure to strengthen the immune systems. For those kombucha lovers, Joy's Place offers Valley Isle Kombucha on four rotating taps. They also make fresh to order smoothies made with many locally sourced fruits and veggies, perfect for Kihei's arid climate. Joy's Place offers a wide selection of some of the best vegetarian deli sandwiches on the islands. The grab and go section has salads with local organic greens, cold pressed juices, and raw desserts if you're in a hurry and want some healthy bites to go. Joy's Place is the perfect spot to enjoy a light and healthy meal before surfing and a great place to pick-up lunch for a picnic on the beach.
Location: 1993 S Kihei Rd, Kihei, HI
Phone Number: 808.879.9258
For more information, please visit Joy's Place
#6 Fork & Salad
Founded by chef-owners Cody Christopher, Jaron Blosser and Travis Morrin, Fork & Salad offer some delicious chef-inspired salads, wraps, soups, and sandwiches. Using mostly locally sourced produce and all organic as possible. This is truly healthy farm to table cuisine that is very affordable, quick, convenient and most importantly delicious! Also serving locally made kombucha on tap and try Pono Pies, a delicious vegan and glutted free cheesecake that is made of Ulu (breadfruit) for dessert!
Location: 1279 S Kihei Road, Unit 204, Kihei HI 96753
Phone Number: 808-879-3675
For more information, please visit Fork & Salad
#6 Moku Roots
Moku Roots is the one of the newest additions to Maui's amazing collection of health restaurants. 'Local, Wild, and Organic,' you can find them in the heart of the Lahaina Gateway Center. Here is where you can find a rotating menu full of consciously delicious vegan, vegetarian, and gluten free options.
Owned by two friends, Moku Roots' menu is full of tasty living foods from the Island of Maui. In fact, this also makes it a great place to support for appreciating and enjoying locavore culture on the Valley Isle! They serve breakfast, lunch, dinner, and brunch on Sunday's (10:30am-3pm). Their menu is super impressive with a lot of variety; organized by Share Plates, Sandwiches, Wraps & Rolls, Salads, Elixirs, and Sweets. They also have a Keiki menu, so feel free to bring your whole family here.
Our favorite menu items at Moku Roots in Lahaina include their Breakfast Burritos, MacNut Chocolate Chip Pancakes (made with vegan chocolate), the Slightly Spicy Caesar, their island-famous Taro Burger, Buffalo Cauliflower Bites, and the Raw Pad Thai. For refreshing drinks, try their Lavender Lemonade or the Lemongrass Mojito.
Another amazing thing about Moku Roots is that they are a zero waste establishment. Their values are based on real farm-to-table objectives, and they really mean it. They purchase all ingredients from local farmers; this helps to eliminates plastic and packaging waste. They've created a menu that includes items that are mostly hand-held, so to-go boxes are eliminated, too. Instead, they choose to package your take out orders in organic materials like local taro leaves. When dining in, you'll see that they don't serve food with single-use items. They utilize bamboo sporks, mason jars, and reusable silver tins. If you're a fan of plant based foods, make sure to add Moku Roots on your Maui list of restaurant to-do's.
For more information about Moku Roots, please visit https://www.mokuroots.com
OAHU
#1 Umeke Market
Umeke Market is offering delicious and healthy bites. Since its reopening in March of 2017, Umeke Market has been creating one-hundred-percent plant-based vegan food. New owner, Robert Daguio teamed up with Mama T's Ital Kitchen to produce a unique menu that showcases the fundamental staple of the Hawaiian-Polynesian culture, Kalo (taro) and it is used throughout the menu. This is not your average poi! Mama T demonstrates her culinary creativity by using Kalo (taro) in her tasty stews, casseroles and breakfast scrambles. She also incorporates it into her delicious cookies and baked goods including her famous cinnamon rolls. The menu is fresh and full of variety, so you never get bored of eating here. You will find a selection of scrumptious made-to-order wraps, sandwiches, and smoothies, using many locally sourced ingredients. The best part, the food here is full of flavor! Even carnivores will be satisfied with the amazing plant-based meats. You won't even miss the dairy with her mouth-watering macadamia nut sour cream and cashew queso. Add the special Mama T's hot sauce and enjoy a flavor explosion. This is vegan food at its best, offering tasty and generous portions made with the freshest ingredients. Mama T knows that the key to the heart is through the stomach and most importantly, she knows how to deliver it. Everyone will leave satisfied and happy knowing that this delicious food was made with so much love.
Location: 1001 Bishop Street, #110, Honolulu, HI 96813
Phone Number: 808-522-7377
For more information, please visit Umeke Market
#2 Peace Cafe
Peace Cafe in Mo'ili'ili is vegan home cooking at its finest. The concept of Peace Café came from owner-chef Shota Terai's vision for "peace on earth." Shota is passionate about creating delicious and healthy vegan food that promotes harmony between man and animals. He believes that he can help create peace by preparing whole and pure foods that are provided by Mother Nature. Shota's calm demeanor comes across immediately upon entry. The atmosphere is warm and welcoming, with a large wooden communal table adorned with flowers and community books to share. You will immediately feel right at home. The staff here is friendly and helpful, offering suggestions. Chef Shota was born, raised and schooled in Japan and this shows in his cooking. The daily miso soup is so perfectly balanced and delicious. However, the menu is diverse offering a fusion of Korean, Italian, and Moroccan influences and the portions are generous. If you can't decide what to get, try the sampler plate, this way you can have a bite of many flavors offered here. The vegan Caesar salad might be the best in Hawaii, with a tasty dressing made from a cashew base and served with toasted bread and olive oil. The entrees, soups and locally sourced organic salads are delicious, but Peace Café is worth the trip just for coffee and the daily fresh made mochi cake. They are serving up two kinds a day with unique rotating flavors like lemon berry, cinnamon with chocolate and banana or one of our favorites, the earl grey with pecan and chocolate. Add a scoop of homemade vegan ice cream, and you'll be in Hawaiian vegan heaven with this amazing sweet treat.
Location: 2239 S King St, Honolulu, HI 96826
Phone Number: 808.951.7555
For more information, please visit Peace Cafe
#3 The Beet Box Café
The Beet Box Café offers two locations. One on the Beautiful North Shore in Haleiwa and one on the windward side of Oahu, in Kailua Town. Both restaurants have a strictly vegetarian menu with many delicious vegan and gluten-free options. At The Beet Box Café, they aim to keep their food as locally sourced and organic as possible while maintaining 100% GMO-free foods. Both locations offer a casual and inviting atmosphere with warm wood-paneled walls that are adorned with local artist work. They are serving up some old favorites like their five flavors of acai bowls with indulgent add-ons like raw cacao nibs, hempseed granola, bee pollen, fresh mint, and shredded coconut. Their smoothies are so fresh and healthy with optional extras like maca, spirulina, raw cacao and don't forget to try one of the cold-pressed juices that are made to order here. The café also has amazing cooked meals serving breakfast and lunch offering a kid-friendly Keiki (children's) menu and many breakfast favorites like cheesy egg scrambles, fluffy pancakes and some of the best avocado toast we have ever had, made on a toasted pita and smothered with their homemade garlic aioli and creamy avocado. For lunch, the pizza of the day is always on a gluten-free crust that we found to be quite tasty. They are happy to make it vegan by request. We suggest pairing it with one of their amazingly fresh salads. Save room for dessert! You will want to try one the baked fresh daily items, or they offer some delicious raw treats.
Locations:
Haleiwa: 66-437 Kamehameha Hwy Suite 104 Haleiwa, Hawaii
Phone Number: 808.637.3000
Kailua: 46 Ho'olai Street, Kailua, HI 96734
Phone Number: 808-262-5000
For more information, please visit The Beet Box Cafe
#4 'Ai Love Nalo
Named as one of Honolulu's Hottest New Restaurants by EATER, 'Ai Love Nalo is dedicated to preparing delicious vegan dishes that are Hawaiian inspired. You can find this hidden gem in the community of Waimanalo, amongst the picturesque farmlands. They are serving up some of the most amazing plant-based foods that are so good; you can taste the aloha in every bite. Their vegan take on the traditional laulau, which usually is pork steamed in taro leaf, is made from the perfect combination of local u'ala (sweet potato), ulu (breadfruit when in season), and kalo (taro). Soaked in a mouthwatering, creamy coconut sauce and wrapped in a soft taro leaf. Everything is so tasty here and definitely worth the drive. The house brewed kombucha pairs nicely with the food. We found the service to be friendly with an inviting vibe. You will love the local style atmosphere here. Make sure to check out the patio seating next to the "Garden of Eatin," which is a quaint garden full of edible plants and trees. Such a lovely touch to this peaceful spot. All of the food served here is vibrant, creative and bursting with tasty textures. Save room for their famous poi parfait. The sweetness of the tropical fruits and crunchiness from the granola and toasted coconut with soft poi is so delicious. We think this is the perfect way to end one of the best vegan meals served on Oahu.
Location: 41-1025 Kalanianaole Hwy. Waimanalo, HI
Phone Number: 808-888-9102
For more information, please visit 'Ai Love Nalo
#5 Simple Joy Vegetarian Cuisine
Simple Joy Vegetarian Cuisine is serving up delectable vegetarian and vegan dishes for lunch and dinner in a quaint, casual setting. Don't let the modest decor fool you. At first glance, Simple Joy may not look like much. However, their menu is extensive and inspired by many cultures including Japanese, Chinese, Italian, and Mexican. They also offer many gluten and soy free options. The flavors are spot on here, and the portions sizes will leave you pleasantly full. Simple Joy offers such a diverse variety that the menu will surely accommodate everyone. With so many tasty meat substitutes, even the most skeptical Carnivores will be happy they ate here. They have a long list of freshly made pasta dishes, veggie stir-fries, and curries that are all delicious. The service is welcoming and accommodating, creating a laid back vibe. With so many amazing vegan and vegetarian dishes to choose from, you will find yourself wanting to return to Simple Joy Vegetarian Cuisine again and again.
Location: 1145 S. King St. Honolulu, HI Phone Number: 808.591.9919 For more information, please visit Simple Joy Vegetarian Cuisine
KAUAI
#1 Eat Healthy Kauai
Eat Healthy Kauai is a quaint bistro-style outdoor garden café, Serving up a 100% vegan menu since its doors reopened in 2017. This spot has a welcoming atmosphere, offering cozy patio seating with glass beach pebbles, strung lights, colorful shade umbrellas and witty kitchen sayings on signs. We love the tasty and fresh tasting acai bowls here and were so happy to hear that they are served all day long. Made with macadamia nut, coconut milk blend and topped with your choice of granola, banana and even some wild Kauai chocolate chunks. They do their best to source locally and organic ingredients and serve up some incredible vegan dishes that are made with love and aloha in every bite. All if their dishes are as pretty as they are tasty, with special touches of eatable flowers and bright, tasty fresh local fruits. Even those who are not vegan won't miss the egg in their morning tofu scramble; it is so tasty. You will find a nice variety of starters that includes soups and summer rolls. Everyone raves about the house-made peanut sauce here, so make sure to order a side to go with whatever you order. The Local greens are delicious and fresh, tossed in a light and tasty dressings. Eat Healthy also offers a Keiki (children's) menu with some items that kids are sure to love. Try the cold brew coffee for a pick-me-up or if you prefer a green tea matcha latte. If caffeine is not your thing, they also offer cold local coconut water, Kauai Kombucha and a variety of botanical herbal teas.
Location: 4-369 Kuhio Hwy, Kapaa, HI 96746
Phone Number: 808-822-7990
For more information, please visit Eat Healthy Kauai
#2 Papaya's Natural Foods & Café
Papaya's Natural Foods grocery has been around for almost 25 years, offering local organic produce, non-GMO cereals and snacks, cooking oils, vitamin supplements, and more. The attached café, "The Kitchen at Papaya's offers a wide-ranged hot and cold salad bar. This way you have the opportunity to try a little bit of all their delicious offerings. The food here is non-GMO, mostly organic healthy foods with fresh flavors. They offer a grab and go section with a delicious selection of vegetarian sandwiches and wraps. You can also order hot food from their grill. We loved their famous taro burger and the blackened tempeh tacos. They also offer a homemade vegetarian soup of the day. The smoothies here are made fresh to order with local mango, papaya, bananas, and organic kale. You can switch it up by ordering a "smoothie bowl" with added ingredients like organic peanut butter or tahini butter, protein powder, dates, spirulina, and your choice of organic rice milk or organic soy milk. Top it off with some crushed Big Island macadamia nuts, crystallized ginger and fresh lime zest for a fantastic explosion of flavor. The Kitchen at Papaya's Natural Foods and Café is the perfect spot to recharge after a long day at the beach.
Location: 4-831 Kuhio Highway #B-8, Kapa`a, HI
Phone Number: 808.823.0190
For more information, please visit Papaya's Natural Food
#3 Kauai Juice Co: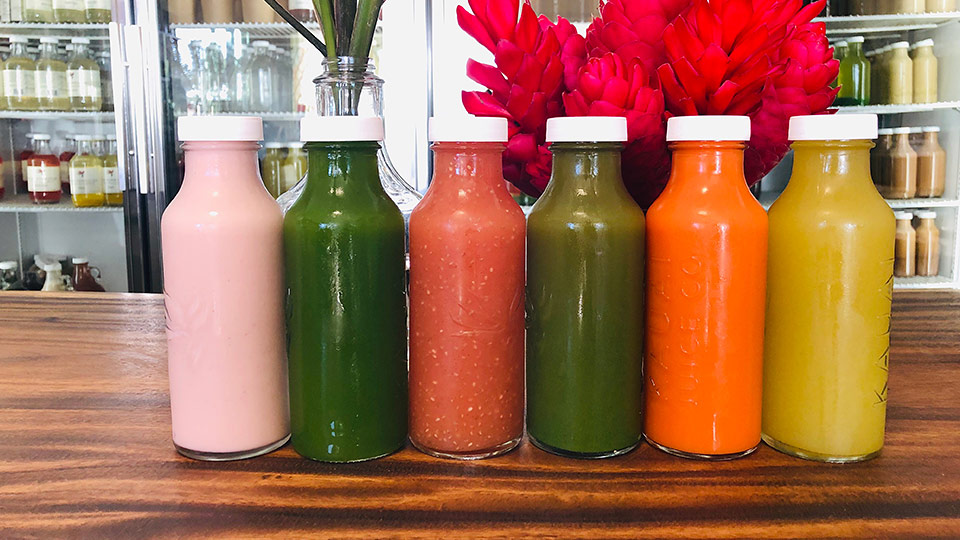 Kauai is known for being a strong health-conscious and nature loving community. If you are looking for delicious and healthy, fresh pressed juices, elixir shots and Kombucha, Kauai Juice Co is the place for you. Offering three locations around the island of Kauai., you can find them in Kappa, Kilauea, and Poipu. All locations are designed to offer an open atmosphere with a happy and relaxed environment. Their vision is to connect farmers and consumers while creating the least waste as possible. The juices here are amazing; cold-pressed, organic and locally sourced is what they are known. They also have fresh pressed nut milk that is mind-blowing and delicious for which they are known. They have plenty of yummy grab-and-go food items that can vary from day-to-day. You can find their daily offerings on their website under "Daily Special." Some of the most recent daily specials have included homemade pesto quinoa and marinated kelp noodle salad. They usually have snacks like roasted pumpkin seeds with tamari, toasted sesame oil, and chocolate habanero pepper, or Roasted chili Kauai honey cashews dusted with hemp seeds and Hawaiian salt. Every day is different, so make sure to check out their website to see what they have in store that day. One thing is for sure, while your sipping on delicious locally sourced juices and enjoying a healthy snack, you will want to grab a bottle of one of their amazing Hawaiian hot sauces. They are handcrafted with fermented peppers and local ingredients, for those who like it hot.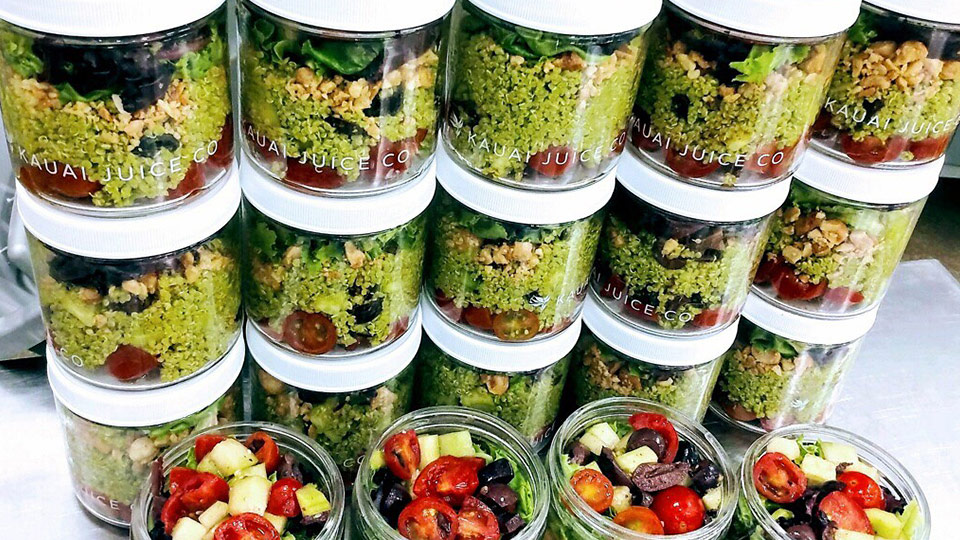 Locations:
Kappa: 4-1384 Kuhoi Highway, Kapaa, HI 96746
Phone Number: 808-631-3893
Kilauea: 4270 Kilauea Road, Kilauea, HI 96754
Phone Number: 808-6315529
Poipu: 2360 Kiahuna Plantation Drive, Koloa, HI 96756
Phone Number: 808-631-3372
For more information please visit Kauai Juice Company
#4 Holey Grail Donuts
Holey Grail Donuts is a family run business ran out of a red food truck in Hanalei beside the Hanalei Liquor Store. Through many years of trial and error, the owners and creators have perfected delicious Kalo (taro) dough donuts. These all plant-based vegan donuts are made from locally sourced Kalo (taro) and fried in coconut oil to have the perfect texture with just the right crisp around the edges. They begin their donut ritual every Saturday & Sunday starting at 7 am until they sell out. Everyone is raving about these donuts! They have what they call "farmers market series donuts," meaning the menu changes weekly depending on what is fresh from nearby farms. Always organic, vegan and made with Hanalei Taro. The most popular flavor to date is named 'Reincarnated' this is a delicious coconut maple 'bacon' and Hawaiian sea salt atop a perfectly good crisp yet moist taro donut. Other recent flavors that have been tasted here include The North Shore, made with tangelo, turmeric, and black pepper, and another fan favorite, the rose cardamom. The best way to try these donuts is a four pack; that way you can try all the flavors of the day. They always serve up these scrumptious donuts with offerings of matcha, Kona coffee, a delicious Chai that is made to order and of course lots of Aloha!
Location: Outside of Hanalei Liquor Store 5-5100 Kuhio Hwy, Hanalei, HI 96714 (in the red food truck)
Phone Number: 541-521-0569
For updates on weekly flavors and more information, please visit Holey Grail Donuts
BIG ISLAND
#1 Sweet Cane Café
Sweet Cane Café is a family-owned and operated café that is an accurate representation of the farm to table movement. Serving cane juice based smoothies, elixirs, and gluten-free and vegan baked goods. Salads, homemade soups, and sandwiches are all made with as many organic and locally sourced ingredients as possible. They make all of their sauces and bread fresh daily in house.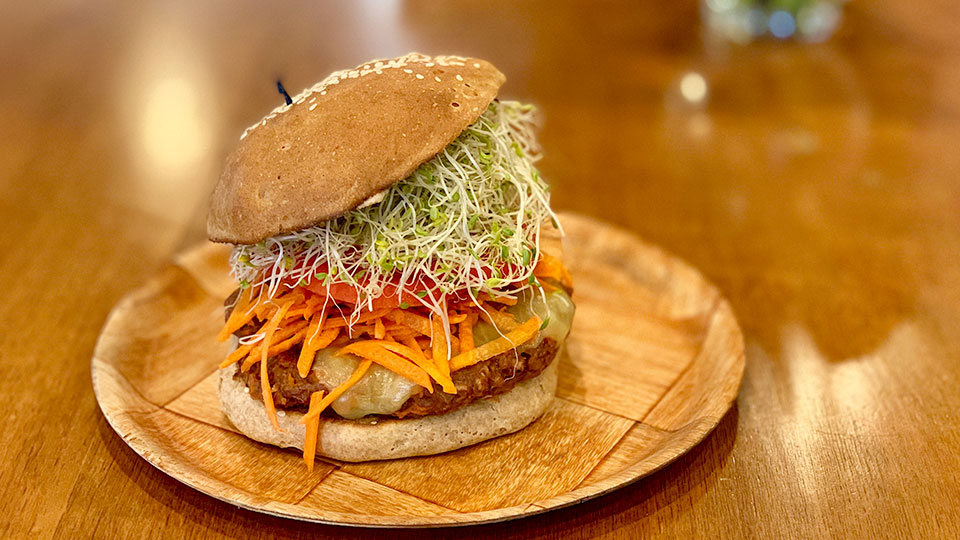 Sweet Cane Café has some of the most amazing and farm-fresh smoothies on Hawaii with ingredients that come straight from their farm — offering unique tropical fruits like dragonfruit, starfruit, and lilikoi as well as the traditional island favorites mango, banana, coconut, and papaya. Try adding fresh turmeric or ginger with goji berries to spice it up and satisfy the taste buds while enjoying a locally sourced treat. Sweet Cane Café also offers immunity boosts such as noni shots mixed with local sugarcane juice. Its list of benefits is endless including fighting cancer, reducing anxiety, strengthening the immune system, and regulating blood pressure and sleep. If you're craving more sustenance, they offer some tasty vegetarian sandwiches and an array of veggie burgers including a jalapeno ulu (breadfruit) when in season. One thing is for sure; you will get your fill of fresh veggies. Make sure to ask for a side of the turmeric hot sauce! They also make a macadamia nut pesto Sandwich, as well as daily specials based on what fruits and veggies are harvested that day. Most of the fresh ingredients come from the café's family farm or other local farmers.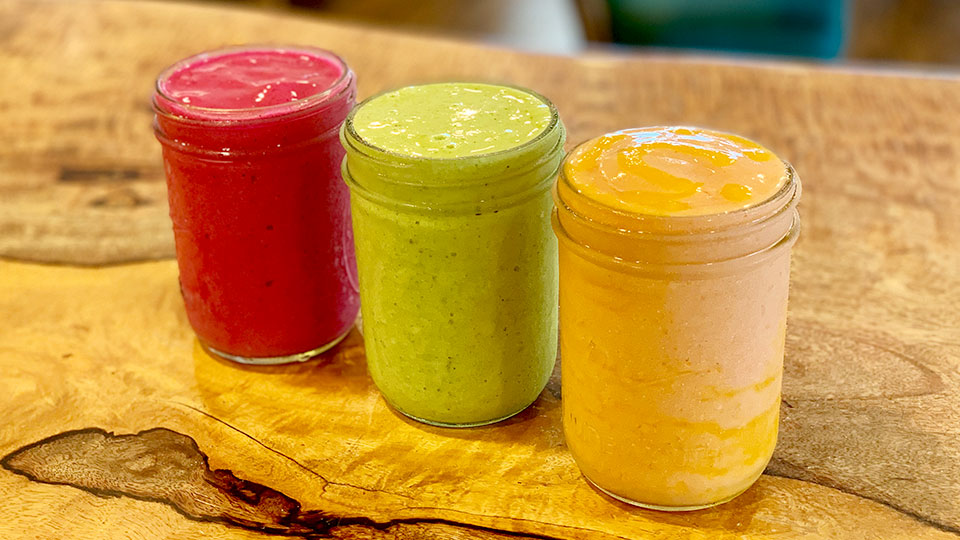 Location: 48 Kamana Street, Hilo, HI 967
Phone Number: 808.934.0002
For more information, please visit Sweet Cane Café
#3 Sweet Potato Kitchen and Bakery
Sweet Potato Kitchen and Bakery are serving up vegan comfort food with vegetarian options. Open for breakfast, lunch and weekend brunch, the food here has been described as being "just like grandma would've made if she was vegan." Everything is made from scratch and non-GMO, local, vegetarian and !00% organic and gluten-free, retaining that home cooked appeal. They offer cozy, garden, family-style seating in a warm and welcoming atmosphere. Lunch offerings include daily soups as well as vegan chili and a variety of fresh locally sourced salads with delicious and creamy homemade dressing and toasted pumpkin and sunflower seeds. They encourage creative meals and substitutions with mixing and matching of sides. Whatever you do, make sure to save room for desserts and coffee or tea. Sweet Potato makes the most amazing homemade pies, cobblers, chocolate covered banana bread, and rotating flavors of Coconut dairy-free ice cream. Coconut cream is used as the base for the amazing dessert, and it is so much creamier than your regular ice cream! They brew organic coffee as well as a tasty Masala Chai. Tea lovers will be in heaven here with the extensive tea selection offering over 20 types of loose leaf, bagged, and iced teas.
Location: 55-3406 Akoni Pule Highway, Hawi, HI
Phone Number: 808.345.7300
For more information, please visit Sweet Potato Kitchen and Bakery
#4 Under the Bodhi Tree
Under the Bodhi Tree is as authentic and sustainable as it gets. Since their grand opening in July of 2014, the menu intended to showcase the amazing organic produce of the Big Island. The décor has the calming feel of a yoga studio with a similar atmosphere of a Buddhist temple with an amazing mural and Tibetan prayer flags. Their menu varies based on what farmers have available. Their goal is to try to obtain all ingredients within a 60 miles radius of the restaurant. The ever-changing vegetarian and vegan menu always includes delightfully fresh salads, homemade soups, and some delicious raw offerings. They also have an amazing house-made veggie burger here that is appropriately named "Better Than Beef." For breakfast, they have a tasty and indulgent banana bread French toast as well as veggie and tofu scrambles and acai bowls made with fruit that is peeled upon ordering You can pair your meal with some locally brewed kombucha on draft or finish it off with one of their decadent raw and gluten-free sweet treats. Our favorite is the banana soft-serve, which is just bananas perfectly frozen and churned into a delicious vegan soft serve, topped with macadamia nuts, cacao ribs, and coconut flakes. This amazing treat will surely have you craving more.
Locations:
Kamuela: The Shops at Mauna Lani, 68-1330 Mauna Lani Dr, #116 Kamuela, HI 96743
Phone Number: 808.895.2053
Pahoa: Puna Kai Shopping Center 15-2714 Pahoa Village Road Pahoa, HI
For more information, please visit Under the Bodhi Tree
#5 Café Ono
Café Ono is one of those rare cases where it's impossible to decide what is better- the food or the atmosphere. Café Ono is a vibrant eco-friendly vegetarian eatery off the beaten path. Nuzzled in a picturesque atmosphere, surrounded with amazing greenery offering an outdoor patio, greenhouse, and pond. It is adorned with Tibetan prayer flags and Zen statues, leading to a general feeling of calmness. Maybe it's the surroundings, perhaps it's the smiling staff, or maybe it's the wholesome and delicious food. One thing is for sure, Café Ono is a must stop if you're visiting Volcanoes National Park. This restaurant specializes in vegetarian and vegan food made with the freshest, locally sourced organic ingredients available. The menu is full of hearty home cooking. The four-cheese spinach crust-less quiche comes with soup, a garden salad, and fresh garlic bread made from Volcano 3-seed bread with sunflower, flax, and pepitas. They also offer dishes like chili, lasagna, freshly made soups and a vegan panini with artichoke, hummus, tomato, and green onion. Like any good vegetarian restaurant, the desserts are plentiful. They have homemade vanilla ice cream as well as organic vegan carrot cake, among many others. Leave time to browse their art gallery and gift shop with unique jewelry and pieces made by local artists. Dining at Café Ono is a full sensory experience of smells, sights, and sounds. Your first stop should be the volcano, but your second stop should be here!
Location: 19-3834 Old Volcano Rd Volcano Village, HI
Phone Number: 808.985.8979
For more information, please visit Café Ono
For a complete listing of vegetarian, vegan, and veg-friendly options on the islands, visit https://www.happycow.net.
Mahalo for reading our list of the Best 20 Vegetarian and Vegan Restaurants on the Hawaiian Islands for 2019! These restaurants are passionate about creating healthy and delicious plant-based foods made from the freshest locally sourced ingredients and of course, infused with the spirit of aloha.
What are your favorite vegetarian and vegan eateries on the islands?
Written By Stacey Alonzo
Stacey is a travel writer, journalist, and photographer from Lake Tahoe who now lives in Maui. She has a passion for travel, surfing, yoga, and organic eating and aims to find the most adventurous activities for readers to do both on Maui and Hawaii in general.