Top 10 Things to Do in Hana
Get Our Newsletter: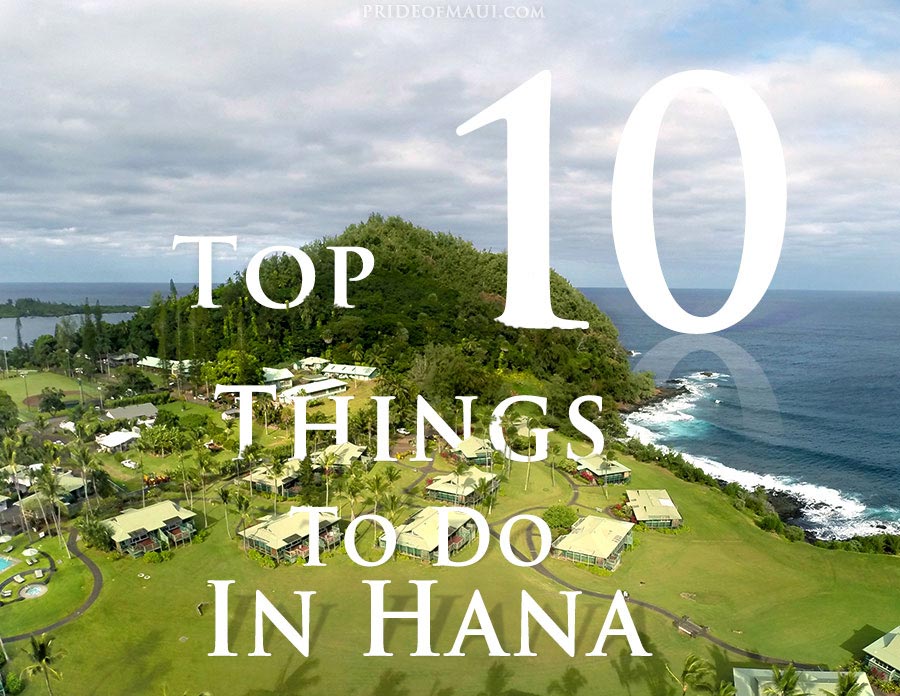 Aloha and welcome to Pride of Maui's Top 10 In-The-Know Places to Go in Hana article. East Maui is one of the most unbelievable locations in all of Hawaii, if not the whole world! It may not seem like much to some, but this little area of our planet has got it going on. The energy is true, natural and honest, and the people and the environment are full of aloha. When traveling through East Maui, expect to see a lot of greenery! You will be cruising through one of the most fertile environments in all of Hawaii, one that is superabundant with Hawaiian flora and fauna. There are many ancient Hawaiian historical sites, waterfalls, valleys, breathtakingly gorgeous coastal views, farms, awesome beaches and natural wonders to see. One trip on the Road to Hana is definitely not enough.
If you're going towards Hana, there must be a reason. We urge you to make the most of it! Don't stop everywhere unless you have time, and make a plan to visit a few key places, but still leave some room for exploring. When in East Maui, don't rush! Heed the locals on the road, enjoy your time, take in the sites, breathe in the air, and allow yourself to slow down. Read our list of in-the-know places to visit in Hana, and spend your time being happy. Try to just think about what life is really about, and enjoy your time. Maui No Ka Oi!
BEST PLACES TO GO IN HANA
#1 Wai'anapanapa State Park
Hana's Wai'anapanapa State Park and Maui's only famous black sand beach are spread across 122-acres of East Maui coastline. This Hana State Park allows Maui visitors to explore dramatic coastlines, a blowhole, sea-sculpted lava formations, two walking trail loops, a birthing pool, a hidden swimming hole, ancient Hawaiian burial sites and 5 sheltered sea caves. Wai'anapanapa's black sand beach is also known as Pa'iloa Beach, one of the most historic ancient Hawaiian sites in Hana. Please respect this land, do not litter, and heed all warning signs. If you see a sign that says "kapu," pay particular notice to stay off those areas. In the ancient Hawaiian language, kapu means danger, and otherwise 'stay out.' There are many protected archeological zones within Wai'anapanapa State Park, so please make sure that your group only walks on the paved trail.
Guests can visit Wai'anapanapa State Park for a few hours for adventure and a picnic, or plan ahead of time to camp in Hana. There are 12 cabins for rent available at this Maui State Park, but they do book up fast. The park also features BBQ areas, shower facilities, and public restrooms. This is a popular area frequented by both residents and tourists. If you're Hana bound on your own, make sure to stop here. If you're taking a guided tour to Hana, this will surely be one of the most impressive locations you will visit.
Wai'anapanapa State Park can be found roughly near mile marker 32 on the Hana Highway. For guests that are traveling East towards Hana Town, there will be a sign on the left side of the road, directing you to turn right. After driving through a country road, guests will find a large parking lot for the Wai'napanapa State Park. This Maui park is open daily and the entrance is free.
For general information please visit Wai'anapanapa State Park.
Little Known Fact: Hawaiian legend says that Wai'anapanapa was a site frequented by Princess Popo'alaea and her lover (over 1,500+ years ago). Once her husband found out, he killed her here, and that is why the brackish waters in one of the lava caves turn red in the Springtime, on the anniversary of her death.
#2 Hana Cultural Center & Museum

Located in the heart of Hana Town, all guests should definitely visit Hana's Cultural Center and Museum when exploring East Maui. Here, you can check out a collection of educational displays and Hawaiian artifacts, and learn more about the unique culture and history of Hana, Maui.
A trip to Hana is always an eye-opening experience. Whether you're visiting for the first time, or you're looking forward to going back for your umpteenth time, Hana is always a magical Maui destination. Besides viewing a gorgeous coastline, feeling completely immersed in rainforest foliage, and enjoying the sweet vibes of Old Hawaii, Hana Town offers rich Hawaiian cultural experiences.
The Hana Cultural Center and Museum were originally established by a handful of Maui's established kupuna (elders), who wanted to develop a place of preservation for Hana's deep-rooted past, honoring "Hawaii's Cultural Renaissance." At this Maui museum, guests have a chance to follow stories of Hana's past while visiting the Hana Courthouse (1871), and surveying ancient Hawaiian artifacts; poi boards, stone tools, fish hooks and nets, Polynesian kapa (fabrics), vintage photography, Hawaiian quilts, and more. Don't forget to grab some Maui souvenirs at their gift shop and gallery!
The Hana Cultural Center and Museum is open Monday-Friday from 10 am to 4 pm. Museum entrance is a suggested $3 per person donation. For more information, call 808-248-8622, or visit Hana Cultural Center.
Little Known Fact: Located on the Hana Cultural Center grounds, guests can also visit a Hawaiian ethnobotanical garden. Here, you can see a seasonally-rotating selection of some of Hawaii's rarest ancient plant species.
#3 Snorkel at Hana Bay
Also known as Uakea, Hana Bay is one of the best places to go snorkeling on Maui. This large, black sand beach is well protected, and a great place for beginner snorkelers and those who wish to stay in shallow waters. The sand is black due to eroding lava that washes into the bay from a nearby freshwater stream.
When snorkeling at Hana Bay, begin between the base of the wharf and the light beacon at Pu'uki'i Island. The best time of the year for clear visibility is Spring to late Summer. During the Winter months, the water can be cloudy due to natural silt, but you can still catch some good snorkel sessions. You may also catch sight of a North Pacific Humpback Whale during late Fall to early Spring. At Hana Bay, you can survey Hana's underwater world and see Angelfish, Butterflyfish, Parrotfish, Black Triggerfish, Yellow Tang, the occasional Green Hawaiian Sea Turtle, and more.
Hana Bay is a super popular weekend destination for locals and visitors. This beach is an awesome place to go if you're traveling with family because they have beach park amenities and services, including picnic facilities, BBQ pits, covered pavilions, restrooms, and a snack bar. Hana Bay is also a great place for people watching! Enjoy the view of Hana's breathtaking coastline, explore the boat harbor, and watch surfers during Winter months. Please obey all ocean warnings and official postings at Hana Bay, since there are no lifeguards at this beach. For more information, please visit Hana Bay.
Little Known Fact: Queen Ka'ahumanu, said to be Kamehameha the 1st's favorite wife, was born in Hana Bay in 1768. Her birthplace is believed to be a sheltered rock site at the tip of Kauiki Head. You can reach this trail from the South end of Hana Bay by starting at the wharf and following a 400-foot rise up a red cinder trail. (Stay along the shoreline near the Ironwood trees and you will see it.) Please DO NOT move anything, and DO NOT touch or climb on any structures.
#4 Visit Art Galleries
One of the most amazing things about Maui is all the amazingly talented people that live here! When on Maui, guests and visitors have a host of chances to search for and explore local art. The Island of Maui is naturally gorgeous and serene; the environment really encourages artistry and offers daily doses of introspection and creativity. When in Hana, definitely visit art galleries, local art stands, and craft fairs. They all offer something wonderful and unique for everyone, and this is definitely one of the best ways to collect souvenirs for yourself and all your friends and family at home.
The Hana Coast Gallery is a fabulous cultural art gallery in central Hana. Located next to the Travaasa Hana Hotel, this gallery is perfectly unique. Within this gallery, visitors can peruse an inspiring array of works by established local artists; sculptures, paintings, prints, feather work, carvings, stonework, Koa wood furniture, Hawaiian crafts and more. The Hana Coast Gallery is an internationally award-winning gallery and highly regarded for its expert levels of curatorship.
Laura Mango's Art Gallery in Hana is one of the sweetest little art venues on Maui! Besides featuring her gorgeous talents in capturing East Maui's natural beauty on canvas, visitors have a chance to spend some time in a rainforest-ridden setting; waterfalls, jungles, and beautiful Hawaiian flora and fauna. Laura Mango is super sweet and inviting; she provides a true feeling of aloha to all that find her presence. Laura is a self-taught artist, and her works are authentic and easily recognizable. Art collectors will without a doubt notice this, and come back for more of her originals and Giclée prints. In her own special way, Laura playfully seizes the spirit of island living with images of surfing, coastlines, waterfalls, tropical flowers, sunsets, marine animals, and Hawaiian cultural visions. Her art is truly one-of-a-kind.
Little Known Fact: The Hana Coast Gallery also has an amazing collection of rare Renoir art and Japanese woodblock prints. Even if you're not planning to purchase art, definitely stop by the gallery for a mini art history tour.
#5 Farmers Markets
Maui no ka oi (the best!) not only provides one of the best islands to explore in the world but also some of the very best locally grown, organic produce! When in Hana, definitely stop at all farm stands that you see. You may find small stands with donation boxes fronting residential properties (great place to get some avocado and lilikoi), or you can plan to check out weekly farmers markets.
The Hana Fresh Farm Stand is open everyday from 11 am-3 pm in front of the Hana Medical Center. Here, guests will find a myriad of organic produce and rare herbs, Maui coffee, fresh smoothies and juices, and a breakfast and lunch menu. This is a great Maui market to support for many reasons, for their fabulous organically grown produce, and their local community projects. The Hana Fresh Farm is one of the few farms on Maui that grows gourmet quality, 100% certified organic Maui produce. They grow over 100 varieties of fruits, vegetables, herbs, traditional Hawaiian foods and medicinal crops.
Ono Organic Farms is a locally owned and family-operated organic farm in East Maui, Hana. Open 7-days a week between 10:00 am-6 pm, guests are invited to visit their roadside market in Hana that's located next to the gas station. This is a great market for those that venture to Hana and are looking to learn more about organic farming on Maui. For more information, please visit the Ono Organic Farm Stand.
Little Known Fact: Hana Fresh Farms also provides sustainable agricultural business training and employment opportunities to East Maui district residents. And, if you're searching for a Hana Farm Tour, Ono Organic Farms offers an organic tropical fruit tasting tour.
#6 Hike To Fagan's Cross
Visible from the parking lot at the Hana Ranch, Fagan's Cross is a great place for a short, medium level Hana hiking adventure. Perched at the top of Pu'u o Kahaula, guests will definitely catch sight of one of the best East Maui coastal views from this unique vantage point.
Fagan's Cross was built in 1960 as a memorial to Paul Fagan, the man who first brought cattle ranching to East Maui. Fagan also founded the original Hotel Hana Maui (now the Traavasa Hotel), and the Hana Ranch. He started the 14,000 acre Hana Ranch in 1944 with a herd of Hereford cattle from Moloka'i. To reach the Fagan's Cross hike, start from the parking lot and walk up towards the paved path that leads through the Hana Ranch pastures. As you reach Lyon's Hill, also known as Pu'u, veer towards the right on the curving trail. Take your time as you climb-up this part of the hill, and get ready for one of the best geographical views of East Maui. For more information, please visit Fagan's Cross.

Little Known Fact: As you reach the trail-head to Fagan's Cross, the trail also goes to the left. The left trail offers a 4-mile journey through the Hana Ranch and ends at Hana Highway/ Haneo'o Road.
#7 Thai Food By Pranee
When looking for a place to eat in Hana, it can be somewhat limiting. Hana Town has two grocery stores, one fine dining restaurant, a variety of farm stands and just a handful of food vendors. Our favorite place to eat in Hana is the Thai Food By Pranee restaurant. Found under a thatched roof hale (house) near the baseball ballpark, this place offers the most incredible Thai food in Maui.
Here, guests can dine from a family-style menu full of authentic Thai flavors, locally grown produce, fresh seafood and tantalizing spices; Thai basil, galanga, and fresh mint to name a few. It's a casual restaurant and the prices are super reasonable, so make sure to stop here to dine in with a variety of locals and tourists, or take some plates to go for a beach picnic. Maui foodies can enjoy authentic Thai curry plates, fried rice dishes, spring rolls, soups, whole fish, vegetable dishes, desserts and more amazing menu items. For more information, please visit Thai Food By Pranee
Little Known Fact: You may find yourself chowing down next to a celebrity at this awesome and intimate Hana restaurant!
#8 Hamoa Beach
Hana's Hamoa Beach is just one of the most beautiful beaches in East Maui! Numerously rated as one of the 'Top Beaches in the World' by the popular Conde Nast publication, all will enjoy a day at this gorgeous crescent-shaped beach in Maui. Hamoa Beach can be found a 1/2 mile past mile marker 51 past Hana Town.
There isn't a lifeguard on duty at Hamoa Beach, so make sure to follow all ocean safety signage, and please do not turn your back to the ocean. During the Winter months, this is a popular place to surf in East Maui, and during the rest of the year, it's a fabulous Maui beach for laying out, swimming and relaxing. Although there is an activities desk at Hamoa, this is reserved for guests of the Travaasa Hana Hotel. Hamoa does feature a public restroom and a freshwater shower. Literally, the water is fresh and tapped from a nearby, mountainous fresh water source. Hamoa Beach has soft salt and pepper sand, many shaded areas under trees, and some of the cleanest and saltiest ocean water found at a public beach in Maui. Popular activities at Hamoa Beach are snorkeling, swimming, boogie boarding and surfing. If you want to truly decompress at a stunning East Maui Beach, Hamoa is the spot. Full of calm aloha vibes, all will enjoy an afternoon relaxing at Hamoa Beach in Hana.
For more information, please visit Hamoa Beach.
Little Known Fact: The spirit of Goddess Pele is definitely at Hamoa Beach! Residents and visitors have claimed to see her walking her dog during twilight hours. She has long, flowing grey hair, and will be seen with her loving pooch. Some also believe that the bones of the fire Goddess Pele are buried at the far East end of the beach under a cinder cone. As usual, mind your P's and Q's here…
#9 Pools of 'Ohe'o 
Also known as the Seven Sacred Pools, the Pools of Oheo Gulch could be easily considered the 8th Natural Wonder of the World! Here, you'll find seven freshwater pools running from the mountain to the ocean. It is truly an incredible site! Located within Haleakala National Park (approximately Mile Marker 42), this is definitely a top place to visit on Maui. If you are doing the Road to Hana, you cannot miss this! No matter what direction you come from, pull over and at least check it out. If you're planning on visiting the 7 Sacred Pools, make sure to check ahead of time to see if the pools are open for swimming. You can always walk down the path to view the pools, but at certain times, the pools may be closed for public swimming* Check the NPS website here
The Pools of Oheo is a Hawaii State park that allows camping. If you love camping, I highly recommend that you look into this. You don't necessarily need a tent, although that's comfier. Car camping or hammocks work fine here. This is one of my favorite places on Maui to wake up. The area is magical, beautiful, and the sound of the ocean is surreal. If the pools are full, mornings are the best time to take a dip! Fewer people and calmer conditions are the best way to maximize your experience at the Seven Sacred Pools of Oheo. If you don't have plans to camp, no worries. Just pay the entrance fee (approx. $20-30 per vehicle), and start exploring!
The campsite and parking area offer easy access to public restroom facilities, BBQ pits, ancient Hawaiian ruins, hiking trails to waterfalls and a small, informational visitors center. For more information, please visit 'Ohe'o Gulch.
Little known fact: There is a coastal trail to an ancient Hawaiian heiau (temple) to the far right of the visitors center. Walk towards the ocean, and take a right on the grassy coastline trail (approximately 1-mile long). The trail leads through Kukui Bay to Puhilele Point. The heiau is in ruins and looks like broken lava rock formations. As usual, please DO NOT move anything, and DO NOT touch or climb on any structures. Be respectful!
#10 Palapala Ho'omau Congregational Church
Constructed out of coral and limestone in 1857, Palapala Ho'omau Church is a registered historical site on Maui. This is a fabulously interesting place to check out for history buffs and architecture lovers due to the expert levels of craftsmanship found in the building attributes.
"If I take the wings of the morning, and dwell in the uttermost parts of the sea…"
(Charles Lindbergh inscription at the Palapala Ho'omau Church, Maui)
Palapala Ho'omau Congregational Church is still a functioning place of worship for Maui residents. Please be respectful and quiet when visiting Palapala Ho'omau. Make sure to explore the graveyard, but do not walk off the pathways. The inside of the church features beautiful stain glass art that depicts Hawaiian ali'i (royalty). Pay particular notice to the window that is painted with a Polynesian Chief decorated with a feather cape. This is one of the main attractions at this East Maui historical site.
For more information, please visit Palapala Ho'omau Church.
Little known fact: In the late 1960s, Charles Lindbergh was one of the first national celebrities to publicly support and be an activist for the protection of both the North Pacific Humpback Whales and the Blue Whales.

Mahalo Nui Loa for reading Pride of Maui's Top 10 In-The-Know Places to Go in Hana article. We hope that you thoroughly enjoyed reading all of our picks, and look forward to welcoming you to the Valley Isle. Where are your favorite places to visit in Hana? Please let us know in the comment section below.
Written By Alexandra Mitchell
Alexandra is a marketing professional with a passion for writing about travel to the Hawaiian Islands, vacation rentals, and luxury real estate. She exposes readers to glimpses of 'Old Hawaii,' new destinations to explore, local events, and all the best things to do on Maui.