Top 50 Maui Activities & Attractions
Get Our Newsletter: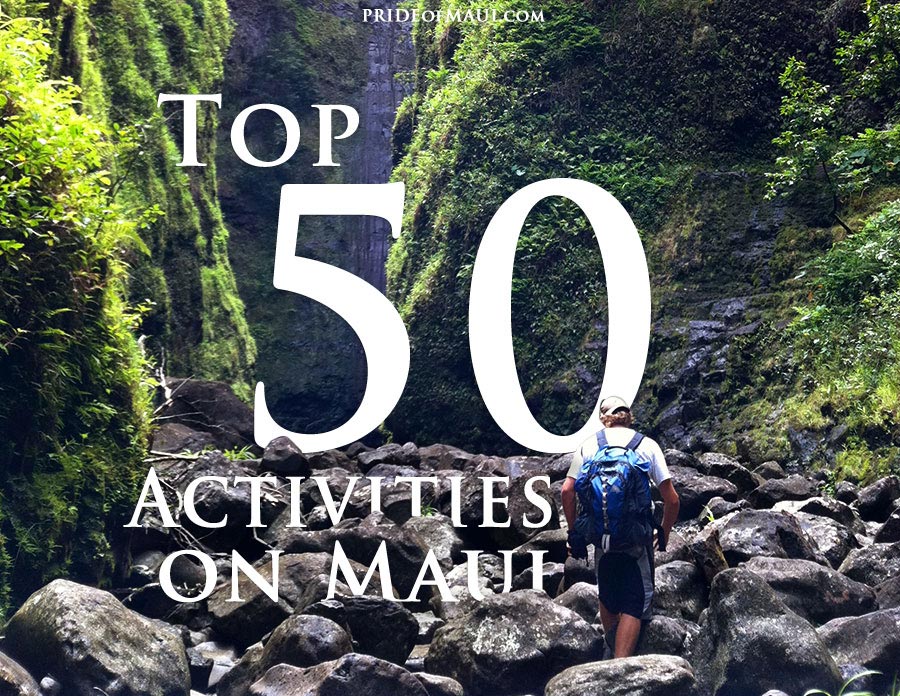 We are excited to provide our readers with our  list of the best things to do and see in Maui. Whether you are a first time visitor, a repeat visitor, or a Hawaii resident, this article provides all the newest information about each unique attraction and Maui activity. We urge you to visit Maui and explore all the best she has to offer! Maximize your Hawaiian Island experience and create vacation memories that will be cherished forever.
Discover some of the most popular activities and things to do on Maui, savoring every vacation moment with your kids, family and friends. Enjoy full days of adventure in paradise, and create vacation memories that will be cherished for a lifetime.
BEST 50 THINGS TO DO IN MAUI
#1 Whale Watching Tours
Whale watching tours on Maui are without a doubt one of the best things to do in Hawaii. Seeing the North Pacific humpback whales gracing Maui's oceans during their annual Winter migration is one of the most exciting experiences you will ever have!
With recorded sightings since ancient Polynesian cultures came to Hawaii shores, these God-like, majestic mammals have been traveling from North Alaskan waters to Hawaii's oceans since at least 1300 AD. Year after year, these glorious ocean creatures continue to visit Maui's waters to give birth to their baby calves and lay low for the Winter months.
When witnessing this endangered and protected species in action, guests can expect to see the whales tail slap, frolic and play on the ocean surface. On average, mature Humpback Whales are approximately 40-feet in length and 40-tons in weight. So, it is pretty hard to miss these massive ocean dwellers in movement; it is surely a breathtaking experience every time.
Maui's formal whale season can begin as early as November and end as late as May. Peak season for whale watching on Maui is approximately December 15th-March 31st, and best experienced aboard an ocean vessel. Although the tremendously gorgeous humpback whales can also be spotted from the shoreline, a Maui Whale Watching Tour is a must-do activity!
For more information, please visit Pride of Maui's Whale Watching Tours.
#2 Road to Hana
Traveling from the North Shore towards East Maui via the Road to Hana is one of the greatest day-long activities in all of Hawaii. For those of you who have never been, this is another must-do activity and one that should be done at least once in your lifetime.
The Road to Hana is one of the most popular activities to do on Maui for many reasons, including gorgeous scenery, visits to waterfalls, and a chance to check out less frequented areas. Most importantly, it is a chance to experience a rare glimpse into Old Hawaii, visit awe-inspiring natural wonders and see local Hawaiian culture firsthand. Some visitors choose to explore the Road to Hana by a tour, but we suggest that you rent a vehicle, plan your ideal itinerary, and set out on a personal adventure. Many guidebooks and websites direct tourist traffic down the Road to Hana, but at times do not take into account that some sights are set on private property or adjacent protected lands. The first and foremost rule for traveling down the Road to Hana is to make sure to always be respectful; do not litter, do not trespass, and please do not be rude to Maui's local community. We promise that will not go down well, so share the aloha!
When planning your trip to Hana, start at Paia Town. We suggest that you arrive in Paia by 7:30 am to avoid Hana Highway traffic and to get the most out of your day. Gas up your car, grab some coffee, water, fresh Hawaiian snacks and a picnic lunch to-go at Kuau Store, and you're good to go!
There are numerous places to check out along the Hana Highway, but we suggest the following stops for first timers: Twin Falls (mile marker 2) for a light hike to a waterfall and a refreshing smoothie or fresh coconut, the Garden of Eden Arboretum (mile marker 10) to see Hawaiian flora and fauna, Nahiku Marketplace (mile marker 29) for yummy treats and gifts, and Wai'anapanapa State Park (mile marker 32) to see a black sand beach, a gorgeous coastline, and a rare glimpse into Old Hawaii. In Hana Town, check out Hana Bay, art galleries, and farmers markets. Just past Hana, guests can spend the day at Hamoa Beach, or travel further towards Kipahulu and explore the Seven Sacred Pools of Ohe'o. You can backtrack to Paia Town, or continue on the back route that will bring you to Upcountry Maui.
For more information visit

Road to Hana

.
#3 Snorkel Trip to Molokini

You know the saying, "When in Rome, do as the Romans do?" Well, when on Maui, do as the Mauian's do and go snorkeling at Molokini Crater. This is another must-do activity and one that your family and friends will endlessly thank you for.
The Island of Maui is home to one of the few volcanic islets in the world, the Molokini Crater. Located under 3 miles away from the South Maui shoreline, this Marine Life Conservation District is one of the most popular places to snorkel in Hawaii. When it comes to snorkeling in Maui, Molokini should definitely not be missed. When snorkeling at Molokini Crater, guests can expect to say a huge array of Maui's marine life; marine animals and plentiful schools of tropical fish. It's quite common to see Manta Rays, Green Hawaiian Sea Turtles, over 100 types of algae, 35 species of coral, Yellow Tang, Parrotfish, Morrish Idols, Raccoon Butterfly Fish and so much more.
Due to the fact that Molokini is a mini volcanic caldera island, there is no sand surrounding this snorkel site. That means that the ocean clarity is the best it can possibly be for underwater visibility (up to 150 feet).
Guests can visit Molokini on both morning and afternoon Maui snorkel tours. Make sure to book this Maui activity for your next trip to the Valley Isle!
For more information, please visit Pride of Maui's Molokini Snorkel Tour.
#4 Sunrise at Mt. Haleakala
Venture to 10,000 feet above sea level and see a glorious Maui sunrise from the summit of Mt. Haleakala on Maui. This must-do Maui activity is one that will leave you with a jaw-dropping grin on your face, and many ooh's and awe's in the crowd! There's absolutely nothing quite like a Maui sunrise (except maybe a Maui sunset), and you will have more than one chance to check it out while on the island. A great time to see the sunrise at Mt. Haleakala is during your first morning on Maui. (Not only will it set the pace for your perfect Maui vacation, but it could also be just what you need to avoid jet-lag induced tossing and turning in the early morning hours). You now must make reservations to visit Haleakala Crater*
When planning for this Maui activity, please take into account that it will take you about 1.5 hours to get to Mt. Haleakala's summit from Kahului. Depending on what part of the island you are staying on, check with your concierge or the closest local and ask them how long it takes to get to Kahului from where you are. Next, check the local sunrise time, and plan to reach the Haleakala Visitor Center about 30-minutes before sunrise to get oriented with the best view. When venturing to Haleakala, know that the weather will be much cooler at a higher elevation, so be sure to bring a hoodie and blanket for some snuggle time. Fill up your gas tank, grab some coffee and snacks, your camera and/or smartphone, and you are ready to go.
Seeing the sunrise from Mt. Haleakala is truly a thrilling experience. Watching the sun emerge from the clouds for another fabulous Maui day is almost sacred. It's like watching a watercolor painting unfold before you, and as cheesy as that may sound, it is also heartwarming (literally and figuratively). Soak up the sun and savor this awe-inspiring Maui activity!
For more information about seeing the Sunrise at Mt. Haleakala, please visit Haleakala National Park.
#5 Maui Ocean Center
Enjoy an afternoon with your family and friends and visit the only aquarium in the world dedicated to displaying and preserving Hawaiian marine life. The Maui Ocean Center offers full exploration for all visitors, whether it's adults or children. It is most definitely one of the top things to do on Maui with kids!
The Maui Ocean Center exhibits Hawaiian sea life, educational displays about ocean ecology, whale life and Hawaiian culture. Through a guided walking path, all guests will love their rare attractions including the outdoor Hawaiian Sea Turtle sanctuary and Hammerhead Shark pool. This aquarium is also well known for their fully encircling sea-tunnel, and a huge indoor shark tank that displays Hammerhead Sharks, Tiger Sharks, White Tips, Grey Tips, and a variety of deepwater fish.
For more information, please visit Maui Ocean Center.
#6 Golfing
Golfing in Hawaii is heaven on earth for all golf enthusiasts! Ranging from golf student to golf professional, the Hawaiian Islands offer a gorgeous golf experience for everyone.
The golf community in Hawaii ranges from public courses to the uber-private and elite golf locales only available to the rare few. From all golf resorts in the State of Hawaii, golfers and friends will surely lavish in the luxury of immaculate conditions – warm sunshine, pristine greens, a luxurious atmosphere, privacy and fabulous 360-degree panoramic views.
Explore the Island of Maui in early January and attend the PGA's Annual Hyundai Tournament of Champions at the Kapalua Resort or visit anytime throughout the year for a 5-star golfing experience. Here, guests can rub elbows with the best golf professionals in the world while basking in magical West Maui views. In South Maui, golfers can refine their skills at David Leadbetter's Golf Academy, and spend long days on the greens at the notorious Wailea Golf Resort's Gold, Emerald, and Old Blue courses. Guests can journey to a golfing fantasy scenario on the Island of Lana'i at the Four Season's Manele Bay and Lodge at Koele and should not miss the Mauna Kea Golf Course or Waikoloa Beach Resort's King Course on the Big Island. Kaua'i offers an abundance of beautiful golf resorts including the Princeville Golf Club, Makai Golf Club at Princeville, Poipu Bay Golf Course, Kauai Lagoon Golf Club and Puakea Golf Course. No matter what Hawaiian Island you choose for a golf vacation in paradise, you will not be disappointed.
For more information about golfing in the Hawaiian Islands, please visit Golf Now.
#7 Sunset Dinner & Cocktail Cruise
Surprise your loved ones and friends with a special evening cruising at a comfortable speed on a Pride of Maui Sunset Dinner & Cocktail Cruise. This must-do Maui activity is the best way to explore the Island of Maui, with breathtaking panoramic views of the Pacific Ocean, outer islands of Moloka'i and Lana'i, West Maui Mountains, Haleakala Volcano and the most optimum placement to watch a magical Maui sunset fade into the ocean. Without a doubt, this tour is absolutely the best for watching the Humpback Whales play in the early evening.
A Pride of Maui Sunset Dinner & Cocktail Cruise is most definitely one of the finest ocean activities in all of Hawaii. Only onboard the famously stable Pride of Maui vessel can guests create the most beautiful, everlasting vacation memories! Like a watercolor painting, (but with a cocktail in hand), all guests will surely become infused with the true beauty of the Magic Isle, Maui. From the sounds of rolling waves and live music to the scent of fresh sea air and an open bar, this activity is no ka oi (the best). Do not miss out on a phenomenal opportunity and life experience with Pride of Maui!
#8 Maui Ocean Vodka Tour
If you love vodka and/or have an interest in organic farming, then Maui Ocean Vodka Organic Farm & Distillery Tour is the perfect activity to enjoy while exploring Maui's Upcountry area. Maui Ocean Vodka is an award-winning spirit made right here on Maui! Guest visiting this family-ran vodka distillery will be amazed by the spectacular location. Make sure to bring your camera to his gorgeous 80-acre property. Enjoy the majestic Mt. Haleakala as your backdrop, the West Maui Mountains below and unobstructed ocean views. The photo opportunities are countless here!
The tour begins with an overview of the process involved in growing more than 30 varieties of Polynesian sugar cane needed to produce Maui Ocean Vodka. Visitors will also learn about sustainable farming and organic practices that are used in both the growing and harvesting of the sugarcane. Next, you will witness exactly how Ocean Vodka is made using the organic sugar cane juice in combination with Hawaiian sea minerals that are found 3,000 feet under the ocean's surface. Hence the name, "Ocean Vodka."
Obviously, the best part of the tour is tasting it for yourself. All visitors 21+ are invited to sample this amazingly smooth and certified 100% USDA organic vodka. Once you taste the distinct and unique flavor of Maui Ocean Vodka, you will understand why it's so popular. Tours are offered 7 days a week and mobility is required, as you will cover over 500 yards.
For more information, please visit Maui Ocean Vodka.
#9 Visit Historic Paia Town & The North Shore
When on Maui, absolutely do not miss out on a chance to check out the Historic Town of Paia and the North Shore area. This can quite easily become a day-long outing, so make sure that you plan for the time to explore. When on the North Shore, visitors can explore beaches and scenic areas, peruse boutiques and art galleries, and dine at a variety of restaurants.
Paia and the North Shore areas are without a doubt unique communities in Hawaii. Paia Town has rightfully gained the name "The Coolest Little Town on Maui" for many reasons. The Town was first built upon the bustling sugarcane agricultural business that began to dominate the North Shore areas of Maui during the 1870's when the first sugar mill in Paia opened. The Town of Paia was established as a U.S. Census-designated Hawaii township in 1896.
Once a home to plantation workers, Paia and the North Shore now consist of a funky hybrid of residents – locals born and raised on Maui, West Coast hippies that migrated during the Counter Culture Revolution, New Agers, and a blend of mainland and international residents that are drawn to the North Shore for its bohemian nature and excellent ocean conditions for surfing and water sports.
For more information, please visit Paia Town.
#10 Spa Day
On your next vacation to the fabulous Island of Maui, plan an out of this world spa day at the Ritz Carlton Spa in Kapalua. Here, guests will surely love their spa menu full of healing services for your body, mind, and soul. For women, we suggest that you book the 3.5 hour Na Koho Wahine spa package to enjoy the Pineapple Papaya Body Polish, Lomilomi Massage, an Organic Facial, and a choice of a Purifying Volcanic or Energizing Spearmint Pedicure. For men, choose the 2.5 hour Na Koho Kane spa package where you will savor a Lomilomi Massage, the Simultaneous Scalp Conditioning and Foot Massage, and a Gentlemen's Facial. Guests of the Ritz-Carlton Spa on Maui also receive access to their spa facilities day of treatments.
Spa facilities include private relaxation areas that resemble volcanic stone grottos, women's and men's private relaxation lounges, Cedar saunas, Eucalyptus-infused steam rooms, private and co-ed indoor heated whirlpools, and a 24-hour fitness center.
#11 Surfing
The first Western written account of surfing in Hawaii was in 1779 by Lieutenant James King. He colorfully described Native Hawaiians riding wood planks on the ocean swells of the Big Island's Kealakekua Bay. In the ancient Hawaiian language, surfing is also referred to as "hee nalu," and was indefinitely a spiritual practice that engaged the Native Hawaiians with the energy of their gods. In history, hee nalu (surfing) was an activity reserved for Hawaiian royalty, and termed the "Sport of Kings." Today, surfing is an ocean activity available to the masses throughout the world. It is one of the most popular ocean sports and one that is constantly transitioning with unique skills, trends, style, technique, and craftsmanship. The Islands of Hawaii still remain on the forefront as the best location in the world for surfing.
Visitors travel to Maui from all corners of the world for surfing each year. Surfing is most definitely prevalent on all the Hawaiian Islands, with some of the most renowned Hawaiian surfing locales on Maui's infamous East and West side North Shore beaches. Visit Maui and see professional watermen and women take stage at Ho'okipa Beach Park, Jaws and Honolua Bay.
For more information on Surf Lessons on Maui, please visit

Hawaiian Paddle Sports
#12 Helicopter Tours
Soar above the Hawaiian Islands and survey the beautiful Island of Maui and the outer islands of Moloka'i and Lana'i with a bird's eye view! See lush valleys, secret waterfalls, dramatic coastlines, erupting volcanoes and colorful reef formations from the skyline. When in Hawaii, there are a variety of helicopter tour companies and tours to choose from. However, as they all offer different experiences we have written about a couple of Maui helicopter tour companies for your consideration.
Blue Hawaiian Helicopters was named Hawaii's Premier Helicopter Tour Company by National Geographic and 2014 winner of the TripAdvisor Certificate of Excellence. We love this leader in Hawaii helicopter tours, with Blue Hawaiian, guests have the option to choose from six tours of Maui County – West Maui Mountains, West Maui & Moloka'i, Hana/Haleakala, Complete Island, Maui Spectacular and Maui/Big Island. Guests can also book a private charter tour, a great option for honeymoon and celebration related sky adventures.
Since 2001, Blue Hawaiian Helicopters has been offering Eco-Star helicopters, which are state of the art, utilize "quiet-technology," have an expansive cockpit and feature first-class seating. All tours feature Bose aviation grade noise canceling headsets, 4-camera digital DVD in-flight recording and two-way communication between the guests and the pilot.
Blue Hawaiian Helicopter Tour Details
• West Maui Mountains – This 30-minute tour showcases the beauty of the West Maui Mountains. This tour explores mist-shrouded peaks, knife-edge ridges, and cascading waterfalls as you fly over one hidden valley after another.
• West Maui and Molokai – This tour runs about 50 minutes. As you fly over the West Maui Mountains and historical Iao Valley your pilot, who is a State of Hawaii Certified Tour Guide, will share important historical and cultural facts about these landmarks. Eventually, you will cross the Pailolo channel to Molokai, also known as "The Friendly Isle". Molokai is home to the world's highest sea cliffs, Hawaii's tallest waterfall, and of course, the famous Kalaupapa peninsula.
• Hana/Haleakala – Another 50-minute tour, the Hana/Haleakala option showcases some of the most popular areas on the island, including Haleakala National Park and Haleakala Crater, Manawainui, Ohe'o Gulch (Seven Pools), the sleepy town of Hana and Hana Rainforest Preserve—the largest rainforest in the United States. During this tour, you will see hundreds of breathtaking waterfalls and the rugged coast of East Maui.
• Complete Island – A complete island tour is estimated to take 65 minutes and highlights both East and West Maui. Just to name a few notable spots, this tour will take you over Haleakala Crater, Ohe'o Gulch, and the West Maui Mountains. As with all Blue Hawaiian tours, your pilot is a State of Hawaii Certified Tour Guide who will share their wealth of knowledge with you as you fly over these breathtaking sites.
• Maui Spectacular – This hour and a half long tour is a combination of the West Maui and Hana/Haleakala tours with an exciting bonus—a landing at an exclusive scenic site at Ulupakalua Ranch, on the slopes of Haleakala. First, you will fly above magnificent West Maui, exploring valleys and waterfalls from the sky before landing at Ulupalakua Ranch, where you will be served refreshments as you relax and take in the lush scenery in front of you. When the 20-minute refreshment break is over the tour continues over East Maui, which includes Haleakala and heavenly Hana.
• Maui – Big Island – This two-hour tour will fly you over Haleakala Crater before crossing the Alenuihaha Channel to get to the Big Island. As you fly over the Big Island you will explore the deep valleys of the Kohala Mountains, lovely cascading waterfalls, lush rainforest, and the remnants of an ancient Hawaiian settlement. During the return flight to Maui, the lovely town of Hana will be showcased, as well as the hundreds of waterfalls that exist in the Hana Rainforest.
• Private Charters – Blue Hawaiian Helicopters designs their tours to maximize the value of time spent in the air, as such they will help you design a custom itinerary for your private charter. Popular touring options include their two-hour Big Island-Maui tour, half-day heli hike, and doors-off flight, which is perfect for photographers and cinematographers.
Air Maui is a helicopter tour company with over 25 years of perfect safety. This fantastic company was also a 2014 winner of the TripAdvisor Certificate of Excellence. Air Maui offers six helicopter tours: Hana & Haleakala with Cliff Side Landing, Hana & Haleakala, Complete Island, West Maui & Molokai, West Maui & Molokai Special, and Maui Lite. They also offer private custom charters which include catering and ground transportation.
Air Maui utilizes the "world's best touring helicopter," the American Eurocopter ASTAR for all of their flights. The ASTAR features air conditioning, leather seats, noise reducing headsets, and digital stereo music. The cabin is comfortable and an unobstructed 180-degree view is available from every seat. A MultiVision video system records your tours, along with the pilot's narrations and background music in HD on a USB flash drive.
Air Maui Helicopter Tour Details
• Hana & Haleakala with Cliff Side Landing – This 60-minute tour starts off flying over sunny South Maui then goes on to Haleakala before landing at a private cliff-side location where you can appreciate stunning views of Maui and the ocean below. The tour continues over Hana's rainforest, showcasing remote valleys and waterfalls, and the famous Hana coastline prior to heading back to the heliport.
• Hana & Haleakala – This tour runs between 40-50 minutes long and takes you above the most requested East Maui locations: Haleakala Crater and the tropical Hana Rainforest. Visually explore deep valleys and spectacular waterfalls as you fly above these awe-inspiring sites.
• Complete Island – The Complete Island Tour is just over an hour and flies from East Maui to West Maui. Begin in East Maui where you can take in all of the sights it has to offer, including the lush Hana Rainforest, before progressing to West Maui where you can see the beautiful West Maui Mountains with its lovely sharp ridges. This tour takes you to see only the very best of East and West Maui.
• West Maui & Molokai – This 65-minute tour flies over the West Maui Mountains before crossing the Pailolo Channel to explore the stunning waterfalls and amazing sea cliffs that can be found on Molokai's North Shore.
• West Maui & Molokai Special – A variation of the West Maui & Molokai Tour, this option offers 45 minutes of flight that takes you to explore the valleys and ridges of the West Maui Mountains and Molokai's inaccessible North Shore.
• Maui Lite – Perfect for the guest who is on a tight timeline and budget, this tour runs 30 minutes and takes you to either Haleakala Crater or the West Maui Mountains.
• Custom Hawaii Helicopter Charters – A custom charter with Air Maui is scheduled on demand. They will fly you anywhere in Hawaii and can provide both catering and ground transportation at your request.
Prices vary for each tour and there are often special prices available for booking online, so be sure to check out the website of the company you're interested in touring with!
#13 Leilani Farm Sanctuary
If you are a true animal lover, a guided tour of Leilani Farm Sanctuary is a Maui activity that you will most sincerely enjoy. Leilani Farm Sanctuary is an all-volunteer, non-profit animal refuge located in Haiku on Maui's North Shore. It was created from the vision of Laurelee Blanchard, 'to establish a shelter for Maui's animals who have suffered from abuse and/or have been abandoned.'
Visitors will enjoy wandering through this gorgeous eight-acre property that is located amongst some of Maui's most beautiful tropical lands. With its hundreds of trees and rolling green pastures, you and your family will love investigating Maui's nature while encountering some very friendly animals. The animals residing at this amazing sanctuary include donkeys, pigs, goats, sheep, cats, rabbits, geese, tortoises, ducks, deer and even a happy cow. Due to Blanchard's intension to offer animal humane education to the community, the sanctuary also provides educational programs for school groups and special needs visitors, as well as offering tours to the public.
We highly recommend a guided tour of Leilani Farm Sanctuary while visiting Maui. You and your family will delight in the tremendous sense of love for mother nature and all her creatures in this peaceful safe-haven for animals on Maui.
#14 Jaws Surf Break (PE'AHI)
Whether you are a surfer or not, Jaws is a huge attraction on Maui. Popularized by legendary watermen like Laird Hamilton and Dave Kalama with their tow-in surfing skills, Jaws is now one of the most popular hyped out spots on the international surfing train. Named after the unpredictability of a shark, Jaws Maui is one of the largest and strongest surf breaks in the world with wave sizes that exceed 70-feet in the Winter (December-March). The wave is very inconsistent, so many events held at Jaws can't set firm dates, it's just a waiting game for those monstrous sets. Needless to say, Jaws is a beast! Even the most experienced of surfers can be injured here, and the only way out during an emergency is by helicopter.
So, how can you see Jaws on Maui? Well, due to its remote location down an almost always thick and muddy 4-wheel drive road, we suggest that you lace up your hiking boots or throw on some sturdy rain boots and hike down. DO NOT attempt to drive down in your rental car—just an FYI. You can get stuck on this road even if you have 4-wheel drive and a lift. And, we promise you, it will be a mess. And if you get stuck, the rental car company won't insure you because it will be considered "off-road." And, absolutely no tow trucks will come and grab you! So, get ready for an awesome adventure and definitely bring some drinking water, a camera, and remember that this hike is not for the lighthearted*
To find Jaws Maui, travel down Hana Highway towards Haiku. Park your vehicle somewhere out of the way of traffic between mile marker 13 and 14, and start walking towards the ocean. Locals definitely won't be happy with you if you block their driveway or their road with your car, so be careful where you park. If Jaws is going off, you'll see lots of people in the area, so you won't get lost. GPS Coordinates: 20.942202,-156.300688
#15 Ohe'o Gulch – (7 Sacred Pools)
The Ohe'o Gulch Pools, more commonly referred to as the Seven Sacred Pools, is one of the most popular attractions on Maui. This area is a natural spectacle, with a string of pools and waterfalls cascading from East Maui Mountain valleys to the blue Pacific Ocean coastline.
This is a wonderful place to explore Maui on vacation, and one that will make a permanent imprint in your mind of timeless memories. The lower pools are more easily accessed, and perhaps the best choice for visitors who want to jump in. Due to the popularity of the Seven Sacred Pools, it is highly suggested to arrive early for a chance to enjoy privacy in this insanely beautiful location. Ohe'o is part of the Haleakala National Park system, hosting a ranger station, public restrooms, large parking lots and camping facilities.
The best way to experience the Seven Sacred Pools is by planning a camping trip to Hana! Spend a day exploring the historic Road to Hana, reach the Ohe'o campgrounds by sunset, and arise to a magnificent morning in Kipahulu for morning swim in the infamous Ohe'o Gulch Pools.
For more information about the Seven Sacred Pools of Ohe'o, please visit Ohe'o Gulch Information
#16 Ali'i Kula Lavender Farm
Nestled on the slopes of Mt. Haleakala, lies the fabulous Ali'i Kula Lavender Farm. Founded by Agricultural Artist and Horticultural Master Ali'i Chang, this farm has become a cultural landmark for Maui residents and visitors. At an elevation of 4,000 feet, the Kula Lavender Farm on Maui is home to over 45 varieties of lavender and approximately 55,000 lavender plants.
Spend an afternoon visiting the Ali'i Kula Lavender Farm and stroll through the elaborate gardens while enjoying a sweet conversation with your friends at one of the hidden rest areas. The view faces towards the South Maui coastline, allowing for breathtaking water-colored scenes of the Pacific Ocean stretching all the way to the West Maui Mountain Range.
A true sense of 'aloha' can most definitely be experienced from the Ali'i Kula Lavender Farm. Check out their Daily Guided Walking Tours to learn more about lavender cultivation, the many species, and Kula's micro-climate. The staff, gardeners, and groundskeepers are extremely knowledgeable of sustainable horticulture, and all lavender species. Your sense will be on a calm overload as you breathe in the peace, beauty, and tranquility of this awesome Maui attraction.
Make sure to check out the onsite Lavender boutique, where you can find an abundance of locally made Lavender infused goods. Each product has been developed by the Ali'i Kula Lavender Farm integrating sustainability, innovation, and a love for the Island of Maui.
For more about the Ali'i Kula Lavender Farm, please visit the Ali'i Kula Lavender Farm.
#17 Sport Fishing
Enjoy awe-inspiring Maui scenery and the most optimum ocean conditions in the world when Sport Fishing on Maui. When on the island, there is a host of options for Hawaii Sport Fishing, including small and large game fish. Guests can easily book a 2-hour or full day group tour, or embark on a private chartered Sport Fishing adventure with family and friends.
Guests are not required to have a fishing license in the State of Hawaii to partake in Maui Sport Fishing, and some private charters will actually allow you to keep the fish you catch! We think the best private sport fishing charter on Maui is Maui Fun Charters and Start Me Up Fishing out of the Lahaina Harbor. They have the fastest and newest vessels, modern fishing equipment, and a professional staff full of the valuable local knowledge you'd like to have when game fishing on Maui.
The most popular large game fish caught when Sport Fishing on Maui are Blue Marlin, Striped Marlin, Black Marlin, Hawaiian Ahi Tuna, Kawakawa (Mackerel), Skipjack (Tuna), Mahi-Mahi (Dolphin Fish), Ono (Wahoo), and Spearfish.
For more information, please visit Maui Fun Charters.
#18 Makena State Park
Just south of Wailea lies Makena State Park, composed of over 165 acres. Perched upon the coastline sits two of the most fabulous beaches in Maui; Makena's Big Beach (Oneloa Beach) and Little Beach (Pu'u Olai Beach).
Big Beach is one of the most popular spots in all the Hawaiian Islands for bodyboarding and skim boarding. This is a fantastic beach in Maui for enjoying a day with your family and friends, sunbathing, and body surfing. Big Beach is approximately 1.5 miles long, and 100 feet wide, offering mostly calm conditions, although it can have a strong under current and rogue waved pending the season. Big Beach offers 3 entrances, parking lots, public restrooms, and lifeguards.
Little Beach is a small beach cove located just north of Big Beach. At one point in time, there was a trail that led from one beach to the next, but due to coastline erosion, it's now accessed by a 5-minute hike over a steep lava outcropping. Once you fair the hike, 660 ft long Little Beach is below offering calm swimming conditions, and good times. Little Beach is one of the only nude sunbathing beaches on Maui, and a popular spot for Sunday afternoon firedancing and drum circle parties.
For more information about Makena State Park beaches, please visit Ocean Safety
.
#19 Stand Up Paddling
Stand Up Paddling is rapidly becoming one of the most popular ocean activities in the world. Available to the masses and easy to learn, spend a day "sweeping the ocean," relaxing and enjoying gorgeous ocean and shoreline views. Strengthen your core, find your balance and feel a true sense of achievement learning stand up paddling in Hawaii.
Not only is "SUP" is a super fun Maui ocean activity for children and adults, but it is gaining particular popularity as a growing women's sport too. You can practice learning on flat water, attempt small wave riding and finally gain the confidence to take this sport home with you. All across the world water sports enthusiasts are taking stand up paddling to oceans, lakes, rivers, and even reservoirs.
Stand up paddle lessons and workshops on Maui are a great day adventure, and will definitely provide you with valuable instruction and new skill sets that you can take home with you.
For more information of stand up paddling lessons and workshops on Maui, visit Maui Stand Up Paddleboarding.
#20 Kapalua Golf Resort
Without a doubt, golfing is one of the most popular activities in Hawaii. On Maui, sports enthusiasts have the best selection of Hawaii's golf resorts, golf instruction, and annual golf events to choose from. Two of Maui's top golf courses are the Plantation and Bay courses at the Kapalua Resort.
For guests seeking a memorable vacation in Hawaii focusing on their golf game, Maui is the best island for a load of golf instruction at all levels. At the Kapalua Resort, guests can refine their golf craft at the Plantation and Bay courses, or pick up some more instruction from PGA professionals at the Kapalua Golf Academy. This is a great choice for those interested in improving their golf skills at a world-class Maui golf resort. Created by PGA Touring Professional Athlete Hale Irwin, the Kapalua Golf Academy sits on a 23-acre practice area at the Kapalua Resort. Golf instruction is offered to all levels and includes: putting, wedge and bunker play, chipping, full swing, and specialty shots. The Kapalua Golf Academy staff is a wonderful collection of PGA professionals that specialize in private golf lessons, corporate golf clinics, and personalized off-site instruction.
January is perhaps one of the most popular times of the year for golfing in West Maui, as it marks the annual PGA Tour season-opening with the Hyundai Tournament of Champions in Kapalua. Always held at the Kapalua Golf Resort, this is the most exciting annual golf event in the Hawaiian Islands, celebrated for presenting a handful of the best professional golf athletes in the world.
For more information about Golfing in West Maui, visit Golf at Kapalua.
#21 Maui Wine
Since 1974, Maui's only operating winery has been one of the most fabulous attractions to visit in Hawaii. The wine varieties and selections vary, famously offering their time-told Sparkling Pineapple, Grape and Raspberry dessert wines.
Following innovation, the Maui Winery was in the process of collaborating with the Ulupalakua Ranch by cultivating grape crops. While in this process, they developed an idea surrounding the creation of wine selections out of the most popular agri-crop in Hawaii: Pineapple. Since then, Maui Winery has been most widely regarded for their infamous Pineapple Sparkling wine called the "Maui Brut Sparkling." Although this Maui winery has built their name upon various tropical fruit concoctions, they also produce beautiful and more traditional Maui wines including Ulupalakua Red (a blend of Syrah, Merlot and Malbec), Upcountry Gold (a Chardonnay aged in stainless steel), and Lokelani (an elegant sparkling Rose with hints of vanilla and orange blossom).
Now known as MauiWine, it's located in the Upcountry area of Ulupalakua, adjacent to far reaching pastures of horses, cattle and an abundance of livestock. This area is unique to Maui's history, agricultural and colonial heritage. All staff and operators of MauiWine pride themselves as being "stewards of the land," and those who support the sustainability and thriving agriculture of this Upcountry locale.
For more information about wine tasting on Maui at the MauiWine, please visit the Maui Winery.
#22 Lahaina's Banyan Tree
Lahaina's Banyan Tree is over 137 years old and spreads across an almost complete 1-acre of downtown Lahaina. This species is the largest of its kind in the United States, but not indigenous to Hawaii.
In 1873, Sheriff William Owen Smith planted this Banyan Tree to commemorate the 50th Anniversary of Protestant missionaries in Lahaina. The once single trunk, has now expanded into over 16 trunks due to this species aerial roots. The Banyan Tree in Lahaina is a historical landmark, and a jaw-dropping sight. As a notable meeting place in Lahaina, often times visitors can find amazing local art vendors below the Banyan's canopies, making for a nice little walk in the square.
Within a short walk from the Banyon Tree in Lahaina, guests can find many shopping, dining, and activities to do in Lahaina. During your next walking tour of the historic Town of Lahaina, make sure to check out the Banyon Tree to learn more about Maui's roots!
For more information about Lahaina's Banyan Tree, please visit: Wikipedia Banyan Tree
#23 Maui Ocean Center Camp
If you have kids who love the ocean, have an interest in marine life and are currently in 1-5 grade, they will absolutely love the Pacific Whale Foundation's Ocean Camp. This camp offers an amazing experience for children visiting Maui as well as residents of the island. Ocean Campers will learn about Maui's ocean environment, make new friends while sharing daily adventures. Each week offers a new ocean-related theme with daily hands-on ocean science education, arts and crafts, and a nature-based or museum type field trip. Some weeks will include surfing and/or windsurfing lessons as well as tide pool explorations.
Ocean Camp is offered for a single day or you can sing up for the whole week. Each day begins at the Pacific Whale Foundation Discovery Center in Maalaea with an initial warm-up that includes activities that are based on the weekly theme. Campers will then enjoy an adventurous field trip and a (BYOL) picnic lunch. After lunch, the kids return to the Pacific Whale Foundation for the daily science lesson, games and a creative craft project.
Rest assured, the staff members at the Maui Ocean Camp are energetic and kid-friendly professionals who ensure your child's safety. They are versed in knowing how to make sure the kids are having a great time! Whether it be for just a day or for the entire week, your kids are sure to have an unforgettable Maui vacation experience with the Pacific Whales Maui Ocean Camp.
For more information, please visit Maui Ocean Camp
#24 Ultimate Air Trampoline Park
Offering over 14,000 square feet of trampoline entertainment, Ultimate Air Maui is Maui's only indoor trampoline park. Whether you are a resident or just visiting Maui, this is an awesome place for birthday parties and/or corporate events or just an all-around fun activity to enjoy with the whole family. Activities here include freestyle, extreme trampolines, jousting, basketball, dodgeball and a keiki (children's) court. To save time go online and fill out their online waiver, just one per family is required. Once this is filled out and you have watched the safety video, you are free to enjoy all the activities offered for up to one-year without requiring another waiver. Ultimate Air welcomes people of all ages and physical abilities. Parents will be happy with the separate jumping zones for age/size, so your little ones are safe to enjoy in their own zone to explore. Walk-in customers are accepted during all open hours of operation, subject to availability. However, reservations are highly recommended for a confirmed number of jumpers and time. They frequently offer a 30-day individual membership pass for a discounted price. Membership includes 30 days of jumping for up to 2 hours a day.
For more information, please visit Ultimate Air Trampoline Park.
#25 Iao Valley State Park
One of the most rewarding must-do activities on Maui is a day at Iao Valley State Park. Iao Valley is not only a Maui cultural landmark, but it is also a sacred site for housing ancient Hawaiian demigods and served as a pivotal location in Hawaiian history. Lush, magical and inviting, Iao Valley is stunningly beautiful. This location is perfect for a family day on Maui hiking through easy trails, swimming in the waterfall and pools, and having a picnic or a BBQ. While venturing out of Iao Valley, take time to check out the Kepaniwai Heritage Gardens and the Hawaiian Nature Center.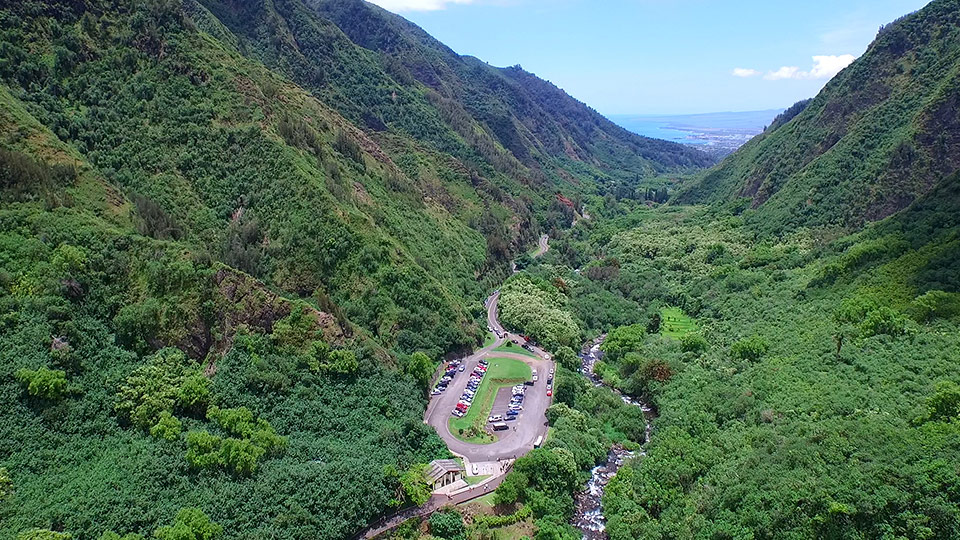 For more information about Iao Valley State Park, please visit Iao Valley State Park.
#26 Hiking
Plan an adventurous hiking expedition to Maui! The Island of Maui offers a host of incredible hikes ranging from easy trail walks to challenging 3-day+ long excursions. No matter your skill and stamina level, or the size of your group, there are many exciting hiking opportunities for everyone.
On Maui, visitors can venture up to the 10,023-foot-high dormant Mt. Haleakala Crater for backpacking through one of the most geologically diverse areas in all of Hawaii. Travel East towards Hana and hike through a bamboo forest to a waterfall, start Upcountry and explore the Makawao Forest, or journey South and take a leisurely stroll through La Peruse Bay. If you're looking for a mellow hike that's more like a walk, do not miss out on a chance to visit Iao Valley. Don't forget to take a dip in the stream!
For an especially fun tropical adventure, look no further than The Kings Gardens Maui who offers incredible waterfall nature hiking tours which includes beautiful waterfalls and learning about the history of chocolate.
For more information about hiking on Maui, please visit Maui Hiking Guide.
#27 Bailey House & Museum
Maui's Bailey House and Museum belongs to the Maui Historical Society, a 501 (c)(3) nonprofit organization that was founded in 1951. Officially chartered in 1956, the Maui Historical Society mission is "To collect, preserve, study, interpret and share the history and heritage of Maui." (www.MauiMuseum.org, 2015)
Built in 1833, the Bailey House was once the home to missionary teacher Edward Bailey and his family. Little known, the home also happens to be located on a historic Hawaiian site, the royal compound of Kahekili, Maui's last ruling chief. The Bailey house became a museum in 1957 and in 1972 the 7-acre property became listed under the National and Hawaiian Registers of Historic Places. The Bailey House Museum holds the largest collection of Hawaiian art exhibits in Maui County, archeological and natural history materials, a 100-year old canoe, a surfboard that belonged to the Hawaii legend Duke Kahanamoku,19th Century colonial artifacts, Edward Bailey's paintings of Hawaii, Koa furniture and so much more.
The Bailey House & Museum is open Monday-Saturday, 10 am-4 pm. Once a month, the Bailey House also invites the public to enjoy the 'Moonlight Mele' Hawaiian concert series. This monthly event features live music with Grammy award-winning Hawaiian musician George Kahumoku Jr. and friends, food, beer and wine, and an awesome community of fun-loving people full of aloha.
For more information about the Bailey House and Museum, please visit Maui Museum.
#28 Ho'okipa Beach Park
Ho'okipa Beach Park is one of the most famous beaches in Hawaii, and one of the most infamous beaches in the world for professional surfing and windsurfing. In the ancient Hawaiian language, "ho'okipa" translates to hospitality, which is exactly what this Beach Park offers!
Visit Ho'okipa Beach Park, and witness a handful of the world's best watermen and water women set the stage. At Ho'okipa, visitors can see the powerful North Shore Maui coastline and gorgeous reef formations from the top parking lot for amazing photo opportunities.
Or you can venture to the sand for fun people watching, afternoon BBQ's, and soak up the glorious Maui sunshine.
During the winter months, the current can be strong, so its suggested that only experienced swimmers venture out. During the summer months, Ho'okipa offers one of the best areas to snorkel and explore. Discover excitement and international appeal while visiting Ho'okipa Beach Park. Experience the North Shore of Maui the way that the locals do, and just kick back and relax loving life in Hawaii.
For more information about Ho'okipa Beach Park, please visit: www.co.maui.hi.us
#29 See The Dolphins At La Perouse
One of the coolest things you can do in South Maui is seeing the dolphins at La Perouse Bay.
Pods of Spinner Dolphins visit La Perouse every day! After a rare chance to watch the Hawaiian Spinner Dolphins in their natural habitat, take a short walk thru the marked trails at La Perouse Bay.
Make sure to stay on the trails because areas of La Perouse are protected Hawaiian historical sights. La Perouse Bay marks one end of the historic King's Trail on Maui.
At La Perouse, you'll see beautiful lava formations as they lead out to the sea. Sometimes you may see some people riding horses at La Perouse, and if you look closely, you may even see some wild goats running around in the Kiawe trees.
You can find La Perouse at the very end of Makena Alanui Road, Highway 31. There's a gravel parking lot, but no public restrooms or facilities.  After your visit is complete, you can head back to Highway 31 to visit snorkeling coves or Makena State Beach Park en route back to Kihei.
#30 Wai'anapanapa State Park
Wai'anapanapa State Park sprawls over 122 acres of East Maui coastal land. Within this gorgeous area, visitors have a chance to travel through two trail loops, see a dramatic coastline with sea-sculpted lava shelves, ancient Hawaiian burial sites, a blowhole, 5 sheltered caves, and the gorgeous Pa'iloa Beach, also known as Black Sand Beach.
Wai'anapanapa is one of the few Hawaii State parks on Maui that allow camping; it has several picnic and BBQ areas, 12 cabins available to rent (make sure to book ahead of time, although they are currently closed for renovations), restroom and shower facilities and a large parking lot. This is an area that is frequented by both residents and visitors, with a handful of tour buses that stop through daily. Wai'anapanapa is most definitely one of the most popular places to visit in Hawaii, but only for those that are in-the-know.
Wai'anapanapa is located near Mile Marker 32 off the Hana Highway. If you are traveling East towards Hana Town, you will see a sign on the makai (ocean) side of the road where you take a left to reach the State Park. While exploring Wai'anapanapa's trails, guests should DEFINITELY follow the information on all signage. If it says 'kapu,' that means stay out! This park has over 34 ancient Hawaiian historical sites, so please respect the history, the 'aina (land), and our aumakua (ancestors). Wai'anapanapa State Park is open daily and there is no fee to enter.
For more information about Wai'anapanapa State Park, please visit Wai'anapanapa Camping.
#31 Maui Arts & Cultural Center
Since 1994, the Maui Arts and Cultural Center (MACC) has been providing Maui residents and visitors with the most amazing venue for arts entertainment on Maui – Hawaiian culture programs, live music, comedy, dancing, stage shows and plays, concerts, festivals, art exhibits, galas and more. In fact, the MACC is the only of its kind on the Island of Maui. Whenever a big name comes through the Island of Maui, you can bet that they'll be playing at the MACC.
The MACC consists of the Castle Theater (indoor), McCoy Studio Theater (indoor), A&B Amphitheater (outdoor) and the Schaefer International Gallery, which is a gorgeous museum-quality exhibition space for the visual arts.
A few of the most popular annual events that are held at the Maui Arts & Cultural Center is the Maui Film Festival, Made In Maui County Festival, Mayjah Rayjah Summer Music Festival, Maui Brewer's Festival, Maui Calls and more. Throughout the year, the MACC also offers a wide range of free events for the public like Starry Night movie screenings, the Ki Ho'alu Guitar Festival and the Maui 'Ukulele Festival.
Whether you are a Maui resident or a visitor, the Maui Arts and Cultural Center is a great place to get familiarized with! They offer so many awesome programs for everyone to enjoy. The Maui Arts & Cultural Center is a 501(c)(3) non-profit organization run by a volunteer Board of Directors*
For more information about the MACC, please visit The Maui Arts & Cultural Center.
#32 Front Street
Peruse restaurants, boutiques, surf shops and galleries in Lahaina! Front Street is located oceanfront in West Maui's historic Lahaina Town. Hanging out down on Front Street is definitely a must-do when in West Maui. Here, all guests can find great souvenirs, check out local art vendors and events, and grab a bite to eat and a refreshing tropical cocktail from any of Lahaina's beachfront eateries.
On Front Street, guests can find rare Maui made art, a variety of clothing boutiques, and lots of Hawaii craft vendors. Our absolutely favorite thing about Front Street is that it's one of the richest historical locations on Maui. It's full of adventurous activities, great people watching, and is otherwise one of Maui's most popular little hubs. Also, wherever you are on Front Street, you can always see awesome Pacific Ocean views!
When planning a time to check out Front Street in Lahaina, you should actually plan for a whole day excursion. You should plan a whale watch or snorkel tour in the morning, grab lunch at a wonderful restaurant with an ocean view, and just stroll around Front Street going from business to business all afternoon. We definitely suggest that you check out all the local art under the Banyan Tree on the weekends, and make sure to check out all the fun surf shops and local art galleries.
Fore more information about Front Street in Lahaina, please visit Lahaina Town.
#33 Maui Zip n' Dip Tours
Plan an adventurous day and take your family and friends on one of Maui's only Zip n' Dip Tours! This is the latest craze in Hawaii zip line adventures, offered only through Skyline Eco-Adventures on Maui. This activity is becoming increasingly more popular, so make sure to book this Maui activity early.
Guests have two options to choose from when planning their Maui Zip n' Dip Tour – the first tour is a 3-hour, 4-line adventure where guests can venture down 3 new lines and finally reach the 4th line' Zip n' Splash', where they'll spend approximately 45-minutes swimming, splashing and Stand Up Paddle boarding in a freshwater pool. The second option is a 4.5-hour tour with a brand new 9-line zip tour, where guests will soar through 8 separate zip lines, and finally reach the 9th 'Zip n' Splash,' ending with 45-minutes of freshwater fun.
Skyline Eco-Adventures has been voted #1 Hawaii Zipline Tour for 2014 by numerous media publications including TripAdvisor. This is a great activity for those ready to push their limits and see stunning Maui views from a truly adventurous and singular perspective.
#34 Feast at Lele
The Feast at Lele is such an amazing Maui activity, we cannot possibly say enough. It is like the tour-de-force of all traditional luaus, with a superb display of Polynesian culture throughout the menu, music, dance performances, and presentation. Feast at Lele is presented by the creators of Maui's Pacific'O Restaurant, Executive Chef James McDonald, and the original creators of the Old Lahaina Luau. With all of this in mind, Feast at Lele has been expertly crafted by the very best in Hawaiian hospitality and restaurant business. If you are looking for a fabulous Polynesian foodie experience at one of the best luaus in Hawaii, you've found it!
Feast at Lele offers all guests a truly remarkable Maui experience. First, the Feast at Lele location is the exact beach where Hawaiian royalty once entertained guests. This area of West Maui also housed the original seat of the Hawaiian monarchy, which we think is pretty sweet.
The Feast at Lele experience begins at sunset, where guests are welcomed with a fresh flower lei and a Mai Tai greeting. Throughout the night, guests will enjoy a delicious, private sit-down 5-course dinner, and an open bar. The cuisine and evening performances amicably coincide and are drawn upon from four Polynesian cultures from Hawaii, Aotearoa, New Zealand, Tahiti, and Samoa. Guests can expect to taste delights from the Hawaiian culture while watching a Hawaiian performance. Seriously, everything about Feast at Lele is fabulous!
Feast at Lele offers only one seating at sunset 7 days of the week. Definitely book ahead of time, these seats go fast!
For more information, please visit Feast at Lele.
#35 Maui Brewing Company Tours
Maui Brewing Co (605 Lipoa Pkwy Kihei) proudly holds claim to being the first craft beer brewed on Maui. They offer daily brewery tours for only $15. The price includes tastings of their four flagship beers – Bikini Blonde Lager, Big Swell IPA, Coconut Hiwa Porter, and Pineapple Mana Wheat – a token for a free full beer (or Island Root Beer), and a souvenir glass to keep.
Guided tours last about 45 minutes and run 7 days a week at 12:00, 12:30, 1:15, 2:00, 2:30, and 3:15. Arrive at least 20 minutes early as tours are only 15 people, and they will start reassigning reservations 10 minutes prior. Call ahead for the weekend or make your reservation online. Tours cover history, distribution, beer brewing methods and packaging.

If you miss the tour, you can still buy a beer, wine or cocktail, enjoy the view of the ocean from their shaded patio, play board games, buy merchandise, or have a 32-ounce growler filled for as little as $8.50. Maui Brewing Co. is currently in the process of opening another restaurant in the Kihei facility by late Fall 2017.
For more information about Tours at Maui Brewing Company, please visit

Maui Brewing Company Tours

.
#36 Kula Botanical Gardens
Perched at 3,300 feet above sea-level, the Kula Botanical Garden is open to all guests from 9am-4pm, 7 days a week. This Maui botanical garden is 8 acres in total and a really wonderful place to go for a quiet stroll through Upcountry Maui. The environment at the Kula Botanical Garden isn't just peaceful and relaxing, it's also a feast for the senses! The air is fresh, there are vibrantly colored flora and fauna as far as your eyes can see, tropical fragrances following the paved pathway and it is beautifully landscaped. You will be able to see an array of exotic plants and tropical flowers – Protea, White Ginger, Rainbow Eucalyptus, Monstera, Orchids, Fuscia, Bromeliads and more. There is also a stream that travels through the garden and a bird sanctuary for the native Hawaiian Nene birds (endangered).
When visiting the Kula Botanical Garden, give yourself at least an hour to truly check the space out on a self-guided tour. If you'd like to stay longer, be their guest! The owners created sweet sitting areas for quiet reflection, and picnic tables and chairs for those that would like to enjoy lunch in a nirvana-like setting.
If guests would like to book a guided tour of the Kula Botanical Garden, they must book in advance* Regular admission fees are: $10 for adults, $3 for children 6-12 years old and free for children under 6 years old.
For more information about the Kula Botanical Gardens, please visit Kula Botanical Gardens.
#37 Historic Iao Theater
The Historic Iao Theater opened its doors in Wailuku in 1928. Built in a Spanish Mission/late Art Deco style, Wailuku's famous theater featured movie screenings, stage shows, plays and performances. Past notable performers included Frank Sinatra, Bob Hope, Donald O'Connor, Mickey Rooney and more. In 1953 the Iao Theater was one of the first Hawaii movie theaters to screen the film "From Here To Eternity." Throughout the earlier parts of the 20th Century, the Iao Theater was definitely the most beautiful and unique venue on Maui.
Closer to the 1980s, the Iao Theater started to slowly decline due to a lack of care – service, infrastructure, etc. In fact, it was scary close to demolition. But between 1994-1996, the Iao Theater went through a major renovation (million dollar-plus) led by the Wailuku Main Street Association. Thanks to Maui's community and generous donors, the Historic Iao Theater has since been perished, open to the public and home for Maui OnStage. Maui OnStage offers youth and adult acting classes, and produces a variety of plays and Maui stage performances.
The Historic Iao Theater is an awesome place to visit when on Maui. You can easily spend a late afternoon checking out boutiques on Wailuku's Main Street, grab dinner at any of the delicious restaurants nearby the theater and catch a Maui Onstage evening performance with your family and friends.
For more information about the Historic Iao Theater, please visit Maui on Stage.
#38 Honolua Bay
Honolua Bay is about a 20-minute drive North of the Historic Town of Lahaina. Not only is Honolua Bay a famous Maui surfing and snorkeling beach, but it is also one of the most beautiful, most colorful and vibrant beaches within all the Hawaiian Islands.
During the Winter months, Honolua is a popular surf spot for experienced surfers. During the calmer Summer months, Honolua is one of the best places on Maui for snorkeling and scuba diving. The bluffs above the beach area provide a perfect spot for watching surfers from a safe distance or watching an incredibly gorgeous West Maui sunset.
To snorkel at Honolua Bay, guests have a couple of options. You can book a snorkel cruise that will bring you to the bay, or you can drive to Honolua, park near the sign for the Honolua-Mokule'ia Bay Marine Life Conservation District and take a short hike through Honolua's forest. When snorkeling at Honolua Bay, enter the water on the right-hand side of the rocky beach. Most people choose to go left to the sandy entrance, but the water is sometimes cloudy there due to a freshwater stream on that side of the bay.
For more information about Honolua Bay, please visit Maui Surf Spots.
#39 Rappel Waterfalls Tour
Explore Hawaii as you never imagined possible on "Maui's most unique tour." Journey through a 26-acre privately owned Maui rainforest and botanical garden, and become a Hawaiian-style canyoneer that rappels down lava rock framed waterfalls. This is truly a one of a kind Maui activity, and the only adventure of its kind in the whole State of Hawaii!
Guests will begin their morning by traveling down the notorious Hana Highway towards East Maui. With a professional tour guide, participants will receive expert levels of information about the Hawaii rainforest environment, a tour of the botanical gardens, get decked out in canyoneering equipment, and receive Rappel training and safety instruction.
Canyoneers will then lead guests on a short hike into a Maui jungle, receive more hands-on training, and then get a chance to practice their new skills on a 60-foot dry jungle wall. After an approved "show-and-tell" session, guests have the option to continue on to a 50-ft waterfall where they can rappel into a large freshwater pool. If they choose to continue further, guests can then rappel down a more challenging 30-ft waterfall.
#40 Explore Upcountry Maui
Maui is the best island in Hawaii for so many reasons that it's too many to list! One of the most interesting aspects of Maui is the diverse topography and microclimates. In one day, guests can travel from sea level to the 10,000-ft high dormant Mt. Haleakala. Through elevation and the fact that Maui was created by two volcanic eruptions, there is just so much to see and experience. On the slopes of Mt. Haleakala is an area known as Upcountry.
The Upcountry areas of Maui include Makawao, Olinda, Kula (lower and upper), Keokea, and Ulupalakua. When visiting these areas, guests are sometimes shocked because they never expect to see the rolling hills, farms, pastures, and sweet and quaint communities that inhabit them. Next time you're on Maui, make sure to take a scenic tour of Upcountry. This is a must-do Maui activity, and one that will for sure add many amazing aspects to your Maui vacation memories.
Check out historic Makawao Town for a glimpse of Maui's paniolo (cowboy) culture, shopping, galleries and restaurants. Go to Olinda to hike through the Makawao Forest, check out the Ali'i Kula Lavender Farm and explore the Kula Botanical Gardens in Kula. Stop for some original Maui coffee and baked goods from Grandma's Coffee Shop in Keokea, do not miss out on a chance to grab a burger or a plate lunch from the Ulupalakua Ranch Store, and take at least a quick visit to the tasting room at Maui's Winery in Ulupalakua.
For more information, please visit Upcountry Maui.
#41 Charles Lindbergh's Grave

The Palapala Ho'omau Congregational Church (near mile marker 41) is not only one of the most interesting historical sites on Maui, but it is also site to Charles Lindbergh's grave. Ok, so who is Charles Lindbergh?
"If it takes the wings of the morning, and dwell in the uttermost parts of the sea…"
(Charles Lindbergh inscription at the Palapala Ho'omau Church, Maui)
Charles Lindbergh, nicknamed "Slim," "The Lone Eagle," and "Lucky Lindy," was an extremely influential aviator, inventor, explorer, social activist and U.S military officer. He was born in Detroit (1902), and died in Kipahulu, Maui (1974). He was the first pilot to ever fly non-stop from New York to Paris when he was just 25 years old, his father was a U.S Congressman that served 5 terms, he was a stunt pilot, his child was kidnapped (1932) and Al Capone (Scarface) offered to help him find his baby (body found May 12, 1932), and he invented one of the first artificial hearts (1936) out of Pyrex glass, amongst a lot of other crazy things! He was kind of a big deal in his day…, and huge in the media. Like many, Charles Lindbergh found the Island of Maui to be one of the most alluring locations he ever visited, and made it his home. Perhaps, because Maui is one of the most healing environments in the world…
Palapala Ho'omau Church was built in 1857. Made from limestone and coral, this historical Maui church offers much more than just a small graveyard. The craftsmanship alone is astounding for its time. Art History lovers will surely be in awe* One of the window paintings inside of the church shows a Polynesian Chief dressed in a Hawaiian feather cape, a kind that was reserved only for Hawaii's highest ranking Ali'i chiefs (royalty). It is kind of tricky to find, but well worth the effort. This is a great place for a picnic, quiet reflections, and some time to explore outside of the car. The Palapala Ho'omau Church is still active and visited daily by many residents. Please, PLEASE be respectful and courteous at this East Maui locale!
#42 Alexander & Baldwin Sugar Museum
Located adjacent to Hawaii's largest sugar factory is the Alexander & Baldwin Sugar Museum in Puunene, Maui. The museum is just 1,800 square feet, but should not to be overlooked when visiting historical attractions on the Valley Isle. Maui's Sugar Museum has a pretty thorough collection of exhibits and historical information about not only Maui's agricultural history with sugar production but also glimpses into Maui's colonial past.
The A&B Sugar Museum consists of six separate exhibit rooms: The Geography Room, The Water Room, The Human Resources Room, The Plantation Room, The Field Work Room, and The Mill Room. After strolling through each exhibit room and checking out the view in Puunene, all visitors should have a pretty good idea of what sugar production in the late 1800s looks like now. Outside of the museum, guests can also see interesting outdoor exhibits such as a Portuguese oven from the 1920s, a Cleveland Model J36 trench digger, a cane hauler, vintage Caterpillar tractors and more.
The A&B Sugar Museum is a great place to check out for the whole family. You can experience the entirety of the museum under an hour, and it's a pretty curious stop if you're interested in Maui's agricultural and colonial history. For those looking for the perfect Maui gifts for friends and family at home, there's also a sweet little gift shop.
For more information about the Alexander & Baldwin Sugar Museum, please visit The Sugar Museum.
#43 Horseback Riding Tours
Enjoying a horseback riding tour in Maui is one of the best ways to explore Maui's aina (land). From atop a horse, you can enjoy the terrain up close and personal, and have a really wonderful vantage point for checking out Maui's amazing mountain and coastal views. Horseback riding in Maui is a great activity for all skill levels; beginner to expert. Throughout the Island of Maui, there are a handful of places to go horseback riding. In West Maui, the best place to ride horses or take horseback riding lessons is at the Ironwood Ranch. Upcountry, check out Piiholo Stables. For those that want to enjoy horseback riding tours and a fun cowboy-style BBQ lunch, check out Mendez Ranch in Central Maui.
More info about Horseback Riding on Maui…Where's the best place for you?
A Maui horseback riding adventure is the perfect activity to enjoy island-style country living at its best. Mendes Ranch is located on Wailuku's backroad and is a great choice for those with kids. Besides great trail adventures, Mendes Ranch also offers a BBQ lunch. Voted "Best Horseback Rides in Hawaii" by Hawaii Magazine, Ironwood Ranch in West Maui is a top-a-top locale for all kinds of horseback rides – beginner to experienced, private lessons, sunset rides and private events. Lastly, Piiholo Ranch in Upcountry Maui is also a really great choice with 2 and 3-hour horseback rides, riding lessons for kids and adults, and their super cool "Cowboy For a Day" ride, where guests can go on a private 3-hour tour with a real Maui Cowboy!
#44 See The House Shakers Perform at Fleetwood's on Front Street
Head to Historic Lahaina Town to see and hear the House Shakers perform at Fleetwood's on Front Street. Owned by Mick Fleetwood of the legendary band, Fleetwood Mac, all guests will love a romantic sunset dinner and a show with his awesome house band.
The House Shakers play at least once a week at Fleetwood's, and if you're lucky, you might just be on Maui at the right time to see Mick Fleetwood play the drums with them. Band members include many hot local musicians like Mark Johnstone (also in Mick Fleetwood's Blues Band), Rick Vito (former member of Fleetwood Mac), Rock Hendrix, Eric Gilliom and Gretchen Rhodes.
Johnstone is a musical prodigy with skills on the piano keys, drums, guitar and harmonica. Just wait until you hear his passion-filled bluesy voice! Rock Hendrix plays the sax, Rick Vito  dominates with his guitar magic and vocals, and Gretchen Rhodes has lungs of sweet steel with her powerful and soul- moving voice.
Expect to hear all types of cover songs from the 60's until present day; know that you will for sure hear some Fleetwood Mac hits. Be superly excited to hear Miss Gretchen Rhodes singing the female verses to songs originally sung by original band members Christine McVie, Lindsey Buckingham and Stevie Nicks.
Make reservations for dinner in Lahaina at Fleetwood's, then stay for the late-night show. You definitely won't regret it! If you don't live on Maui, it's pretty much a once in a lifetime opportunity.
For more information about seeing the House Shakers at Fleetwood's on Front Street, see Fleetwood's Entertainment Calendar
#45 Maui Pineapple Tours
Maui Pineapple Tours are now available twice a day, 7 days a week. Located at the Hali'imaile Pineapple Plantation, everyone will enjoy checking out the only pineapple tour in Maui, and the only tour of a working pineapple planation in the whole United States!
The Maui Pineapple Tour is perfect for the whole family. It's an eco-friendly and educational tour that allows participants to learn about Maui's pineapple growing history, growing cycles and cultivation techniques.
This guided tour begins with seeing how pineapples are harvested, and then watching how they are packed and shipped. Every guest has an opportunity to taste pineapple at different stages, and each and every guest will be gifted a fresh and tasty Maui pineapple as a souvenir.
#46 Parasailing
Parasailing is one of the most exciting ocean activities you can do on Maui! Please keep in mind that this activity is only allowed during the late Spring and Summer months. Parasailing vendors are not allowed to operate during Maui's whale watching season, which is roughly between late October-April.
Maui parasailing tours leave from Ka'anapali Beach. The most popular parasailing company on Maui is definitely UFO Parasails. They are the best in the business and have a funny, knowledgeable, and professional crew. Safety and fun are the two most important things to the UFO staff.
You can expect a small group on a Maui parasailing adventure. The group is usually limited to eight people so that everyone gets a good amount of time in the air. When it's your turn to get up and fly over the Pacific Ocean, you will be harnessed and perched in the back of the boat. You will slowly float up into the air and will quickly become the King or Queen of the Pacific, with all of West Maui in your sights. On your way down you can get dipped in the ocean if you'd like, so make sure to tell the parasailing guides ahead of time!
Parasailing is a super fun activity for all ages. You can even fly in tandem. Time to put this Maui activity on your bucket list!
For more information about parasailing on Maui, please visit UFO Parasailing.
#47 Hawaii Nature Center
The Hawaii Nature Center has been providing environmental immersion educational programs in Hawaii since 1981. Located on Oahu and Maui, the Maui field site locations are Iao Valley and Kealia Pond. Since creation, over 850,000 children have participated in their programs.
"The mission of the Hawaii Nature Center is to foster awareness, appreciation and understanding of Hawaii's environment and to encourage wise stewardship of the Hawaiian Islands by educating children with an interactive immersion approach."
Offering both Maui Community and Maui School programs year-round, this non-profit organization most definitely adds value to all to take part in their customized activities in Maui. During your next vacation in Maui, check out the Hawaii Nature Center to learn more about Hawaiian environmental culture and the innate characteristics about Maui preservation that are important. This is a great place for kids, and a wonderful place to offer up your philanthropic nature by volunteering in Hawaii.
For more information about the Hawaii Nature Center, please visit The Hawaii Nature Center.
#48 Ka'anapali Coffee Farm

Visiting a local farms on Maui is a fabulous way to explore the agricultural history of Maui, taste new things, and pick up some exclusive Maui made gifts and souvenirs. Located on the Ka'anapali Estate, MauiGrown Coffee Farm is one of the few coffee farms open to the public on Maui.
The Ka'anapali Estate is located on the mauka (mountain) side of Ka'anapali, directly across from the Ka'anapali Resort area. This land was originally part of the Pioneer Mill Sugar Plantation (1860), but transitioned to coffee land in 1988. It was operated by Ka'anapali Estate Coffee until 2001, and has since been operated by the MauiGrown Coffee Company. Currently, MauiGrown grows four varieties of arabica coffee: Red Catuai, Yellow Caturra, Typica and Moka. MauiGrown coffee is super delicious and strong; distinct in taste due to the perfect coffee growing temperatures of West Maui.
At the MauiGrown Coffee Farm, guests can visit the farm and sample the varieties at the MauiGrown Company Store. Self guided tours are available, and are well worth it! Coffee Farm maps are available for free at the MauiGrown Coffee store which is open from 6:30am-5pm Monday-Saturday.
For more information about the MauiGrown Coffee Farm, please visit Ka'anapali Coffee Farm.
#49 Maui Chocolate Tasting
A visit to Maui Chocolate Tasting is the perfect activity for foodies and chocolate lovers who are visiting Maui. Formerly known as Maui Chocolate Tours, Maui Chocolate Tasting's new production kitchen is located in North Kihei behind the Tesoro Gas Station, on Maui's South Shore. New owner and Master Chocolatier, Virginia Douglas, really knows how to celebrate Maui's unique flavors. Her expertise shows in her unequivocal fusion of Maui's fresh locally sourced fruits, nuts spices, and flowers with her amazing chocolate. The end result is a flawless blend of taste and color.
Guests will love this exclusive chocolate experience. This is a fun and educational activity for families with kids 7 years and over. You and your loved ones will enjoy discovering everything you ever wanted to know about chocolate making as well as learning how cacao is grown on Maui.

If tasting delicious chocolates that have been hand-made in small batches by a true artisan sounds enjoyable to you, we recommend that you book your reservation to visit Maui Chocolate Tasting ahead of time. This is a very popular excursion with limited space. You won't want to miss out on this rare and unique chocolate activity!
If you decide to visit the upcountry farm where cacao is grown, please note that they are not able to accommodate those with limited mobility and/or any physical disabilities at this time. With a higher elevation of 1900 foot, some moderate walking up and downhill on steeper grade is required.
#50 Maui Escape Rooms
Do you need a break from the sun? Are you ready for a live-action immersive adventure on Maui that will test your wit? At Maui Escape Rooms, guest can put on the hat of treasure-hunter, clue finder, cryptologist and more! This is a fun packed 60-minute experience that can be enjoyed by families, friends and/or co-workers alike.
You and others will be physically trapped in a room that is dispersed with gadgets and puzzles. There is only one goal: you have to collect the hidden clues, crack the gadgets and decipher the codes to solve the mystery and escape before you run out of time! Please note: each room is equipped with a panic button that allows for an exit if needed.
Currently, Maui Escape Rooms offers four escape games including Tesla's Inheritance, Prison Break, Pirate Ship and Ka Puka Bunker. Each game is unique and challenging in its own way. Games are designed to build teamwork while creating social interactions that initiates bonding. Maui Escape Rooms will leave you and your loved ones with fond memories of this fun Maui excursion. Book a Maui Escape Rooms adventure now to see if you have what it takes to escape!
For more information, please visit Maui Escape Rooms.
Many Mahalos for reading Pride of Maui's amazing Top 50 Maui Attractions & Maui Activities article. Wow! There are just so many wonderful activities and adventures to explore on Maui. Please share this article with your family and friends, and be sure to let us know about your favorite activities and attractions on Maui.
From all of us at Pride of Maui, we look forward to helping you create your best vacation to Maui yet! A Hui Hou Kakou! (Until we meet again…)
Written By Alexandra Mitchell
Alexandra is a marketing professional with a passion for writing about travel to the Hawaiian Islands, vacation rentals, and luxury real estate. She exposes readers to glimpses of 'Old Hawaii,' new destinations to explore, local events, and all the best things to do on Maui.