Top 20 Maui Attractions
When visiting Maui, one of the most beautiful islands in the world, there is so much inherent charm that it can be overwhelming when planning your daily activities. We put this guide together to introduce visitors to a handpicked selection of attractions, with a valuable insiders perspective. Check out our Top 20 Maui Activities for more things to do on Maui.
Discover some of the most popular attractions on Maui, and savor every vacation moment with your kids, family and friends. Enjoy full days of adventure in paradise, and create vacation memories that will be cherished for a lifetime.
BEST ATTRACTIONS ON MAUI
#1 HALEAKALA
The dormant Mt. Haleakala towers 10,023 feet high above the magical island of Maui. As one out of the two volcano's that created this incredible Hawaiian isle, venturing to Haleakala is one of the most popular attractions in all of Hawaii.
For both visitors and residents alike, Haleakala is a place of discovery and symbolizes all the strength embodied by the historical and geological culture of Hawaii. When visiting Haleakala, witness ecologically diverse terrains like striking volcanic landscapes, backcountry trails, and subtropical rain forest zones. Haleakala National Park offers a myriad of options and activities, making it one of the most revisited attractions in all the Hawaiian Islands. The most popular activities to be experienced at Haleakala include enjoying Sunrise and Sunset, Ranger Guided Tours, Hiking, Drive-up Camping, and Backcountry Camping on Maui.
For more information about visiting Haleakala National Park, please visit: www.haleakala.national-park.com
#2 ROAD TO HANA – ROUTE 360
There are many ways to experience the Road to Hana, and the sleepy coastal Town of Hana, Maui. Visitors can go by group and private tours, or venture on their own by renting a vehicle.
En route towards East Maui, there are many things to see. 620 curves and 59 bridges pave the way to Hana, allowing for one of the most scenic drives in the world. Beginning at the historic Town of Paia, visitors can enjoy decorated coastlines all the way to Hana; world famous beaches in Hawaii, tropical landscapes, waterfalls, 4-wheel driving, scenic lookout points, botanical gardens, and cultural attractions that mark significant points in Maui's unique Hawaiian history. The Hana Highway historic district begins at mile marker 3, just beyond Twin Falls, and reaches all the way to mile marker 40, where guests can experience Kipahulu and Haleakala National Park's infamous Ohe'o Gulch.
When traveling to Hana, make sure to research areas and attractions ahead of time so that you can spend a good amount of time at each location. Instead of stopping at every bridge and lookout point for a photo op, seek out 2-3 main destinations so that you can maximize on your adventure to Hana. A few of the most popular areas to see on the Road to Hana are Twin Falls, the Garden of Eden, the Bamboo Forest, Wainapanapa State Park and Black Sand Beach, Hana Bay, and the Seven Sacred Pools.
For more information about the Road to Hana, please visit: www.roadtohana.com
#3 MAUI TROPICAL PLANTATION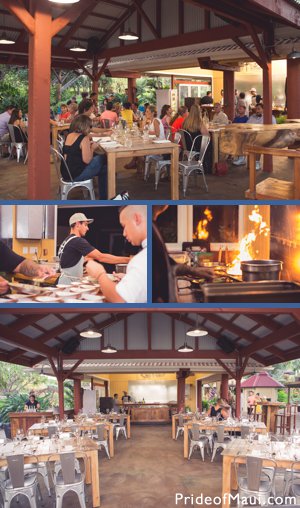 Over the last year, Maui Tropical Plantation has had a major overhaul, and big plans are being carried out to make this property the must-visit hub of Maui, Hawaii.  They already had a stunning property with organic produce growing from Kumu Farms in the heart of Waikapu.  They already had a fun tram tour that takes you to all the different sights around the property, of which they've just upgraded the trams.  They even have one of the best spots to shop for Hawaii gifts to take home.
Now they have a gorgeous restaurant and bar headed by Maui Chef of the Year Jeff Scheer.  The Mill House restaurant and Bar serves the freshest food directly from the farm on property.  They do everything from scratch, including breaking down entire cows in-house.  It's pretty impressive the amount of effort they put in to make each dish remarkable.
They've also just revived the Maui Chef's Table, an outdoor 7-course meal prepared for you on the spot.  Here you get to interact with the chef staff while they prepare your food in the outdoor kitchen.
Another new feature is their Maui coffee roasting facility.  They roast the best beans from Maui, Hawaii, and the rest of the world.  Again, they're making every effort to bring the freshest ingredients to your table.
Maui Tropical Plantation has many more big plans in process, including expanding their restaurant with pond-front seating.  We'll share more as this beautiful location grows.
Learn more about the Maui Tropical Plantation.
#4 HO'OKIPA BEACH PARK
Ho'okipa Beach Park is one of the most famous beaches in Hawaii, and one of the most infamous beaches in the world for professional surfing and windsurfing. In the ancient Hawaiian language, "ho'okipa" translates to hospitality, which is exactly what this Beach Park offers!
Visit Ho'okipa Beach Park, and witness a handful of the worlds best water men and water women set stage. At Ho'okipa, visitors can see the powerful North Shore Maui coastline and gorgeous reef formations from the top parking lot for amazing photo opportunities.
Or you can venture to the sand for fun people watching, afternoon BBQ's, and soaking up the glorious Maui sunshine.
During the winter months, the current can be strong, so its suggested that only experienced swimmers venture out. During the summer months, Ho'okipa offers one of the best areas to snorkel and explore, with Green Hawaiian Sea Turtles decorating the coastline. Discover excitement and international appeal while visiting Ho'okipa Beach Park. Experience the North Shore of Maui the way that the locals do, and just kick back and relax loving life in Hawaii.
For more information about Ho'okipa Beach Park, please visit: www.co.maui.hi.us
#5 IAO VALLEY STATE PARK
Iao Valley State Park is located just beyond Wailuku, in the Central Maui area. Encompassing 4,000 acres in total, this Maui gem is home to one of Maui's most distinct natural and historical landmarks, the 1,200-ft high "Iao Needle." The Iao Needle is a green-mantled volcanic rock outcropping which towers above waterfalls, and the Iao Stream. In 1790, Iao Valley marked the location of the notorious Battle of Kepaniwai, where King Kamehameha fought Maui's army in quest of uniting the Hawaiian Islands. This event represented a very significant point in Maui's history, and fingermarks the exact time when Maui was defeated by the royal forces and submitted into Hawaiian Island unification.
Iao Valley State Park is an amazing site to see for those looking for a truly special hiking and sightseeing attraction in Maui. Here, guests can experience an innately gorgeous location in Maui, while be fully encompassed by the true energy of the Hawaiian Islands.
For more information about Iao Valley State Park, please visit: www.hawaiistateparks.org
#6 OHE'O GULCH POOLS – SEVEN SACRED POOLS
The Ohe'o Gulch Pools, more commonly referred to as the Seven Sacred Pools, is one of the most popular attractions on Maui. This area is a natural spectacle, with a string of pools and waterfalls cascading from East Maui Mountain valleys to the blue Pacific Ocean coastline.
This is a wonderful place to explore Maui on vacation, and one that will make a permanent imprint in your mind of timeless memories. The lower pools are more easily accessed, and perhaps the best choice for visitors who want to jump in. Due to the popularity of the Seven Sacred Pools, it is highly suggested to arrive early for a chance to enjoy privacy in this insanely beautiful location. Ohe'o is part of the Haleakala National Park system, hosting a ranger station, public restrooms, large parking lots and camping facilities.
The best way to experience the Seven Sacred Pools is by planning a camping trip to Hana! Spend a day exploring the historic Road to Hana, reach the Ohe'o campgrounds by sunset, and arise to a magnificent morning in Kipahulu for morning swim in the infamous Ohe'o Gulch Pools.
For more information about the Seven Sacred Pools of Ohe'o, please visit: Ohe'o Gulch Information
#7 MAKENA STATE PARK – BIG BEACH & LITTLE BEACH
Just south of Wailea lies Makena State Park, composed of over 165 acres. Perched upon the coastline sits two of the most fabulous beaches in Maui; Makena's Big Beach (Oneloa Beach) and Little Beach (Pu'u Olai Beach).
Big Beach is one of the most popular spots in all the Hawaiian Islands for bodyboarding and skim boarding. This is a fantastic beach in Maui for enjoying a day with your family and friends, sunbathing, and body surfing. Big Beach is approximately 1.5 miles long, and 100 feet wide, offering mostly calm conditions, although it can have a strong under current and rogue waved pending the season. Big Beach offers 3 entrances, parking lots, public restrooms, and lifeguards.
Little Beach is a small beach cove located just north of Big Beach. At one point in time, there was a trail that led from one beach to the next, but due to coastline erosion, it's now accessed by a 5-minute hike over a steep lava outcropping. Once you fair the hike, 660 ft long Little Beach is below offering calm swimming conditions, and good times. Little Beach is one of the only nude sunbathing beaches on Maui, and a popular spot for Sunday afternoon firedancing and drum circle parties.
For more information about Makena State Park beaches, please visit: http://oceansafety.ancl.hawaii.edu
#8 LAHAINA'S BANYAN TREE
Lahaina's Banyan Tree is over 137 years old, and spreads across an almost complete 1-acre of downtown Lahaina. This species is the largest of its kind in the United States, but not indigenous to Hawaii.
In 1873, Sheriff William Owen Smith planted this Banyan Tree to commemorate the 50th Anniversary of Protestant missionaries in Lahaina. The once single trunk, has now expanded into over 16 trunks due to this species aerial roots. The Banyan Tree in Lahaina is a historical landmark, and a jaw-dropping sight. As a notable meeting place in Lahaina, often times visitors can find amazing local art vendors below the Banyan's canopies, making for a nice little walk in the square.
Within a short walk from the Banyon Tree in Lahaina, guests can find many shopping, dining, and activities to do in Lahaina. During your next walking tour of the historic Town of Lahaina, make sure to check out the Banyon Tree to learn more about Maui's roots!
For more information about Lahaina's Banyan Tree, please visit: http://en.wikipedia.org
#9 HAWAII NATURE CENTER
The Hawaii Nature Center has been providing environmental immersion educational programs in Hawaii since 1981. Located on Oahu and Maui, the Maui field site locations are Iao Valley and Kealia Pond. Since creation, over 850,000 children have participated in their programs.
"The mission of the Hawaii Nature Center is to foster awareness, appreciation and understanding of Hawaii's environment and to encourage wise stewardship of the Hawaiian Islands by educating children with an interactive immersion approach."
Offering both Maui Community and Maui School programs year-round, this non-profit organization most definitely add's value to all to take part in their customized activities in Maui. During your next vacation in Maui, check out the Hawaii Nature Center to learn more about Hawaiian environmental culture and the innate characteristics about Maui preservation that are important. This is a great place for kids, and a wonderful place to offer up your philanthropic nature by volunteering in Hawaii.
For more information about the Hawaii Nature Center, please visit: www.hawaiinaturecenter.org
#10 ALI'I KULA LAVENDER FARM
Nestled on the slopes of Mt.Haleakala, lies the fabulous Ali'i Kula Lavender Farm. Founded by Agricultural Artist and Horticultural Master Ali'i Chang, this farm has become a cultural landmark for Maui residents and visitors. At an elevation of 4,000 feet, the Kula Lavender Farm on Maui is home to over 45 varieties of lavender and approximately 55,000 lavender plants.
Spend an afternoon visiting the Ali'i Kula Lavender Farm and stroll through the elaborate gardens, while enjoying a sweet conversation with your friends at one of the hidden rest areas. The view faces towards the South Maui coastline, allowing for breathtaking watercolored scenes of the Pacific Ocean stretching all the way to the West Maui Mountain Range.
A true sense of 'aloha' can most definitely be experienced from the Ali'i Kula Lavender Farm. Check out their Daily Guided Walking Tours to learn more about lavender cultivation, the many species and Kula's micro-climate. The staff, gardeners and groundskeepers are extremely knowledgable of sustainable horticulture, and all lavender species. Your sense will be on a calm overload as your breathe in the peace, beauty and tranquility of this awesome Maui attraction.
Make sure to check out the onsite Lavender boutique, where you can find an abundance of locally made Lavender infused goods. Each product has been developed by the Ali'i Kula Lavender Farm integrating sustainability, innovation, and a love for the Island of Maui.
For more information about the Ali'i Kula Lavender Farm, please visit: www.aliikulalavenderfarm.com
#11 TEDESCHI WINERY
Since 1974, the Tedeschi Winery, Maui's only operating winery, has been one of the most fabulous attractions to visit in Hawaii. The wine varieties and selections vary, famously offering their time-told Sparkling Pineapple, Grape and Raspberry dessert wines.
Following innovation, the Tedeschi Winery was in the process of collaborating with the Ulupalakua Ranch by cultivating grape crops. While in this process, they developed an idea surrounding the creatiion of wine selections out of the most poplular agri-crop in Hawaii; Pineapple. Since then, Tedeschi Winery has been most widely regarded for their infamous Pineapple Sparkling wine called the "Maui Brut Sparkling." Although Tedeschi has built their name upon various tropical fruit concoctions, they also produce beautiful and more traditional Maui wines including: Ulupalakua Red (a blend of Syrah, Merlot and Malbec), Upcountry Gold (a Chardonnay aged in stainless steel), and Lokelani (an elegant sparkling Rose with hints of vanilla and orange blossom).
This Maui winery is located in the Upcountry area of Ulupalakua, adjacent to far reaching pastures of horses, cattle and an abundance of livestock. This area is unique to Maui's history, agricultural, and colonial heritage. All staff and operators of the Tedeschi Winery pride themselves as being "stewards of the land," and those who support the sustainability and thriving agriculture of this Upcountry locale.
For more information about wine tasting on Maui at the Tedeschi Winery, please visit www.mauiwine.com
#12 JAWS SURF BREAK (PE'AHI)
Whether you are a surfer or not, Jaws is a huge attraction on Maui. Popularized by legendary watermen like Laird Hamilton and Dave Kalama with their tow-in surfing skills, Jaws is now one of the most popular hyped out spots on the international surfing train. Named after the unpredictability of a shark, Jaws Maui is one of the largest and strongest surf breaks in the world with wave sizes that exceed 70-feet in the Winter (December-March). The wave is very inconsistent, so many events held at Jaws can't set firm dates, it's just a waiting game for those monstrous sets. Needless to say, Jaws is a beast! Even the most experienced of surfers can be injured here, and the only way out during an emergency is by helicopter.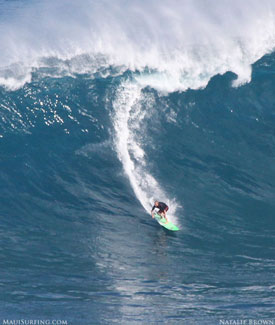 So, how can you see Jaws on Maui? Well, due to its remote location down an almost always thick and muddy 4-wheel drive road, we suggest that you lace up your hiking boots or throw on some sturdy rain boots and hike down. DO NOT attempt to drive down in your rental car, just and FYI. You can get stuck on this road even if you have 4-wheel drive and a lift. And, we promise you, it will be a mess. And if you get stuck, the rental car company won't insure you because it will be considered "off-road." And, absolutely no tow trucks will come and grab you! So, get ready for an awesome adventure and definitely bring some drinking water,  a camera, and remember that this hike is not for the lighthearted*
To find Jaws Maui, travel down Hana Highway towards Haiku. Park your vehicle somewhere out of the way of traffic between mile marker 13 and 14, and start walking towards the ocean. Locals definitely won't be happy with you if you block their driveway or block their road in your car, so mind your parking spots closely. If Jaws is going off, you'll see lots of people in the area, so you won't get lost. GPS Coordinates: 20.942202,-156.300688
See more information about  how to get to Jaws Surf Break in Maui.
#13 KA'ANAPALI COFFEE FARM
Visiting a local farms on Maui is a fabulous way to explore the agricultural history of Maui, taste new things, and pick up some exclusive Maui made gifts and souvenirs. Located on the Ka'anapali Estate, MauiGrown Coffee Farm is one of the few coffee farms open to the public on Maui.
The Ka'anapali Estate is located on the mauka (mountain) side of Ka'anapali, directly across from the Ka'anapali Resort area. This land was originally part of the Pioneer Mill Sugar Plantation (1860), but transitioned to coffee land in 1988. It was operated by Ka'anapali Estate Coffee until 2001, and has since been operated by the MauiGrown Coffee Company. Currently, MauiGrown grows four varieties of arabica coffee: Red Catuai, Yellow Caturra, Typica and Moka. MauiGrown coffee is super delicious and strong; distinct in taste due to the perfect coffee growing temperatures of West Maui.
At the MauiGrown Coffee Farm, guests can visit the farm and sample the varieties at the MauiGrown Company Store. Self guided tours are available, and are well worth it! Coffee Farm maps are available for free at the MauiGrown Coffee store which is open from 6:30am-5pm Monday-Saturday.
For more information about the MauiGrown Coffee Farm, please visit www.mauigrowncoffee.com
#14 'ULALENA
"There is a wind and rain particular to Maui that rises at twilight. It whispers of other places and other times, both mythic and real. It blows between daylight and night, between times and worlds. It is hopeful and cleansing. The ancient Hawaiian name for this wind is 'Ulalena. It is also the name of the newest and most amazing stage production to come from Hawai'i in decades." (www.mauitheatre.com, 2015)
For over 14 years, 'Ulalena has remained as one of the top stage show productions throughout the Hawaiian Islands. This production beautifully shares Hawaii's rich cultural history through mythology, dance and music. With over 100 musical instruments played live, this show invokes emotion in all viewers.
For more information about 'Ulalena, please visit https://www.mauitheatre.com/maui-events-ulalena-story.php
#15 BAILEY HOUSE & MUSEUM
Maui's Bailey House and Museum belongs to the Maui Historical Society, a 501 (c)(3) non profit organization that was founded in 1951. Officially chartered in 1956, the Maui Historical Society mission is "To collect, preserve, study, interpret and share the history and heritage of Maui." (www.MauiMuseum.org, 2015)
Built in 1833, the Bailey House was once the home to missionary teacher Edward Bailey and his family. Little known, the home also happens to be located on a historic Hawaiian site, the royal compound of Kahekili, Maui's last ruling chief. The Bailey house became a museum in 1957, and in 1972 the .7 acre property became listed under the National and Hawaiian Registers of Historic Places. The Bailey House Museum holds the largest collection of Hawaiian art exhibits in Maui County, archeological and natural history materials, a 100-year old canoe, a surfboard that belonged to the Hawaii legend Duke Kahanamoku,19th Century colonial artifacts, Edward Bailey's paintings of Hawaii, Koa furniture and so much more.
The Bailey House & Museum is open Monday-Saturday, 10am-4pm. Once a month, the Bailey House also invites the public to enjoy the 'Moonlight Mele' Hawaiian concert series. This monthly event features live music with Grammy award winning Hawaiian musician George Kahumoku Jr. and friends, food, beer and wine, and an awesome community of fun-loving people full of aloha.
For more information about the Bailey House and Museum, please visit http://www.mauimuseum.org
#16 KULA BOTANICAL GARDENS
Perched at 3,300 feet above sea-level, the Kula Botanical Garden is open to all guests from 9am-4pm, 7 days a week. This Maui botanical garden is 8-acres in total, and a really wonderful place to go for a quiet stroll through Upcountry Maui. The environment at the Kula Botanical Garden isn't just peaceful and relaxing, it's also a feast for the senses! The air is fresh, there's vibrantly colored flora and fauna as far as your eyes can see, tropical fragrances following the paved pathway, and it is beautifully landscaped. You will be able to see an array of exotic plants and tropical flowers; Protea, White Ginger, Rainbow Eucalyptus, Monstera, Orchids, Fuscia, Bromeliads and more. There is also a stream that travels through the garden and a bird sanctuary for the native Hawaiian Nene birds (endangered).
When visiting the Kula Botanical Garden, give yourself at least an hour to truly check the space out on a self-guided tour. If you'd like to stay longer, be their guest! The owners created sweet sitting areas for quiet reflection, and picnic tables and chairs for those that would like to enjoy lunch in a nirvana-like setting.
If guests would like to book a guided tour of the Kula Botanical Garden, they must book in advance* Regular admission fees are: $10 for adults, $3 for children 6-12 years old, and free for children under 6 years old.
For more information about the Kula Botanical Gardens, please visit http://www.kulabotanicalgarden.com
#17 MAUI PINEAPPLE TOURS
Maui Pineapple Tours are now available twice a day, 7 days a week. Located at the Hali'imaile Pineapple Plantation, everyone will enjoy checking out the only pineapple tour in Maui, and the only tour of a working pineapple planation in the whole United States!
The Maui Pineapple Tour is perfect for the whole family. It's an eco-friendly and educational tour that allows participants to learn about Maui's pineapple growing history, growing cycles and cultivation techniques.
This guided tour begins with seeing how pineapples are harvested, and then watching how they are packed and shipped. Every guest has an opportunity to taste pineapple at different stages, and each and every guest will be gifted a fresh and tasty Maui pineapple as a souvenir.
For more information, visit Maui Pineapple Tours.
#18 MAUI OCEAN CENTER
Enjoy an afternoon with your family and friends and visit the only aquarium in the world dedicated to displaying and preserving Hawaiian marine life. The Maui Ocean Center offers full exploration for all visitors; adults and children. It is most definitely one of the top things to do on Maui with kids! 
The Maui Ocean Center exhibits Hawaiian sea life, educational displays about ocean ecology, Whale life and Hawaiian culture. Through a guided walking path, all guests will love their rare attractions including the outdoor Hawaiian Sea Turtle sanctuary and Hammerhead Shark pool. This aquarium is also well known for their fully encircling sea-tunnel, and a huge indoor shark tank that displays Hammerhead Sharks, Tiger Sharks, White Tips, Grey Tips, and a variety of deep water fish.
For more information about the Maui Ocean Center, please visit www.mauioceancenter.com.
#19 KAPALUA GOLF RESORT
Without a doubt, golfing is one of the most popular activities in Hawaii. On Maui, sport enthusiasts have the best selection of Hawaii's golf resorts, golf instruction, and annual golf events to choose from. Two of Maui's top golf courses are the Plantation and Bay courses at the Kapalua Resort.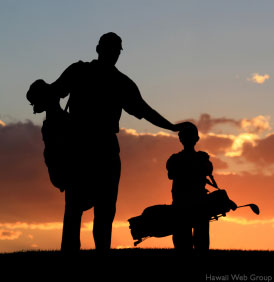 For guests seeking a memorable vacation in Hawaii focusing on their golf game, Maui is the best island for a load of golf instruction at all levels. At the Kapalua Resort, guests can refine their golf craft at the Plantation and Bay courses, or pick up some more instruction from PGA professionals at the Kapalua Golf Academy. This is a great choice for those interested in improving their golf skills at a world-class Maui golf resort. Created by PGA Touring Professional Athlete Hale Irwin, the Kapalua Golf Academy sits on a 23-acre practice area at the Kapalua Resort. Golf instruction is offered for all levels and includes: putting, wedge and bunker play, chipping, full swing, and specialty shots. The Kapalua Golf Academy staff is a wonderful collection of PGA professionals that specialize in private golf lessons, corporate golf clinics, and personalized off site instruction.
January is perhaps one of the most popular times of the year for golfing in West Maui, as it marks the annual PGA Tour season-opening with the Hyundai Tournament of Champions in Kapalua. Always held at the Kapalua Golf Resort, this is the most exciting  annual golf event in the Hawaiian Islands, celebrated for presenting a handful of the best professional golf athletes in the world.
For more information about Golfing in West Maui, visit http://www.golfatkapalua.com/index.php
#20 CHARLES LINDBERGH'S GRAVE
The Palapala Ho'omau Congregational Church (near mile marker 41) is not only one of the most interesting historical sites on Maui, but it is also site to Charles Lindbergh's grave. Ok, so who is Charles Lindbergh?
"If it takes the wings of the morning, and dwell in the uttermost parts of the sea…"
(Charles Lindbergh inscription at the Palapala Ho'omau Church, Maui)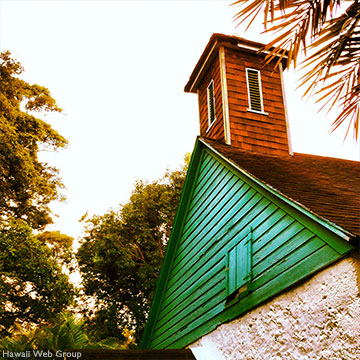 Charles Lindbergh, nicknamed "Slim," "The Lone Eagle," and "Lucky Lindy," was an extremely influential aviator, inventor, explorer, social activist and U.S military officer.  He was born in Detroit (1902), and died in Kipahulu, Maui (1974). He was the first pilot to ever fly non-stop from New York to Paris when he was just 25 years old, his father was a U.S Congressman that served 5 terms, he was a stunt pilot, his child was kidnapped (1932) and Al Capone (Scarface) offered to help him find his baby (body found May 12, 1932), and he invented one of the first artificial hearts (1936) out of Pyrex glass, amongst a lot of other crazy things! He was kind of a big deal in his day…, and huge in the media. Like many, Charles Lindbergh found the Island of Maui to be one of the most alluring locations he ever visited, and made it his home. Perhaps, because Maui is one of the most healing environments in the world…
Palapala Ho'omau Church was built in 1857. Made from limestone and coral, this historical Maui church offers much more than just a small graveyard. The craftsmanship alone is astounding for its time. Art History lovers will surely be in awe* One of the window paintings inside of the church shows a Polynesian Chief dressed in a Hawaiian feather cape, a kind that was reserved only for Hawaii's highest ranking Ali'i chiefs (royalty). It is kind of tricky to find, but well worth the effort. This is a great place for a picnic, quiet reflections, and some time to explore outside of the car. The Palapala Ho'omau Church is still active, and visited daily by many residents. Please, PLEASE be respectful and courteous at this East Maui locale!
For more information, please visit Palapala Ho'omau Church.
BONUS ATTRACTION
#21 FRONT STREET
Peruse restaurants, boutiques, surf shops and galleries in Lahaina! Front Street is located oceanfront in West Maui's historic Lahaina Town. Hanging out down on Front Street is definitely a must-do when in West Maui. Here, all guests can find great souvenirs, check out local art vendors and events, and grab a bite to eat and a refreshing tropical cocktail from any of Lahaina's beachfront eateries.
On Front Street, guests can find rare Maui made art, a variety of clothing boutiques, and lots of Hawaii craft vendors. Our absolutely favorite thing about Front Street is that it's one of the richest historical locations on Maui. It's full of adventurous activities, great people watching, and is otherwise one of Maui's most popular little hubs. Also, wherever you are on Front Street, you can always see awesome Pacific Ocean views!
When planning a time to check out Front Street in Lahaina, you should actually plan for a whole day excursion. You should plan a whale watch or snorkel tour in the morning, grab lunch at a wonderful restaurant with an ocean view, and just stroll around Front Street going from business to business all afternoon. We definitely suggest that you check out all the local art under the Banyon Tree on the weekends, and make sure to check out all the fun surf shops and local art galleries.
Fore more information about Front Street in Lahaina, please visit http://www.frontstreetlahaina.com
#22 ALEXANDER & BALDWIN SUGAR MUSEUM
Located adjacent to Hawaii's largest sugar factory is the Alexander & Baldwin Sugar Museum in Puunene, Maui. The museum is just 1,800 square feet, but should not to be overlooked when visiting historical attractions on the Valley Isle. Maui's Sugar Museum has a pretty thorough collection of exhibits and historical information about not only Maui's agricultural history with sugar production, but also glimpses into Maui's colonial past.
The A&B Sugar Museum consists of six separate exhibit rooms; The Geography Room, The Water Room, The Human Resources Room, The Plantation Room, The Field Work Room and The Mill Room. After strolling through each exhibit room, and checking out the view in Puunene, all visitors should have a pretty good idea of what sugar production in the late 1800's- now looks like. Outside of the museum, guests can also see interesting outdoor exhibits such as a Portuguese oven from the 1920's, a Cleveland Model J36 trench digger, a cane hauler, vintage Caterpillar tractors and more.
The A&B Sugar Museum is a great place to check out for the whole family. You can experience the entirety of the museum under an hour, and it's a pretty curious stop if you're interested in Maui's agricultural and colonial history. For those looking for the perfect Maui gifts for friends and family at home, there's also a sweet little gift shop.
For more information about the Alexander & Baldwin Sugar Museum, please visit www.sugarmuseum.com/index.html
#23 BURN'N LOVE ELVIS SHOW
Rated #1 Attraction on Maui by TripAdvisor, all are invited to relive the excitement of Elvis in Hawaii at the Burn'n Love Elvis Show. This energetic Maui stage show appeals to guests of all ages with renditions of Elvis Presley's time spent in Hawaii. With song, dance and amazing costumes, guests will be shakin' their hips to Elvis songs in no time!
Elvis fans from throughout the world have loved this show for it's attention to authenticity, and the expert performance by famous Elvis impersonator, Darren Lee. Make sure to inquire about the "Diamond Package" for front row tickets, Burn'n Love swag gifts, and an intimate after-show with a Darren Lee meet-and-greet.
For more information about shows at Maui Theatre, please visit www.mauitheatre.com
Mahalo for reading our Top 10 Maui Attractions! We hope that you thoroughly enjoy your next vacation in Maui. What is your favorite Maui attraction? Let us know in the comments below.
Written By Alexandra Mitchell
Alexandra is a marketing professional with a passion for writing about travel to the Hawaiian Islands, vacation rentals, and luxury real estate. She exposes readers to glimpses of 'Old Hawaii,' new destinations to explore, local events, and all the best things to do on Maui.
Google+