Top 10 Things You Should Know About Hawaii
Get Our Newsletter: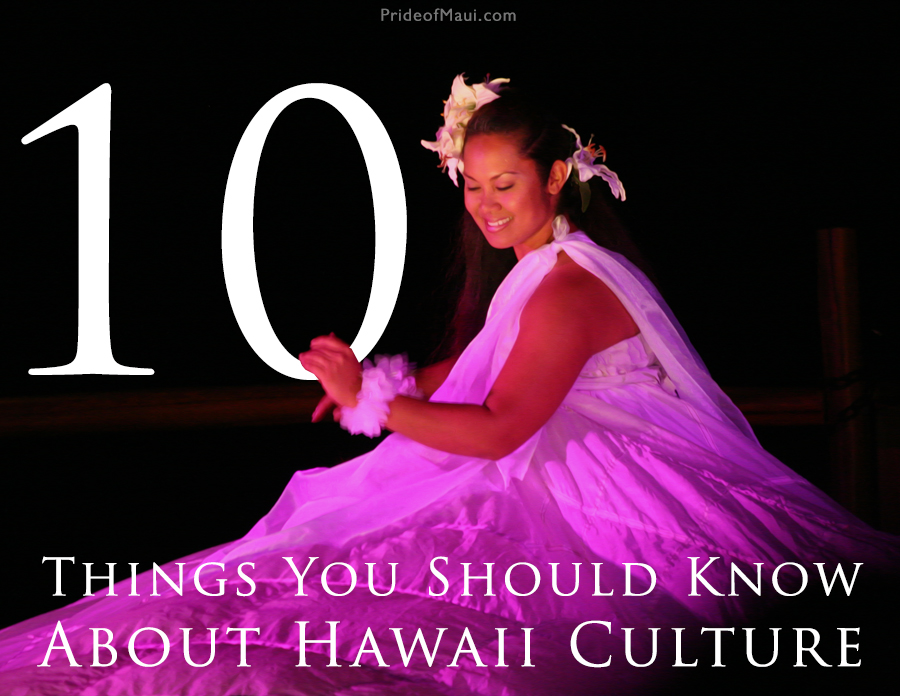 Aloha and Welcome to Pride of Maui's Top 10 Things You Should Know About Hawaii article! Hawaii's diverse culture has deep roots in ancient Polynesia and a variety of exotic locales; it's pretty much impossible to explain everything you should know about Hawaii in one blog post. With a valuable insider's perspective, we will continue to give our readers the best and most current facts about Hawaii. Learn all about the historical and cherished details of Hawaiian culture that you so crave to learn about.
On your next trip to Hawaii, make sure to see further into the island landscape. Try to see past the gorgeous and colorful panoramic views. Take a step back and allow yourself to seek more of Hawaii's local culture. Imagine that all the things you are about to learn make Hawaii what it is today.
Pride of Maui warmly welcomes you to our Hawaiian Islands. Visit us with good intentions and a positive outlook. Enjoy incredible island adventures, book exciting tours, and journey through each island experiencing all it has to offer. Allow the spirit of the Hawaiian Islands to heal you and bring you joy!
BEST THINGS TO KNOW ABOUT HAWAII
#1 "Aloha" Spirit State Law
For those of us that are familiar with the daily use of the word aloha, we know that this term has more than one meaning. It can be as simple as a hello or a goodbye greeting, or a phrase used to express mutual love and regards. Perhaps, most importantly, it is an expression that embodies the aloha spirit. In Hawaii, you will commonly hear the phrase said in passing all day long; at the bank, at the grocery store, when you run into a friend, in a text, even as a salutation in a business email.
The Hawaii Revised Statutes 5-7.5 acknowledges the Spirit of Aloha as not just a philosophy, but also a law that all government officials and citizens (visitors, too) are obligated to be in accordance with on a daily basis.
5-7.5 "Aloha Spirit" (a) "Aloha Spirit" is the coordination of mind and heart within each person. It brings each person to the self. Each person must think and emote good feelings to others. In the contemplation and presence of the life force, "Aloha," the following unuhi laula may be used:
tik
"Akahai," meaning kindness to be expressed with tenderness;
"Lokahi," meaning unity, to be expressed with harmony;
"'Olu'olo," meaning agreeable, to be expressed with pleasantness;
"Ha'aha'a," meaning humility, to be expressed with modesty;
"Ahonui," meaning patience, to be expressed with perseverance.
"These are traits of character that express the charm, warmth, and sincerity of Hawai'i's people. It was the working philosophy of the native Hawaiians and was presented as a gift to the people of Hawai'i." (www.hawaii.edu, 2014)
For more information, please visit the following resource about Hawaiian Laws.

#2 SPAM
Whether you're a resident or a visitor, many people are still in the dark about how SPAM was originally introduced to Hawaii. No, your Auntie didn't discover it, and it doesn't drop off palm trees, so why is it here? In fact, SPAM is a pretty recent addition to Hawaiian local food culture.
Also known as the "Hawaiian Steak," SPAM can found in breakfast, lunch, dinner, and snacks in Hawaii. It can be found stocked in your pantry, cooked with fried eggs, served with fried rice, eaten out of a can, offered on Hawaii's McDonald's menu, celebrated at the annual SPAMJAM food festival in Waikiki, or found with rice and seaweed in a popular SPAM Musubi treat. If you love SPAM, here's a fun fact: Over 7-million cans of SPAM are sold per year in the State of Hawaii. Wow!
How the heck did SPAM become so popular in Hawaii?
Hawaiian people fell in love with SPAM right around World War II. Military troops were commonly served this salty "Special Army Meat" because it had a long shelf life, was affordable, easy to travel with and didn't need refrigeration. Over 15 million cans of SPAM were supplied to allied troops every week, and between 1941-1945 the Hormel Corporation (owners of SPAM) had shipped over 100-million pounds of SPAM overseas. So, because SPAM was such a popular sight to see in the Hawaiian Islands during the war era, and was well regarded for its long-lasting nature, it tastefully became a staple in Hawaiian local food culture.
For more information, please visit SPAM online.
#3 Hawaiian Ali'i
In the ancient Hawaiian language, Ali'i means royalty, but not the kind of royalty commonly known in the Western world, such as the British Royals, the Crown Jewels, etc. Sure, it is true that members of the Hawaiian Monarchy (westernized) were descendants of ancient Hawaiian Ali'i, but the roles and positions of the ancestral Ali'i were those that belonged to a long line of chiefs, similar to those in indigenous Native American cultures.
The main role of ancient Ali'i (chiefs) was to be an example of unified responsibility. They mentored the Hawaiian people to live a life of pono (righteousness and respect) for the aina (land), makai (ocean), and their 'ohana (community/family). The Ali'i were wise leaders, brave warriors, and truly embodied the aloha (love) and mana (life force energy) that was passed down to them from previous ancestral lines. Ali'i were the honored ruling Hawaiians; they maintained pure traceable bloodlines, and were believed to be direct descendants of the Akua (gods), allowing them to be the messengers between the Hawaiian people and the Akua's wishes.
The ancient Hawaiians did not have a written language but instead communicated history through kupuna (ancestors), art, folklore, traditional gatherings, dance, music and chanting. The two recorded historical Hawaiian dynasties were the Kamehameha Dynasty (late 1700's-late 1800's), and the Kalakaua Dynasty (1874-1891). The last reigning royal Ali'i of ancient Hawaiian lineage was Queen Liliuokalani, sister of King Kalakaua, and the first and only female to rule over the Hawaiian Islands.
For more information, please visit the following resource for the Hawaiian Ali'i.

#4 Origin of the Shaka
The shaka is probably one of the most commonly known hand symbols seen throughout the Hawaiian Islands and modern surf culture. It means howzit brah, eh cuzzin, what's up bro, or the historically popular hang loose.
This familiar hand sign is also seen in skydiving culture, international Brazilian Jiu-Jitsu communities, and is one of the two formal hand signals in American Sign Language that means surfing. Obviously, it is a popular greeting between surfer dudes, but also a commonly experienced occurrence when driving in Hawaii. If someone gives you the right-of-way on a road or at the 4-way stop in Hawaii, go ahead and give them a shaka.
How Do You Shaka?
Steps to making an appropriate shaka:
1. Hold your hand up in front of you and fold your pointer finger, middle finger and ring finger in towards your palm.
2. Then, rotate your hand so your palm is facing you (with your fingers still folded in), and make sure your thumb and pinky finger are sticking out.
3. If you're feeling especially shaka-like, rotate your wrist back and forth, left to right.
4. Shootz, cuzzin!
For more information, please watch the following video about the Shaka.
#5 The Hawaiian Flag (Union Jack)
The Flag of Hawaii, otherwise known as Ka Hae Hawaii, has become a cherished symbol of all things Hawaiian – history, a rich culture, tradition, and the beauty of the Hawaiian Islands. It is a symbol of pride, and commonly seen in Hawaii travel advertisements, as a bumper sticker, and flying high above State of Hawaii government buildings. Ka Hae Hawaii, the Union Jack, is one of the oldest flags still in use today, and believed to be a direct representation of the Kingdom of Hawaii. (Not to be confused with the red, yellow and green Kanaka Maoli Flag for Hawaiian sovereignty.)
What is the History of the Hawaiian Flag?
Today's residents have a sort of love-hate relationship with the Hawaiian Flag. Yes, it is a symbol of the past, but is it a symbol of Hawaii's true past, or a symbol of first British, then American colonialism? Due to a lack of historical recording with government politics in Hawaii's colonial past, exact details of the introduction of the Hawaiian Flag are still often debated by historians. It is loosely agreed that the official birth of the Hawaiian Flag was introduced by Kamehameha the Great in 1816.
"In 1793, Captain George Vancouver from Great Britain presented the Union Jack to the conquering King Kamehameha I, who was then uniting the islands into a single state; the Union Jack flew unofficially as the flag of Hawaii until 1816." (www.brittanica.com, 2014)
Fore more information, please visit the following resource about the Hawaiian Flag.
#6 Hawaiian Pineapple
The sweet and juicy Hawaiian Pineapple is one of the most recognized tropical foods from Hawaii, popularized by companies like Dole and Maui Gold. Like sugarcane, pineapple crops were crucial for developing Hawaii's agribusiness scene, beginning in the colonial era and continuing today.
The pineapple was first introduced to the Hawaiian Islands by a Spanish horticultural experimenter, Francisco de Paula Marin (1774-1837), in the early 1790's. He didn't just introduce pineapples; he also introduced peaches, oranges, olives and grape varieties. It is recorded that Francisco befriended Kamehameha I, and was eventually given land for his agricultural experiments. He was a big experimenter of Hawaiian herbs and the ancient folklore that surrounded their healing properties. He was also well known for his unique gardens that derived from Spanish-born seeds.
Many of Hawaii's introduced flora came from Francisco's experiments, but he is more commonly remembered for suggesting the pineapple fruit as a cash crop for the Hawaiian Islands. Although, in the past, many believed it was James Dole. Dole did eventually contribute to making pineapple a successful agribusiness in Hawaii, but he didn't arrive on Hawaiian soil until 1899. (www.dole.com, 2014)
Interesting Fact: Francisco de Paula Marin's nickname became "Manini" during his time in Hawaii. Today, the phrase manini means miserly, or of little significance in the modern local vocabulary.
For more information, please visit the following resource about Hawaii's Pineapple history.
#7 Who is the Merrie Monarch?
The Merrie Monarch Festival is a Hawaiian cultural event held every year on the Big Island. The event honors Hawaiian culture, including hula, arts and crafts, performances, chanting, lei making, 'ohana (family/community), and the history of pure Hawaiian lineage. It is a time of the year that many Hawaiian people look forward to; the freedom to celebrate Hawaiian culture was not always an easily practiced expression.
Toward the end of the Kamehameha Dynasty (the 1870s), Hawaiian culture began to slip away more than ever. Hawaiian traditions and practices were shunned as ignorant and inconsequential. Colonialism and Western influence were dominating more and more. Ancient Hawaiian traditions were slowly dissipating. Politics were rapidly changing, and elected Hawaiians became split between the past and the future.
King David Kalakaua (1836-1891), was the first King of the Kalakaua Dynasty, and also the last. Born on Oahu with family on Big Island, in 1874, Kalakaua sought to become more familiarized with the Hawaiian Islands. He traveled to all the islands and came to the same conclusions that he always believed. He wanted to fight to dismiss elective cabinets, bring back Hawaiian culture and return the hereditary right to the Ali'i to rule. At the time, members of the "Missionary Party" were seeking to guide the Hawaiian government closer and closer to a constitutional monarchy, like the United Kingdom. Kalakaua quickly became a symbol of hope for the native Hawaiian people.
In 1886, Kalakaua celebrated his 50th birthday with a two-week celebration with a parade, hula dance performances, a massive public luau, chanting, storytelling, fireworks and more. It was called the "Merrie Monarch's Jubilee," the very first Merrie Monarch Festival. Seeking rest and relaxation after a trying legislative period, Kalakaua later traveled to Northern California, fell ill, and passed away at the San Francisco Palace Hotel in 1891. His reign was succeeded by his sister Queen Liliuokalani, the last ruling Hawaiian monarch.
The Merrie Monarch Festival, as we know it today, started as an annual tradition in 1963. The Merrie Monarch Festival continues to symbolize the passion for Hawaiian traditions that cannot be lost. It is a celebration for Hawaii's people and a dedication to the Merrie Monarch, King David Kalakaua.
For more information, please visit the annual Merrie Monarch Festival.
#8 Tikis
Referenced through folklore and ancient traditions, the first Polynesians are said to have arrived in Hawaii over 1,000 years ago. It is believed that the Southern Marquesans arrived first (3rd Century), and were soon followed by the Tahitians in approximately 1300 AD. Since then, Hawaii has remained a melting pot for many cultures. With culture came exposure to many indigenous customs, such as song and dance, food, art, beliefs, and mythology. Specific aspects of Hawaiian cultural history can easily be connected to neighboring Polynesian cultures – Marquesan, Tahitian, Maori, Samoan, Tongan, and more.
The origin of the Tiki statue is an interesting one. Tiki statues can be seen across many Central Eastern Polynesian subcultures. The first people of New Zealand, the Maori's, believe the Tiki to be a mythological representation of the first man, Tiki, father of Hine-kau-ataata. In the Maori culture, Tiki statues are a symbol of procreation, and are often found protecting sacred mythological sites. It is not much different in neighboring Polynesian cultures, where to Tahitians the Ti'i (Tiki) is a symbol of the first man who was made of red dirt. Later in Hawaii, Tikis were commonly found symbolizing the first man, Kumuhonua, son of Kane.
Tikis were popularized through the kitsch culture of the 1960's, Tiki Bars, Pop Art and the Brady Bunch. Tiki statues, key chains, mugs and such are commonly found in Hawaii gift shops, but real ones can be seen throughout the Polynesian Islands in museums and sacred sites.
For more information, please visit the following resource about the history of Tikis.

#9 Hawaiian Akua
There are many Hawaiian chants that speak of the thousands of Akua (gods) of Hawaii. This may just be a mesh of cultures, or maybe ancient Hawaiian mythology is a full demigod system. There could be an akua for every act, every being, for the animals, for speaking, for storytelling. Being that ancient Hawaiian mythology has little or no written records, history relies on the culture to share the stories of creation – life, sustainability, health, and well-being. Whether you're a Hawaii resident or just visiting for a short trip, it is important to have at least a brief knowledge of these ancient lands. Please keep the Akua and the aloha spirit in mind with all that you do in Hawaii.
The following is a list of the main Hawaiian Akua:
Pele – The Volcano, Lightning, and Fire Goddess
Hina – Goddess of the Moon
Laka – The Goddess of Hula
Poliahu – A Goddess of Snow, and Pele's rival
Papa – The Earth Mother, Goddess of Fertility
Kane – Father of All
Kanaloa – God of Magic, the Underworld, and the Ocean
Lono – God of Agriculture, Music, Peace, and Rainfall
Ku – God of War
Kuula – God of Fishermen
For more information, please visit the following resource about Hawaiian Akua.
#10 The Lei

In Hawaii, a flower lei is a gift for newcomers, seen synonymously in hula dance, and given in celebration for birthdays, graduations and wedding ceremonies. It is definitely one of the most unforgettable and cherished Hawaiian traditions. Who doesn't love receiving a beautiful, colorful and fragrant present? A Lei is much more than meets the eye.
Lei's are commonly made of plumeria, orchids, tuberose, ti leaf and kukui nuts, but can also made with a variety of rare flower varieties by Lei making masters. There is no limit to the creative artistry in Lei making, which is considered a sacred art in and of itself.
When acting as a giver of a Lei, you must remember to also kiss the cheek of the person you are bestowing it upon. This is a traditional act and an honorable greeting that custom dictates. Know that it is considered disrespectful to remove a Lei in the presence of anyone it is accepted in front of, and should instead be removed when you are alone.
Interesting fact: It is considered kapu (bad luck) to wear a closed Lei while pregnant.
Mahalo for reading Pride of Maui's Top 10 Things You Should Know About Hawaii article! We hope that you fully enjoyed learning about all of these amazing insights into the culture of Hawaii. We invite you to please share your comments below, tag your friends and let us know other things people should know about Hawaii's culture.
Kipa hou mai! Come visit us again.
Written By Alexandra Mitchell
Alexandra is a marketing professional with a passion for writing about travel to the Hawaiian Islands, vacation rentals, and luxury real estate. She exposes readers to glimpses of 'Old Hawaii,' new destinations to explore, local events, and all the best things to do on Maui.