10 Best Places to Get a Drink on Maui
Get Our Newsletter:
Are you that special someone that enjoys brunch with mimosa's, a refreshing afternoon margarita, cocktail hour with a Hawaiian ocean view, and a smooth martini with a delicious dinner appetizer? If so, we welcome you to Pride of Maui's Best Places to Get a Drink on Maui article!
Visit Maui for the best beaches and activities to do on Maui, and make sure to treat yourself to some powerfully delicious cocktail beverages with a little tropical on the side…We encourage you to seek out the Best Places to Get a Drink on Maui next time you're on island. Share this list with your family and friends, and add these locales to your Maui to-do list. Take it from us, your taste buds and smiling faces will thank us. A hui hou!
Best Places to Get a Drink on Maui
#1 Milagros Food Company
Featured For The Best Happy Hour & The Largest Tequila Selection on Maui
Enjoy all the best that Maui's North Shore beaches offer, and take a break from the sun to hit up Milagros Food Company in the bohemian Paia Town. Milagros is an independent, locally owned Maui restaurant located on the corner of Hana Highway and Baldwin Avenue. This spot is always bustling with positive vibes, yummy southwestern-style dishes, and an uber-impressive tequila bar. Frequented by locals and visitors, this Maui bar is always fun, and so are their drink selections. Milagros has the most extensive Tequila selection on Maui, and are well known for their many signature Margaritas, Tropical Classics and a generous Daily Happy Hour, hence making it on our Best Maui Bar list. Milagros has margaritas that suit all desires…Guests can choose from a Spicy Jalapeño Margarita, a sweet and refreshing Coco Rita or double it up with the El Jeffe Marg, which is a double shot of Herradura Reposado shaken with fresh lime and served on the rocks. They have over 10 varieties of Margaritas to choose from, or "You Call It."
Happy Hour goes from 1-5pm every day, (inside only). They offer house margaritas how you like, Kona Brewing Company draft beers, Tecate and Modelo Especial for only $3.
Drink Highlights:
Li Hing Mui Rita- A local twist on a classic margarita.100 Anos Silver Margarita with a dash of Li Hing Mui powder inside and on the rim. Served on the rocks or blended.
Fresh Jalapeño Margarita- Fresh lime and raw jalapeños muddled and shaken up with Tanteo Jalapeño tequila served on the rocks.
Coco Rita- 100 Anos silver tequila blended with fresh lime and coconut.
For more information, please visit Milagros.
#2 Monkeypod Kitchen in Wailea
Without a doubt, the Monkeypod Kitchen in Wailea has one of the best drink selections in all of Hawaii. What makes their bar menu so unique is their twist on traditional, modern and tropical drinks, utilizing expert levels of mixology and bar craft. We also love how they use local Maui vendors throughout their recipes! Monkeypod has a really impressive craft beer menu which includes local Maui beers and Hawaii craft beers. Beer selections include Lagers, Wheat Beers, English Bitter, Golden/Blonde Ales, IPAs, Pale Ales, Amber & Brown Ales, Porters & Stouts, Belgian Style Ales, and Ciders. They also have the most insane wine list, full of varieties from Europe, South America, Australia, California, Oregon, and Lebanon. Enjoy delicious cocktails and food, wonderful Pacific Ocean views, and live music at one of the best bars on Maui, Monkeypod Kitchen in Wailea!
"One of the reasons our beverage program is so much fun to curate is because I am able to be adventurous with it in all phases; wine, beer and spirits. I'm grateful to adopt Peter Merriman's philosophy on using the highest quality ingredients, down to the vermouth we use in our martinis and the quality and vibrancy of our garnishes. I am constantly evaluating items on our menu to ensure that we are serving maximum quality products at a price that is not prohibitive to anyone." (Jason Vendrell, Beverage Director, 2014)
Drink Highlights:
Jetsetter Julep – Knob Creek Single Barrel Bourbon with muddled Kula strawberries, fresh mint, and honey and lime kombucha from Valley Isle Kombucha
No Ka Oi – Ocean Vodka, Thai basil, lime, honey and egg whites
50% Off bottles of Sparkling Wine Every Sunday!
#3 Lahaina Grill
Lahaina Grill is located in West Maui, right in the heart of the Historic Town of Lahaina. Rated Best Maui Restaurant for 22 years in a row by Honolulu Magazine, Lahaina Grill has maintained its rightfully deserved culinary status. With an award winning menu, you better believe that there's an award winning wine list too!
The wine philosophy at the Lahaina Grill states, "In selecting wines to be served at Lahaina Grill, our focus is on the expression of varietal and regional integrity and the synergy that can be achieved when matching food and wine. Like the food ingredients that we use, we look for wines that are true to their origin and reflective of the environment in which they have been made." (www.lahainagrill.com, 2015)
At Lahaina Grill, Sommelier Richard P. Olson has meticulously created a superb menu of wines from around the world. His integrity is so full-force that he travels to meet winemakers and grape growers many times a year, venturing to famous wine locales in New Zealand, Australia, Europe, Washington State, Oregon, and California. One of the things that really stands out about Olson's picks is that a multitude of varieties on Lahaina Grill's menu is limited in production. This is a super rare and distinct quality to have for a sommelier in Hawaii; it allows Lahaina Grill's wine lists to rotate, offering guests one-of-a-kind wine tasting experiences during every visit.
Next time you're looking for a place to grab a drink in Lahaina, definitely make sure to adventure through the wine list at the famous Lahaina Grill. Here, you can peruse many rare and award-winning wine varieties including new world and old world white and red wines, dessert wines, sauternes, and many cordials. Please take particular notice to their excellent list old world Bordeaux varieties*
Wine Highlights:
Cypher Winery- Paso Robles, Ca. Granache Blanc, 2011
Ca'Momi Vineyards- Napa Valley, Ca. Pinot Noir, 2010
Domaine Michele Gros- Hautes-Cotes de Nuits, France. "Rouge" Bourgogne, 2009
For more information please visit Lahaina Grill.
#4 Tiki Bar & Grill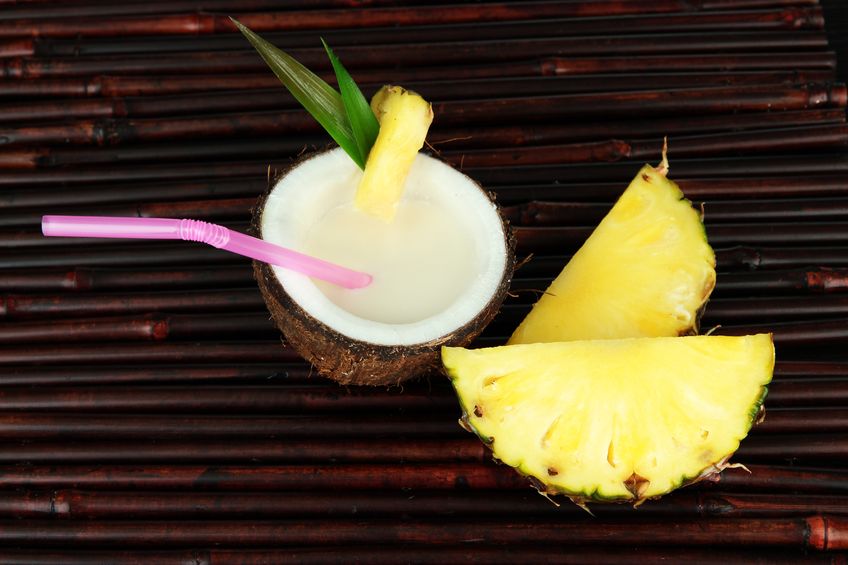 Located poolside at the Ka'anapali Beach Hotel, the Tiki Bar is Maui's only traditional "Tiki Bar" and the very first outdoor bar in West Maui. Offering an ocean view, this Ka'anapali Beach hotel bar is just steps to the sand.
The Tiki Bar is one of the best local-style libation stops on Maui. Here, guests can enjoy traditional tiki cocktails, local beers, and a host of drinks and casual appetizer options. With a perfect location, great vibes, and powerful drinks, all will surely enjoy their time spent at the Tiki Bar and Grill at Ka'anapali Beach.
This old-school style Hawaii Tiki Bar is definitely a Maui hidden treasure, and popularly known for their traditional Mai tais, and their exotic cocktails like the Lava Flow, Pupule, Coco Loco, Tiki Tini's, Pina Colada's (topped with Macadamia Nut liqueur), and their Tropical Itch, a pretty strong version of the classic garnished with a back scratcher.
If you're checking out Black Rock, or just strolling Ka'anapali Beach, make sure to put the Tiki Bar and Grill on your list of to-dos. This is a fun spot to chill out with a cocktail and watch sports games, and they also offer nightly Hawaiian music with a Hula show from 6-9pm.
The Tiki Bar in Ka'anapali is open 7-days a week from 10am-10pm. Their famous daily Happy Hour is from 3-6pm with many drinks and pupu (appetizer) specials, and the Tiki Terrace Sunday Champagne Brunch is awesome!
Drink Highlights:
Mai tai- Light and Dark Rum, pineapple juice, lemon juice and Orange Curacao
Ka'anapali Cooler- Light Rum, Vodka, sweet and sour mix, orange juice, pineapple juice, and a blackberry-cherry brandy float
Blue Hawaii- Vodka, pineapple juice, sweet and sour, and Blue Curacao
For more information please visit Tiki Bar & Grill on Maui.
#5 Fleetwood's on Front Street
Owned by Maui resident and British musician and actor Mick Fleetwood, Fleetwood's on Front Street is la creme-de-la-creme, and one of the best locales for a cocktail in West Maui. Next time you're visiting the Historic Town of Lahaina, check out Fleetwood's classic bistro style, fabulous drink menu, and their awesome Morrocan influenced rooftop bar.
They offer live music throughout the week and are located in one of the ideal locations for relaxing with a cocktail in hand in this Maui bar during a magical sunset, or whale watching with wine during the Winter months. Handcrafted Cocktails offered at Fleetwood's are made with the highest caliber spirits and ingredients, and the Wine List is truly divine with an international selection of champagne, sparkling, white and red wine varieties.
Drink Highlights:
Fleetwood's Pimm's Cup – Pimm's #1, Grand Marnier, fresh muddled strawberries, mint and cucumber, lemon and orange juice, topped with ginger beer
Awapuhi Mojito – Ketel One Citroen, fresh muddled ginger, and mint, housemade mint syrup, lime and pineapple juices, topped with a soda water float
1944 Mai Tyler – Smith & Cross Jamaican Rum, John Taylor's Velvet Falernum, Captain Morgan Black Spiced Rum, Orange Curacao, fresh muddled pineapple, and a housemade lilikoi foam
For more information please visit Fleetwood's on Front Street.
#6 Leilani's Beachside Grill
Time and time again, Leilani's Beachside Grill in Ka'anapali is consistently voted Best Bar on Maui by numerous publications. It's most definitely all with great reason because Leilani's offers an incredible oceanfront location, friendly and knowledgeable staff, sweet aloha vibes and an affordable drink menu. Leilani's Beachside beverage menu offers classic tropical cocktails made with local ingredients like the Lava Flow, Mai tai, Blue Hawaii and Hawaiian Punch. The exotic cocktails include Leilani's own specially crafted drinks like the 'Anuenue' that, "looks like a sunset, and tastes like a rainbow." The bottled and draft beer menu is dominated by Hawaiian beers like Maui Brewing Company and Kona Brewing Company, but also includes some Oregon craft beers and a handful of domestics. The wine list is perfection, offering an extreme amount of value for the true wine lovers at heart.
Check out the Aloha Hour from 3-5pm (excluding Tuesdays) for $5 drink specials that include Mai tais, house Margaritas, Lei's Lemonade, Hawaiian Punch, 29-degrees of draft beers, and food specials. Another nice Leilani offering, Wednesday thru Sunday there's also live music from 3-5pm.***
Drink Highlights:
The Lime in the Coconut – Island 808 Coconut Vodka, fresh squeezed lime, fresh pineapple, and coconut water
Ka'anapali Cosmo – Ocean Vodka, triple sec, fresh orange, lime and a splash of cranberry
Pineapple Express – Cazadores Reposado Tequila, fresh pineapple, agave, lime, and a Kilauea black volcanic sea salt rim
For more information please visit Leilani's and their Beachside Grill.
#7 Tommy Bahama's in Wailea
Visit gorgeous South Maui beaches and locales, and do not forget to check out Tommy Bahama's Restaurant & Bar at the Shops at Wailea. Wind down and enjoy a warm Maui breeze, listen to palm trees swaying in the wind, and savor incredible cocktails on the lanai at Tommy Bahama's Bar. The drink menu is so robust and full of a diverse array of tantalizing cocktails. This is a great location to choose for drinks with friends or a cocktail hour first date! Martinis at Tommy Bahama's on Maui are to die for; favorites being The Hemingway, Rich Rye Manhattan, and the Scratch Lemon Drop. Signature Cocktails include a Blood Orange Margarita, Hibiscus Lime Cooler, and the Peace Keeper. Tommy Bahama's Rum Concoctions are out of this world with items like the Bronx Bomber, a Classic Mojito and Mai tai. Our suggestion…try one of each!
After looking through the Drink Menu at Tommy Bahama's, you might be a little overwhelmed. So, take a break and scan through the amazing Wine List where you'll find beautiful varieties from Europe, California, and Australia. It just gets better and better…
Drink Highlights:
Grapefruit Basil Martini – Van Gogh Blue, Fresh basil and grapefruit
Leap of Faith – Tanteo Jalapeno Tequila, grapefruit, agave nectar and lime
Cucumber Smash – Hendrick's Gin, St-Germain Elderflower and muddled cucumber
For more information please visit Tommy Bahama's Bar.
#8 Koa 156
"Best New Restaurant" winner of the 2013-2014 Maui's News-Best of Maui polls, Koa 156 is the new it restaurant in West Maui. Located on Front Street with the Pacific Ocean and outer island views, Koa's is for sure the best place for oceanfront dining and enjoying cocktails in West Maui.
Opened by established Maui restauranteurs Lucy and Jerry Corson of popular breakfast spot Gazebo in Napili, Koa's is more than just a pre-meditated restaurant venture. For residents and visitors alike, Koa 156 is not just popular for Breakfast, but also for Lunch and Dinner. No matter when you visit Koa's Seaside Grill, definitely make sure to try some of their specialty cocktails, because you're not going to want to miss out on the Lanai Lemonade, the Slaughter House, or the Herradura Silver Margarita, spiced up with jalapeño and cooled down with pineapple juice.
The Pau Hana Happy Hour at Koa 156 is daily between 2-5pm. Well drinks, House wine by the glass, draft beers, and specialty drinks are $2 off. (Beware…not on holidays, or during special events) Happy Hour at Koa's also offers some a great food menu that includes the Front St. Burger ($12), Poke ($14), Fish & Chips ($11), Chips, Salsa & Guac. ($9), Koa's Nachos ($11), sandwiches, salads and more.
The Bar at Koa's also offers an array of delicious alcoholic drinks; Blended Tropical Cocktails, Martini's, Tropical Mimosa's, Specialty Cocktails, Coffee Drinks, and wines by the glass.
Drink Highlights:
Keoki Coffee – Brandy and coffee liqueur
Robert's Refresher – Vodka, lilikoi, lime and cranberry juice, shaken not stirred
Koa's Pinetini – Vodka, muddled pineapple, pineapple juice and Tuaca
For more information please visit Koa's Seaside Grill.
#9 Capische?
For an intimate Italian, island-style menu, definitely, make reservations for two at Capische? in Wailea. Brian Etheredge, owner and Executive Chef, has created an outstanding menu of beautiful classic European dishes that will not only satisfy your palette, but also urge you to return time, and time again.
Capische? in Wailea also happens to have one of the best wine lists on Maui! This wine list is truly a spectacular and full of old world varieties from California, rare European selections, and South American allures
Known for prestige and culinary excellence, Capische? also has one of the most stunning sunset views in all of Maui. Visit the Capische? Martini Bar every Friday night and listen to the melodic sounds of famous Maui musician Mark Johnstone on the piano.
Wine Highlights:
Hartford Court – Russian River Valley, Ca. Pinot Noir, 2012
Villa Sparina – Piedmont, Italy. Gavi Di Gavi, 2011
Bodegas Emilio Moro Finca Resalso – Ribera Del Duero, Spain. Tempranillo, 2009
For more information please visit Capische?
#10 Kimo's
Kimo's is located on Front Street in the historic Lahaina Town. We love this Maui locale for so many reasons… oceanfront dining, Live music, and mouthwatering cocktails! When at Kimo's, do not leave without experiencing one of their renowned Kimo's Mai tais!
Besides a fantastic Mai tai, Kimo's also has an array of tropical classics like Lava Flow's and Pina Colada's, Island Exotic Cocktails at this locale are all super delish with a yummy Maui Mojito, their version of the Tropical Itch, and the Wicked Wahine (Malibu Coconut Rum, Midori, pineapple and cranberry juice, and a Diamond Head Dark Rum float).
When at Kimo's Maui bar in Lahaina, take advantage of the Pacific Ocean views, their tempting cocktails, and nightly music offerings!
Drink Highlights:
Hot Skinny Rita – Tequila Peligroso Silver, fresh lime and Fresno chilies, hand shaken (under 120 calories)
Kimo's Grog – Ocean Vodka (organic and Maui made), ginger beer, ginger syrup, fresh lime and mint
Ali'i Mai tai – Kauai Koloa Spiced and Dark rum, passion fruit, orange juice and limeade
For more information please visit Kimo's.
BEST COCKTAILS ON MAUI
#1 Makawao Ave – Monkeypod Kitchen, Wailea
Whiskey may not be at the top of your list when you think about cocktails to try on a tropical island. For those of us that drink year-round on Maui, it can be a welcome change of pace from drinks that come in a pineapple or coconut- although those are fantastic too! If you enjoy delicious craft cocktails with less tropical flair, head to Monkeypod Kitchen in Wailea. There, you'll find that local Maui musicians offer the perfect background noise to spectacular sunset views. And of course, ono cocktails.

Ingredients:
Rittenhouse Rye Whiskey
Lemon
Honey
Angostura Bitters
Housemade Cayenne-Ginger Beer
For more information or to see the rest of the cocktail menu, please visit Monkeypod Kitchen
#3 Monkeypod Mai Tai – Monkeypod Kitchen, Wailea
Alright, alright. So a Mai tai is a Mai tai, right? Well, you'd be surprised, especially when said Mai tai includes fancy lilikoi (passionfruit) foam on top, and none of that overly sugary orgeat syrup in a plastic bottle. Hooray!
While Mai tais are a dime'a dozen in Hawaii, Monkeypod's is one of the best we've had, especially when accompanied by the lovely sunset view from their covered lanai. Grab some friends and head there for happy hour, which happens twice daily from 3-5:30 pm and 9:30-11 pm.
Ingredients:
Old Lahaina Light & Dark Rum
Lime Juice
Housemade Macadamia Nut Orgeat
Orange Curacao
Housemade Honey-Lilikoi Foam
For more information or to see the rest of the cocktail menu, please visit Monkeypod Kitchen
#4 Canton Ginger Martini – Mala Ocean Tavern, Lahaina
Sometimes the simplest things are the tastiest. Enter the Canton Ginger Martini at Mala Ocean Tavern in Lahaina on a sunny afternoon. Grab a seat at the bar or lanai and enjoy spectacular views of the ocean, as well as Maui's neighbor islands. You can always see the Green Hawaiian Turtles visiting here, and during winter months it's also an excellent place for whale watching with a martini. Can life get any better? Grab an order of the Seared Ahi Bruschetta to complete your afternoon, and you can thank us later!
Ingredients:
Organic Maui Ocean Vodka
Canton Ginger Liqueur
Candied Ginger Garnish
For more information or to see the rest of the cocktail menu, please visit Mala Ocean Tavern
#5 Butchertown – Cow Pig Bun, Kihei
You may have heard of Maui's Slaughterhouse Beach, but you may have missed its boozy counterpart, the Butchertown.
Located at the Tech Park in South Maui, Cow Pig Bun serves up some excellent burgers (with chicharrón and bourbon bacon jam!), pork belly Banh Mi Sandwiches and Mac-N-Cheese. The real kicker, however, is the cocktail menu, which features an impressive variety of bourbons and bitters. One of the best things about Cow Pig Bun is definitely their impressive list of mixology drinks. The staff here issuer knowledgeable and friendly; this will definitely become one of your Maui go-to spots in no time.
While you can't go wrong with any of their Specialty Cocktails, we love the Butchertown for the muddled pineapple. It's just a subtle reminder that you're happily drinking on a stunning Hawaiian island.
Ingredients:
Maker's Mark
Muddled Pineapple
Fernet Branca
Lime
For more information or to see the rest of the cocktail menu, please visit Cow Pig Bun
#6 La Paloma – Frida's Mexican Beach House, Lahaina
If you plan on spending a day in West Maui, don't miss Maui's newest Latin addition, Frida's. With a delicious Mexican and Latin fusion menu, sit back and enjoy a killer view with a cocktail. While the menu includes over 40 tequilas (YES!) and a variety of innovative drinks, we love the refreshing La Paloma, perfect with a Ceviche Tostada or Scallops.
The bar is beautiful, and the artwork from local artist Angel Salavec lends itself perfectly to the fun decor. Also, they get 10 cool points for naming a cocktail 'Rum DMC'.
Ingredients:
Espolon Blanco Tequila
Fresh Lime
Fresh Pressed Cane Juice
Fresh Grapefruit
Jarritos Grapefruit Soda
For more information or to see the rest of the cocktail menu, please visit Frida's Mexican Beach House
#7 Pau Hana – Mama's Fish House, Kuau
Named the '2nd Most Popular Restaurant in the U.S.' by Open Table, Mama's Fish House was the originally first fresh fish restaurant on Maui. Featuring menu items caught by local fishermen daily, Mama's has truly earned a reputation for its amazing menu, beautiful presentation, impeccable views and service.
The Pau Hana, meaning 'finished working' in Hawaiian, is the perfect cocktail to enjoy, well… after work. Shaken table-side, this fresh and delicious adult beverage will most definitely put a smile on your face…
Ingredients:
Tropical Guava Juice
Kula Lime
Bombay Gin
For more information or to see the rest of the cocktail menu, please visit Mama's Fish House
#8 Bikini Blonde Lager – Maui Brewing Company, Kahana & Kihei
/>Attention, beer drinkers! This one's for you. While Maui Brew Company beers can be purchased from nearly any store and are offered at most bars on the island, we recommend a trip to one of their two brewery locations for the real experience. There, you can taste all of their flagship beers like the ever-popular Bikini Blonde Lager, Big Swell IPA, Coconut Porter or Mana Wheat.
There's also seasonal varieties and Limited Releases like the Kihei Kolsch and Lorenzini Double IPA. Their newest Kihei location even provides a fun Maui food truck scene, live music and games like adult-sized Jenga and Connect 4.
Ingredients:
Floral Hops
Pilsner & Munich Malts
ABV: 5.1
IBU: 18
For more information or to see the rest of the cocktail menu, please visit Maui Brewing Company
#9 Lilikoi Margarita – Cafe des Amis, Paia
When cruising through Paia Town on Maui's North Shore, make sure to stop in for cocktails and a meal at Cafe Des Amis.
This local spot is perfectly quaint, and it's pretty hard to beat a refreshing Lilikoi Margarita in a charming courtyard in Paia Town. Grab your significant other or a group of friends for happy hour (4-6pm daily), enjoy live music, half-priced drinks, and yummy snacks like the Mediterranean Platter or a savory crepe. They also have live dinner music, so make sure to check their website ahead of time to catch one of Maui's musicians doing their thing at this Paia hot spot.
Ingredients:
Fresh Maui Lilikoi
Gold Tequila
Triple Sec
For more information or to see the rest of the cocktail menu, please visit Cafe des Amis
#10 Holiday in Jalisco – Lehua Lounge, Wailea
Spicy cocktails aren't everyone's cup of booze, but we love the flavors and tropical flair of the Holiday in Jalisco at Andaz Resort's Lehua Lounge. This is totally a drink best enjoyed with a view, which the Lehua Lounge at Andaz Resort absolutely provides. While it's got a bit of a kick, it helps bring out the flavors of the tequila and still offers sweet and tropical notes.
Located on the top level of the stunning three-tiered pools, this bar is popular for its nearly unparalleled sunset views and fresh ingredients.
Ingredients:
Blanco Tequila
Jalapeno Syrup
Fresh Lime
Fresh Pineapple
Soda
For more information or to see the rest of the cocktail menu, please visit Lehua Lounge
Mahalo for reading Pride of Maui's Best Places to Get a Drink on Maui article! There are so many amazing places to get drinks on Maui, we know that this is just the tip of the iceberg…What are your favorite places to get a drink or a glass of wine on Maui? And, what are your all-time favorite drinks? Please share your comments below…time for a pau hana!
All photography was either taken by Pride of Maui staff, from owners that have given us written permission, and/or purchased for use. We have all the rights necessary to use these images on our website.
Written By Alexandra Mitchell
Alexandra is a marketing professional with a passion for writing about travel to the Hawaiian Islands, vacation rentals, and luxury real estate. She exposes readers to glimpses of 'Old Hawaii,' new destinations to explore, local events, and all the best things to do on Maui.